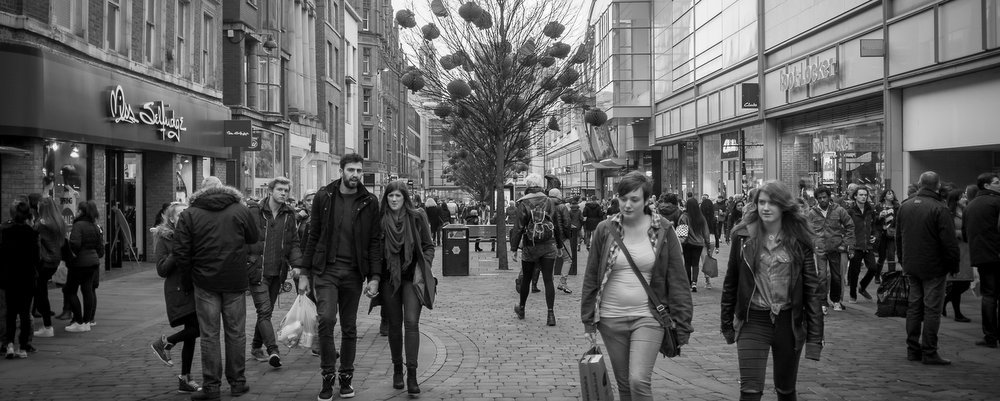 Image: Tim Brockley @ flickr
Manchester is a fantastic city for anyone with mobility requirements to visit. Easily accessible transport, shopping, restaurants, and bars make for a stress-free and fun day trip or weekend stay.
Transport
Metrolink Tram is an easily accessible system, completely level with the platform with no gap at all; inside there are wheelchair spaces, similar to those provided on buses.
Take a black taxi tour around Manchester; it's a unique way of sightseeing in a vehicle with easy access!
Shopping
Market Street
Market Street is one of the busiest shopping streets in Manchester, and the access is a breeze. Since much of central Manchester was rebuilt in the late 1990s, smooth, wide, step-free pavements are the norm here. There are often street performers to entertain shoppers – and with huge department stores and the Arndale centre close by, it's easy to spend a full day shopping! Crowds are not everyone's cup of tea. To avoid them, arrive around 9am when the shops are just opening. In large, busy shops, always ask if there is an accessible changing room and priority queuing for customers with disabilities.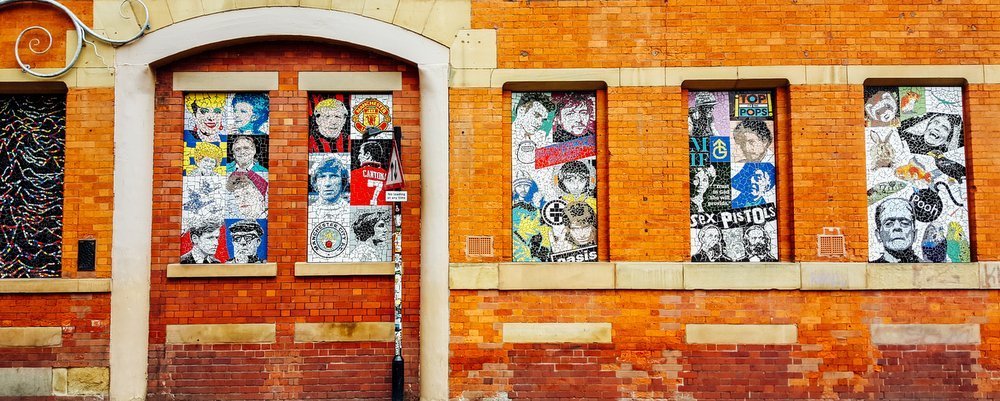 Image: Adam Simmons @ flickr
Afflecks
Afflecks is an amazing alternative shopping experience. Here you can browse vintage clothing, skate shops, fancy dress, gifts, natural remedies, and loads of other quirky goods. There's also a cafe on the top floor, and the lift ride up is entertaining in itself – with surprising sound effects on each floor, including screaming witches and barking dogs! If you're worried about crowds, avoid Afflecks on the weekend.
Need some advice on accessible places to visit in London as well?
Places to Eat and Drink
La Vina
Authenticity and accessibility can be difficult to find together, but La Vina really gets it right without feeling like a high street chain. Amazing tapas, beautiful wines, and a buzzing happy atmosphere make for a wonderful lunch or dinner. An accessible toilet is available on the ground floor, and the staff are attentive and helpful. Be sure to book a table in advance, mentioning any access requirements. Go to La Vina hungry – the tapas are so good that you'll want to try the whole menu!
New Emperor
A quick walk/wheel around Manchester's Chinatown might leave you despairing that none of its restaurants are accessible, since most of them are located at basement or first-floor level. The New Emperor, however, has a step-free entrance and an accessible toilet – a real rarity in this area! Plus, the food is fresh, hot and authentic; and while the restaurant is certainly no frills, you often see many of the Chinatown locals eating here – which is never a bad sign! With large portions, the set menus offer real value for your money. The accessible toilet is smaller than most, but it's acceptable for a manual wheelchair user.

Image: Slug & Lettuce
Slug & Lettuce, Deansgate
Located in the heart of Deansgate, the Slug and Lettuce has a relaxed, funky atmosphere. Fresh, affordable food and all-day, two-for-one cocktail specials make this spot especially busy at peak times – and it's easy to join the crowd since the restaurant is step-free throughout and equipped with fully accessible toilets. During busy times, if you have access needs and a table is unavailable in the bar area, the staff will seat you in the restaurant.
The Birdcage Nightclub
Attracting hordes of hen parties with its flamboyant cabaret shows (which are a giggle to watch), The Birdcage is a great place for a fun night out with a twist. The bouncers are super helpful, the crowd always friendly, and the bar staff quick to serve drinks. Accessible toilets are available. Pre-booking is essential to have reserved seating and queue jump. Don't be afraid to don fancy dress! Many groups here dress up, which makes for great people-watching.
For more accessible travel advice check check out all the articles written by Carrie-Ann.
---
Carrie-Ann Lightley is a traveller, a blogger and an inspiration for the less mobile traveller. She doesn't let her Cerebral Palsy slow her down from enjoying the world, near and far. Living with the mantra of 'there is always a way' her travel blog provides expertise and inspiration for accessible travel. Visit Carrie-Ann at https://www.carrieannlightley.com
---