Put on some comfy shoes for ambling around cobblestoned alleys and forget your GPS tracker on your mobile—this is the only way to see the real, graffiti-cloaked city of Lisbon. The secret is to take one of the many trams when you are faced with walking uphill, and then downhill is a breeze to walk.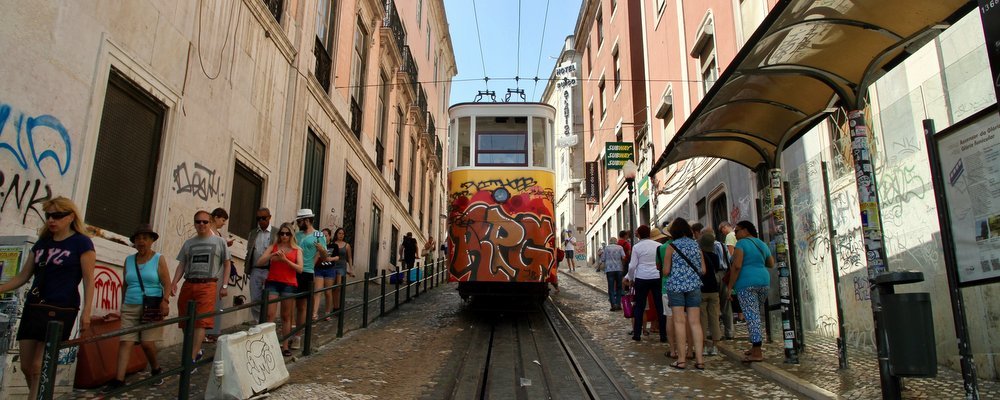 There are plenty of bicycles dotted around at various points in the city that you can grab and return to a different bicycle parking area. Or, be the traffic mayhem creator and go on a tour with other likeminded go-cart rally racing enthusiasts by hiring a three-wheeler contraption.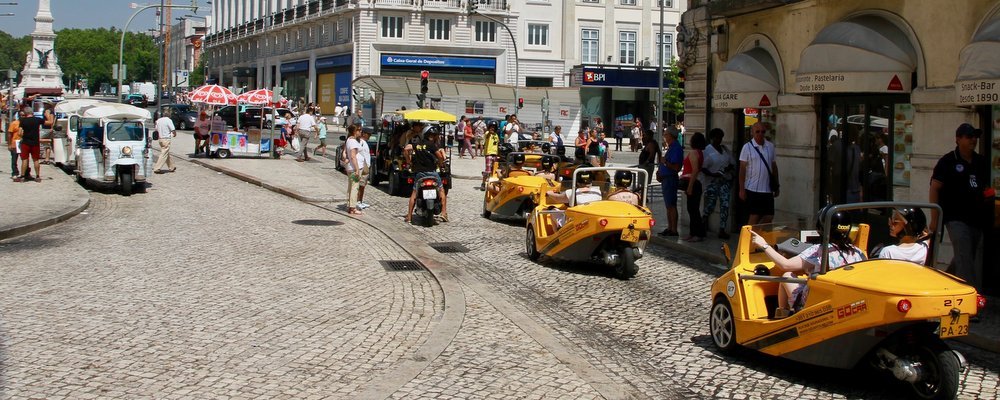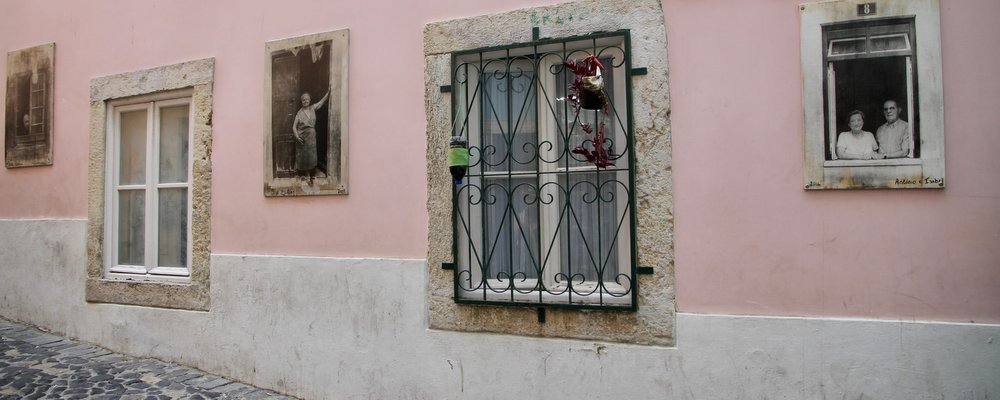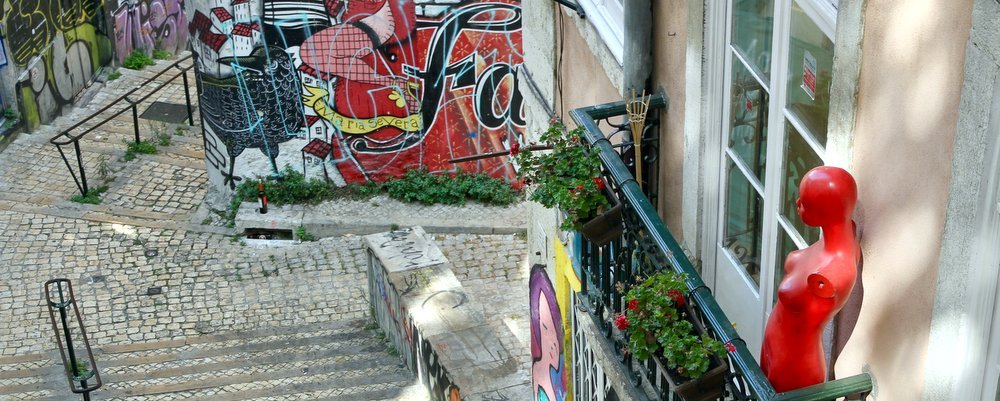 The walls of nearly every building are telling a story or merely creating a decorative splash of bright colors to match the rickety wooden-framed windows where weeds peer through cracked stones and birds roost beneath red tiled roofs. Balconies are draped with the morning's washing, and laneways are choked with cafe tables and chairs. Lisbon is Porto's brash big sister, where the locals hang around chatting at cafe doors with their dogs in tow, and during the European summer months, the city souls flee to the seaside.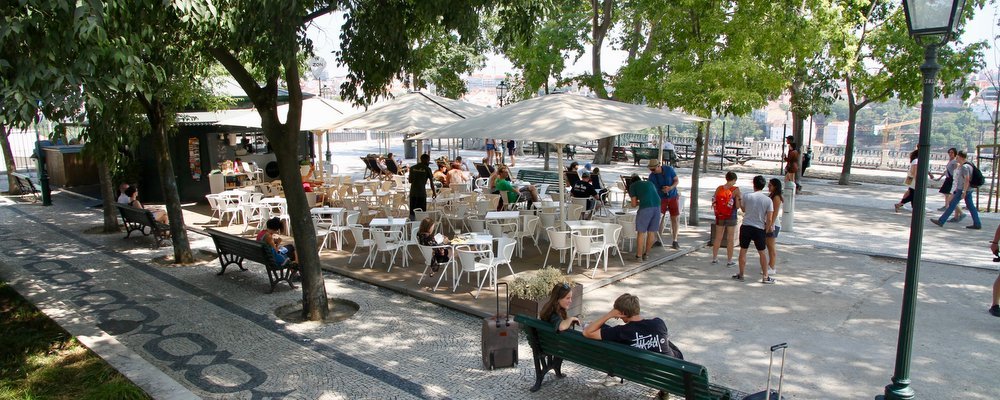 Trams resembling moving children's attempts at their own Jackson Pollock creations rumble around the seven hills of the city that is one of the oldest in the world, and the largest in Portugal. With more than half a million people calling themselves "city folks" and its urban sprawl numbering around 2.8 million, Lisbon is a tapestry of nationalities, culture and cuisine.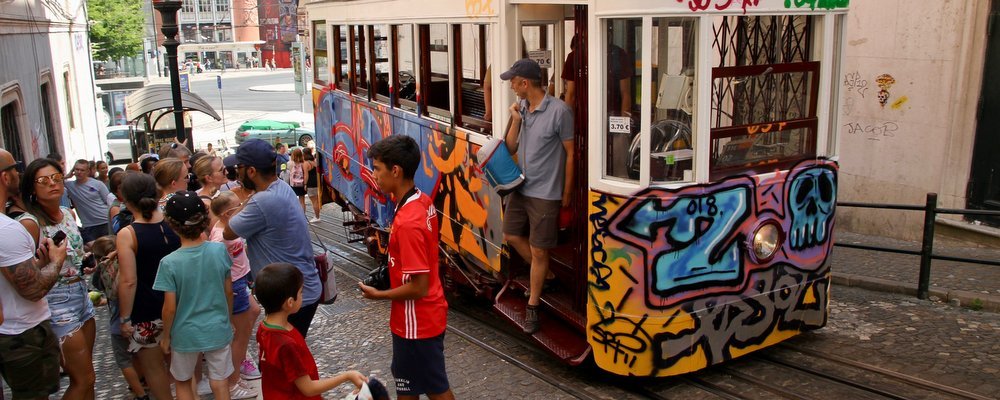 Hordes of marauders have plundered and fought over this ancient city for eons, even before the likes of London, Paris or Rome were built. Myths have it that Odysseus founded Lisbon on his way home from Troy. It's been the playground for the likes of Julius Caesar, the Moors, the Romans and the Crusaders, plus plenty of others as they have trampled over the city, leaving their footprints and a tapestry of their cultures.
Lisbon is a town of historic neighborhoods, "bairros," with distinct flavors and architectural styles and no defined boundaries, so you will have to use your senses to appreciate where you are.
Alcântara is stuffed with converted dock warehouses perched on the riverfront, where the noise from its crowded bars and nightclubs can be contained.
Alfama is where to go if you wish to say a prayer, as it's one old church after another in the oldest area of Lisbon, sloping down from the Castle of São Jorge to the Tagus River. It's a labyrinth of tiny streets and squares choked by Fado bars, little shops with homes perched on top, and restaurants where you can gorge on grilled sardines on bread to the sounds of melancholy music.
Bairro Alto, near the heart of Lisbon, is a funky nightlife and shopping enclave, where the cool devotees hang out listening to different musical genres, from punk to Goth and reggae. This is where you will find a hodge-podge of modern Portuguese society, paint-splashed alley walls, cute edgy bars, and boutique shopping with an eclectic street scene. Take the time to sip espresso whilst sitting in a deckchair at the cafe on the high point of Miradouro de São Pedro de Alcântara and watch the passing parade.
Baixa is the pumping heart of Lisbon that was completely rebuilt after the earthquake of 1755. It's imposing and elegant, showing off neoclassical buildings, beautiful squares and traditional tiled shop fronts, where decorated pastry shops will lure you in. Strolling down the pedestrian Rua Augusta, your eyes will flick from street performers showing-off to gawking at the triumphal arch.
Belém can be recognized by its famous tower, Torre de Belém, that was a fortified lighthouse built in the early 1500s. This is where the tourist hordes flock to for its awesome gardens, monastery, and historical buildings. It's home to the Belém Palace, where the President of Portugal hangs out.
Chiado is a patchwork of old and new. A bairro for those who wish to thrash their credit cards, as it's overflowing with shops, and where you will find the famous cafe A Brasileira. It is flush with cultural vibes and the aromas of coffee, plus outdoor markets litter its streets on certain days.
Mouraria is the traditional Moorish quarter and known as the birthplace of Fado. It's well worth hiking around its steps and slopes to get a real taste of Portugal's essence.
Parque das Nações is the baby in the city, as it was created just prior to the World Exhibition of Lisbon 1998. Futuristic, commercialized and a top-end residential area, it is pedestrian-friendly and home to the Casino Lisbon and the Lisbon Oceanarium.
Tips
The tram circuit that used to be done in one complete whirl is now in four sections, so don't be a sheep and follow the crowd, as many people are not aware of the changes to the tram schedule.
Treat yourself to the taste sensations to be found at Nova Wine and Tapas Bar in Chiado, where you will be spoilt with local boutique wines and produce such as blood sausage and cherry jam, sardines with roasted peppers and coriander, or goats cheese drizzled with olive oil.
Do buy some tins of sardines; even if you don't eat them, the decorative tins are fantastic.
Nibble on pasteis de bacalhau (codfish croquettes) whenever you can.
Let some local port dance with your palate.
There is no need to do a fado tour, per se, just mooch your way around the numerous bars in the Alfama area.
Either get lost on your own, or if you have a fear of not knowing where you are and want tor hear the local gossip plus history, then do a walking tour with a guide. Beware of pickpockets, drinking too much wine from the little cafes clinging to the street curbs, and don't get run down by a tram.
Recommendation for private walking tours with a bona fide local—email Pedro at PedroCisneirosL@CAMPUS.UL.Pt
---
Gail Palethorpe, a self proclaimed Australian gypsy, is a freelance writer, photographer and eternal traveller. Check out her website Gail Palethorpe Photography and her Shutterstock profile.
---