Remembering the launch of the Norwegian cruise ship Getaway in 2014. Accessible Travel and Leisure invited me to take a taster cruise, staying overnight in an accessible cabin and reviewing all of the fantastic facilities the ship had to offer.
Boarding the Ship
Darren and I arrived in Southampton on a wet Wednesday lunchtime, and were amazed by the sheer size of the ship, which was brightly coloured on the outside and had an aqua park spiralling above deck. After a very speedy check in (10 minutes at most, a revelation after years of hanging around airports for hours) we boarded the ship to take in some Miami-style luxury from our grey corner of England.
The Accessible Cabin
Our cabin was compact and functional, with accessible features including an automatic door, a wet room shower and wardrobe hanging rails which could be lowered. I think if we had been staying longer we may have considered upgrading to a larger cabin, and wheelchair users with bigger chairs may need to consider this – the accessible balcony room was almost twice the size, so there is a range of options.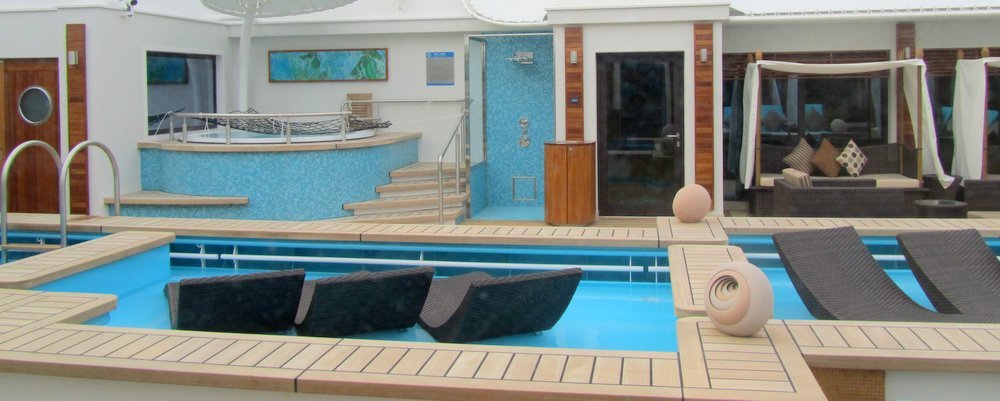 Image: Ed @ flickr
Exploring the Getaway
Lunch was the next thing on the agenda, and we opted for the ship's Garden Café buffet restaurant. This did mean going outside above deck for a minute or two, which I'm sure would have been lovely in warmer climes, let's just say in Southampton it was 'refreshing'! With a range of buffet options as far as the eye could see we really were spoilt for choice, and we enjoyed a relaxed meal with views of the water.
It was then time to explore. The ship boasts 16 restaurants, 12 bars, a casino, an aqua park, a sports complex and a spa. It was a tough job, but we did our best to see as much of it as possible. Lifts serve all floors, and there is even a platform lift for access to the sun deck – a definite must for me, as I love lounging on holiday. Touch screen monitors in public areas showcased all amenities and would plot a route from your current location to your chosen bar, restaurant etc.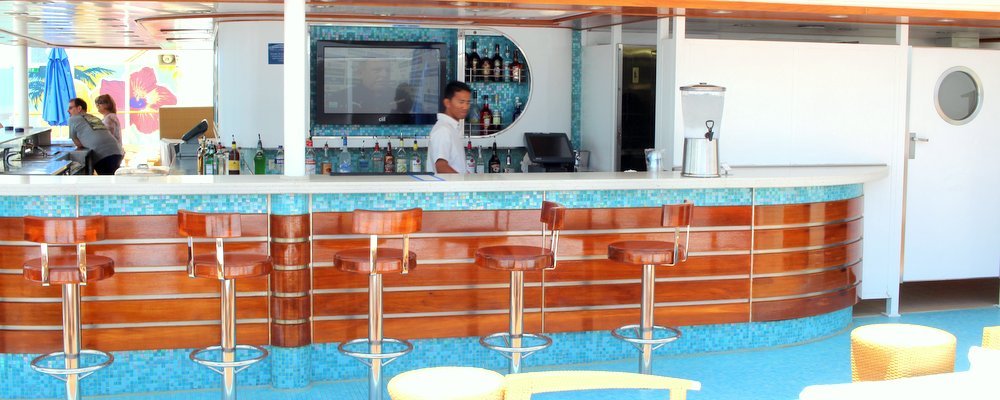 Image: Jeff Christensen @ Flickr
After taking in all that the Getaway had to offer, we had a quick freshen up and met with Accessible Travel & Leisure for their drinks party in the Bliss Lounge. Over a glass of sparkling wine we chatted to fellow disabled cruisers about their stay so far, and caught up with Ali and Frankie from the Accessible Travel office. As a specialist tour operator, they have been providing holidays for over 20 years and are the UK's largest specialist holiday company. They personally inspect every holiday they sell, and this was no different, as they encouraged feedback from all of their guests.
Dinner and Cocktails
For our evening meal we decided on the Tropicana Room, a grand main dining room with floor-to-ceiling windows, large dance floor and a glamorous 1950s style. The meal was excellent and the service attentive – when I enquired about the location of the nearest accessible toilet, a waiter guided me all the way there. After dinner we had a browse of the Duty Free offerings, before rounding off the evening in the Sugarcane Mojito bar with delicious cocktails.
Final Thoughts
Waking the next morning from a very deep and peaceful sleep (possibly the mojitos…) we packed our belongings and located the buffet breakfast. As with lunch the day before there was a never ending choice of food – fresh omelets and waffles set us up for the long drive back to Kendal.
You might also be interested in 7 Tips to Selecting A Cruise and Why Take a Cruise?
---
Carrie-Ann Lightley is a traveller, a blogger and an inspiration for the less mobile traveller. She doesn't let her Cerebral Palsy slow her down from enjoying the world, near and far. Living with the mantra of 'there is always a way' her travel blog provides expertise and inspiration for accessible travel. Visit Carrie-Ann at https://www.carrieannlightley.com
---