Diverse culture, year-round sun, and beautiful beaches define Miami, Florida as a hub for entertainment, art, trade, and media. The majority of the city is well paved and accessible for wheelchair users, and there are no steep hills to impede mobility.
Right from the get-go
The great thing about accessibility in Miami is that it starts right when you land. The Miami International Airport is equipped with accessible toilets and designated doors for coordinating pick-up and drop off locations for disabled people. It even has designated areas for service animals to relieve themselves.
In addition, you can also opt to travel light, since wheelchairs are available to transport you to and from your aircraft. To help you get around greater Miami, wheelchairs, power chairs, and electric scooters are available for hire directly from the airport.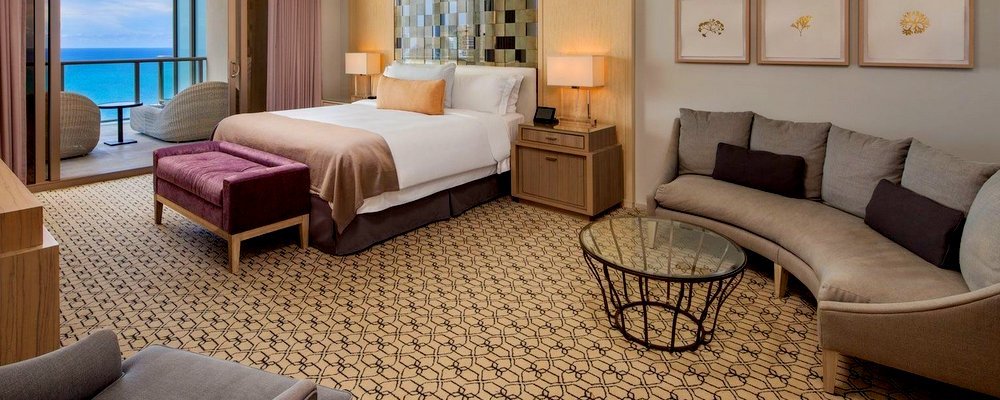 Image: Imperial Suite St Regis Bal Harbour
Accessible accommodation
When it comes to accommodation, so many hotels in Miami are wheelchair-accessible that it's difficult to find one that isn't. However, some are more accommodating than others, and are equipped with more amenities like roll-in showers or accessible pools.
For example, the luxurious St. Regis Bal Harbour Resort has lower door peepholes, accessible beach chairs, and close-captioned TVs. Meanwhile, the Art Deco landmark Albion Hotel has wide doorways, braille descriptions, and accessible bathrooms at a fraction of the cost. Kimpton Hotels like the Surfcomber Miami-South Beach and EPIC Hotel have wheelchair friendly check-ins, showers, and toilets, while also offering amenities for service animals.
Check hotel rates across 400 websites.
Easy to get around
All buses in Miami-Dade county feature lift equipment and trained drivers to meet people's needs. This makes it a breeze to be able to go around, as taxis can be a little hard to hail for anyone in the city. It doesn't mean it's impossible though, and those who prefer to get around by taxi will be relieved to know that wheelchair-accessible cabs are available via phone call, and people with disabilities can skip lines at taxi stands.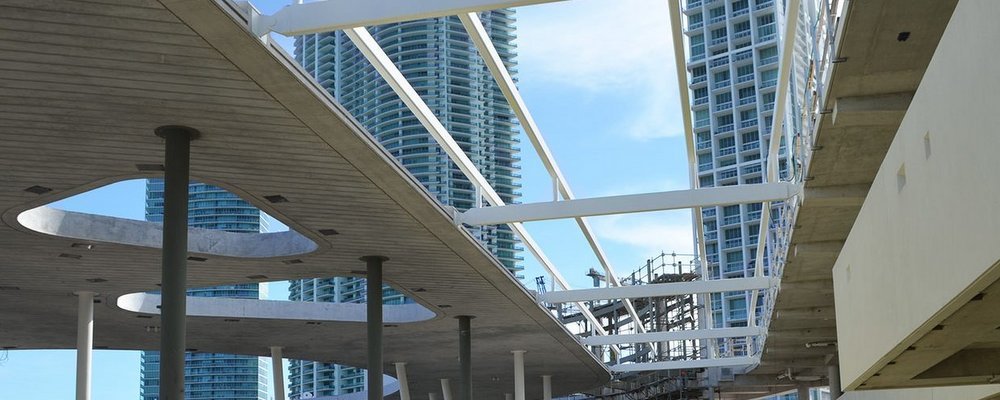 Image: Frost Museum of Science
As for Miami's tourist attractions, many places like HistoryMiami Museum, Phillip and Patricia Frost Museum of Science, and Fairchild Tropical Botanic Garden offer conveniences like wheel-chair accessible pathways, sign language interpretations, special seats, and amenities for service animals. For children with special needs, programs at the Miami Seaquarium offer classroom-like sessions with dolphins as a form of alternative therapy.
Historic neighbourhoods
If you're looking to just absorb the sights and sounds of Miami's neighbourhoods, then Lincoln Road on South Beach is a great place to start. The shopping district and pedestrian mall offers some of the easiest access areas in the city, with every store, restaurant, and café on ground level. South Beach in general is an amazing place to explore, especially the area's Art Deco district which is a strip of wonderful 1920s architecture along Ocean Drive, Collins Avenue, and Washington Avenue. Wide sidewalks and ramp exits and entrances make going around a breeze, and drivers in the area are respectful of pedestrians on foot or in wheelchairs.
In truth, these amenities are common in many of Miami's neighbourhoods, which are known mostly for their walkability and charm. Aside from South Beach, Brickell, Midtown and Downtown are among the most pedestrian-friendly areas in Miami, and they're very accessible for disabled people. There's also Coral Gables and Miami Beach, which are relatively less urbanised than the previous three, but are great places to explore nonetheless.

Image: gotonthesand.com in Miami
Sun and sand
Of course, any visit to Miami is incomplete without enjoying its world-renowned beaches. The packed sand of South Beach can accommodate wheels, and have ramps as well as mesh pathways for easy mobility. Crandon Park Beach on Key Biscayne offers special reclining chairs with big balloon wheels to hire for free for those who need them. These can even let you get your dose of 'vitamin sea' – as long as you stay within six inches deep of water.
If you are interested in other accessible travel activities just click here for Carrie-Ann'e Accessible collection of articles.
---
Carrie-Ann Lightley is a traveller, a blogger and an inspiration for the less mobile traveller. She doesn't let her Cerebral Palsy slow her down from enjoying the world, near and far. Living with the mantra of 'there is always a way' her travel blog provides expertise and inspiration for accessible travel. Visit Carrie-Ann at https://www.carrieannlightley.com
---