As a Byron Shire local of seven years, I've seen this magical place transform and evolve over time. While drawing in the most beautiful, authentic and creative individuals, it has also become quite the tourist hotspot—which has its pros and cons. At certain times of the year, Byron is swarming with holiday-goers looking to soak up some of its chilled out vibes.
But Byron's soul is not lost. There's still an abundance of peaceful and high-vibe activities on offer. Take some tips from a local to discover the region's best-kept secrets and avoid the chaos, ensuring you enjoy the true spirit of beautiful Byron Bay on the northern coats of NSW in Australia.
FOOD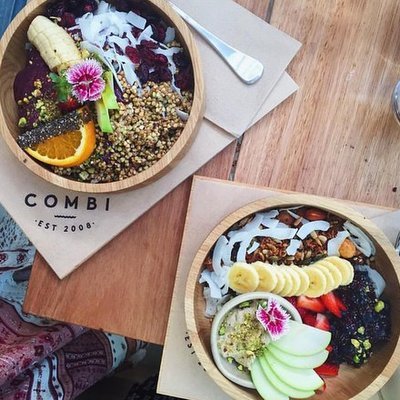 When I first moved to Byron Bay there were a couple of options for health lovers. Now, the town boasts green smoothie joints and vegan treats galore. If you're a fan of plant-based eats, head to Combi to enjoy a smoothie bowl in a vibrant environment. Elixaba is another popular vegan eatery, with everything from hemp burgers to cosmic cocktails. Enjoy the trendy ambiance on a sunny day at The Roadhouse or The Farm on opposite ends of town but both serving delicious, local feasts and treats.
Top Shop in the thick of it is perched atop a little hill, attracting local hipsters and coffee lovers, and there's plenty of room to bask in the sunshine on the grass. Folk is another cute café boasting funky vibes and outdoor dining.
For dinner, wander down the hidden Bay Lane near the beach to find some local favourites, or head to the outskirts of town and enjoy drinks and dinner with live music at Tree House on Belongil (where the pizza is amazing). Embrace your inner hippie and go barefoot to the farmers market on a Thursday morning to source the best local produce, stock up on edible souvenirs (I highly recommend the macadamia nut butter) and listen to local musicians.
MARKETS AND SHOPPING
You'll be spoilt for choice wandering around the main streets of Byron—where there's an abundance of beautiful boutiques. For something a little more unique (and cheap), head to the craft markets on a Sunday. These rotating markets are held once a month in the Bay, and in other nearby towns on other Sundays, selling local goodies like clothing, jewellery, candles and more, and offering vibrant vibes.
MASSAGES, READINGS AND HEALINGS
When in Byron Bay, right? The best way to find a healer is by asking the locals. Look for business cards in local businesses, or, if you're after a simple massage or treatment, there are plenty of options around town. The famous Byron palm-reader can usually be spotted on Jonson Street and has been known to offer insightful, albeit a little strange, readings. Kiva Spa in Mullumbimby is one of my favourite places in the world, offering beautiful treatments and a 'bath house' in Balinese-style surrounds. Crystal Castle (also in Mullumbimby) is well worth the visit if you're into all things spiritual, or just enjoy surrounding yourself with sparkly, serene things. Here you can also find treatments, readings and workshops.
YOGA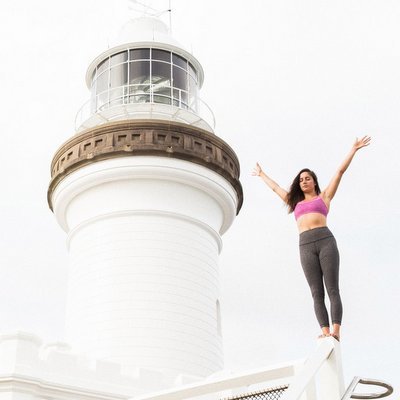 The yoga scene has boomed in Byron over the past few years, and locals laugh about the high teacher-to-student ratio in town. You'll find a style and environment for every taste, and a quick search (online or off) will point you in the right direction. As someone who loves yoga, my favourite place is Creature Yoga - the most popular studio, with two separate locations in very slick surrounds. Or if you fancy a little stretch immersed in nature, Bamboo Yoga Byron offer indoor-outdoor classes in an inviting yurt surrounded by greenery. But really, a whole story could easily be dedicated to the smorgasbord of spiritual offerings in the area.
BEACHES AND NATURE
If you're into surfing or want to give it a whirl, The Pass and Wategos are great for all levels, and Tallows is for the more experienced. Take a walk around the lighthouse to enjoy expansive, breathtaking views and, if you're lucky, spot a whale or pod of dolphins. If you're an early riser, you can't beat the sunrise views from the lighthouse, and Main Beach won't disappoint for picturesque sunsets and some drum-circle beats in the background.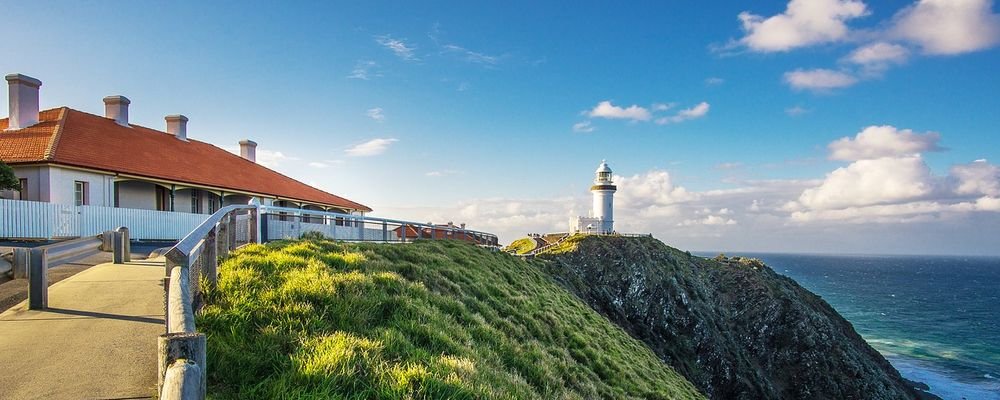 If you're looking for something a little more secluded, ask a local to point you in the direction of the Suffolk Park tea tree lake, or venture to Broken Head to explore the many more secret beaches—including one nude one. Take a rainforest adventure and hike to Minyon Falls, where you can enjoy a swim under the waterfall (after a 90-minute hike), or explore one of the many walking trails in the area. For those who love to walk, Byron Trails is a great investment and outlines 50 walking tracks in the Shire.
WHEN TO VISIT
If you're after a peaceful holiday, avoid Byron during music festivals and over the Christmas/New Year period. While it is busy most weekends, things tend to slow down in winter, but the weather remains beautiful, making it the ultimate time to visit. If you are planning to be in the Bay over one of these busy times, make sure you plan and book well in advance.
Chill out, Slow down, Cheer up and Enjoy!
---

Jessica Humphries is a writer, yoga teacher and passionate traveller. After studying philosophy and immersing herself in the Sydney corporate world, she threw it all in to become a yoga teacher/writer, relocating to the lazy Northern Rivers to enjoy life. Jess has taken many a travel sabbatical and continues to jet around to scope out the best wellness escapes and yoga goodness, whilst working as a freelance writer, editor, copywriter and yoga teacher. See her own travel blog at www.jesshumphries.com
---