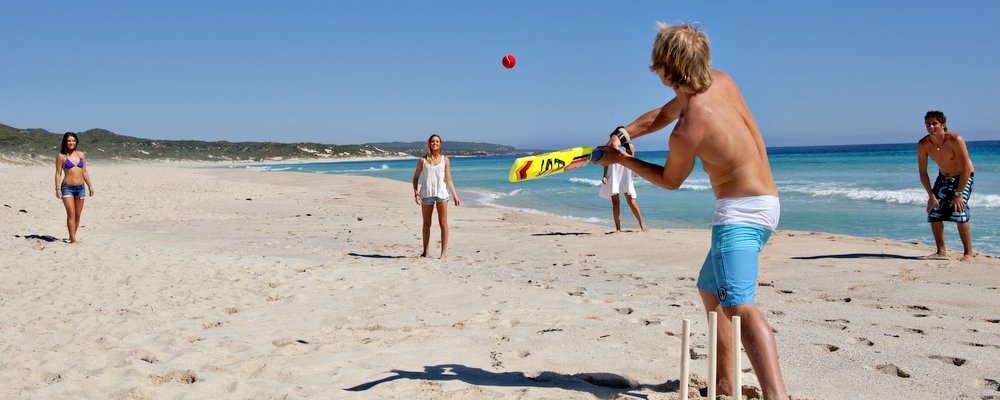 Beach cricket, playing two up at the local pub and snags (aka sausages) on the barbie, Australia Day is celebrated on the 26th January annually. The holiday marks the anniversary of the arrival of the First Fleet of British ships at Port Jackson in New South Wales in 1788 - it was 11 convict ships. The public holiday wasn't declared until 1935 and it only became a consistent public holiday in 1994.
Today the holiday is being bandied around in the political arena because it marks the day of colonization, disregarding the fact that Australian Aborigines and Torres Strait Islander people have been living in Australia for well over 60,000 years. There is much ongoing debate over changing the date or the name of the holiday.

Australia Day is about celebrating what it means to be an Australian and to acknowledge our history. It is a salute to Australians' democracy, freedoms, lifestyle and its land, as well as the Aussie innate sense of "fair go". From its humble beginnings as a convict outpost, Australia is a dynamic and contemporary land of diverse nationalities.
The public holiday is celebrated everywhere from neighbourhood street parties to big city music concerts held in open parks and there are organized events of all types. As a part of the Australian Day celebrations, it is one of the days when local governments throughout the country hold Australian Citizenship ceremonies. Everywhere one looks you will see the Australian National flag flying from whatever it can be attached to or printed on, such as bikinis and stubby holders (aka beer coolers).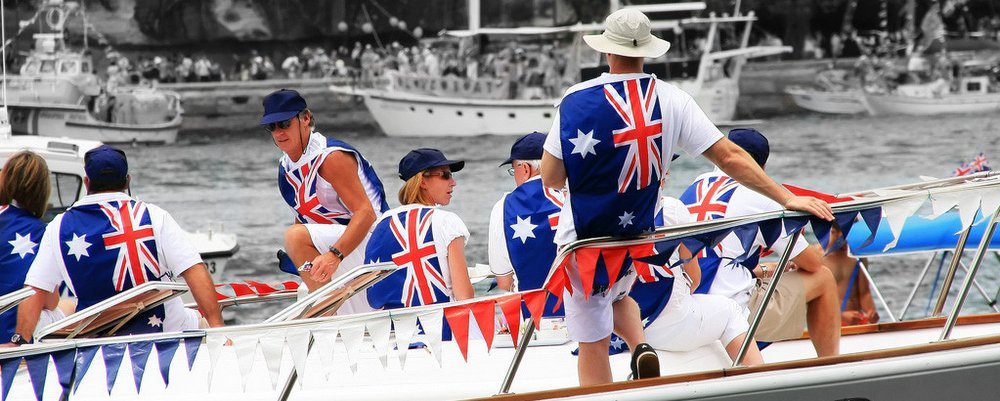 Organized events range from horse races to outback picnics, beach to street to backyard parties; Aussies love a public holiday. Held each year since 1837 in Sydney Harbour, the Australia Day Regatta is the oldest continuously conducted annual sailing regatta in the world. The boats range from large ocean-racing yachts to 18-foot skiffs, even model yachts for the young at heart. As many as 700 vessels take part in the regatta making it a spectator sport for those who prefer to stay dry on a picnic blanket with an esky (aka portable ice box or cooler) stuffed with beer within easy reach.
With its beach, bush and outback cultures, Australians are often referred to as "yobbos or bogans" referring to many with working class backgrounds and no finesse, unlike their European brothers. A cartoon caricature of an Aussie bloke will always detail a beer gut hanging over a singlet framed body with a craggy face wearing a wide brimmed Akubra hat swotting at buzzing flies and munching on a meat pie. It is the land of vegemite that Aussie travellers will lug everywhere in the world with them, pavlovas, lamingtons and fresh sweet prawns.
Australia is a vast "sun burnt" country awash in technicolour reefs, hip cities and Aboriginal dreamtime. It has rich ancient rainforests, deserts, sun basking islands, a plethora of amazing national parks to explore and a red heart where you will find the iconic Uluru (Ayers Rock). This is a land famous for what can bite, eat or sting you from sharks to crocodiles, but also some of the cutest animals on the planet such as koalas and platypuses.
Known for being friendly, easy going, laid back and with a unique sense of humor, Australians will always be ready to teach you some Aussie slang to get you by.
---
Gail Palethorpe, a self proclaimed Australian gypsy, is a freelance writer, photographer and eternal traveller. Check out her website Gail Palethorpe Photography and her Shutterstock profile.
---