Bali is an escapist's dream destination like no other. Chill out in over-the-top luxury resorts where having a daily spa treatment is de rigueur, wallow beachside watching a colorful parade of locals, eat in fabulous restaurants, or head to the lush hills where Ubud's boho lifestyle is infused with a magical air. April to October will give you dry, sunny days while the heavens open up in quick bouts of torrential rains during the other months. To get to paradise, you will probably have to pass through the Ngurah Rai (aka Denpasar) International Airport, Denpasar. The second busiest airport in Indonesia, it's located in the south of Bali, about 13km south of the city of Denpasar.
The first step in arriving at Ngurah Rai International Airport for many is the desperate search for the closest toilet; apparently, the aversion to an airplane loo is universal. You will find toilets along the transit hallway before immigration so that you don't have to do a dance to avoid disgracing yourself. Immigration queues, especially if more than one plane lands simultaneously, can be a frustratingly long wait. The fast-track immigration service is only available for official business people, families with young children, or the elderly. Ask for assistance if you fall into one of these categories. A completed immigration form is necessary to enter Bali. You will need your boarding pass plus passport to flash at the smiley immigration officer. The visa fee is payable in cash only. Check your country's status with Bali regarding your visa and vaccination requirements.
The following steps can be stressful if you are on your first trip to Bali. Ensure you have filled in your electronic customs declaration, which you can complete up to two days pre-arrival. If you still need to do this, use a smartphone and access Bali airport's free WiFi. Once the form is completed, you will receive a QR code that you show to the customs officer.
Collecting your luggage may be as painful as standing in the immigration queue—the airport is known for its slow handling of baggage. However, if you need to pee, this is the perfect time to do so, as plenty of toilets surround this area. At the entrance to the luggage area, electronic boards tell you which carousel your luggage will hopefully appear on. Unfortunately, carousel numbers have a habit of changing suddenly.
If you don't want to grab any duty-free items, this is the time to quickly run through customs by flashing your QR code. Historically the left-hand side is the best line to avoid x-ray inspection as it leads straight to the exit. If you want some Indonesian rupiah in your pocket, head to the ATMs after going through customs. You can also grab a local SIM card in this area. Beware of porters offering to take your luggage to your transport—unless you are totally infirmed: you don't need this service that comes at an exorbitant cost. If you have organized your driver and transportation, he will be waiting outside along with a horde of others, frantically waving cardboard signs with names and hotels written on them.
Traffic around the airport depends on the time of day; peak hours will have you sitting in bumper-to-bumper traffic being buzzed by a swarm of motor scooters. Lately, there has been an influx of big shiny-black four-wheel drives ferrying tourists around in air-conditioned comfort. Recently it took an hour and a half to get from the airport to Seminyak in the late afternoon, which I have never experienced before. So it's a wise maneuver to organize transportation to and from the airport when booking your accommodation.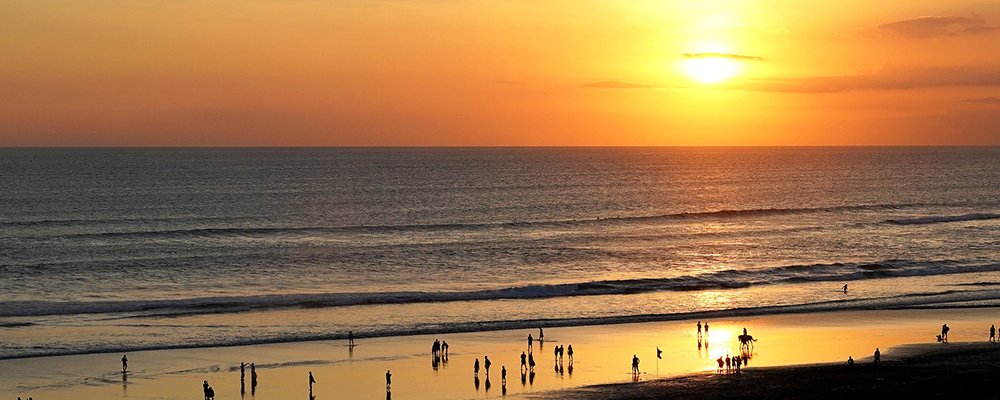 If you still need to arrange transport upon arrival, several transport companies are in the arrivals hall. Still, it may be a hit-and-miss affair regarding how long you will be left standing and waiting for your ride. Once you walk through the arrival gate, you will be confronted with a hungry horde of taxi touts that should be avoided at all costs; unless you are prepared to be ripped off even when you negotiate a price upfront, and the vehicle may not be precisely roadworthy. The most reliable are Bluebird taxis. Always check that the meter is turned on when you get in the car. Beware of the cheeky locals that have painted their old cars blue to trick unsuspecting tourists—they don't have a meter in them. If you are an adventurous soul, there are car hire counters (Avis, Budget, Hertz, Sixt, and Europcar) once you are through the arrival hoo-ha.
For those transiting through the airport and wishing to get some shut-eye or take a leisurely shower, book a room at the Novotel Bali Ngurah Rai Airport hotel. It's easy to get to from either the international or domestic terminals.
When it's time to depart, you should be an old hand at navigating the peculiar pitfalls of the airport. There are plenty of cafes and restaurants both before and after going through immigration. Grab a classic club sandwich at The Coffee Club and wash it down with your last Bintang, or eat a salad and down a smoothie from La Place. Two Tigers is where you can savor a bowl of Ramen, and my favorite Wolfgang Puck may have you missing your plane.
---
Gail Palethorpe, a self proclaimed Australian gypsy, is a freelance writer, photographer and eternal traveller. Check out her website Gail Palethorpe Photography and her Shutterstock profile.
---