As a business traveller, you like to emerge from your long-haul flight ready and alert for the opportunities and deals ahead of you in a foreign country. No longer is it a case of just finding the right price for the right airline of choice. No, it all can boil down to the extent of comfy-ness on a plane.
So here at Wise Traveller, we guide you through the best airlines offering the ultimate in lie-flat seats/beds.
Cathay Pacific
Cathay's reverse herringbone bed is one of the best available for business travellers. Launched eight years ago, the layout design sees the passenger angled towards the window.
The seats recline fully flat and have a retractable armrest and extension, increasing the seat's width to 29 inches when fully flat. The seating innovation has been a beacon for other airlines to follow.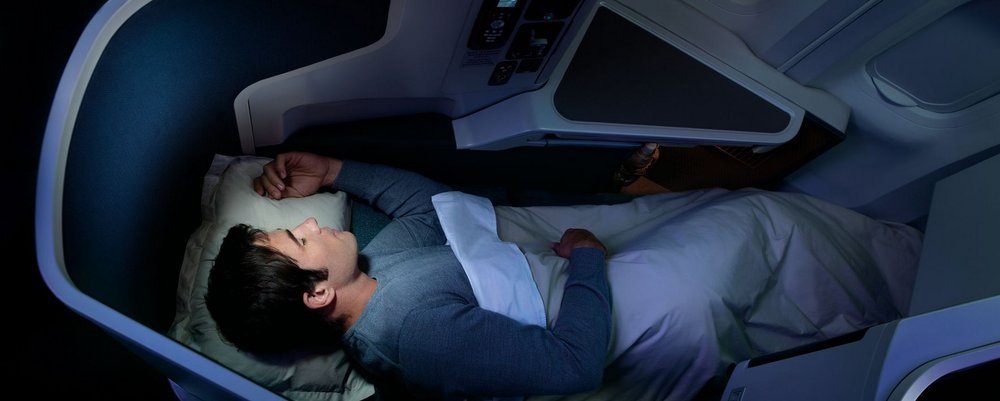 © Cathay Pacific
Qatar Airways
Qatar Airways' Qsuite offers the first fully lie-flat double-bed in business class and is said by passengers to be the most comfortable on offer from all airlines. There are privacy doors, extra seat width and the chance to combine two seats into a double bed.
Qsuite also comes with a handy quilted mattress, pillows and a duvet to complete the home-away-from-home experience.
The double-bed experience will soon be available on Qatar Airways Boeing 777-300ER and Airbus A350 aircraft, and is presently offered in business class between Doha, London, Paris and New York.
Don't have the advantage of a lie-flat seat? To help with your next long haul trip check out Jet Lag Cures: New-fangled, Unorthodox and Downright Ridiculous
Japan Airlines
JAL's Sky Suite service offers forward-facing and aisle access seats, meaning luxury for business class passengers all the way. Throw in attentive service, excellent wifi and food, plus sleeping privacy, and Japan Airlines' 'Sky Suite' really excels.
Etihad Airways
Super bedding experiences, great shuteye, and quietness don't come much better than the Business Studio on Etihad Airways. For cosiness, the airline includes large pillows, a blanket that has a cool and a warm side, and soft lighting, to aid business travellers' deep sleep.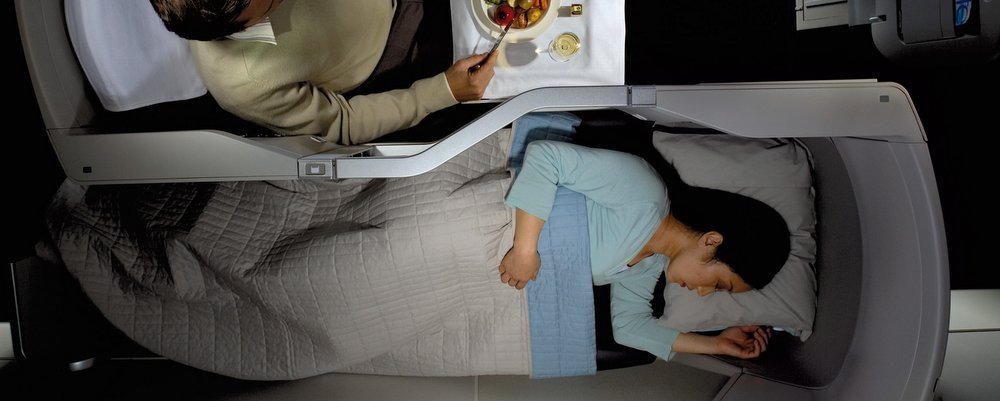 © British Airways
British Airways
The innovator of the lie-flat seat, BA's novel seating plan means that passengers get a 6-feet 6-inch sleeping experience and sleep fully flat. Club World has been offering lie-flat seats for the best part of nearly 20 years and is still a winner with passengers, particularly for its Z position, which is a cradling position for movie watching. Luxury bedding guarantees the Club World is a much sought-after experience for the long-haul business traveller.
If you can't sleep on your next long haul flight why not find out which airlines have the best in-flight entertainment systems.
Air France
The airline now features private pods with lie-flat beds, topped up with a Michelin-starred menu and a 16-inch HD screen for entertainment, All of this has been achieved following a major re-design, and passengers love it. The seats come with large pillows and soft duvets, and a reverse layout offers complete privacy, plus aisle access.
Turkish Airlines
The airline has come a long way in a short space of time and is now voted as one of the best in Europe. That's hard to disagree with when business travellers can stretch out on lie-flat seating that comes with massage functions and wonderful gourmet choices.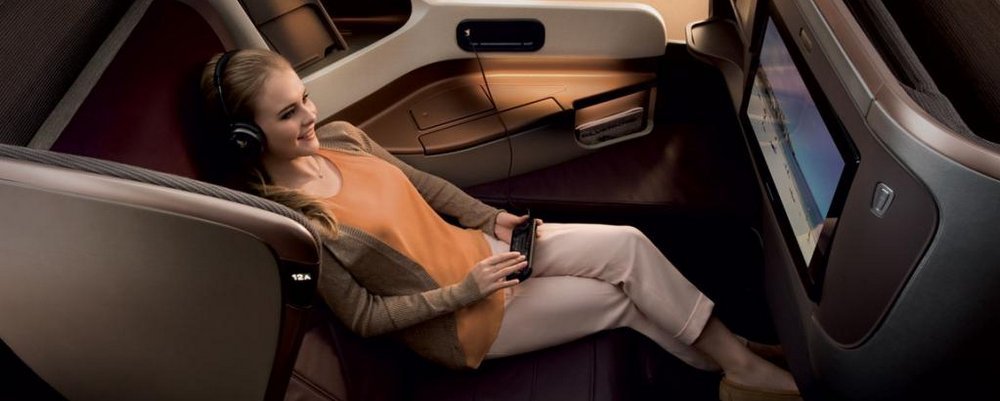 © Singapore Airlines

Delta
Delta's 2018 sleep option offers privacy doors, plus memory foam mattresses and the option of a sliding door to ensure a good night's sleep. Delta ONE is on the airline's Airbus A350s, and selected routes out of Atlanta and Detroit will have planes featuring these special seats.
Singapore Airlines
This is probably one of the best lie-flat experiences offered in the skies today. Singapore Airlines offers 12 partitioned suites in a grade beyond first class – where a double bed can be created for passengers travelling together. Business class seats, the widest at 86cm, recline fully flat and offer USB ports, a height adjustable table, and a 39cm LCD screen.
---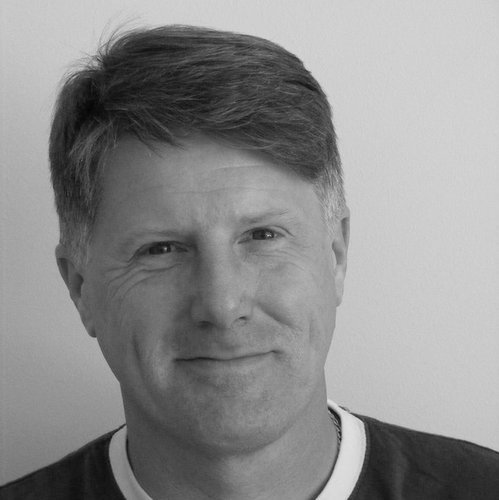 Andy Probert left the British rat race after a 25 year as a journalist and PR specialist to live in Turkey and now Cyprus, a compulsive traveller his favourite places include Vietnam and India among many. Among the travel Andy continues to write freelance and still maintains a PR client base.
---