Scrumptious Food, Savory Views
Some people come to Paris to see the sights. Others savor the Parisien cuisine. Offering a feast for the eyes and the taste buds, these Paris restaurants satisfy both desires.
Les Bateaux Parisiens: A Dinner Cruise Along the Seine
Never been to Paris? Introducing a special person to Paris? Start with a Bateaux Parisiens Dinner Cruise. The cruise begins at the Eiffel Tower, and sails past Notre Dame Cathedral, the Louvre Museum, Tuileries Gardens, Orsay Museum and the Grand Palais. Prices range from 69 to 205 euros per person, depending on the time of the day, and the number of courses in the meal. Bateaux Pariseins also offers a one hour cruise along the Seine, followed by a meal in their dockside restaurant at the foot of the Eiffel Tower. A perfect orientation for first-timers in Paris.
Address: Port de la Bourdonnais, Paris 75007
Tel: +33 825 01 01 01 | Les Bateaux Parisiens Website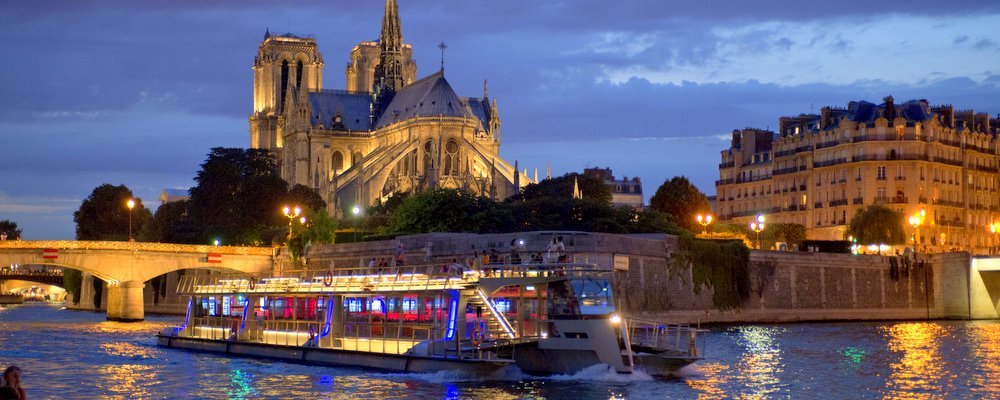 Restaurants in the Eiffel Tower
Boasting over six million annual visits, the Eiffel Tower is the most popular attraction in Paris. Two upscale restaurants and one casual buffet live within this awe-inspiring structure structure.
Address: Champ de Mars, 5 Anvenue Anatole, Paris 75007 | Eiffel Tower Restaurants Website
58 Tour Eiffel
Plan ahead if you wish to dine at 58 Tour Eiffel. Reservations fill up weeks in advance. Served in a picnic basket, lunch options include appetizers, main course, dessert and a drink. Chef Alain Soulard, formerly of Relais du Parc, produces specialties such as:
Marbled duck confit, foie gras and lentils with shallot vinaigrette
Salmon steak a la plancha, creamy polenta with sweet chestnut pieces and a purple mustard sauce
Guanaja chocolate mousse with crunchy praline
Prices start at 21 Euros. Dinner prices start at 80 Euros. 58 Tour Eiffel Website
The Jules Verne
A private elevator delivers you to this classy establishment, known for its divine views and delectable French cuisine. Specialties include:
Sea scallop and gold caviar, delicate cauliflower cream and crunchy
Meunière-style John Dory filet, onion/grape/walnut, verjus reduction
Chocolate/caramel palet, gingerbread ice cream
Open for lunch and dinner, prices range from 50 to 200 Euros | Jules Verne Website
Dress to the nines if your dining plans include The Jules Verne or 58 Eiffel Tower.
Restaurants On Top of Paris Museums
Museum rooftop restaurants are a Parisien trend. These two blend panoramic views of Paris with artistic cuisine.

Le Georges
Le Georges enjoys a prime location at the top of the Centre Georges Pompidou. As you look out at the most famous monuments of Paris, you might enjoy specialties such as :
Spicy bass tartare
Beef grilled filet "béarnaise sauce"
Cracker's cheese cake
Open for lunch and dinner, prices start at 75 Euros. Lunchtime specialties include more traditional selections, such as club sandwiches and Eggs Benedict.
Address: 19 Rue Beaubourg, Paris 75004
Tel: +33 1 44 78 47 99 | Le Georges Website
Les Ombres
Ombres means "shadows." The glass ceilings of Les Ombres restaurant reflect the shadow of the Eiffel Tower. Crowning the roof of the Quai Branly, Les Ombres serves a menu that reflects the multi-cultural exhibits of the museum. Peruse the menu, and you will find selections such as:
Carpaccio of salmon, guacamole with tomato ketchup, sliced almonds and candied lemon
Lobster salad and yellow peach with green beans, almonds, light cream vodka
Duckling fillet snacked, bok choy, Chinese noodles, Thai broth
Foie gras mi-cuit duck with stewed rhubarb
Prices range from 26 Euros for lunch, to 145 Euros for a complete dinner with wine.
Address: 27, Quai Branly, 75007 PARIS
Tel: +33 1 47 53 68 00 | Les Ombres Website
Other Paris Rooftop Restaurants
Parisien rooftops inspire artists, photographers and filmmakers. Eat at one of these establishments, and become part of the scene.
Kong
Its website content describes it best:
"From the kitchen, decor and music, nothing was left untouched to ensure the success of this UFO that landed on the rooftops of Paris. Laurent Taieb dreamt up this creation, he hardly slept and still doesn't, in order to ensure the smooth running of his beautiful machine."
Every window of this designer restaurant invites a different view: the Pont Neuf, the combined Art Nouveau and Art Deco design of La Samaritaine department store, and, of course, the Seine. A fluorescent staircase brings you to the restaurant, where Philippe Starck décor blends Louis XV armchairs with plasma screens, a and a carpet made of pebbles. Equally eclectic is the menu, a fusion of Asian and European specialties. A dinner, with starters, main course and desert costs at least 60 Euros. Add more for dinner with drinks.
Address : 1 Rue du Pont Neuf, 75001 Paris
Tel : +33 1 40 39 09 00 | Kong Website
Maison Blanche
Maison Blanche enjoys a prime location on the rooftop of Théâtre des Champs Elysées. Along with an inventive menu, this restaurant serves up delectable views of the Eiffel Tower, Invalides and the Seine. Chefs Jacques and Laurent Pourcel describe their menu:
"The underlying expression of our work aims at creating the perfect harmony between the 5 senses, a balance not limited to a single plate or table; the overall environment has to echo this basic principle."
Specialties include:
Pan-sautéed duck foie gras,
Roasted Solliès Figs with porto-wine and quinces juice
Velvety pumpkin soup,
French toast with wild mushrooms and "Colonnata" bacon
Medallion of Breton lobster, on a bed of saffron jelly, dash of Alexis Munoz's olive oil and lemons
Crispy anglerfish, Mashed potatoes with preserved Calabre lemon and parsley sauce
Black Tiger king prawns, Autumn vegetables just cooked with "Jabara" vinegar
Prices range from 50 to 110 Euros for a full dinner.
Address: 15 Avenue Montaigne, Paris 75008
Tel: +33 1 47 23 55 99 | Maison Blanche Website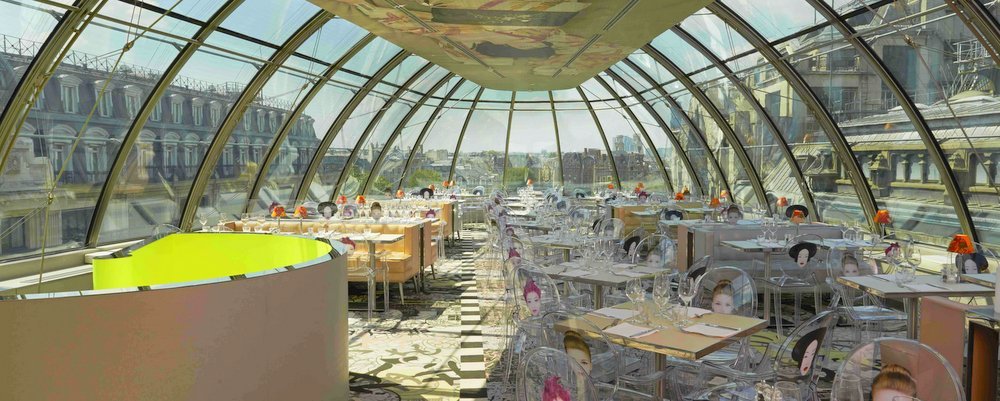 Le Ciel de Paris
Perched at 200 meters from the ground, this restaurant offers the best views of the Eiffel Tower. In fact, its location, on the 56th floor of the Montparnasse Tower, offers the best panoramic views of the splendid City of Lights. Specialties include:
Rock Lobster Carrot and beetroot coleslaw salad with truffle dressing
Roasted turbot, served with ratte potatoes and chanterelle mushrooms, Champagne emulsion
Iced vineyard peaches cake, vervaine flavoured
Price fixed menus are available at 30, 68 and 134 Euros.
Address: Tour Maine Montparnasse, 56 ème étage, 33, Avenue du Maine, Paris 75015
Tel : 33 1 40 64 77 64 | Le Ciel de Paris Website
Cafes, Bistros and Casual Dining
These cafes, bistros and casual dining establishments offer great views, without the dress code requirements.
Buffet Tour Eiffel
If you get hungry while touring the tower, stop at the first floor for a casual lunch or snack. Choose from sandwiches, pizzas, pastries, ice cream and beverages. Buffet Tour Eiffel Website
Déli-Cieux at Printemps
Set in a glass case, this casual, affordable eatery crowns the rooftop of Printemps Home Store. Views of the Eiffel Tower, La Madeleine Church, Sacre-Coeur and iconic Parisien rooftops add flavor to a standard menu, which includes snacks, soups, sandwiches and salads. Prices range from 10 to 30 Euros, depending on how much you order. The views, however, are priceless.
Address: Printemps Beauté/Maison, 9th floor, 64, Blvd Haussman Paris 75009
Tel: +33 1 42 82 62 76 | Website
Le Flore en l'Isle
This sidewalk café specialises in traditional fare, such as quiche Lorraine, soupe à l'oignon gratinée. Many people come for the Berthillon ice cream and its direct views of Notre Dame.
Address: Ile St-Louis, 42 Quai d'Orléans Paris 75004
Tel: +33 1 43 29 88 27 | Le Flore en I'Isle Webiste