The Boryeong Mud Festival has humble beginnings.
First established in 1998 it was used as a marketing tool to promote cosmetics made from the region's mud, which is considered by some to have more healing properties than that of the Dead Sea mud in Israel. The area got into the mud business in 1996, developing 16 mud cosmetic products, from mudpacks to creams.
The business lacked public awareness, so Boryeong hosted its first mud festival in 1998 showcasing the stunning Daecheon Beach and trucking in glorious mud that is high in minerals, especially germanium and bentonite, that are beneficial for the skin. Every year the number of tourists increased on an international scale, and Boryeong is now the "mud capital" of the world. It has been titled a "Global Festival of the Republic of Korea" since 2015, with millions of people flocking to frolic in their seaside mud.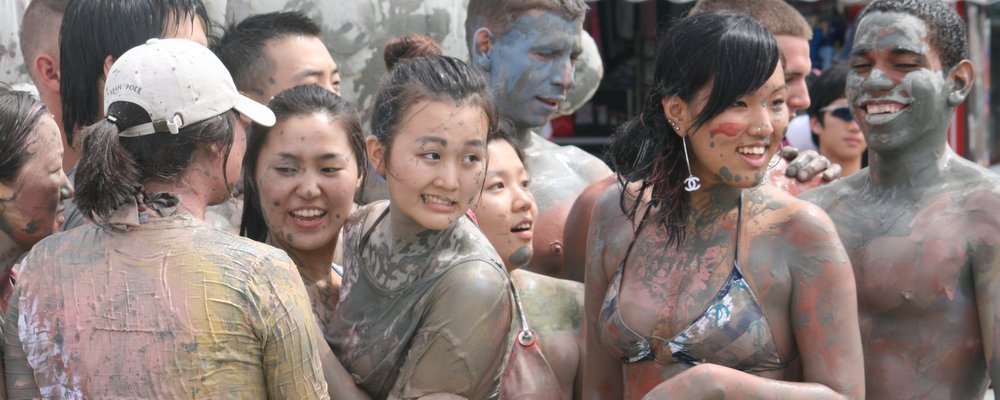 It is celebrated over a week, but the main riotous and muddiest events seem to be held on the weekend. Throughout downtown Boryeong and along the shores of Daecheon Beach festivities run riot with tourists being ferried in by the busload and dropped off to play in the oozy mud. Some activities are on the freebie list, whilst others you will need to get a ticket for that can be purchased either at the festival or in advance online.
This is the perfect time and place to let the inner child be free, to literally wallow in slimy mud in giant mud baths, mud fountains, mud pools and even mud massages. The best fun is in group scenes; joining in the colour mud body painting, competing on mud obstacle courses, jumping around inflatable playgrounds overflowing with slimy mud or being a dare devil slithering down a mud super slide. By the end of the day you will resemble a mud monster, but you won't be able to wipe the grin off your dirty, muddy face.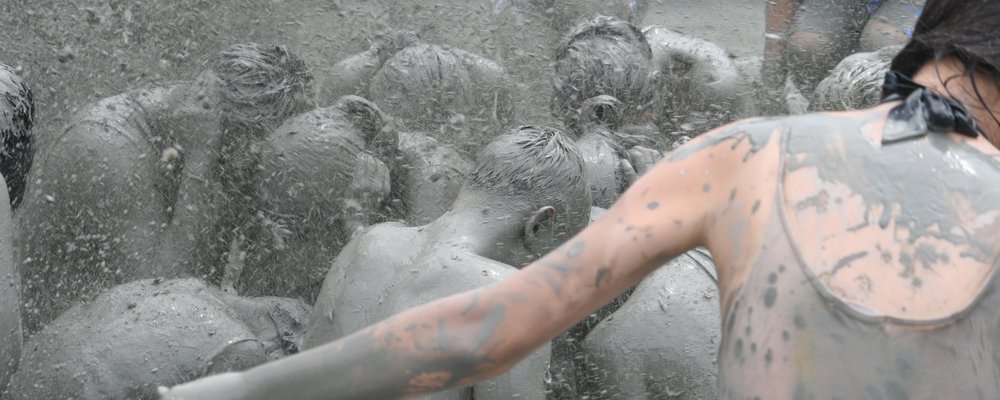 The Boryeong Mud Festival is the largest global summer festival, and it doesn't matter what age, nationality or language you speak, as it is a free-for-all in muddy muck heaven. The festival roars throughout the day and night with plenty of events for mud-shy souls that don't involve ending up in a quagmire of mud. Daecheon Beach has white sand and crystal water to swim in, so it is easy to get rid of the mud when you have had enough. The fact that the festival is held during the summer is another bonus.
For the gourmands who love to indulge in food as much as muddy playtime there are plenty of local delicacies that should be gorged upon during this time. Grilled oysters Cheonbuk-style should be at the top of the list for their unique flavor followed closely by blue crab soup that is hot and spicy, with plenty of red chili pepper flakes. Another dish to rave about is the webfoot octopus that is cooked and dished up in numerous ways, from being eaten raw to grilled or fried. You can grab some freshly prepared mouthwatering sashimi and load it up with the spicy gochujang-based sauce "chogochujang" or recline with your feet in the sand and munch on some grilled jumbo shrimp before heading off to one of the decadent beach parties that never end.
If you are interested in other throw stuff festival what about Holi: India's Festival of Colours or the Harbin Snow and Ice Festival.
​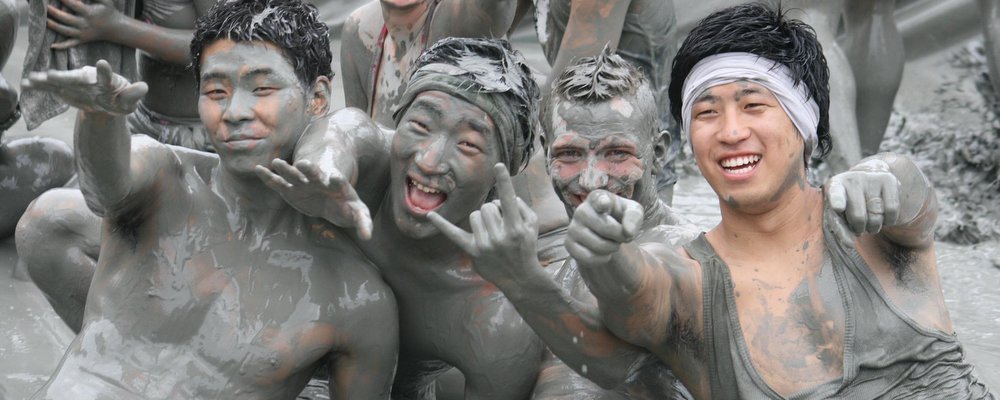 Tips For The Boreyong Mud Festival
Don't forget to wear clothes or swimmers that you don't care about, because the mud is not easy to wash out.
Food stalls only accept cash, not credit cards.
Take a waterproof camera for those hilarious pics.
Earplugs are a good idea to keep the mud out of your ears.
Take a towel or a shawl in case you get chilly when the sun goes down.
A waterproof bag is a dire necessity to keep your stuff out of the mud.
Flip-flops are handy in case the ground gets hot during the hot day.
Pets, smoking and drinking are not allowed.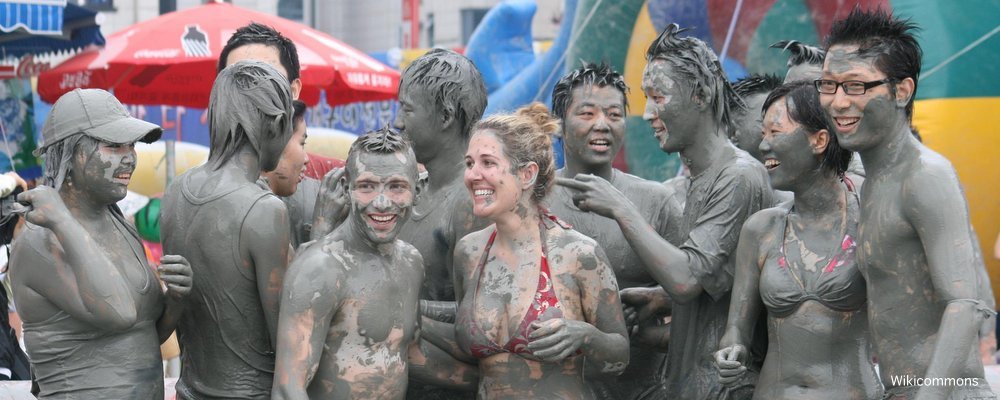 Travel Information For The Boreyong Mud Festival
Language:

Official Language – Korean

Many speak English but may have trouble understanding as they don't have a lot of chance to practice.

Currency:

South Korean won

Time Zone:

GMT+9 - South Korea observes Korea Standard Time all year, as they do not have Daylight Saving Time.

Population:

51.25 mil

Capital:

Seoul

Weather:

Spring - April to June (best months to visit)
Summer - July to August (muggy and wet)
Autumn - September to November
Winter - December to March (cold, snowy and dry)

Date of Holiday:

July

Where:

Daecheon Beach (Mud Square) 897-15, Daehae-ro, Boryeong-si, Chungcheongnam-do

Travel Considerations:

Boryeong sits only two hours from Seoul, and the festival is easy to get to from anywhere in the country by public transportation. You can grab a bus for Boryeong on the first floor of the Incheon International Airport from Stop 09D. About five buses leave per day, and tickets can be purchased at the terminal, or you can pay directly to the driver. If you are coming from central Seoul, there are express buses from the Central City Bus Terminal that depart about every hour.You can book online in advance.

If you plan on staying the night in Boryeong, you should plan ahead and book accommodation, if you don't want to end up on a mat on the floor in a "minbak".





Image Credit: All images courtesy Shawn Perez @ Flickr, unless otherwise noted.
---
Gail Palethorpe, a self proclaimed Australian gypsy, is a freelance writer, photographer and eternal traveller. Check out her website Gail Palethorpe Photography and her Shutterstock profile.
---