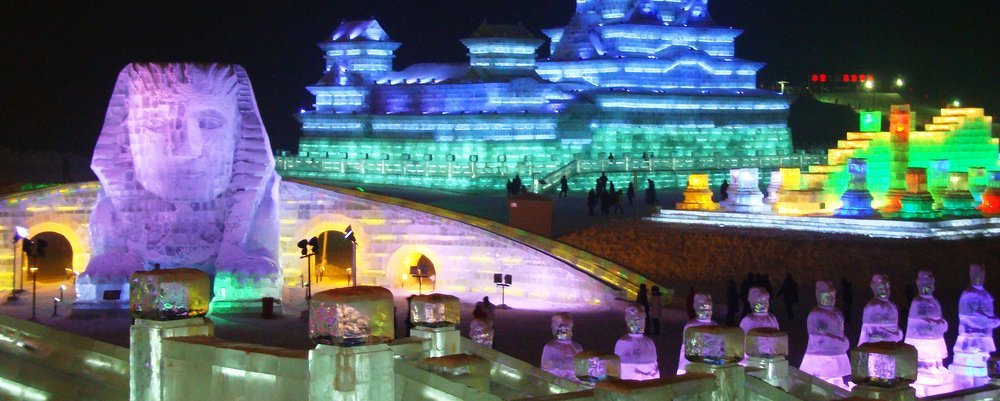 Image: Wikicommons
The largest ice and snow festival in the world.
As well as the chilliest, the Harbin International Ice and Snow Sculpture Festival is one that you will have to rug up completely to survive the cold temperatures. Think thermal undies, down-lined jackets, thick gloves and maybe a balaclava to keep your head warm as you gawk at the most amazing ice creations. Remember to slurp on plenty of hot drinks in the coffee huts dotted around to keep your blood from freezing and to thaw out your nose, as the temperature can drop as low as -35°C. A throng of tourists annually descends on Harbin to ogle ice sculptures of mammoth proportions that are illuminated at night giving a kaleidoscope aura of color to the fairytale vista.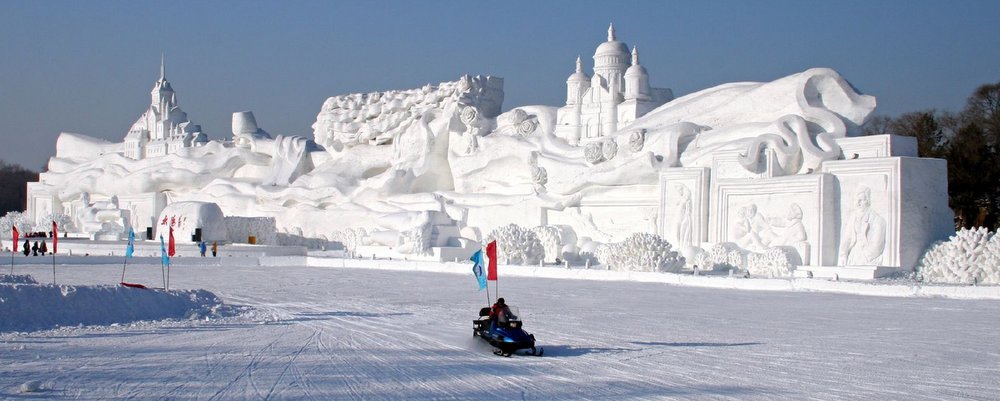 Image: Emma Gawen - Flickr
The history of the Harbin Ice and Snow Festival
It began with Harbin's traditional ice lantern and garden party from the year 1963. Despite being interrupted for a few years during the Cultural Revolution, it resumed in 1985 at Zhaolin Park as an annual event. In 2001 the festival was merged with Heilongjian's International Ski Festival and in 2007 it featured the world's largest snow sculpture, which was 8.5 meters high and 250 meters long, earning a place in the Guinness Records. At first the majority of the participants were mainly Chinese, however it soon became an international festival and competition.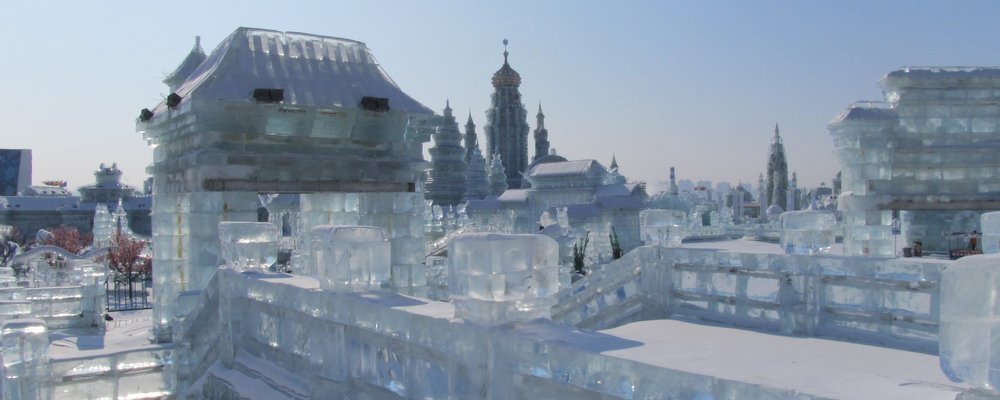 Image: Tracy Hunter - Flickr
Not the only option.
Harbin is not the only place with a frosty ice sculpture festival when the winter winds blow through from Siberia, as there is Japan's Sapporo Snow Festival, Canada's Quebec City Winter Carnival and Norway's Holmenkollen Ski Festival where you can also freeze your butts off. Snow and ice sculptures remain pristine due to the subzero temperatures with the most awesome neck craning creations found in Harbin. If you are chasing a less crowded venue head to the Sun Island with its enormous snow sculptures that is a short taxi ride across the Songhua River or to Zhaolin Park to escape the mass of humanity.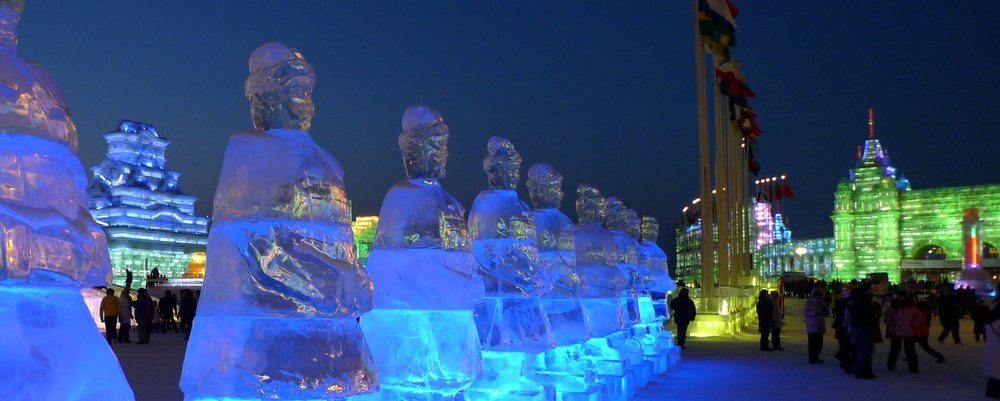 Image: Don Felix - Flickr
Not just about the scultures.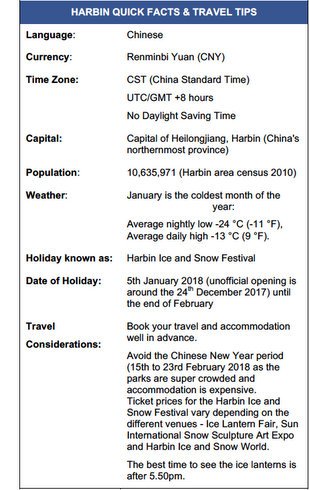 Celebrated not just by the creation of wacky ice structures, activities include Yabuli Alpine skiing, taking a frigid dip in the icy waters of the Songhua River and the incredible ice-lantern exhibition in Zhaolin Garden. Games of ice hockey, ice football, speed skating, cross-field skiing, fishing and ice sailing, as well as folk and dance performances happen. It is a veritable celebration of anything you can do on a slippery surface in frigid temperatures with ice sculptures dotted around the city, the riverside and along the pedestrian-only Zhongyang Dajie.
The festival covers a massive 750,000 square meters with astounding ice sculptures that in recent years have been buildings and monuments such as the Crystal Castle (a whopping 48 meters tall) and an enormous seated Buddha to super-sized animals, people and mythical creatures such as snow-rendered whales to Chinese fishermen and chubby snow fairies to dragons. There are slippery dips and ice slides to ensure that your rear end does get frozen and magical light shows at night creating a wonderland of vivid colors. Many of the ice carvers use ice blocks cut from the Songhua River, but if the creator is looking for ice with perfect clarity and transparency, deionized water is frozen.

Image: Wikicommons
About Harbin
Harbin is the main port of call on the Trans-Manchurian Railway, which links Beijing to Chita in Eastern Siberia from where you can jump on the Trans-Siberian Railway to get to Russia's capital of Moscow. With its record-breaking ice sculptures that have been dazzling visitors for over 50 years, the city of Harbin is also a town shaped by its Russian history. You will find cobblestoned pedestrian only zones, Russian architecture, plenty of Russian vodka on tap and even "pelmeni" (Russian dumplings) to scoff. The incredible green onion domed Church of St Sophia with its golden crosses sitting on its spire was once a church, but is now a museum displaying photographs of Harbin's intriguing past. Once home to the biggest Jewish community in the Far East, Harbin has 2 synagogues and the Huangshan Jewish Cemetery.
A photographer's paradise, the Harbin International Ice and Snow Sculpture Festival has become the world's premier winter tourist destination.
---
Gail Palethorpe, a self proclaimed Australian gypsy, is a freelance writer, photographer and eternal traveller. Check out her website Gail Palethorpe Photography and her Shutterstock profile.
---