Historically Vientiane was the bolt hole for many a spy during the Cold War years in the 60's and 70's. It is a town overflowing with tuk tuks, bursting at the seams with people and plastic bags, a riot of colour, spicy aromas and noise. The usual Asian traffic chaos overloads the senses, as with most places in this part of the world. It is the smallest capital city that still exudes an air of laid back cafe society life in hidden quiet corners of tree-lined boulevards, where washing is strung from every conceivable verandah or bamboo pole.
Vientiane is where; cooking is done on the street corners of rustic wats by coolie clad old women, locals and tourists ride bicycles in a lazy haphazard manner, and the brown muddy Mekong separates Thailand from Laos. Gracious old French colonial buildings are in the flux of being renovated into chic boutique accommodations to cater for the growing tourist market and the early morning freshly baked French bread and pastries are to die for.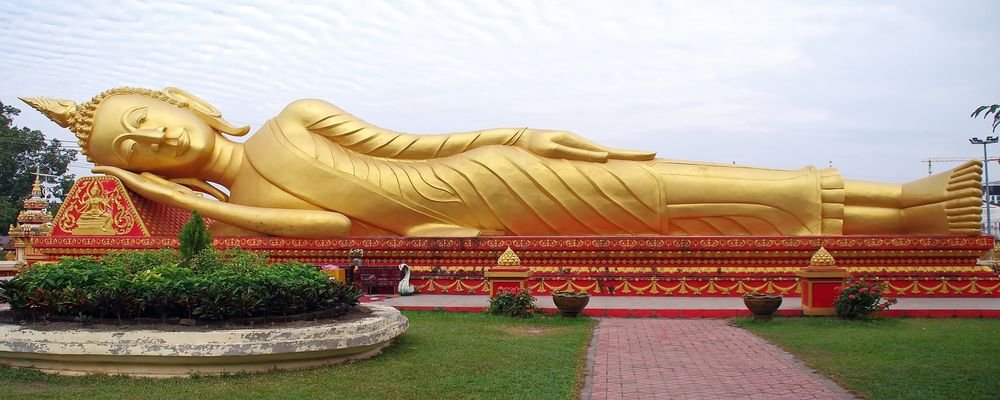 There are not a lot of "must do" sights but the Golden Stupa or That Luang, built in 1566 and reconstructed in the 1930's by the French, is a towering gold epitaph supposedly to a hair from Buddha. The Patuxai Gate, apparently nicknamed the "vertical runway" as it sits as a centrepiece for a roundabout, is almost a parody of the L'Arc de Triumph in Paris with a Laotian Buddhist twist of ornate richly coloured engravings on the ceiling. And of course, there is temple after temple after temple, with glorious statues and gardens.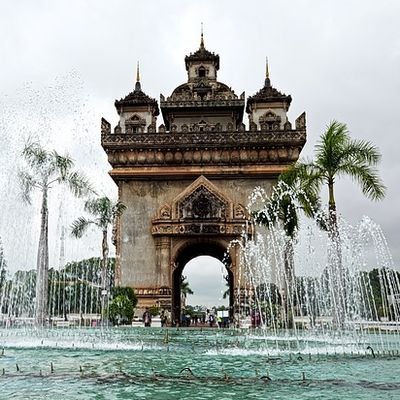 The Morning market could be given a miss, unless you want "same same". It is more along the lines of the MBK Siam in Bangkok, or an indoor Chatuchak market. If you wander outside there is a dusty corner of makeshift tin roofed jewellers busy working in dim light. Across the road and heading towards the bus station, you will find the real Laotian market place, where the locals gather for fresh food of every description. Mounds of beautiful French bread, chickens and their innards proudly displayed, fruit so colourful it sets the red slippery muddy tracks to shame, food carts, herbs on the side of the road outside the markets which appear to be the makings for potions by witch doctors, overflowing tuk tuks, long wooden carts being pushed, some loaded to the brim and some coming back empty. It is where locals in the shops sleep on their produce, coolie hats bob along dim passageways and locals do their daily shopping.
Every night there is a parade of locals and tourists alike in the night markets. Brightly lit up with makeshift lighting and electrical cords running everywhere, everything that you can imagine is on display for sale. There is even a stall selling spoons and jewelry made from the remnants of the scrap metal of bombs, the money going back to the people afflicted with permanent disabilities. It is even a local hang out for the young Laotian lads to court their girlfriends. People eating everywhere, either on little stools with candles for light or sitting in the gutter at a kid's table on a kiddie's chair with a bowl of noodles right beside the traffic.
Vientiane is a place of colourful contrast that is to be slowly savoured like a bottle of good French wine, preferably with a gastronomic delight of buffalo and potato stew, a local speciality.
SLEEP:
Dhavara Boutique Hotel, Ban Xiang Nguen Mantathurath Rd, Vientiane
FOOD:
Makphet, Sethathirat Rd, Behind Wat Ong Teu, Vientiane, Laos
Aria Italian Culinary Arts, 8 Rue Francois Nginn | Ban Mixai, Vientiane 00000, Laos
Common Grounds Cafe and Bakery, 101 Chao Anou Rd. Wat Chan, Vientiane Vientiane, Laos
Spirit House Bar & Restaurant, 93/09 Fa Ngum Road | Ban Seetarn Neua, Vientiane, Laos
SIGHTS:
Patuxai Gate
Great Sacred Stupa (Pha That Luang)
Night Markets on the riverfront
N.B. DONT MISS - sitting in a cafe and watching the world go by!
---
Gail Palethorpe, a self proclaimed Australian gypsy, is a freelance writer, photographer and eternal traveller. Check out her website Gail Palethorpe Photography and her Shutterstock profile.
---