Sitting on the Thu Bon River banks, the enchanting Little Riverside is almost hidden from the road by a bower of bamboo trees speckled with dangling orange lanterns. The fairytale entrance is the welcome to a peaceful enclave of traditional and charming Vietnamese hospitality in the UNESCO Heritage Listed ancient city of Hoi An. Located on the central coast of Vietnam, the town is a melting pot of cultures. As far back as the 15th Century, Hoi An was a bustling and wealthy trading port where Portuguese, Dutch, Indian, Japanese, Chinese, and indigenous Cham people gathered in a colorful array.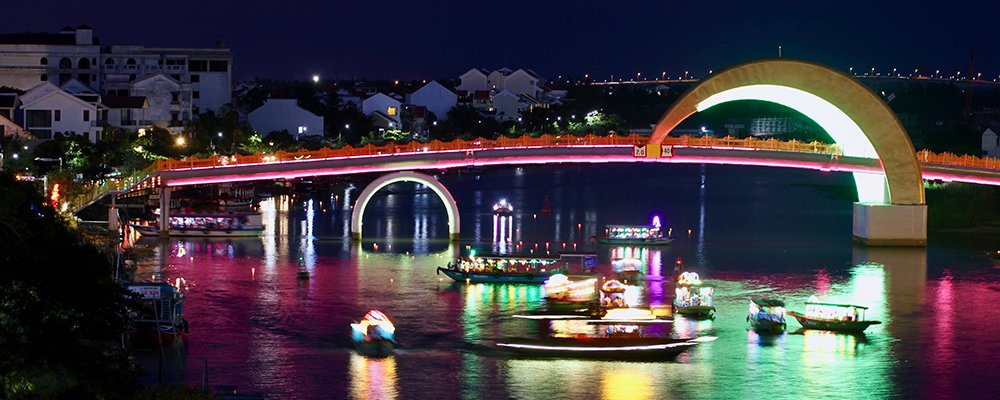 Little Riverside's traditional Hoianese architecture is a refreshing experience from contemporary and trendy hotels. You are wrapped up in a bubble of yesteryear with the dark-wood interior typical of Hoi An's mixture of architecture created by blending historical influences and French colonial days. The distinct yellow hue of the hotel's exterior walls symbolizing luck, royalty, pride and prosperity, is characteristic throughout Hoi An from quaint double-storied shop houses to ancient merchant mansions and tea warehouses littering alleys and streets. Exquisite paintings of Vietnamese daily life adorn well-lit hallways, where polished wooden floors are so shiny they reflect the golden glow of light fittings. The front desk of friendly staff who speak English will look after all your needs from arranging tours to transport with a driver. And provide handy local tips about the best restaurants and tailors.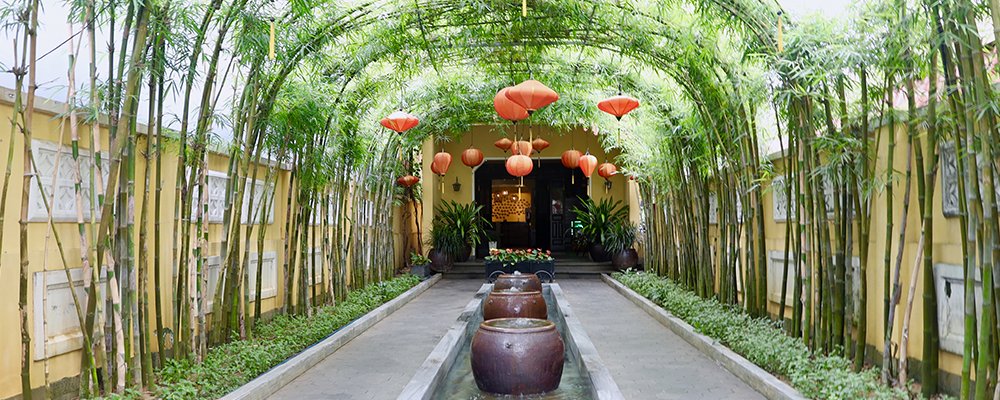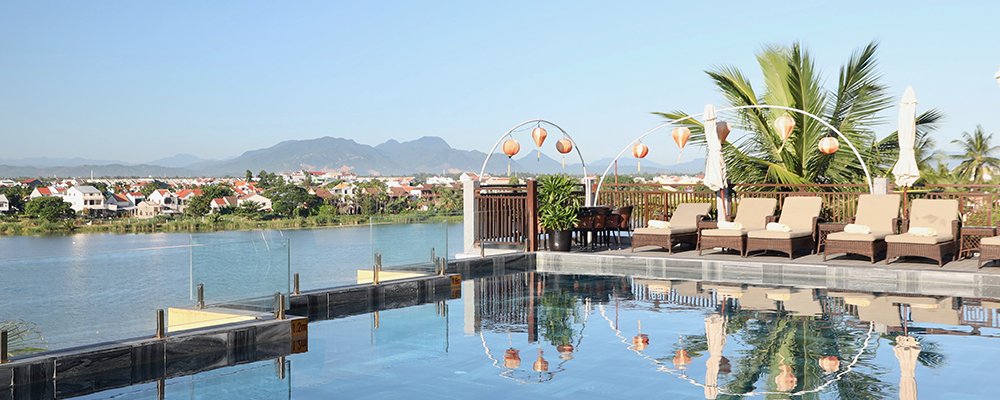 The classic rooftop infinity pool with a stunning panoramic view at your feet of the constant happenings on the waterway is the place to hang out after walking or riding a bicycle through the town. Take a refreshing dip, sip a coffee or a cocktail, and chill out reclining on a day bed with a good book. At night the lights of the bridge downriver are constantly changing, and the rainbow colors of lantern-strewn boats reflect on the water in a kaleidoscope of hues. Take the time to let expert hands lull you into a state of utter bliss when you indulge in some body-pampering at The Ozone Spa. Heaven awaits in scrubs, wraps, facials, and massages. Alternatively, have some sweaty moments in the state-of-art gym located down an elegant staircase. For the sun-worshippers wishing to have sand between their toes, the hotel has its own private beach about 10 minutes away. There's a regular shuttle service from the hotel.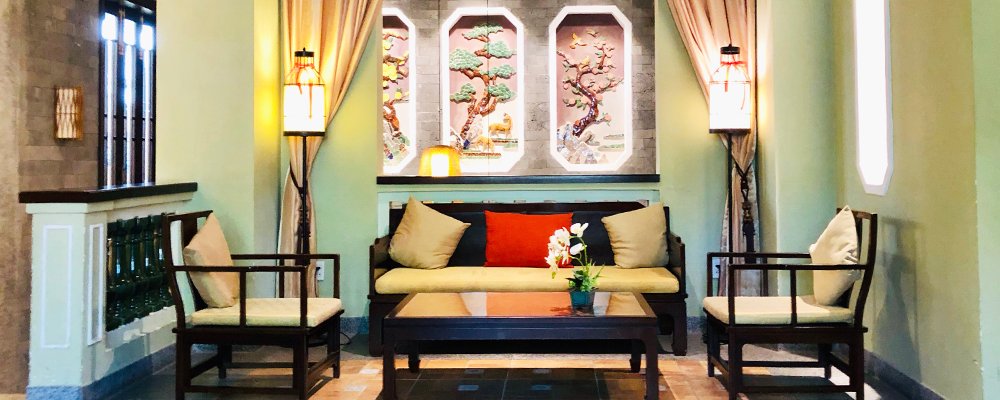 Beguiling guest rooms and suites are in various configurations, some with river views while others look over the town from private balconies. Ensuites are luxurious. Double ornate wooden doors open onto mosaic wall tiles of various colors and oversized bathtubs to soak away the day's grime. Spacious showers give you enough room to do a little happy dance under. Wifi is excellent throughout the hotel if you worry about being disconnected from the outside world.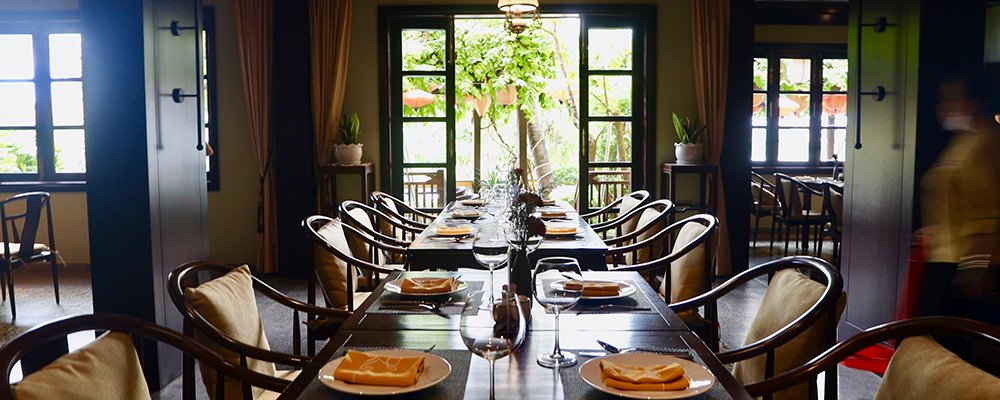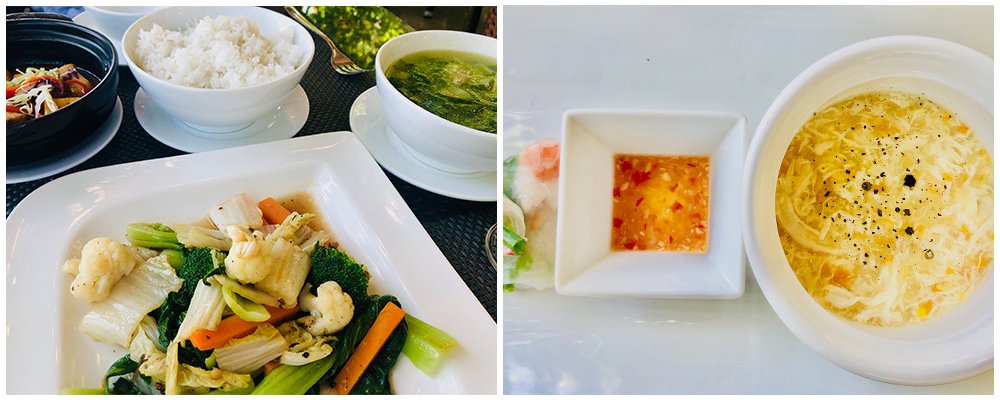 On the riverside terrace, Traders Restaurant will satisfy any hunger pangs. From breakfast to dinner, this delightful space gives you a choice of tables inside in air-conditioned comfort or outside by the river under a canopy of lush greenery where refreshing breezes whisper. Vietnamese favorites; think stir-fried beef with lemongrass and chili, seafood fried rice, deep-fried shrimp with fish sauce, or maybe the delicious steamed calamari with ginger will tingle your taste buds. If you crave Western comfort food, you can opt for a burger, pizza, pasta, or satisfy your lust for meat with an Australian grilled rack of lamb drizzled in red wine sauce. Here, you can linger over lunch and while away the heat of midday with chilled wine or a beer in your hand for the perfect afternoon of river voyeurism.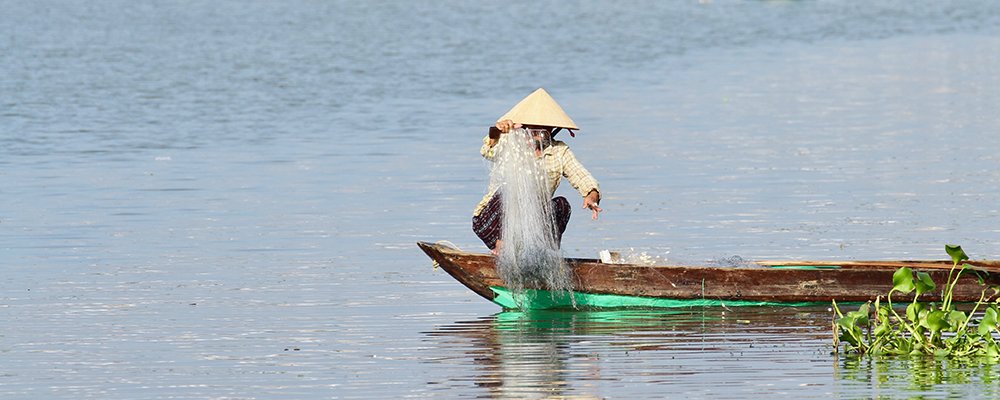 The show on the river's lazy waters begins in the wee hours of the morning with boats of all sizes plying the river. Fishermen drag nets from low-slung wooden boats 'sampans' or the quirky round basket boats. While traditional fishing boats chug along the Thu Bồn River estuary to the tune of noisy two-stroke motors as they head for the Cua Dai Sea. At any time of the day, tourists float past in sampans taking in the river views.
One of the most visited towns in Vietnam, Hoi An's culture and history is inextricably connected to the waterway. You can have a breath-taking front-row seat when you stay at Little Riverside.
---
Gail Palethorpe, a self proclaimed Australian gypsy, is a freelance writer, photographer and eternal traveller. Check out her website Gail Palethorpe Photography and her Shutterstock profile.
---