One of the biggest floating markets in the Mekong Delta, Cai Rang puts your senses into overload from the aromatic air tainted with black chugging smoke to a colorful kaleidoscope as boats and people en masse dance on top of the brown silty waters of the Hau River in southern Vietnam.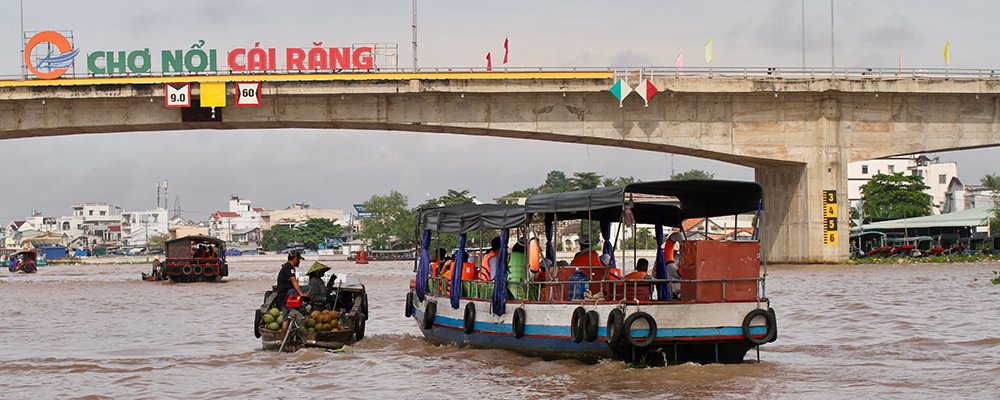 The markets portray a traditional way of life that's been going on for almost a hundred years. Due to the extensive river system of the Mekong Delta, the markets began for locals to trade goods—a meeting hub for remote farmers to gather together. Today, the market thrives. Bustling with international tourists gawking and scoffing cheap eats amidst the watery chaos from the wee hours of the morning—think 5.30am when the sun is rising.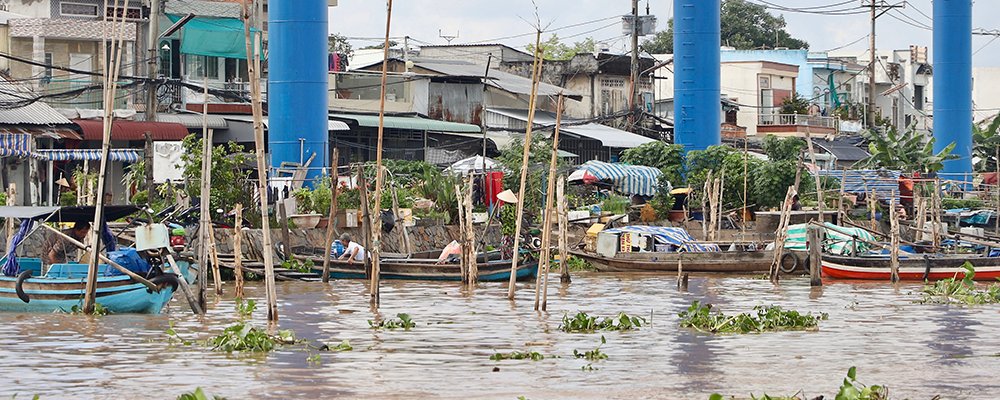 For foodaholics, it's a chance to savor the tastes of the Mekong Delta. It's a variation of gobbling down Vietnam's street food on the sidewalk squished onto a plastic kiddie's chair. Feasting at the floating market involves gorging while tottering on a wooden boat above water you don't want to fall into. Pop-up boat kitchens have decks smothered in colorful buckets of necessary ingredients. At the same time, a massive pot of boiling broth sits front and center. It's an incredible sight watching a cook's balancing talent when the wash of a passing boat rocks their domain. There's Pho or Hu Tieu to make your mouth water as a steaming bowl of rice noodle soup is ladled out before you, maybe, a rustic serving of Bun Rieu with its vermicelli noodles and brilliant red tomatoes or the specialty of Bun Ca, fish noodle soup. As you greedily grab the proffered dish in anticipation of slurping up the goodness, the air explodes in a fragrant burst of steam. It's infused with scents of fresh herbs such as lemongrass, mint, ginger, coriander, basil, and chili. Vietnamese food is traditionally a concoction of salty, sweet, sour, bitter, and, best of all, spicy. Mouth-burning hot and aromatic, your taste buds will be delightfully doing the tango.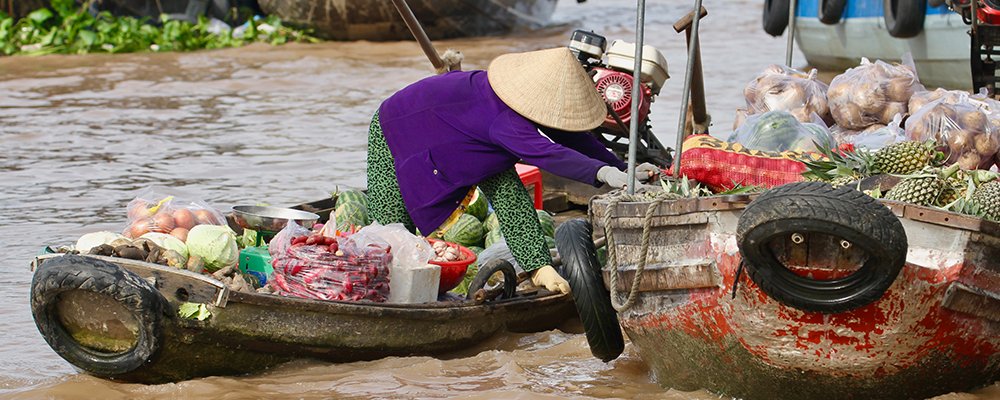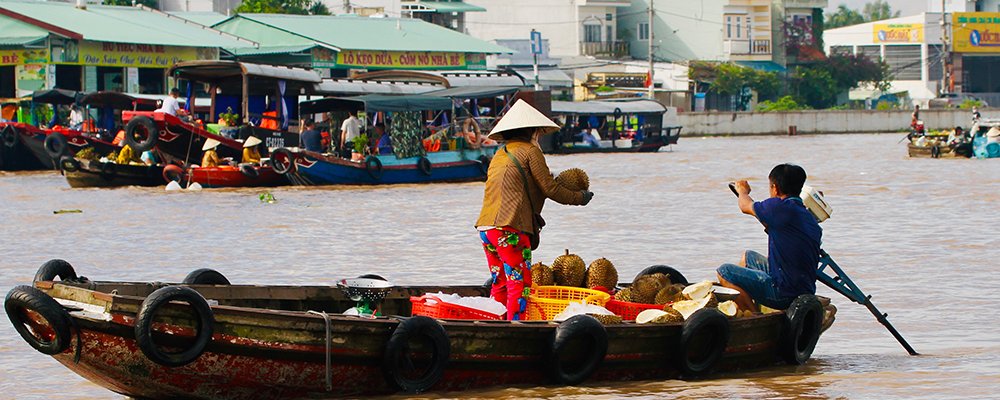 It isn't only freshly prepared food on offer. The patchwork of hundreds of boats chokes the riverway in a somewhat messy but orderly fashion. Huge boats and barges are swollen with mountains of fruit or vegetables and appear to be anchored in distinct lanes. While, smaller boats swish around them in almost an orchestrated waltz. Smiling brown faces, some peering out from beneath conical bamboo coolie hats, maneuver rustic wooden longboats. Some stand up using oars to ply through the water. Others perform like ballerinas in the perfect pose with a foot balanced on the long tiller as they rev the throttle of the belching outboard motor. Boats have a long pole on the bows known as a 'Cay Beo' where samples of their goods are hung. Pineapples, bananas, durian, mango, and papaya decorate the masts in an unconventional marketing approach for buyers to identify which boat to pull up beside. The market is a floating bazaar of everything you can think of from the surrounding areas of the Chau Thanh District and Cai Rang township. Dried fish, coconut candy, household items, handicrafts, and hidden away are smuggled goods such as cigarettes. Little boats dart around selling drinks to both vendors and buyers. It's a panoramic and vibrant vision of river life in the Delta region.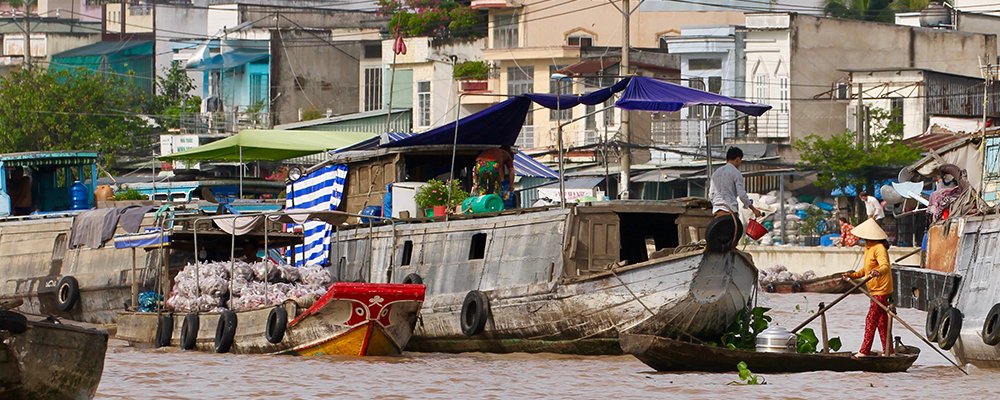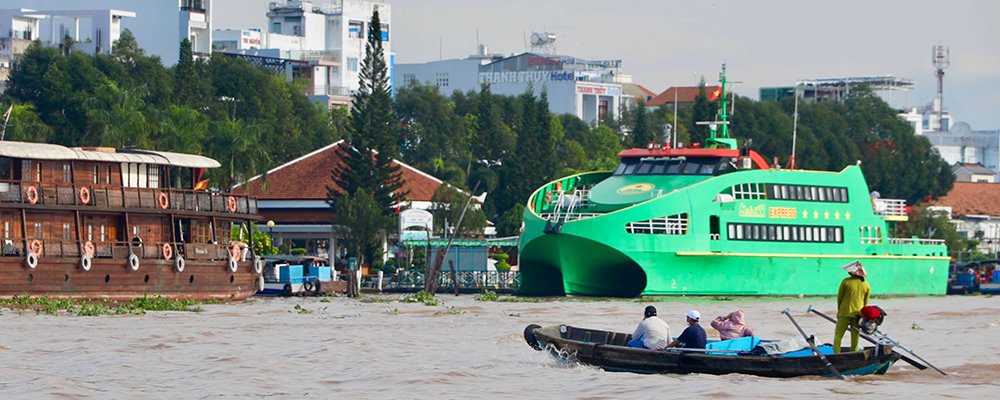 Getting to and from the markets via boat is fascinating as you slowly eek your way along the water. It's a surreal insight into the daily lives of the region's inhabitants as laundry dangles from a rope strung across verandahs and people outside clean their teeth or shower away the night's sweat. At intervals, colorful wooden boats line the crumbling foreshore. At others, verandahs of stilted ramshackle houses have slipped into the river. Half-in and half-out, tangled up in the river debris, some of these shacks still show signs of being inhabited, despite the lack of walls or band-aid solutions of rusty corrugated iron sheets. Raw and intimate, it's a window into how the locals survive. While floating like a bloated whale, The Ocean Cleanup's gobbler-of-plastic proudly sits with its jaws open near the city's riverbank. Named 'The Interceptor,' it's the first scalable solution to collecting river garbage before it flows into the ocean. Since being used from December 2021, 10,000kg of rubbish has been removed monthly.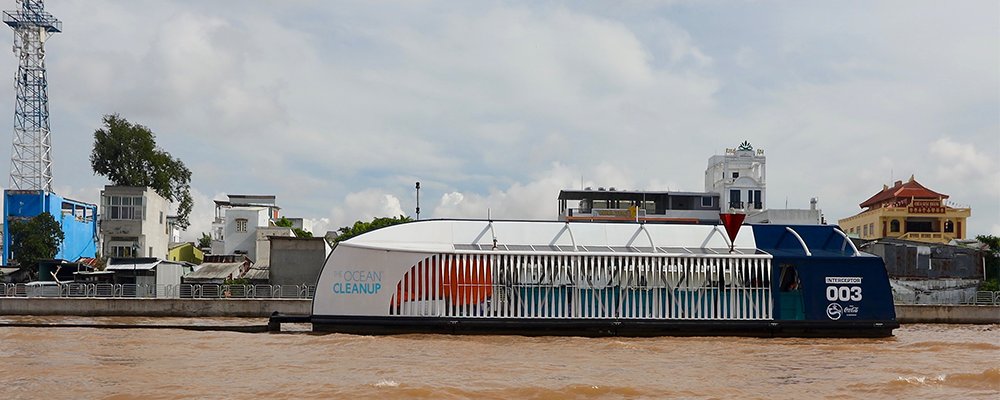 You can visit the Cai Rang Floating Markets solo, take an organized tour, or completely indulge yourself and have a few days at Azerai Can Tho. They have a long list of local experiences, including breakfast on their private boat while visiting the markets that I can wholeheartedly recommend.
---
Gail Palethorpe, a self proclaimed Australian gypsy, is a freelance writer, photographer and eternal traveller. Check out her website Gail Palethorpe Photography and her Shutterstock profile.
---