Madrid's people mayhem ranges from the endless queue of hopefuls hell-bent on buying their lotto tickets from the shop that sells all the winning tickets to the bustling crowds jostling for space in the Plaza Mayor or shuffling along its streets.
The city is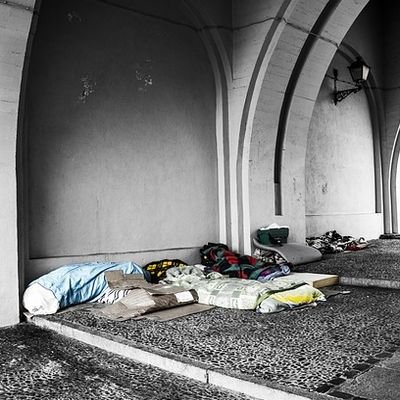 simply swamped with locals and tourist hordes ambling behind flag bearing leaders or aimlessly rambling around. Homeless people create cozy beds complete with canines in nooks and crannies, as much for companionship as for the warmth when cuddled up together on a cold night, whilst others down on their luck prostrate themselves in the middle of walkways hoping to hear the tinkle of a coin being dropped into their otherwise empty cup.
Crusty street musicians blow on trumpets or whatever instrument they have in hand, whilst illegal vendors lay out their knock-off Gucci bags in plazas ready for a quick exit when the police show up either on foot, a motorbike or proudly sitting atop a horse. Outdoor cafes in the main thoroughfares become battlegrounds for hungry souls during peak munching hours, tapas bars and quaint cafes hide down alleys where the locals hang out, not paying the tourist dollars. Madrid pumps with humanity from morning to late at night, the only reprieve to this chaotic madness is in the wee hours of the morning when for a brief time the circus has left the streets.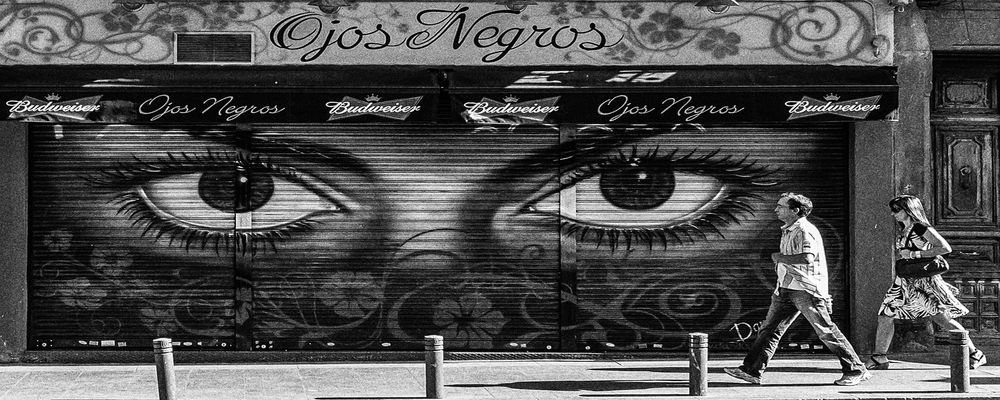 Major construction works appear to be going on everywhere in this city with gracious old buildings half shuttered by huge graffiti sprawled panels and astounding statues leaping at you from rooftops. Gangly cranes crawl the skies like an invasion of aliens, and streets become a maze of "do not walk" areas, with some rail stations closed for renovation.
Obviously I arrived in the midst of the remodeling of the landmark Gran Via Avenue that has not been in touched in its 100-year history. At much cost to the government, Gran Via's facelift includes such touches as improved roads, traffic lights and more pedestrian-friendly areas, complemented by 89 ornamental pear trees dotted alo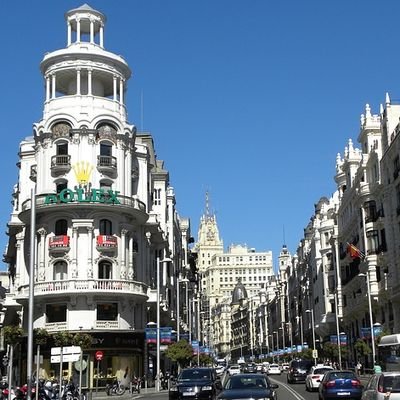 ng this historic avenue of emblematic buildings and international brand boutiques.
Madrid is like a living museum littered with wide boulevards, stunning lush parks and rich vaults of European and Spanish masters' art littering what is known as the "Golden Triangle" of art museums, the Prado, Reina Sofia and Thyssen-Bornemisza. There are literally too many monuments, buildings and museums to gawk at, from the Baroque Royal Palace and Armory to the portico-lined Plaza Mayor, and from medieval mansions to royal palaces. It's a beautiful feast for the eyes by way of architecture, and for the gourmand, a sensuous massive spread of Spanish cuisine waiting to be gobbled up.
One of the culinary capitals of Europe, Madrid embraces Spanish traditional cooking with contemporary creation. Every few steps you will walk past a cafe, a bar, a bakery or a restaurant, as everyone appears to dine out whether in the outdoors, under a rustic vaulted ceiling or huddled in a nondescript bar with not enough seating. And standing at the bar is de rigueur whilst sipping a wine and deftly forking a dish. Plaza Mayor is where you almost have to fight to get a table, with some people perching on monuments gobbling down their food. The plaza dates back to the Habsburg dynasty (1600s) and has been the site of public executions, soccer games and bullfights, but today it's one huge dining arena where markets and festivals are held.
The capital of flamenco, Madrid is a city to be devoured passionately, whether on foot, scooter, bus or train.
---
Gail Palethorpe, a self proclaimed Australian gypsy, is a freelance writer, photographer and eternal traveller. Check out her website Gail Palethorpe Photography and her Shutterstock profile.
---