A lava of creamy, sweet, warm, egg-y baked softness oozes down your chin, over your fingers and slides around in your mouth, with the hint of cinnamon and the crunch of perfect layers of puff pastry. A "pastel de nata" (Portuguese for "cream pastry") will leave you weeping in joy and your mouth greedily salivating for more.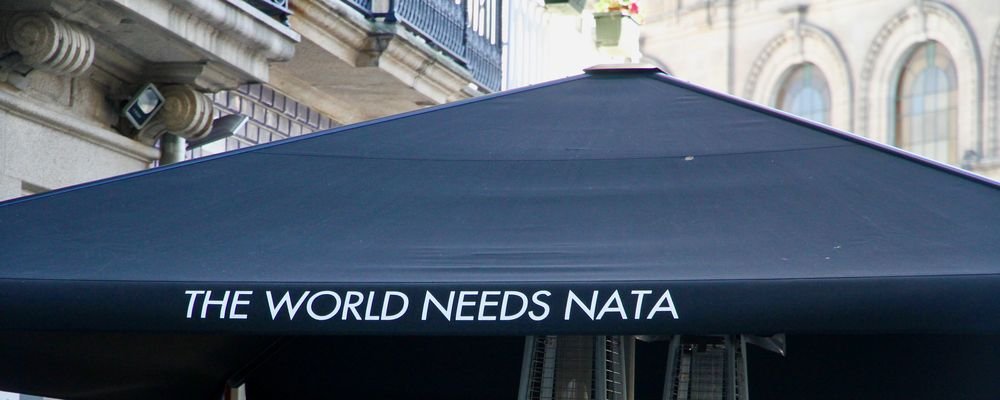 This palm-sized mouthful of heaven is the most iconic symbol of Portugal, with many bakeries keeping the recipes in the secret vault. Not all are created equal, so it does take a lot of gorging on these delectable tarts to find that perfect one for you.
Basically a baked egg tart of custard, made from cream, egg yolks, sugar, flour, and possibly a light touch of lemon zest, it's baked to perfection, with the top of the custard caramelized. The caramelizing gives the yellow custard dark brown or black spots of a slightly different texture to the hidden goodness below it. The locals insist that it's sprinkled with cinnamon to give it the true flavor. A "nata" can be indulged in at any time of the day: a couple for breakfast, midmorning snack, a light sweet lunch without a main course necessary, an afternoon delight, or a whole tray for dinner.
Portugal has a plethora of traditional luscious pastries and deserts, from the pastel de feijâ (think of a tart with a white bean filling, dusted with icing sugar...mmm) to the pastel de laranja (sticky and sweet, this one is of oranges). The origin of pastel de nata dates back more than 300 years, when some monks in the Jerónimos Monastery in Belém (a parish west of Lisbon) got creative. They would use egg whites to starch their clothes and had to come up with something t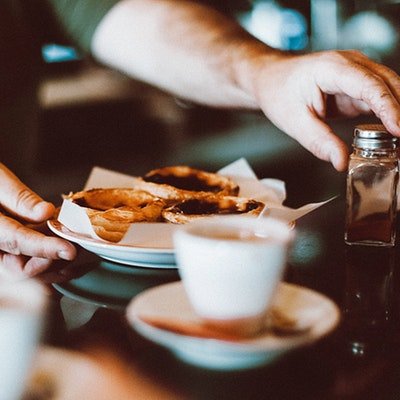 o do with all of the egg yolks left over.
You can even check out the monastery, as today it's a UNESCO World Heritage Site. The selling of tarts to the public soon become an income for the monastery, and when it closed down in 1834, their original recipe was sold to the local sugar refinery that would eventually open "Fábrica de Pastéis de Belém" in 1837.
The locals in the bakeries do understand if you say you want "a custard tart" but it's better to know how to order one properly, if you want the full Portuguese experience of a mouthful of sugary creaminess. If you want only one, ask for "pastel de nata", but if you want to be the piggy and order more for a true nata fix, then ask for "pastéis de nata".
The only time they are called "Pastel de Belém" is when you are in a pastelaria in Belém. And don't forget to ask for cinnamon to sprinkle on top, but then again, this may be a Porto tradition, to rival its big sister of Lisbon. In fact you will find pastéis de nata in Brazil, plus other countries where there is a significant number of Portuguese immigrants.
Everyone has their own quirky tastes and personal preferences, but the main things to look for in "that" perfect nata include a flaky yet crispy pastry, with hints of buttery goodness, a sweet yellow custard halfway between silky ooze and firmness, a caramelized top, with brown or blackened spots, and it should be warm, fresh from an oven if possible. Like in Greek mythology, pastel de nata will beckon you as the siren mermaids did to the fishermen, from every bakery and cafe window you stroll past. They are cheap and deserve to be worshipped with every mouthful.
I would like to say I struggled doing the research for this article, but that would be one big fat lie, as I have a very sweet tooth. Three of the best of these edible symbols of Portugal that I found were to be had at:
1. Pastéis de Belém aka "Fábrica de Pastéis de Belém"
Belém
Yes, you will have to join the tourist hordes queued up at the door to taste their famous treat that is not only oozing custard, but history as well. It's only a jump, skip and maybe a hop from the Jerónimos Monastery in Belém, and you can either run away with your horde in a box or sit down at a table in situ and gorge the minute you receive your order.
2. Confeitaria Nacional
Praça da Figueira, Lisbon
Opened in 1829, this establishment is more of an institution for both locals and tourists, as it is one of the oldest and most historical pastry enclaves in the heart of the city.
3. Manteigaria
Time Out Market and Bairro Alto
This is a franchise of nata cafes that can be found all over Portugal. In Lisbon there is one in the Time Out Market and another in Bairro Alto that is not far from the market place. Don't throw your nose in the air because of the fact that it's a franchise, as your taste buds will attest to the fact that they make some of the best natas to be had in Lisbon. This is especially true at the Bairro Alto cafe that is open to midnight if you are in dire need of a sugar fix after one too many drinks in a bar.
To really differentiate the nuances between natas, you should savour at least one a day as you meander around Lisbon, preferably whilst sipping espresso and watching the passing parade.
---
Gail Palethorpe, a self proclaimed Australian gypsy, is a freelance writer, photographer and eternal traveller. Check out her website Gail Palethorpe Photography and her Shutterstock profile.
---