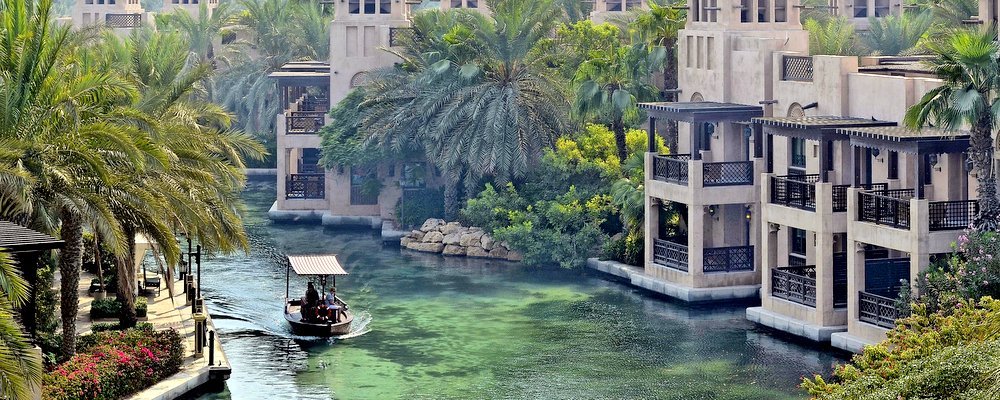 Watch out, Disneyland – there's a new family travel destination threatening to put Mickey out of business for good.
Just as it skyrocketed to the top of every traveller's bucket list in less than a decade, the city of Dubai is quickly becoming one of the most sought-after destinations in the world for family travel.
Beyond the glitz and glimmer of the city's glistening skyscrapers, lavish hotels, and affluent locals, there is a growing network of kid and baby-friendly activities perfect for travelling families.
From desert safaris and helicopter flights to hot air balloons and indoor skiing, the city of Dubai offers endless opportunities for family adventure and all-ages fun.
Your family can…
| | |
| --- | --- |
| | Hire an abra and take a private boat tour down Dubai Creek, offering stunning views of the surrounding city. |
| | Learn about Dubai's pearling history at the Dubai Museum. |
| | Shop for souvenirs and spices at the souks that line the creek. |
| | Ride to the top of the Burj Khalifa and drink in the city from the tallest building in the world. |
| | Watch a water and light spectacle at the Dubai Fountain, the largest dancing fountain in the world. |
| | Go on a desert safari to spy exotic animals and watch camel racing. |
| | Check out the aquatic life at Dubai's aquarium and dolphinarium. |
Another family-friendly Dubai draw are the beaches, which boast some of the whitest sand in the world. Water sports of all sorts are available in abundance, including parasailing, scuba diving, fishing, and yacht charters.
Dubai's cutting-edge infrastructure makes it easy to get around town, even with small children or infants in tow. Rent a car or choose from a variety of public transportation options including the metro, tram, and monorail.
Didn't pack the stroller? No sweat. Rent one for the duration of your stay through a local company like Dubai Hire4Baby, which also provides travelling families with high chairs, car seats, baby carriers, infant bathtubs, and all of the things you desperately need but couldn't fit in your suitcase.
While it has a reputation of being a glamorous, expensive destination, Dubai offers lots of affordable options for travelling families. Many museum entrance fees are less than $1 USD, and the show at the Dubai Fountain is absolutely free. The Dubai Marina is packed with fee-free walkways, markets, and beaches that will give your family a sense of immersion into this desert oasis without breaking the bank.
If you are up for a splurge, however, consider a helicopter tour or hot air balloon ride over the city's infamous World Islands, a man-made archipelago created in the shape of the world (~ $275+ per person, same price for children and adults. Children must be at least 2 years old to ride in the helicopter and at least 5 years old to ride in the hot air balloon).
Another exciting activity for young children is the Dolphin Experience at Atlantis The Palm Hotel, where kids and parents can get up close and personal with bottle-nosed dolphins in a protected sanctuary lagoon. (~$220 per person, same price for children and adults. Includes admission to the Aquaventure Waterpark).
Whether your family is journeying to Dubai for a desert safari, a camel race, a relaxing beach experience or an underwater adventure, the city is ready to cater to your unique needs as family travellers. Feel free to leave the clunky pram at home, and let Dubai provide what's sure to be a totally unique family travel experience.
---
Rebekah Voss is an author, travel writer, and the creator of TheHappyPassport.com.
---