The guests' shuttle from EcoCamp's main office in Puerto Natales takes you on a scenic drive before hitting the gates of Torres del Paine National Park. The park is home to monstrous snow dripping mountains that shadow somewhat smaller siblings, vast swathes of golden pampas, and glacial lakes and rivers.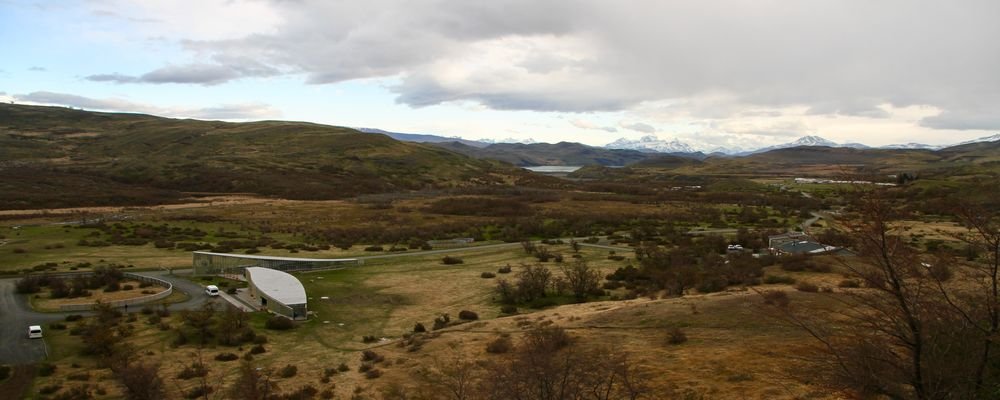 There are night slinking pumas, thermal chasing Andean condors, and beautiful red-breasted birds perching on fence posts. Sheep and cattle graze with guanacos popping up everywhere, cute little bus shelters perch roadside, and the highway disappears into the boundless Patagonian distance.
This is where you will find the iconic images on postcards of the horn-shaped peaks Cuernos del Paine and the three granite towers for which the park is named.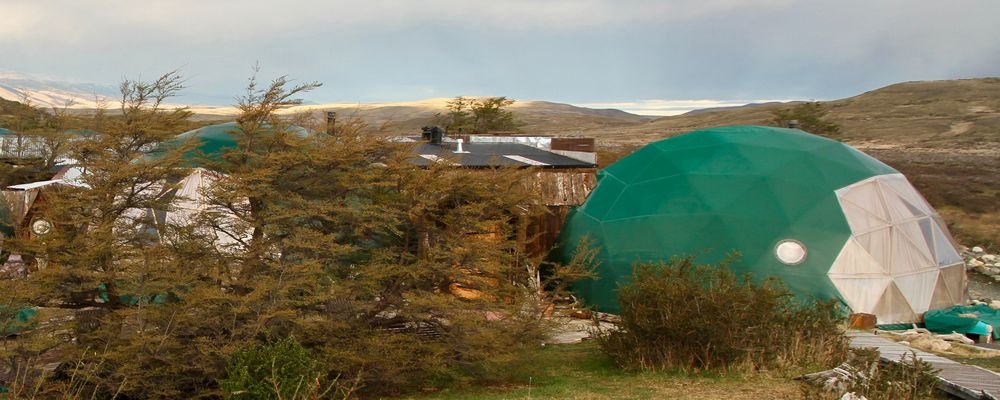 Blending in with a lush hilltop forest canopy, you will just be able to see the rooftops of green domes as you approach. Totally sustainable and eco-friendly, EcoCamp caters to different types of travellers' budgets within their glamping boundaries.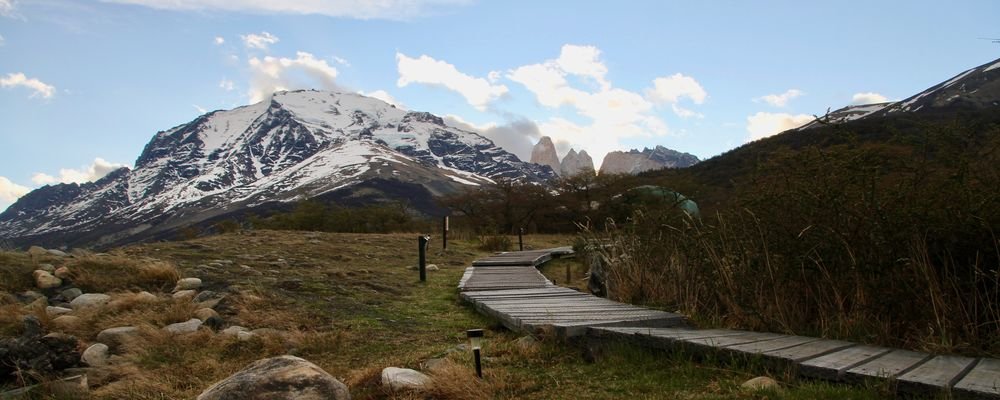 You will have a choice of bare domes, superior domes, and suite domes. The world's first geodesic dome hotel, the domes are highly resistant to natural elements such as snow, earthquakes, and wind. Based on traditional shelters used by the indigenous people of the region, the Kaweskar, there are a few added decadent bush luxuries that they definitely didn't have.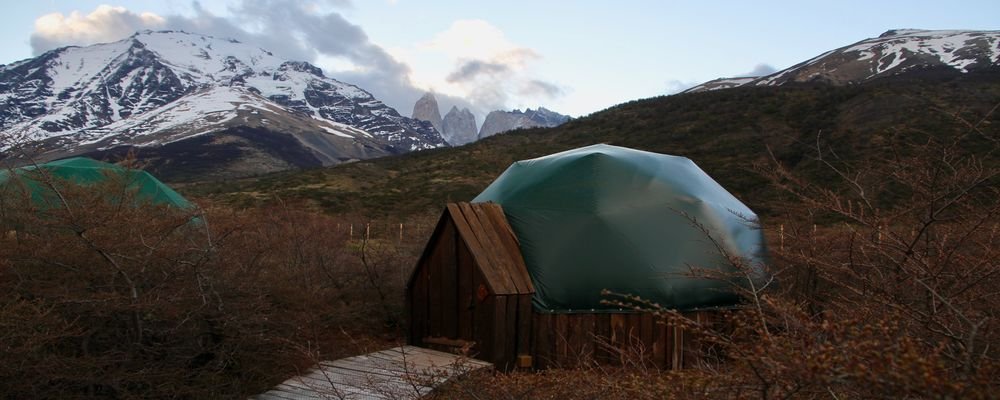 The much-awarded EcoCamp Patagonia has just collected another applaud from Condé Nast as the 2019 Readers' Choice. EcoCamp is known for its green technology and for being a leader in environmentally friendly travel. This is where your footsteps will be the only thing you leave on the delicate landscape, aligned with the "leave no trace" lifestyle of the Kaweskars.
If you are into polished and sophisticated accommodations, EcoCamp will not fit your needs. You will adore this place if you love getting up close and personal with nature. The luxury touches of comfy glamour with your pseudo camping fix are the bonus to your trekking adventures.
Above all, this is a camp, albeit with the most amazing and quirky touches. The domes are set apart, giving you privacy and a sense of seclusion. You may get wet going back to your dome if it's raining, and you have to pump the composting toilet with your foot and put some wood on your wood-burning stove in the winter.
Due to limited electricity, you won't be able to use your hairdryer. There is enough power to recharge camera batteries or your laptop, but there is no Wi-Fi. This is the time to switch off from cyberspace and breathe the fresh air around you.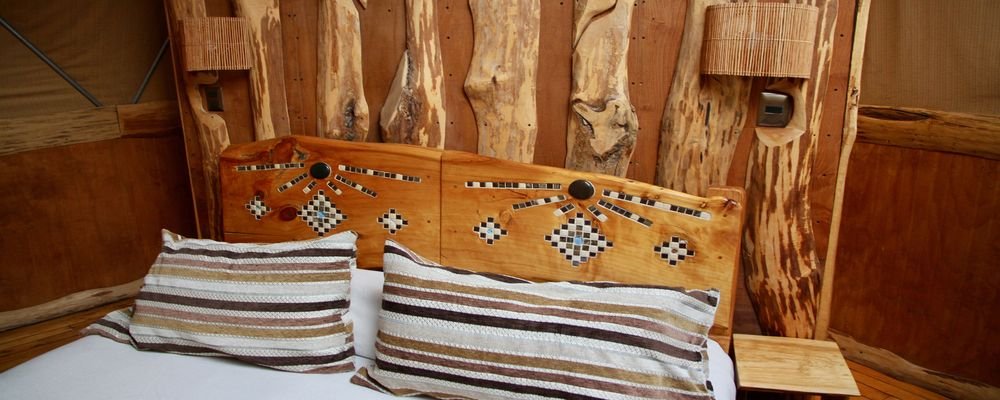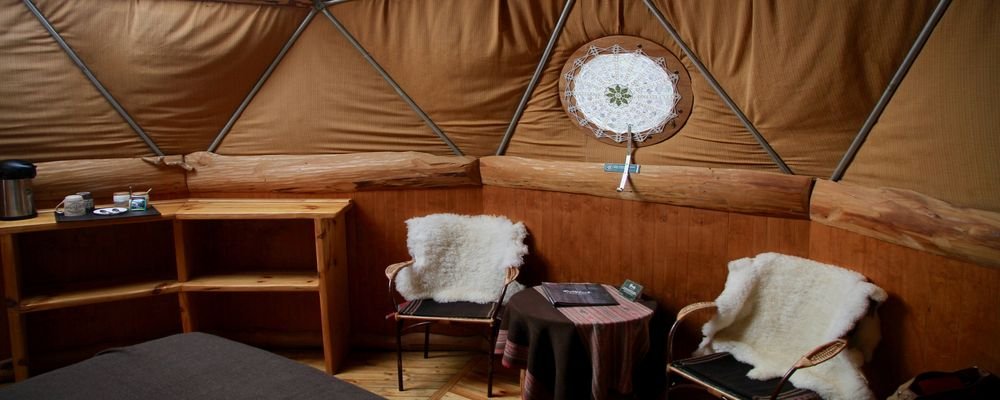 The basic dome is "basic." The superior and suite domes are anything but. There is a super comfy bed to slip into at night, an ensuite that could belong in any hotel (apart from the composting loo), and plenty of hot water. The artsy decor is locally handcrafted, and you do have the means to make your own early cup of coffee or tea to sip while the sun rises. Suite domes give you the added benefit of an open terrace on which to vegetate, contemplating the vast view before you. There is an enclosed porch where you can hang up your wet things.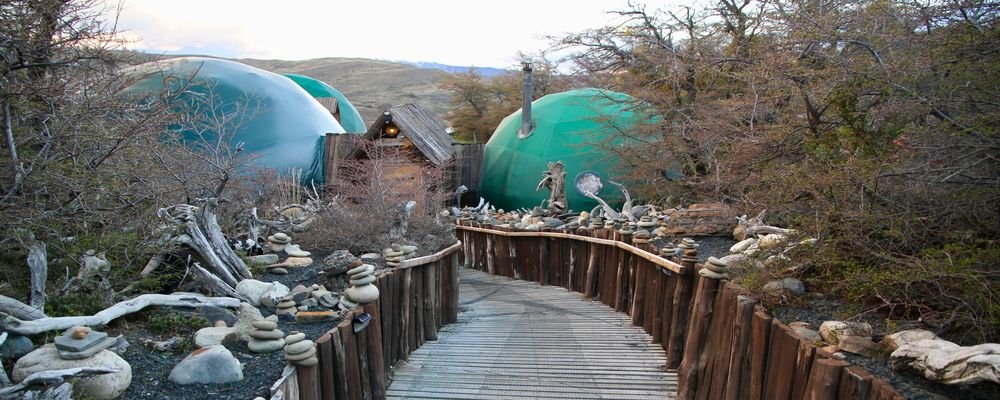 Leaving no imprint in the park, EcoCamp's constructions are all on raised platforms, allowing wild creatures to run underneath. There are no fences, so horses will be seen grazing in the wee hours of the morning. Solar lamps will give you enough light to stumble back to your dome safely at night after hanging out in the bar regaling tales of the day's escapades with your new best friends.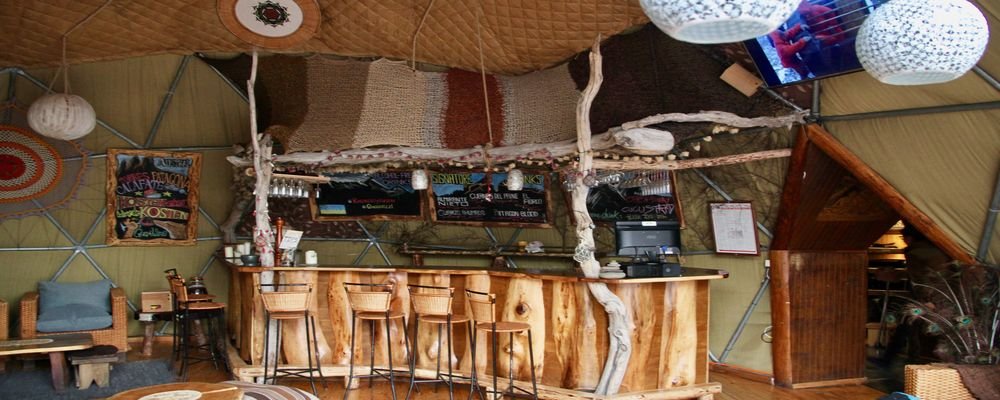 There are daily adventures, or you can opt for days in the wild to happen. To rejuvenate your soul, you can indulge in yoga. The expert guides are passionate and extremely knowledgeable. They are predominantly locals, and the national park has been their lifelong playground, with many having studied ecotourism at university. Trekking mountain ridges, hiking valleys, and marveling at monstrous glaciers is the wonderland waiting for you the moment you step out of the door of your dome.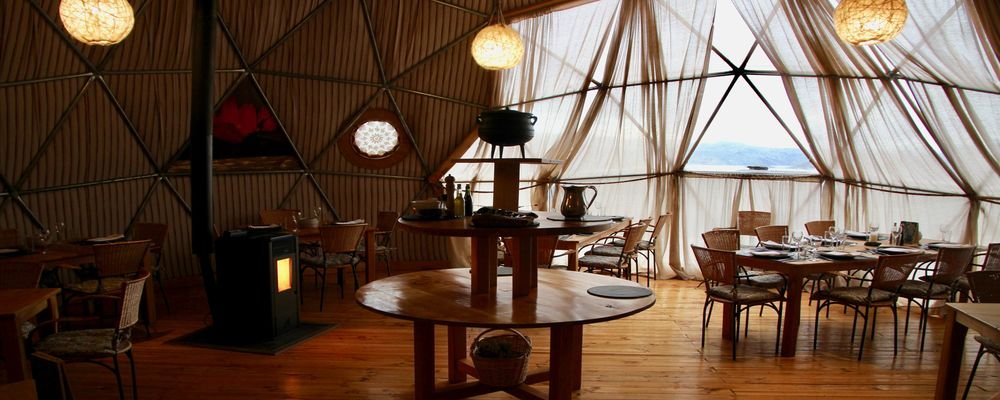 The daily fare is a fusion of Patagonian, international, and Chilean dishes, with the majority of the produce being grown locally. Trekkers have their own cute pre-prepared lunch boxes to tuck into, and those leaving EcoCamp get the treat of a snack to take on their journey. Dinner is always a choice between two dishes, and vegetarians are totally catered for. The dining dome is attached to the bustling bar dome for those before or after beverages, and a relaxing lounge dome is where you can hang out in chill mode.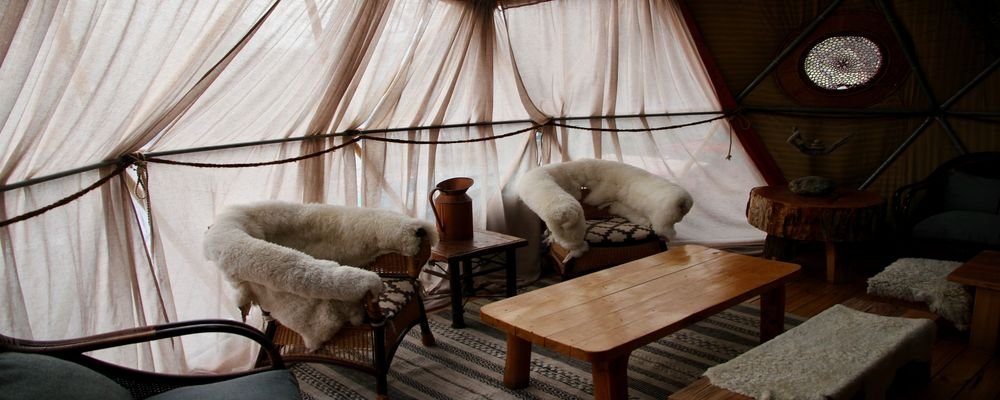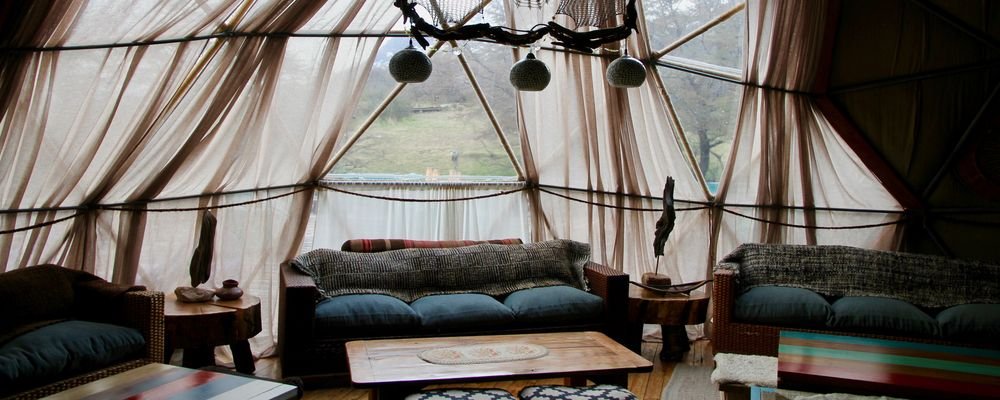 Bohemian vibes infuse the camp and its fantastic open-air gathering spot with an eclectic, artsy feel. EcoCamp is a bush camp, and not your usual one at that, especially when you notice that there is a rustic door perched amongst the branches of a tree. One could believe that you need a tiny key to open it – think Alice in Wonderland and falling down a rabbit hole.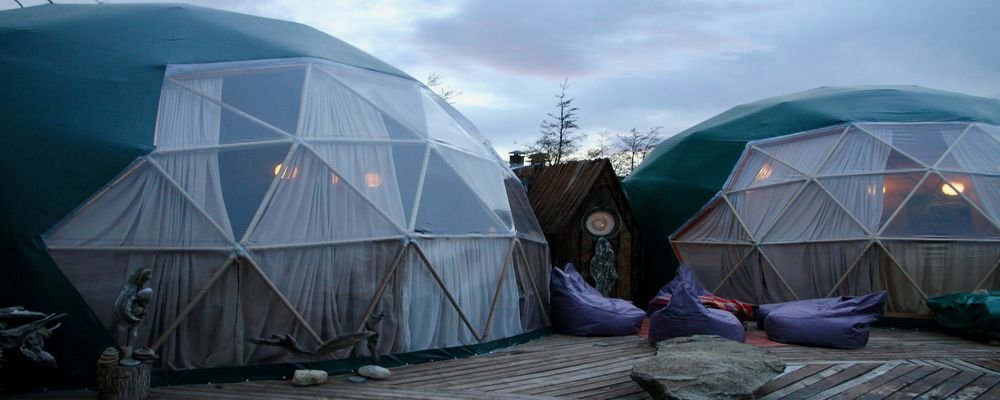 EcoCamp Patagonia is an unforgettable and magical experience where you will be amazed at the world you live in.
---
Gail Palethorpe, a self proclaimed Australian gypsy, is a freelance writer, photographer and eternal traveller. Check out her website Gail Palethorpe Photography and her Shutterstock profile.
---