Elysian Eco Retreat is totally off-the-grid and remote. It's the first Australian hotel that's 100% solar-powered where eco-friendly ethics meld with beachside bliss in an adults-only island playground on the Great Barrier Reef. Snuggled into a secluded cove on Long Island, amidst the Whitsunday Islands that lie off Airlie Beach, Elysian Eco Retreat is an escapist's dream destination. The buzz of anticipation begins when you step onboard a helicopter to transport you to this indulgent haven.
There are only 10 sublime private villas tucked-in under swaying palm trees giving guests a front-row seat to the ocean. The Australian bush's natural surroundings hide friendly land critters, such as bouncing wallabies that often stray onto the foreshore late in the afternoons. While the Coral Sea's endless blue is so transparent you can see eagle stingrays gliding and busy crabs scuttling in the shallows. The iconic Great Barrier Reef is your backyard from the moment you wake up in the mornings to when the blazing sun dips in the late afternoons. Intimate and laid-back, Elysian Eco Retreat is where you can unhook yourself from reality.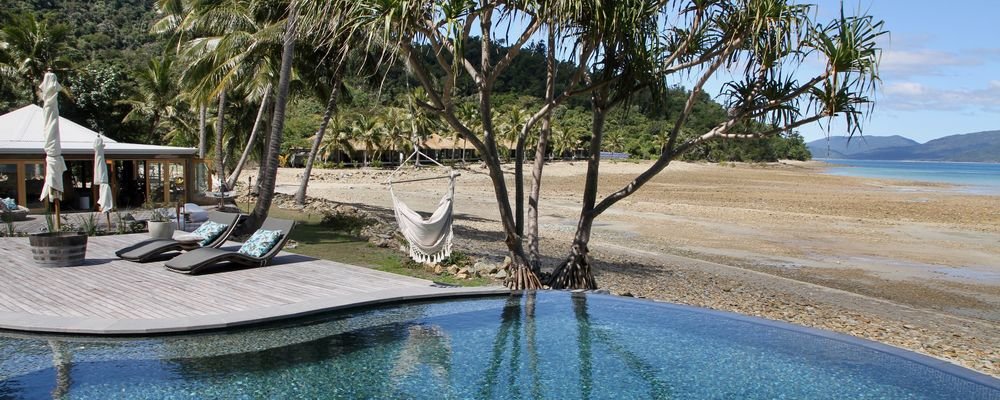 There's a central octagonal villa that is a social guest-hub during the day. You will find an eclectic library if you forgot to bring a book, comfy lounging nooks and restaurant tables with incredible views. It sits beside the sparkling mineral free-form swimming pool where contemporary sun loungers and Balinese inspired daybeds are flush with plump pillows. It's the perfect spot to take a dip, do a bit of sun worshipping as you sip an espresso, or abandon yourself to the childish delight of swinging in a tree. There's a large telescope for gazing at twinkling stars at night when the blaze of a fire pit illuminates the incredible surrounds.
A kitchen garden provides seasonal produce and aromatic herbs for the chef to indulge in his passion and creative flair for the daily menu. Dishes appear like pretty pictures on a plate and are delivered to your table by the chef himself. Breakfast may start with bright mixed berries scattered over tapioca with lemon curd and coconut jelly that wakes up your tastebuds for what is to follow. Lunch may be panfried coral trout sitting on a salad drizzled with Nam Chim sauce. And dinner is a 3-course affair of mouthwatering temptations after tasty pre-dinner nibbles. The wine list showcases the best to be had, such as chilled flinty white Mountadam Marble Hill chardonnay. If you want some bubbles to go up your nose, there's Roederer Vintage Brut Graphic.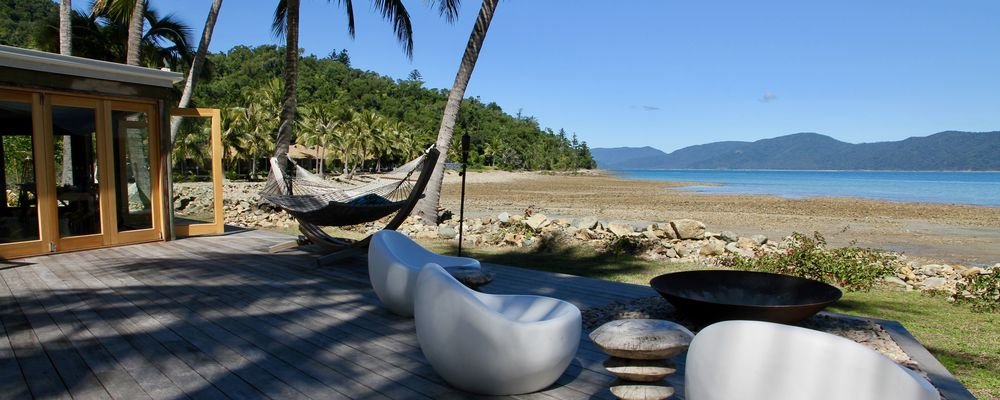 The guest bungalows are decked out in beachside elegance with soaring lofty ceilings and whimsical touches such as your own swing on your verandah for those moments of utter abandonment. An outdoor shower in a secluded courtyard allows for nudie washing in the wild. At the same time, the spacious indoor ensuite is big enough for 2 to dance around in. Open plan, the villas provide a comfy space to call your own. You can sit on your verandah sipping espresso while taking in the magical view; recline on a day bed with a good book; or simply roll out of bed in the morning and dip your toes straight into the clear ocean waters.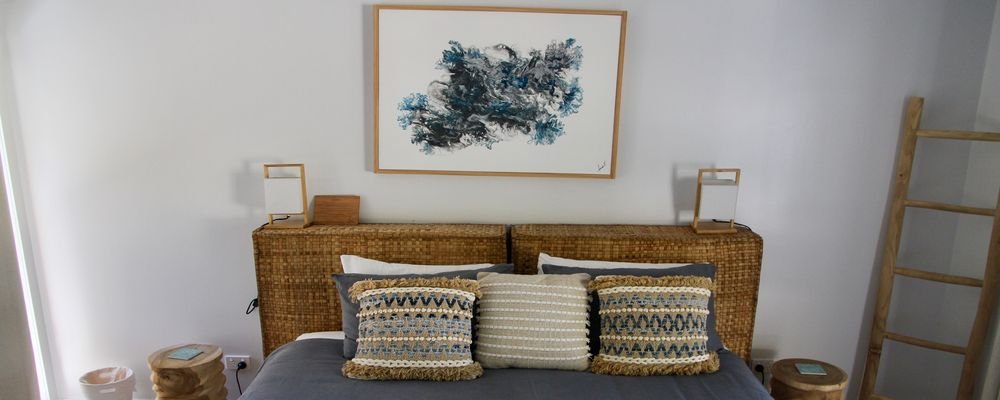 The only decisions you need to make are what to indulge in: a morning yoga class on the pool deck, donning a wetsuit for a snorkel or maybe taking out a kayak for a paddle around the headland. If you wish to immerse yourself in the surrounding nature, there are walks through the tropical rainforest where cockatoos screech as they flit from branch to branch. Feeling lazy? Take some blissful time-out under stunning blue skies on the daybed in front of your verandah. Tours can be easily arranged, from beach picnics on untouched white sand to buzzing the skies in a helicopter. The pampering continues with Elysian's Ayurveda inspired spa, 'Jala.' Indulge your mind and your body with a sublime treatment and float off into your own peaceful place. Alternatively, you can do absolutely nothing but talk to yourself or contemplate your toes on a rocky outcrop with the Coral Sea at your feet.
The pristine beauty of Elysian Eco Retreat is the epitome of barefoot luxury. It's where you can wrap yourself in your own bubble, share with a partner or mingle with other guests if the mood takes you. It's an indulgent fantasy retreat where the only sound you will hear at night is the ebbing tide's whisper.
---
Gail Palethorpe, a self proclaimed Australian gypsy, is a freelance writer, photographer and eternal traveller. Check out her website Gail Palethorpe Photography and her Shutterstock profile.
---