The new buzzword in the tourism sector is "nakation". Despite people on holidays getting their clothes off for eons, it seems to have taken on a whole new meaning of late. Maybe it's in response to the downturn in many economies; no one needs to buy that expensive designer resort wear. Having no luggage will mean a cheaper airfare plus no waiting at the carousel for your bag to be spat out.
Nudist resorts have broadened their minds in regard to how kinky they can be. The raunchy ones are giving 24-hour access to sex videos, adult playgrounds (mmm....) and swinger's workshops, supposedly where you learn how to play nicely. You don't have to dress for lunch or dinner, so of course there would be no washing woes whilst away.
The most favored destination for a getaway in the world is a beach destination, with more than half of those that run to the ocean for relaxation admitting that they would never post a picture or a selfie of themselves in their swimmers or sans bathing costume. The remaining few must be the recipients of breast implants (and under 30) or maybe the men have had genital enhancement, not of the stuffing of the socks down the front type. It is interesting to note that self-confessed nudist enthusiasts do not cry it out from the top of a building. In fact, it is a secret they hold close to their all over tanned naked bodies from colleagues, family and friends.
Germans and Austrians go head to head for who takes out the naked sunbathing holiday trophy, whilst Americans are more likely to do so than their British tea and scone counterparts. Only 2% of Japanese admit to sun worshipping in the buff and Norwegians are the least likely nationality to bare it all in public. The sexy bronzed Brazilians and Spaniards are quite happy to go topless, the females that is, whilst the men are content to strut their stuff in their miniature speedos (aka budgie smugglers). G-string bathing attire is definitely reserved for the Europeans - both male and female - promenading along golden sands in Thailand. The most modest sunbathing title goes to the Asians, not that the males don't appreciate or run away in horror when confronted with females sans tops or beach nudity in general. Worldwide buff bathing is more a male occupation than that of females - 18% male and only 6% female.
Getting stark naked actually has some benefits. You won't have to worry about getting the necessary dose of Vitamin D, as there is more skin surface to soak it up. But, you will have to consider there is more area exposed for those nasty skin cancers to appear. Sunlight increases testosterone production in men by 200% if males have their genitals hanging out, which explains why there are so many flagpoles in the sand. From playing nude volleyball or basketball, even taking a yoga class au naturel, it is considered to be good for your health. Sun exposure actually lowers blood pressure, improves your bones and brain function, eases mild depression and will help you sleep soundly. The sun's rays also heal some skin disorders and will enhance your immune system.
The downside to this activity for those over 40 - sometimes under - is the fact that there is no hiding from gravity taking over your attributes; think along the lines of boobs down to the knees rivaling male appendages. You will need to buy the super large bottle of sun cream to cover all of those extra places now proudly on display and there will be no running away from the fear of getting dreaded wrinkles on your gnarly tanned rear end. For the photography buff, there is no place you can point your camera without being labeled a voyeur and run off the beach by hordes of wobbling naked bodies.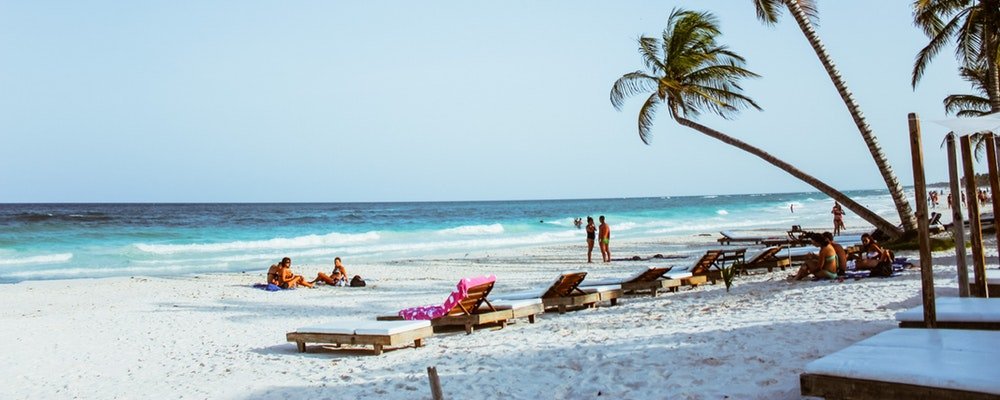 Let go of your hang-ups when you are next on your seaside escape and try one of these stunning nudist or clothing optional resorts:
Turtle Cove Beach Resort: Cairns, Australia
This adult's only resort sits in a palm-fringed cove fronting onto the Coral Sea in tropical Far North Queensland where the Daintree Rainforest and the Great Barrier Reef collide. A clothing optional resort with a heated Jacuzzi open 24 hours a day for those that like to burn the candle at both ends.
Desire Pearl: Puerto Morelos: Mexico
For the really raunchy folks that like to play games, Desire Pearl is where you can order off a "fantasy menu" of erotic games to play from foodie items (think liquid chocolate and whipped cream with strawberries) to massages with edible oils.
Hedonism II: Negril: Jamaica
Sitting in the town of Negril on the coast of western Jamaica, this one is not for the feint hearted, as there are 280 luxury rooms and suites to play in. You can join into a "mingling" experience in the "Romping Shop" if you are so inclined.
Calinete Caribe: Puerto Plata, Dominican Republic
For those into a bit of nature, Calinete Caribe is where you can watch the migrating North Atlantic Humpback whales from the beach whether you are in clothes or not.
Bali Au Naturel: Bali, Indonesia
You can wallow in the sun on black sand, take to the water looking for Nemo amidst the coral or paddle a kayak if that turns you on, all in the buff. With its laid-back and romantic vibe, Bali Au Naturel is for those looking for seclusion and seduction.
---
Gail Palethorpe, a self proclaimed Australian gypsy, is a freelance writer, photographer and eternal traveller. Check out her website Gail Palethorpe Photography and her Shutterstock profile.
---