Bintan Island is synonymous with picture-perfect luxury resorts, and the renowned Banyan Tree Bintan is no exception. Virtually on the doorstep of Singapore, the island's history can be traced back to the early 3rd Century when it thrived as a trading hub on the sea passage between India and China. The largest island of the Riau Archipelago on the fringes of Indonesia, Bintan was once home to Malay kings, sea nomads, and a bolthole for marauding pirates. Today, approximately 60% of the local population is descended from Malay royalty.
Like a jewel in the South China Sea, the island has been under the thumb of the Chinese, British, and Dutch—Bintan Island is a melting pot of humanity. With the island's long history comes an abundance of legends and myths; a ghost ship named Lancang Kuning that magically rises from the seafloor every 10 to 15 years, floating ethereal female forms known as Pontianak or Kuntilanak cloaked in flowing white dresses are voyeurs of the night, and there is the believed home of celestial beings, the divine Banyan Tree Temple in Senggarang Village.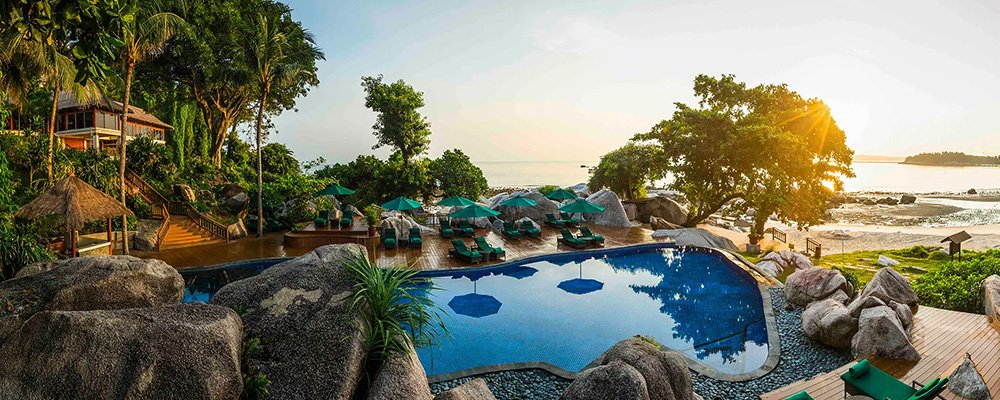 Banyan Tree Bintan clings to the hillside of a lush tropical peninsula, creating a secluded haven for those wishing to escape the world into a sublime environment of self-indulgence. Balinese-inspired villas shaded by dense ancient green canopies face the glimmering South China Sea in distinct locations providing the utmost privacy. You can float in your infinity pool as dusk descends before sipping an aperitive on your terrace, or soak in the outdoor sunken bathtub with a champagne flute's lava flow of crystal bubbles tickling your nose. Stroll deserted beaches where yours are the only footprints in the sand as the water ebbs and flows over your toes, pamper your body at the exquisite spa, or take to the championship golf course and show off your prowess. The only sounds you will hear are the lapping of the tides, the songs of the birds, and the subtle sounds of scurrying jungle creatures.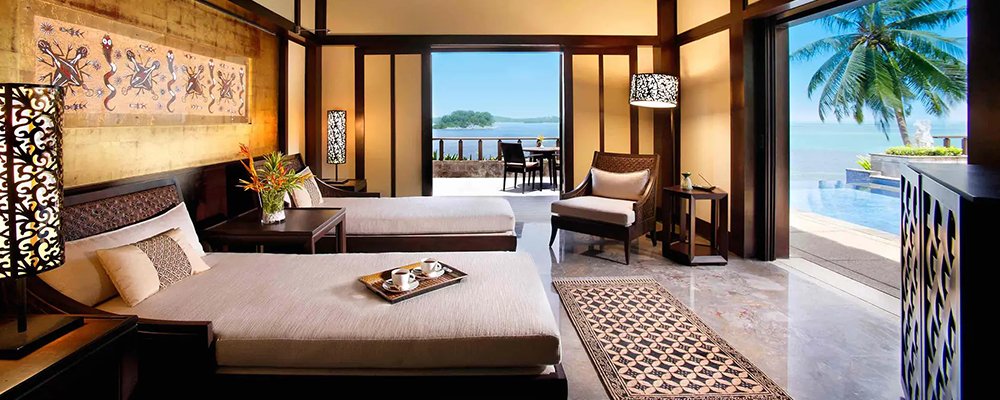 From one-bedroom villas to a villa catering for the whole family, all with ocean views, Banyan Tree Bintan is a haven of contentment from sleeping on a heavenly bed, dining under the stars, or spoiling your body with luxurious treatments at the spa where traditional ingredients are slapped, smothered and delightfully wrapped on your skin. From facials to body scrubs and massages, you will drift out of the spa's hilltop hut shrouded in a glorious glow of rejuvenation.
There are choices for when the hunger pangs strike. 'Treetops' is a casual Indonesian restaurant where the tasty Indonesian dish of Gado Gado features on the menu. It's a clean food dish with flavors that dance in your mouth of cooked mixed vegetables and hard-boiled eggs drizzled with peanut sauce. While 'The Cove' will have you drooling over a delicious chicken curry or fried sea bass—leave room for mango sticky rice and coconut ice cream to end your feast. An extensive drinks and wine list pairs with the dishes on the menu. Summer crab meat rolls, soft-shell crab, and tuna all feature on the menu at Banyan Tree's signature restaurant, 'Saffron.' Or, be adventurous and romantic, arrange for a destination dinner in a breathtaking location—a fisherman's boat, on the rocks, in a private cabana, or in your own villa—there are endless choices to fire up your imagination and feed your soul on freshly caught seafood or other specialty creations.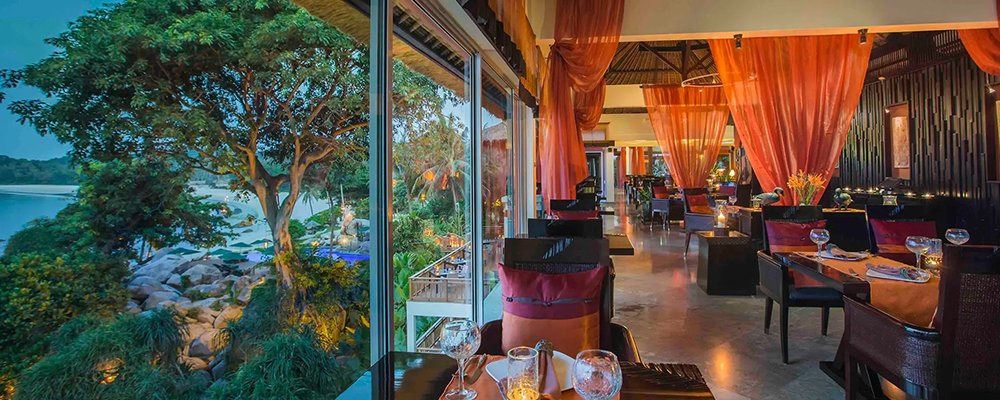 The golf course is littered with wetlands, coconut groves, and forestlands, giving the most ardent golfer a challenge over 18-holes. The resort's cove is blessed with white sand, and the unique rock-edge pool is perfect to slip into for a cooling dip. For the more active, there's windsurfing, jet skiing, or trying to catch that big fish to brag about. Private yoga classes are available if you want company while stretching and reaching into your inner being.
If you can't run away without your children, the Rangers Kids Club keeps them occupied so you can have the alone time you may be craving.
---
Gail Palethorpe, a self proclaimed Australian gypsy, is a freelance writer, photographer and eternal traveller. Check out her website Gail Palethorpe Photography and her Shutterstock profile.
---