Location:
Housed in a renovated 1919 building in the middle of Madrid in the Plaza de Santa Ana, ME (Melia) Madrid Reina Victoria Hotel is brimming with amenities and great service and convenient to the city's museums and theatres. Stylish designer touches throughout, from the lobby to the guest rooms and corridors, make this a refreshing hotel for a visit to Madrid. It also boasts one of the city's best rooftop bars, with magnificent panoramic views.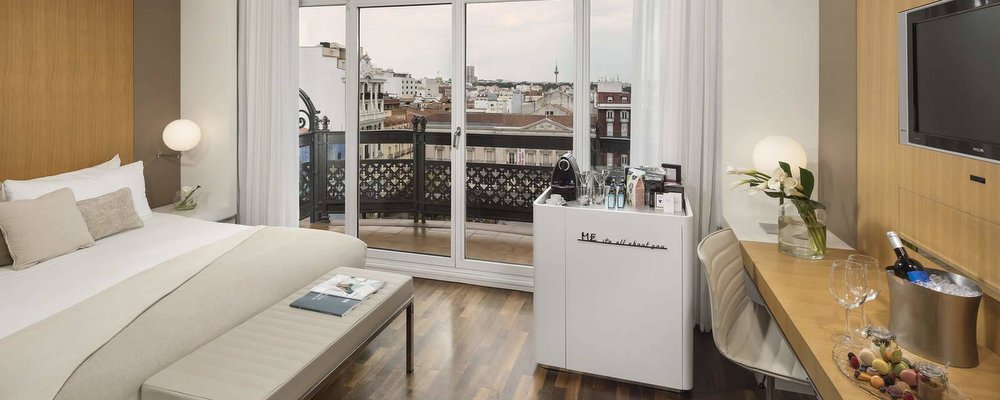 Appearance:
Check in was swift and efficient, with or without the complimentary glass of sparkling cava wine. The public spaces and lobby were spacious and decorated in warm earth tones, with leather sofas and chairs, all looking a bit like a feature in Architectural Digest magazine.
Number of Nights Stayed: Three
Guest Rooms:
There are different classifications of rooms: Aura (basic and minimalist, but comfortable); Vibe (décor in warmer tones); Mode (the largest and most luxurious of the guest rooms, with large bathrooms, separate dressing/closet area which overlooks Plaza de Santa Ana; excellent soundproof windows) and Energy (rooms with a balcony). Each room has a very elaborate mini bar, which is a free-standing cabinet with a mini fridge, a selection of snacks, and complimentary mineral water.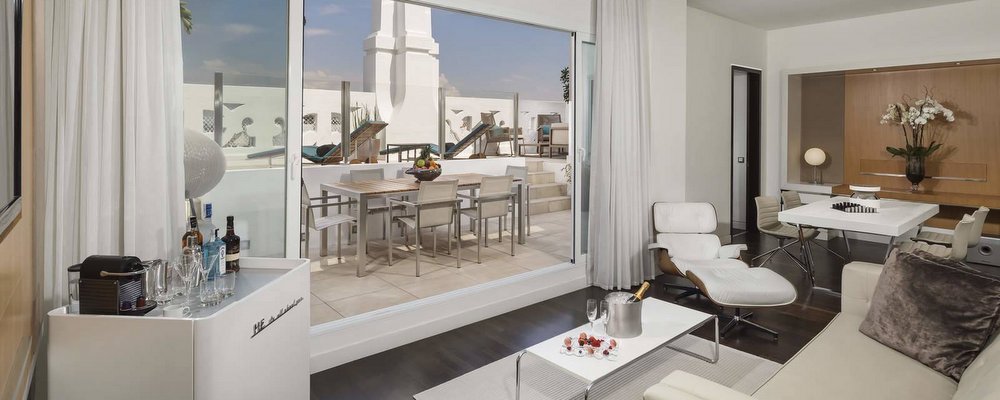 Type of Room:
We stayed in the Mode room, with an expansive view of the Plaza de Santa Ana through floor-to-ceiling windows that featured both sheer and blackout curtains. The air conditioning was excellent, and after a day of sightseeing, it was always so refreshing to come back to the room to rest and freshen up before dinner. The bed was especially comfortable, with fresh linens and lots of pillows. We had a comfy club chair and a long desk along the wall with swivel desk chair. The desk doubled as a place to spread out personal items. The room was well insulated against noise from the adjoining rooms and the outside. Nightly turndown service included the traditional linen towel placed by the bedside.
Fitness Center and Spa:
The fitness center and spa, the Club Metropolitan Palacio, are located next door with personal training sessions and instructor-led classes, and a full menu of spa services and treatments for hotel guests.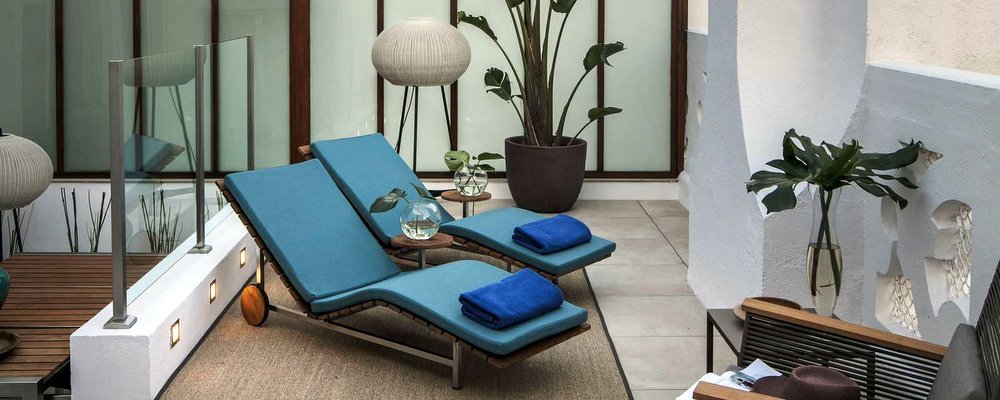 Amenities:
The bathroom was done in black marble, with an opaque sliding glass door and bright overhead lighting. There was a walk-in shower with different showerheads, no bathtub, a spacious sink area, and shelves with a lighted magnifying mirror. Lotions, soaps and hair products were replenished daily. Two bathrobes, two pairs of slippers and a good hairdryer were included. The safe deposit box was located in the closet.
Cleanliness and Comfort:
Maid service was frequent, and cleanliness throughout the hotel was excellent.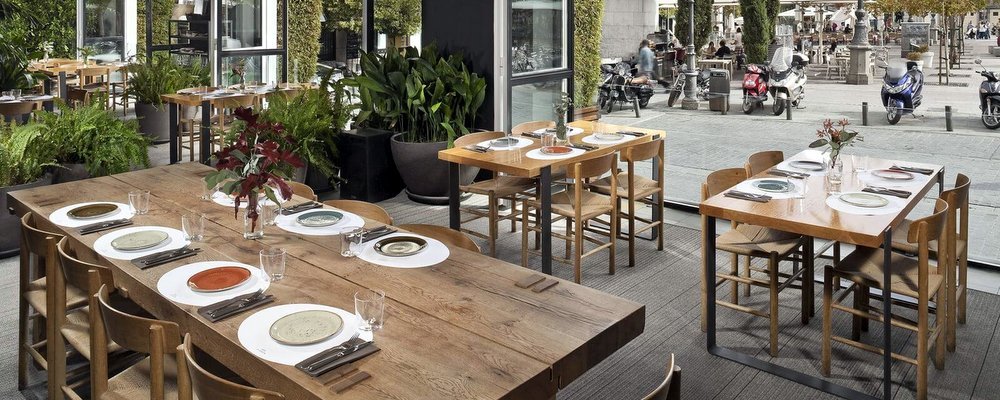 Hotel Restaurants and Bar:
We were visiting during the World Cup Soccer playoffs, and one night we decided to stay in the bar and watch Spain play Portugal. The bar was packed, but hotel guests were given priority for seating, and we chose to sit at the spacious stone bar and have appetizers and wine while we watched the game.
The breakfast buffet was served in the same restaurant and was copious, with made-to-order eggs, in addition to fresh fruit, hot beverages, yogurts, breads, and freshly squeezed fruit juices. Breakfast was included in our room rate.
Entertainment:
The rooftop bar has a nightly DJ once the sun goes down, and for those who are familiar with Ibiza, the party island, you'll feel right at home.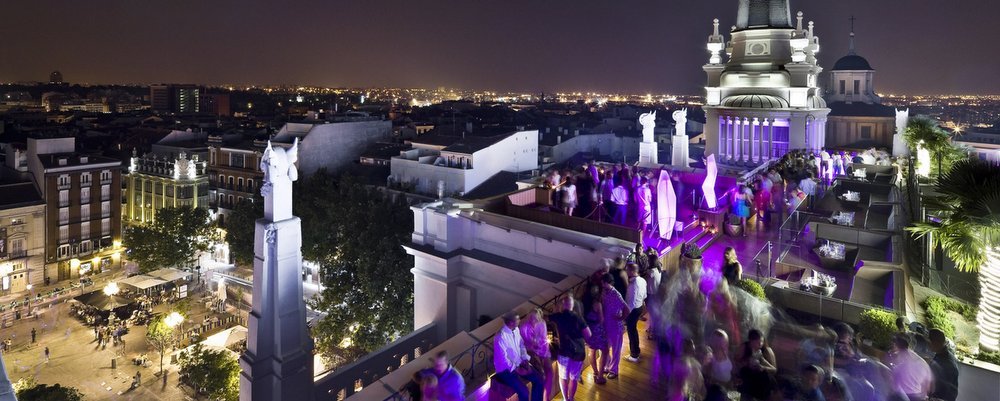 Room Service:
There is room service 24/7, but we chose to eat breakfast in the restaurant.
Hotel Staff:
Service personnel are young, energetic, eager to please, English speaking, and courteous. I appreciated that the concierge gave me a Wi-Fi catcher for the duration of my trip, since our phone service provider's service was slow.
Conclusion:
Upon arrival, we felt we as though we had landed in Ibiza and might be a little old for this hotel. However, there were plenty of guests of all ages, and the ambience was friendly and not snobbish.
The Wise Traveller Rating:
10/10