Gin & Tonic African Sundowners
Hippos yawned as they languished in the sedate waters of the Luangwa River, and a Nile crocodile reclined on a sandbank in the sun's dying rays. Our guide was busy creating gin and tonics on a portable bar latched onto the front of the jeep, as a small group of us stood gazing over the vast open space. Complete with lemon wedges, a gin and tonic has never tasted so good, as we watched a herd of elephants making their way over the river. Little ones hung onto their mothers' tails to stop themselves from drifting away, and at one point all you could see was the odd, small, wrinkly periscope as the baby elephant had totally gone under the water. Upon reaching the other side, it was powder time, as they sprayed themselves with the dry river sand. This is when you have to pinch yourself—this is the African bush, as the sun slowly sets on another day.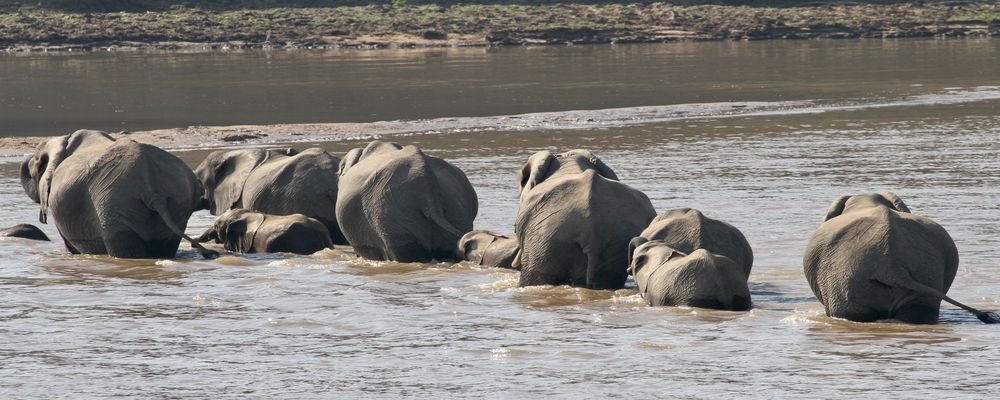 The locals refer to the area as the "valley" because the park is in the Luangwa Valley at the tail end of the Great African Rift Valley system that goes for 4,000km from the Red Sea down to the mouth of the Pungwe River in Mozambique. To get to South Luangwa National Park, most travelers will hustle their way through Lusaka airport via Proflight Zambia to get to Mfuwe "International" airport. Don't stress out about the seat number on your ticket, as it doesn't matter, with everyone just grabbing a seat on the plane.
You will be greeted upon arrival in Mfuwe and taken by jeep to Mfuwe Lodge, which sits about a kilometer inside the national park's gates. Numerous lodges sit outside the gates, but the benefit of staying inside is the fact that you can indulge in game drives after the hours allocated for those staying outside. Game drives can be switched to safari walks, or you can even walk from one bush camp to another, providing, of course, you have a gun-toting guide of the National Park's variety with you.
Dinner each night is had under the stars by candlelight, with a huge bar for pre-dinner drinks and is the time for the telling of tales from the day's adventures. The viewing deck overlooks a panoramic and surreal vision of low-lying land with a lagoon. It's like stepping into a jungle story book or a view of Noah Ark's holding ground, as giraffe lope on their long legs, Pumba (aka wart hogs) trot around on important business, baboons play like kids or madly gossip in groups, and skittish zebras appear in striped pajamas. There are flocks of birds such as storks with colorful beaks scrapping around, tip-toeing on the lagoon's algae, whilst tawny colored impalas friskily prance along the water's edge.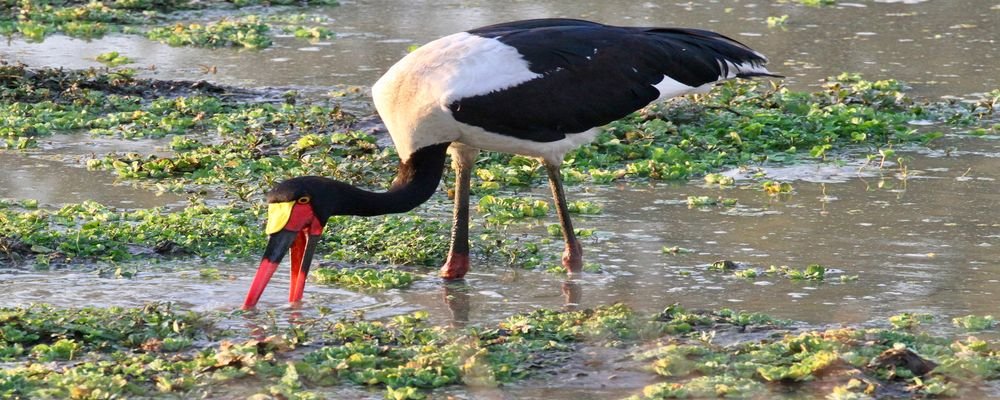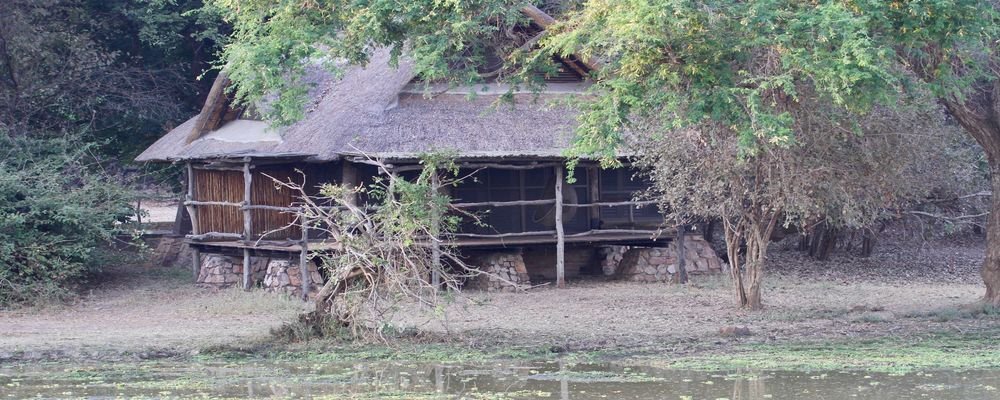 My "hut"—definitely African inspired luxury accommodation—overlooked another lagoon, with the main dusty road on the far side. There were hippos wallowing everywhere in the algae on the water that was an unreal bright lime green. I could not contain a grin late one afternoon when I first saw giraffes and hippos slowly meandering along the main road as if on an afternoon stroll. Perched on my swinging chair on my verandah I laughed at the antics of a hippo struggling to get up the lagoon bank with his huge rear end waggling. One morning a hippo surprised me. He happened to be lumbering past to get to the water, as I came out of my hut. I am not sure who got the biggest fright. All night the hippos would bellow in chorus, with the odd loud splash to make sure they were being heard. There are no fences at any of the lodges or bush camps in the park, so the animals definitely have "right of way". You can't walk back to your own hut at night without having a guide with you, as a "just in case" measure, and once you are inside, that is where you stay until the morning.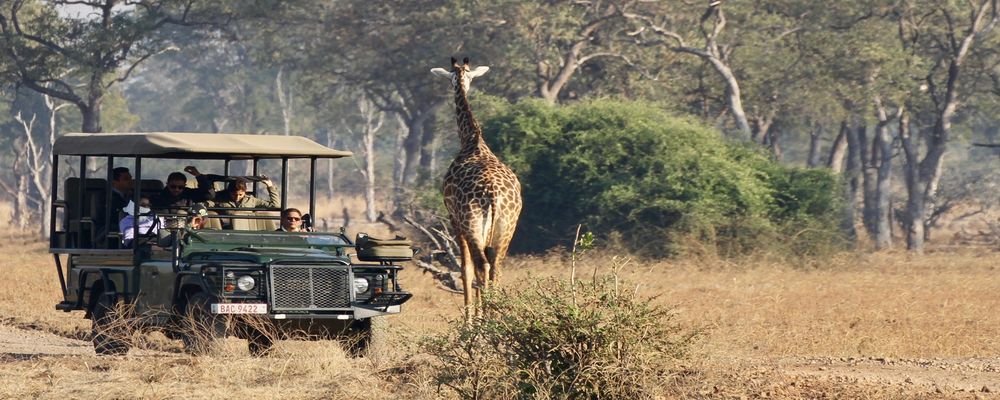 Jeep safaris are renowned for giving you a "Zambian massage", as the ground can be extremely rough in parts. Morning drives give you a taste of the chilly night air before the heat of the day makes you take off your excess clothing. Whereas the night drives start off during the late afternoon heat, by the time you have had your sundowner drinks in a stunning spot, it will be blanket time. It may even be time to put on the beanie to keep your head warm, as you unexpectedly interrupt a spotted hyena dozing in the scrub. At night, waddling hippos come out of their watery daytime homes to search out grass to feed on, lions stalk impala, and African civets balk at being hit with the glare of the flood light. Four out of the so-called "Big 5" game animals can be found in South Luangwa National Park: elephant, Cape buffalo, lion and leopard, with rhinoceros being the missing one due to poaching.
Walking safaris give you a different bush flavor, as this is when you become a "scatologist" (aka a specialist in poo) either by wishing to dodge it as you walk, or learning what various animal droppings mean. It is when you find the "Little 5", rather than the "Big 5". The Little 5 are so called because of the contrast in their size and the fact that their names include the names of the Big 5. They can all be found in South Luangwa National Park: the elephant shrew, the buffalo weaver, the leopard tortoise, the ant lion, and the rhino beetle.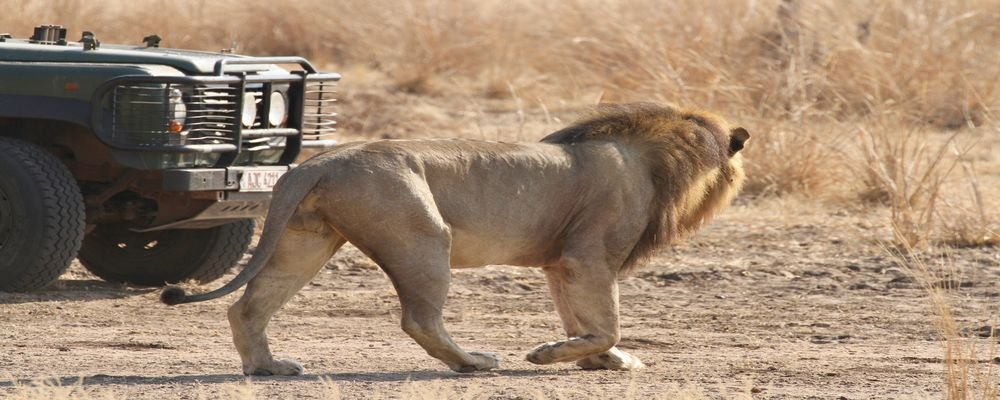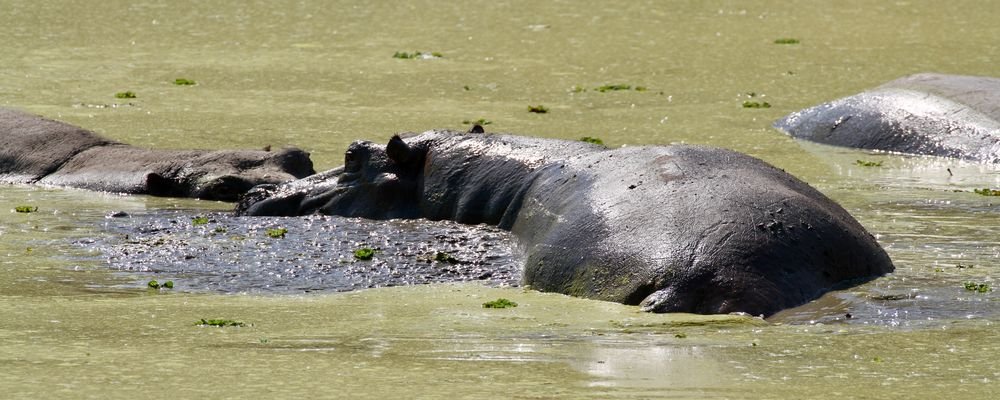 Your guide will fill your head with local traditional knowledge and quirky anecdotes, such as the fact that you can have a full "English breakfast" in the bush, where you will find a sausage tree, a fried-egg tree, a scrambled-egg tree and an African breadfruit tree. You will get used to your National Park guide with the gun checking out behind the tree that is to become the designated "pee tree", prior to your morning bush tea or your afternoon sundowner spot. You will gasp when a bellowing mammoth elephant stamps his feet in mock charge mode beside what now appears to be a flimsy kid's toy of a jeep, or stare in amazement as lion cubs play with their mum's tail whilst she snoozes right in the middle of the bush track you are driving along. Roadblocks of the animal variety happen frequently and eagles decorate skeletal trees like Christmas decorations, whilst colorful kingfishers wait patiently for you to take their photographs.
Mfuwe Lodge could almost be called the "mother" lodge for its many bush camps sitting inside the South Luangwa National Park in Zambia. It is the oldest and largest operation since the 1960s, with a complete refurbishment happening in 2010. This is the perfect start or ending point if you have the time to check out their remote bush camps dotted throughout the park. If not, a stay at Mfuwe Lodge alone is an exceptional experience that shouldn't be missed.
Quick Facts - Mfuwe Lodge
Location: Inside the South Luangwa National Park, 45 minutes by car from Mfuwe International Airport
Open: All year
Children: Accepted
Accommodation: 18 guest chalets with private decks/ensuites
Facilities: Outdoor swimming pool, spa, library, outdoor gym plus curio shop
Social areas: Bar, restaurant, lounge area, viewing deck over lagoon
Climate:
Winter - May to mid August - mild days plus chilly nights
Summer - September to April - "quite" warm
Dry Season - May to October - warm days
Rainy Season - November to April
Hottest Months - October and November
Activities:
Game drives (day and night) and guided walking safaris with experienced and knowledgeable guides
Local village
Textile company visit
Late October to mid-December elephants visit the lodge
Electricity: Mains electricity + 220v generator (battery charging is possible, 3-pin square plugs)
Complimentary:
Laundry service
Website: www.mfuwelodge.com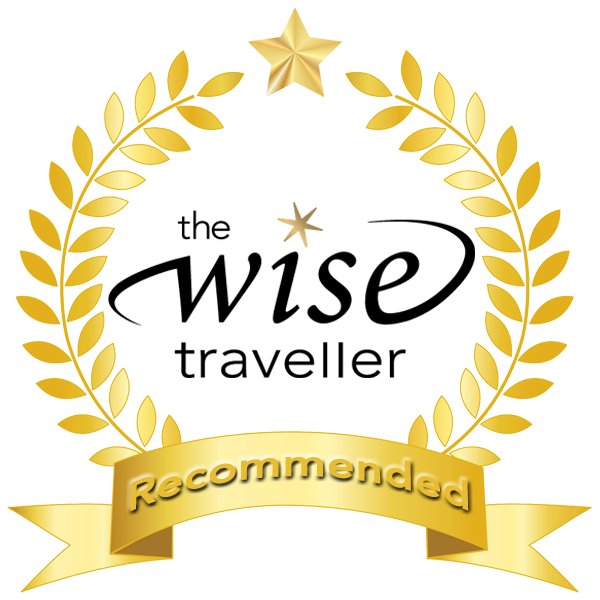 The Bushcamp Company have their main lodge Mfuwe Lodge plus bushcamps for limited guests, which can be walked to from each other (if lazy, jump in the jeep):
Kuyenda - sitting by the Manzi River with old African charm.
Chamilandu - on the Luangwa River where you can sit in bed and watch passing game.
Chindeni - tented luxury where the baboon hang out.
Bilmungwe - cloaked in huge mahogany and winter-thorn trees.
Kapamba - remote and secluded bush camp with a dash of elegant luxury and personal plunge pools.
Zungulila - overlooking the Kapamba River, decadent tents of a true African safari in style.
---
Gail Palethorpe, a self proclaimed Australian gypsy, is a freelance writer, photographer and eternal traveller. Check out her website Gail Palethorpe Photography and her Shutterstock profile.
---