Ocho Rios (Spanish for "eight rivers") is located on the north coast of Jamaica in parish of Saint Ann. From Montego Bay airport, allow at least one-hour travel time. To those unfamiliar with Jamaica, and the size of the island, transportation options from the airport and around the island range from private car services to taxi cabs (red license plates), group vans, or car rentals. There is no public transportation system.
Appearance
The Jamaica Inn, a small, deluxe hotel property, is a hideaway-seeker's dream. Called an intimate, beach resort famous for its superb service and celebrity guests, from Megan Markle to Winston Churchill, the Jamaica Inn is a serene getaway overlooking its own cove. Gorgeous gardens, blooming with tropical flowers, are meticulously maintained. The hotel is painted in a special periwinkle-blue, which, according to the manager, was created for the Jamaica Inn. The entire property is open-air, with significant breeze action on the upper deck where the restaurants, bar, and reading room are located. Dark wood, mixed with brightly patterned furniture, give the Jamaica Inn a clubby luxury yacht look. There are no TV's, radios or clocks, and after the shock of being disconnected from the world (there is high-speed Wi-Fi), one realizes how relaxing a day at the beach can be.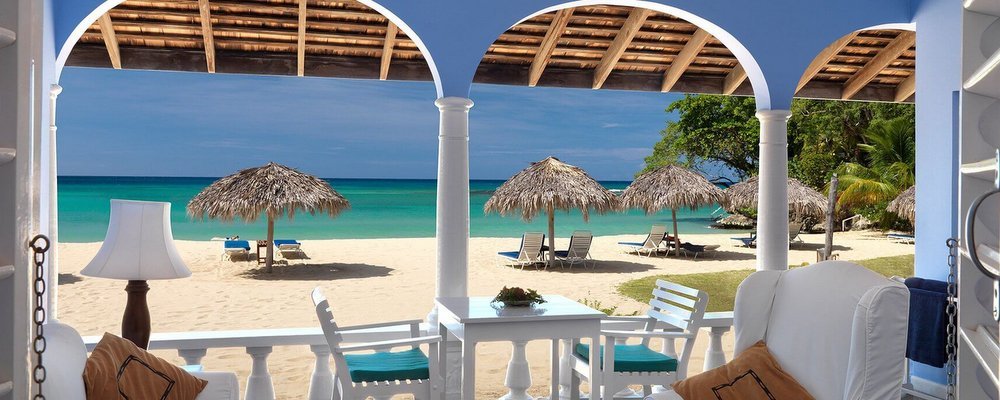 Number of Nights Stayed: Two
Guest Room
There are a variety of guest room options available to suit every budget, from lavish private villas to smaller, yet fully equipped, single room set ups. Most alluring are the rooms on the far side of the property with large, living-room private terraces (fully furnished with white canvas covered sofas, lounge chairs, table/chairs, and a mini fridge) off the sleeping room and overlooking the water, where you can hear the gentle lapping of the waves.
Guest rooms have walk-in closets with shelves and safety deposit boxes. Ceiling fans and air conditioning units (wall mounted) allow guests to enjoy cooling options. Windows are outfitted with slatted shutters to block out the sun. Crisp white sheets can be changed daily, or guests can save water and have sheets changed every other day. Ice is provided daily in the ice bucket.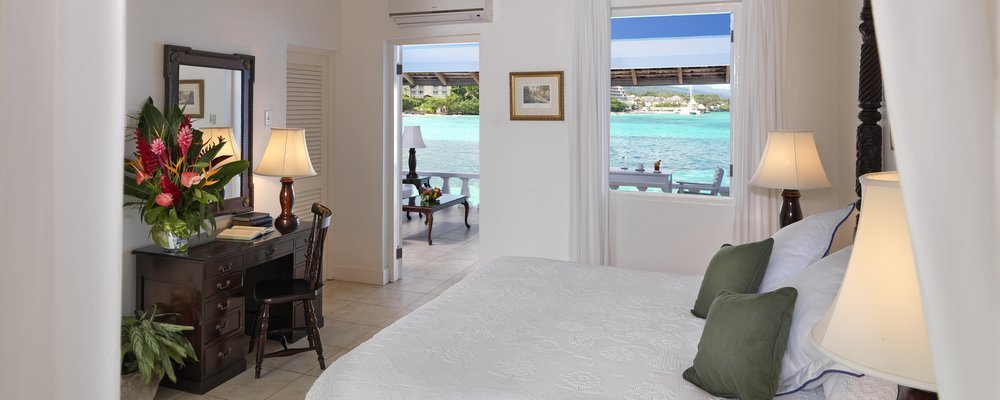 Bathrooms are well appointed with tub/shower. There is a lot of room and there are plenty of shelves to hold personal items. Robes and slippers are also provided. The bathroom amenity program is Molton Brown; a small bottle of organic bug spray is also provided for guests.
Hotel Restaurants & Bars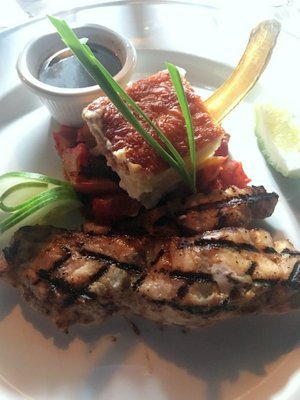 While room service always sounds alluring, especially with a living room-size terrace overlooking the water in which to enjoy it, I chose to eat in the restaurants.
Breakfast is served starting at 7:30 a.m. (coffee and tea service available in the lounge at 6 a.m.) in the restaurant section overlooking the water. A full menu offers local fruits, cooked eggs, and the usual breakfast items. I broke with tradition and had scones with local butter: dreamy.
For lunch, I tried the lounge area because of the strong cross breeze. The menu offers refreshing entrée salads and fresh fish. Make sure you try the iced tea which is strong and tasty. Food service is available on the beach, as well in the beach shack. Make sure you spot the waiter who balances the tray on his head!
Dinner service (either a la carte or prix fixe) is in the main restaurant and every evening features a performing act, like a steel band or jazz combo, which plays in competition to the roaring tree frogs. There is a casual dress code for gentlemen and ladies. Because the hotel is part of the Chaine des Rotisseurs wine club, the food and wine are of very high quality. A pig roast takes place once a week, as do other themed nights. Music usually stops before midnight, so don't expect a rowdy crowd.
Ocean Spa
Even if you're not a spa-junkie, consider booking a treatment at the breezy spa overlooking the water. Request the scalp massage, which is an oil-free massage that will leave you refreshed and energized!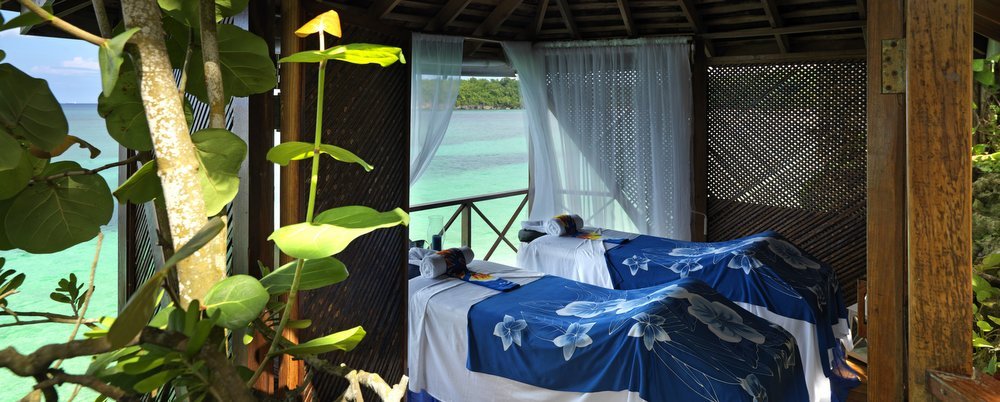 Spots Activities and Fitness Facility
Water activities like sailing, snorkeling, and canoeing can be done on site, as can a glass- bottom boat tour of the fish sanctuary. The hotel can easily arrange off-property activities, like swimming with the dolphins, river rafting, horseback riding, bobsledding (in a tech enabled sled), and biking.
The Exercise Room is easy to access, and I enjoyed walking through the property to find it.
Hotel Staff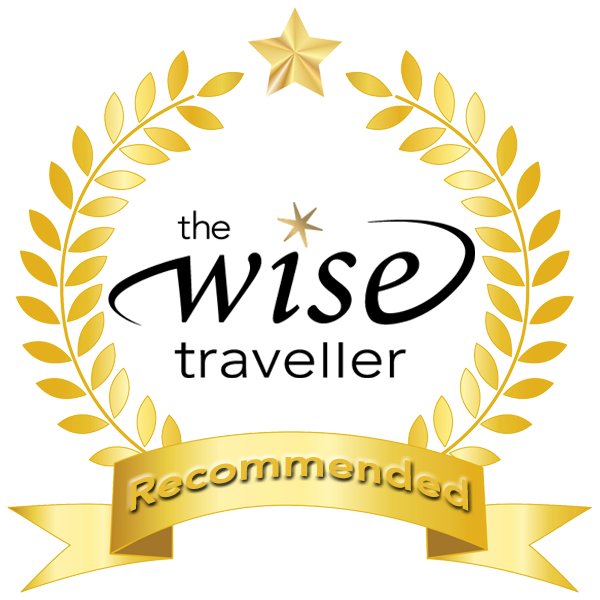 The hotel staff exceeded my expectations in terms of professionalism and politeness.
Conclusion
The Jamaica Inn is one of those rare Caribbean island properties where tradition and heritage blend to provide a memorable stay.
Wise Traveller Star Rating: 10/10