The bleak outlook for the hotel industry with COVID-19 travel restrictions keeping everyone on their own home turf has turned into an incredible outpouring of humanitarian driven measures. Hotels are all doing their bit to help; from Claridge's Hotel in London and the Four Seasons in New York to luxury properties in Italy, such as the Hotel Santa Caterina on the Amalfi Coast.
In these torrid times, the global community of giant hotel chains has risen to support and house first responders and medical staff, where and when needed. Their charitable acts are keeping hard-working souls safe.
From exhausted and stressed out medical/hospital staff to paramedics and everyone in between, empty hotels have become a home-away-from-home for many. The fact that they can stay near their place of work and separate from their own families to keep them safe is a compassionate act that shouldn't be forgotten.
The world-leading operator, Accor, with more than 5,000 hotels and residences in more than 110 countries, is working with community organizations and governments. They have turned their luxury guest rooms into shelters for those that need it most. This hotel conglomerate has become a paragon of virtue, offering accommodation to frontline health workers, returning residents requiring to be quarantined, vulnerable families, and the homeless.
Guest rooms, from the ultra-chic to minimal simplicity, are no longer the domain of laughing holidaymakers or busy entrepreneurs. Their hotel conglomerate includes brands such as Sofitel, MGallery, Art Series, Pullman, Swissôtel, Grand Mercure, Peppers, The Sebel, Mantra, Novotel, Mercure, Tribe, BreakFree, Ibis, Ibis Styles, and Ibis Budget. From making signature cocktail drinks for lock-down birthdays to feeding staff at local hospitals, they are spreading the message that we are facing this challenge as a global community.
Rosewood Hotels
Feeding hospital workers and providing beds for frontline staff, Rosewood Hotels is just one of more than 6,500 properties offering up their beds. Under their banner of the "Rosewood Raise" program, they are raising funds to provide food for communities in need and supporting hotel staff members who have lost their jobs. With more than 59 global properties that range from Phuket to London to California, the busy hotel teams have been providing daily meals to overworked hospital workers.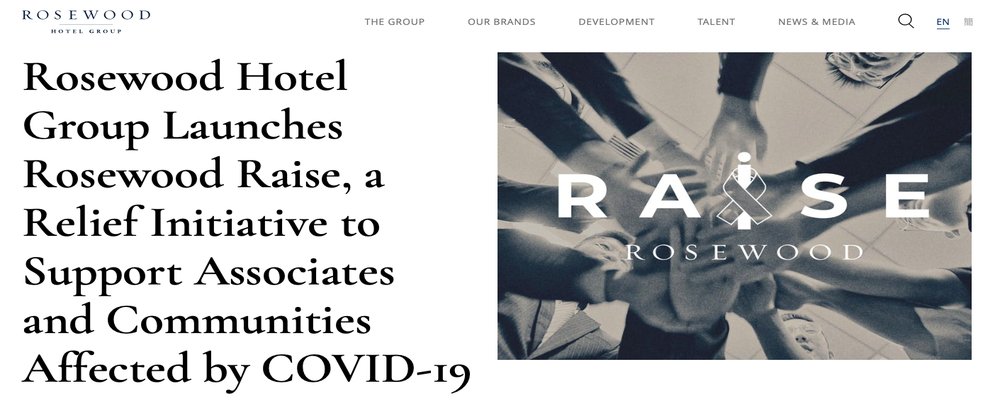 Hilton Hotels
Hilton Hotels and American Express have forged a partnership. A million hotel room nights are available for medical personnel who may require a comfy haven to recharge their batteries after a long work shift of chaotic mayhem. Hilton Hotels are in collaboration with about 10 different healthcare associations in their bid to assist individuals that are sacrificing so much. Double Tree by Hilton, Hilton Garden Inn and Hampton by Hilton to name a few, now have uniforms hanging in wardrobes, instead of traveler's playful attire.
IHG (Intercontinental Hotels Group)
Another leading hotel group, IHG, has taken the initiative to join the forces assisting in these horrific times. They have partnered up with many food provision charities to keep those in need fed. IHG is also providing free accommodation for frontline workers, vulnerable groups, and military services. IHG CEO, Keith Barr said, "Taking care of others is the very essence of who we all are in hospitality and working with our colleagues, owners and charity partners to offer food, supplies and safe accommodation is a natural way for us to be there for our local communities in these difficult times."
Diamond Resorts
The plush resorts of Diamond are found around the world from Africa to South America. They are also spreading their love and compassion for the communities in which they are based. On their "good deed" list is accommodation to first responders, donating car park areas as drive-through testing stations, and giving food and supplies to local charities. With guestrooms bigger than usual, they are perfect sanctuaries for weary workers. Diamond Resorts have implemented contactless check-in and checkout, a 72-hour offline time between room stays, and they have ramped up the cleaning protocols to ensure non-contamination.
A big thank you should be shouted out to any hotel that is helping during this crisis. When it's time to put those travel shoes back on, repay these extraordinary public-spirited gifts by staying at those hotels that put people before financial gain.
From mass applauses to musical renditions on balconies in appreciation for the first responders and medical staff, the resounding echoes are the thank yous to the many benevolent hotels.
---
Gail Palethorpe, a self proclaimed Australian gypsy, is a freelance writer, photographer and eternal traveller. Check out her website Gail Palethorpe Photography and her Shutterstock profile.
---