You could easily spend a week exploring Joshua Tree, California, hiking in the National Park and visiting nearby Pioneertown. If you only have a short amount of time to explore the area however, it's still possible to see a lot. Here, we're sharing our guide to spending just 24 hours in Joshua Tree and seeing as much as possible.
Head straight to the Visitor's Centre
When you arrive in town, head straight for the Visitor's Centre to find out the latest information such as weather warnings and campsite availability. You can also pick up an informative newspaper-style guide to the park, complete with maps, campsite information and details of the wild animals you can expect to see in the National Park.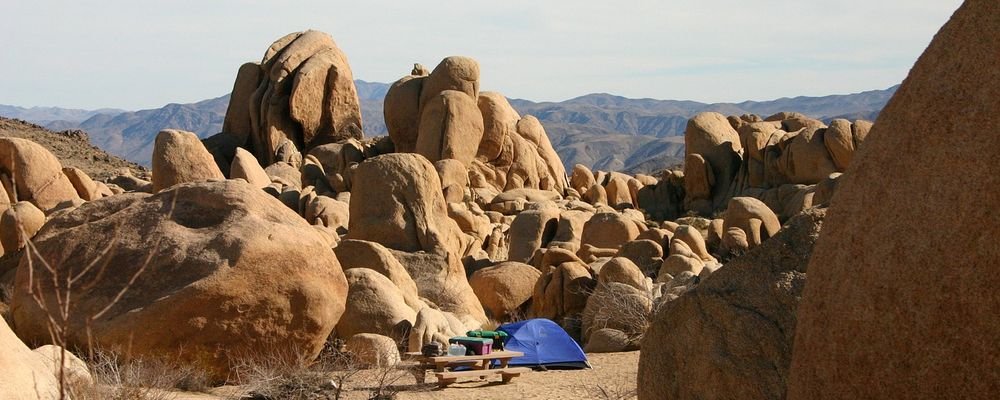 Find a campsite
There are eight official campsites within the National Park, and it's important to know that unofficial camping is not allowed. There are different systems in place at different times of year for the campgrounds, with some requiring reservations and others being allocated on a first-come-first-served basis. The four larger campgrounds generally require reservations, but we recommend staying on one of the smaller, quieter campsites such as Belle or Hidden Valley. These are surrounded by huge boulders and picturesque Joshua Trees and have more privacy than the larger campgrounds.
Take an evening nature walk
It can be really hot in the desert during the day, so the best times to get out to enjoy the scenery are early in the morning and later in the evening. We loved taking an evening nature walk, as you have high chances of spotting the local wildlife at this time, as well as being able to admire the landscape as the setting sun casts a golden light over the desert. Keep your eyes peeled for jackrabbits, rattlesnakes, tortoises, coyotes and ring-tailed cats while watching the sunset.
Admire the Milky Way
On a clear night, you can gaze up at the night sky and admire the Milky Way from the National Park. We recommend lighting a campfire, toasting marshmallows and spending a few hours outdoors, allowing your eyes to adjust so you can watch the stars.
Spend the morning wandering around town
After breakfast, head back into town to explore the local stores. There are plenty of interesting antique and vintage stores to discover in both Joshua Tree and Yucca Valley, including Trailer Trash, Ricochet Vintage and Pioneer Crossing Antiques. There are also lots of independent stores selling local artisan wares, such as Moon Wind Trading Company, BKB Ceramics and Shop on the Mesa.
Lunch at Pappy & Harriet's
Don't leave Joshua Tree before taking a small detour to Pioneertown. This old Wild West movie set will remind you of all the classic movies you used to watch. The real draw here, however, is local eatery and drinking den, Pappy & Harriet's. This laid-back restaurant serves traditional Tex-Mex cuisine, as well as hosting some of the biggest names in the independent music scene for late night gigs and parties.
---
Emma Lavelle is a UK based writer and photographer and has her own blog Field and Nest.
---