This month, we're getting ready for next year and planning our 2020 travels. We've rounded up some of the best articles we've read over the past month, advising on the best places to book for next year. Time to start planning!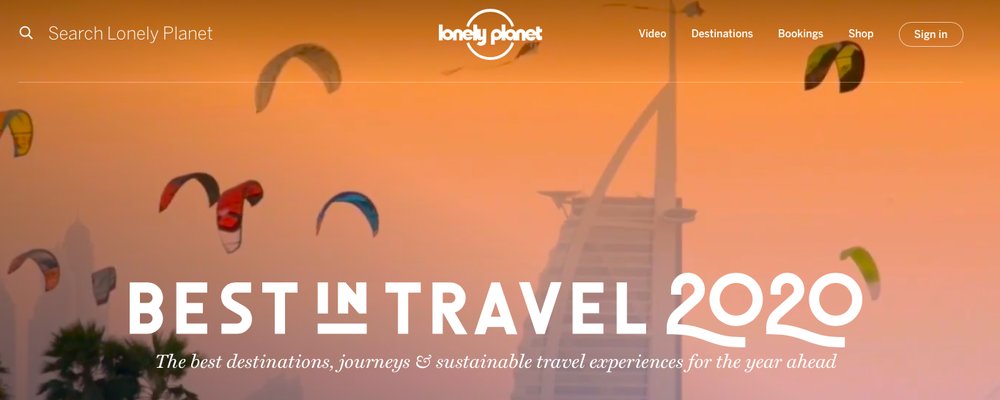 Lonely Planet have just released their 'Best in Travel' lists for 2020, giving us plenty of inspiration for the year ahead. Not content with just one list, the website has published four separate lists detailing the top ten countries, cities, regions and value destinations that are their recommendations for 2020 travel. With destinations as varied as England and Asia's Silk Road, there's something for everyone here.
Looking for more ideas of which destinations will be popular next year? Airbnb have published their recommendations with a list of 20 trending destinations based on year-on-year growth in bookings. These are the places you want to visit before they get even more popular, so scan this list before making your 2020 travel plans. Some places featured on the list are probably already on your radar (Kerala and Tokyo) but others might surprise you.
Refinery 29 have also published a list of ten trending destinations for next year. Their list is based on current travel trends focused on seeing the world in a more sustainable way, such as visiting second cities rather than overcrowded capitals, and travelling to destinations that you can reach via boat or train rather than flying. Recommendations include Ninh Binh in Vietnam and Zabljak in Montenegro.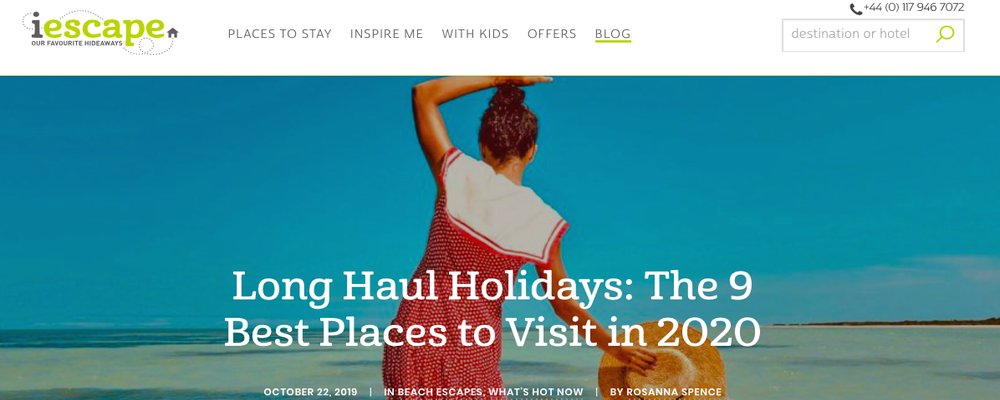 British luxury-travel company i-escape focuses their 2020 plans on long-haul destinations. Their recommendations for next year intend to incite wanderlust with places such as Lombak, Costa Rica and South Goa at the top of their list.
Over to Conde Naste Traveller—they have teamed up with Expedia to share the ultimate travel guide for 2020. This ambitious article includes everything from where to go to how to travel. Each travel trend (such as travelling off season or focusing on wellness retreats) comes with suggestions for where to go. Do you fancy winter in Ibiza or truffle hunting in Croatia? Check out the article for more suggestions.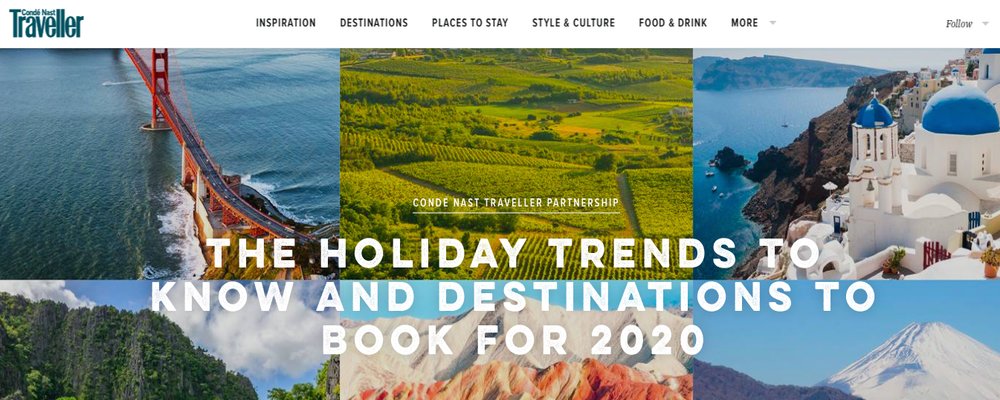 Big Seven Travel are also exploring 2020's travel trends with this article discussing the top seven things to look out for next year. Unsurprisingly, eco-tourism is at the top of the list, but not all of the trends focus on where to go and how to get there. Trends of note include cashless travel and remote working while travelling.
Booking.com is also busy predicting travel trends, focusing on how entering a new decade will unleash innovations in travel. Trends are as diverse as booking coveted culinary hotspots to taking your pets away with you. One thing is certain—travel is about to get even more exciting as we move into 2020!
On Forbes, they are reporting the latest luxury travel trends, based on a report from global luxury travel network, Virtuoso. The Luxe Re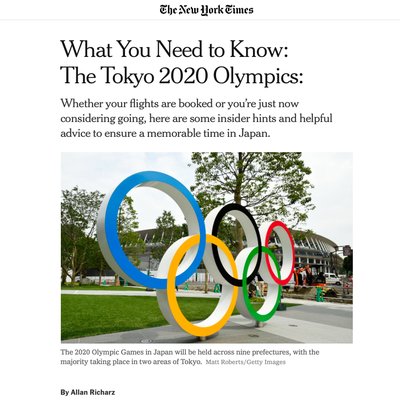 port unearths six emerging travel trends including enjoying the journey (luxurious airport experiences), group getaways and the upsurge in remote, unspoiled destinations. Even if you're not a luxury traveller, there are still ways you can include these trends in your own travels next year.
And finally, if you're still not sure where you want to visit next year, the obvious choice is to plan a trip to Tokyo to immerse yourself in the excitement of the Olympic games. The New York Times has published an article with everything you need to know, including where the venues are situated, how to get hold of tickets, and how to get around. Surely the most exciting way to see Tokyo is during the Games!
---