Dip your toes back in the water in Bali
The rumbling ash throwing "Great Mountain" of Bali, Mt Agung, is a tourism nightmare for this small island awash in sun-drenched beaches, serene temples and gentle souls - well the majority are, just don't include those that rip you off like some of the taxi drivers. Mt Agung is playing up like a cantankerous old man, huffing and puffing since September 2017 and just when its alert status was lowered, it decides to spew out a 1.5-kilometer ash column to let everyone know that maybe the show is not over yet.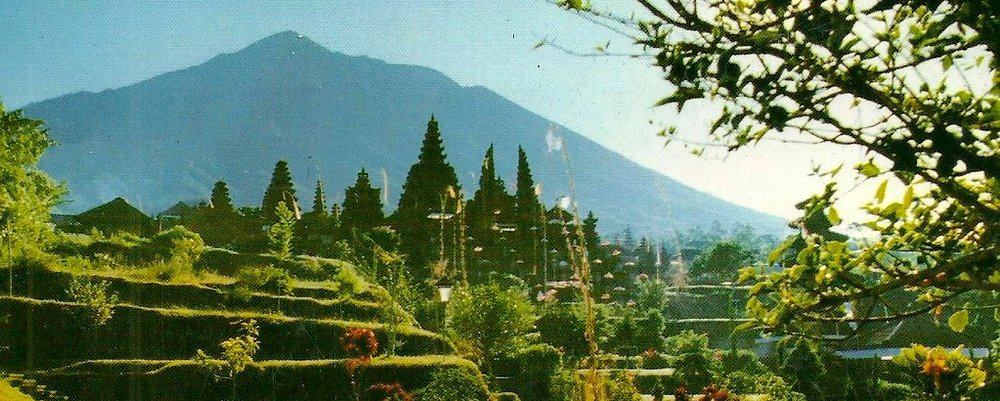 Image: Nathan Hughes Hamilton @ flickr
Home to the "Mother Temple" of Besakih, the most iconic temple in all of Bali, Mt Agung is a part of a chain of volcanoes with legend having Mt Agung being created when the Hindu God Pasupati split Mt Meru, the spiritual axis of the universe. This behemoth landmass dominates its surrounds and influences the climate, especially the rainfall patterns. Indonesia is actually thousands of islands sitting on the Pacific "Ring of Fire" that is a chain of volcanoes and fault lines encircling the Pacific Basin.
With a history of eruptions, like the tantrums of an irascible toddler, Mt Agung flung its lava in 1843 and again in 1963 when lava flowed for 7km over 20 days. The lava missed by mere meters the Mother Temple of Besakih, which added to the mystique and myths of the gods wishing to show-off their power, but not to destroy this religious monument. The "gatekeeper" and "guardian" of Mt Agung with his "vision of the inner eye", the spiritual leader named Mangku Bon, lives a mere 3km from the crater's summit. He has discredited the experts who believe an eruption is imminent as he is not sure that Mount Agung will erupt and if it does, he believes his death will be honored.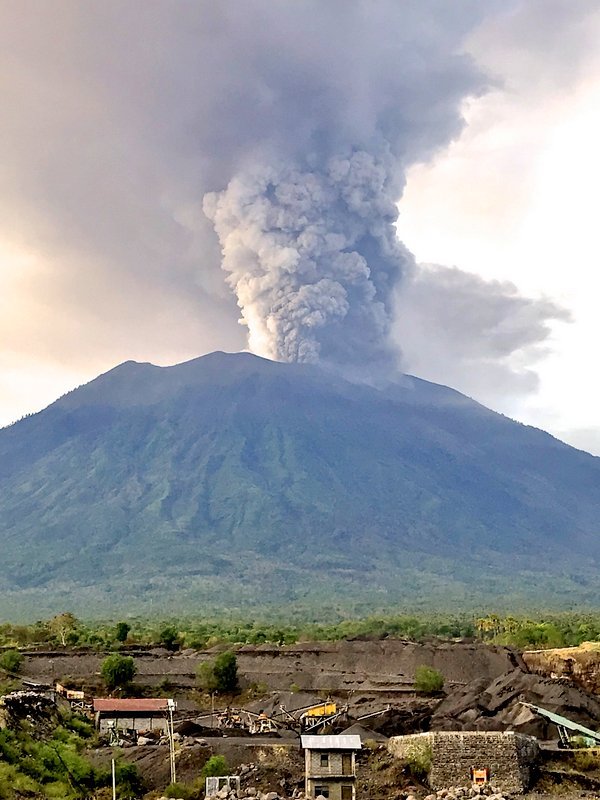 Mt Agung has been putting on a spectacular performance, which has been recorded in photo after photo on media news. From months ago pictures gave no indication that Mt Agung was storing up its might of a volatile mixture of gases, molten rocks and fluid. Thick clouds of steam and ash were the first warning that it was thinking about blowing its top, as well as slight tremors that began to shake the area surrounding it. Think of it as a kettle beginning to boil, but one that has volcanic rock being pressurized into tiny pieces of ash, whilst an explosion will blast the magma that can travel 5-15 km to the surface through its crater. The incandescent orange glow at night displays how high the hot magma is, whilst the awesome images with Mt Agung shrouded in pink and orange hues is simply the gas at dawn when the sunrise is reflected in the ash plume. For globe trotting photographers chasing phenomenal images, Mt Agung is putting on a magnificent performance.
So from crowing about the majestic pulsating beast that is the highest peak on the island, the reality is that if it does blow its stack, it will only affect its own apron area, which is far from the southern tourist playgrounds of Legian, Sanur, Kuta, Nusa Dua and Seminyak. Even the city of Denpassar will be safe, as will Ubud.
The nasty part will be the volcanic ash cloud that is dangerous to the respiratory system and it is definitely not what a plane can fly in. So the worst scenario will be wearing a paper facemask, getting a bit of ash on your clothes and having to go to either Lombok or Java International airports on a government courtesy bus, after relaxing for an extra day or 2 gratis at wherever you happen to be staying.
What Bali is experiencing due to the cranky mountain is the drastic loss of its main source of income, tourism, plus about 150,000 locals in the danger zone have been removed from their homes and their farm land. Touted to be a huge loss of $1.55 billion in tourism revenue, it is said that the volcano crisis will lead to about 1 million less tourists and forward bookings just aren't happening. Arrivals from Australia dropped 50% and from China, it fell from 100,000 to a trickle of 11,500. Many hotels have been forced to put off local staff, the sidewalks of prime tourist areas are not plagued by the masses and the beaches are empty stretches of sand. The local businesses within the 12 km evacuation zone of Mt Agung have been totally devastated leaving many without jobs. With the downgrading of the alert the exclusion zone has been reduced to 6km, giving some evacuees the chance to return to what is left of their businesses or crops.
Now is the time to take advantage of the "hot deals" that are floating around as the government guarantees free stays and transfers to other airports, should Bali's international airport be forced to close. The number 1 destination by Trip Advisor and described as being "a living postcard, an Indonesian paradise that feels like a fantasy", Bali has been the go-to playground for Australians and many other nationalities over decades. It is time to put the media hype and the stay-away attitude to rest. The worst-case scenarios are not as bad as some vivid imaginations are putting out there.
Grab that tempting holiday, as prices will never be better than what they are now, but just remember if climbing Mt Agung was on your agenda, you won't be doing it this time around.
---
Gail Palethorpe, a self proclaimed Australian gypsy, is a freelance writer, photographer and eternal traveller. Check out her website Gail Palethorpe Photography and her Shutterstock profile.
---