Exclusive and for many elusive, a luxurious stay in the wild yonder is out of reach of many. But, for those who have big bank balances and are travel junkies chasing bragging rights to having stayed at some of the most incredible wilderness lodges in the world—take a deep breath and inhale the fresh air as you read about the stunning pristine settings, the wildlife voyeuristic opportunities, and above all the opulent accommodation that defies belief due to the remote locations of the lodges below:
Pikaia Lodge, Galapagos, Ecuador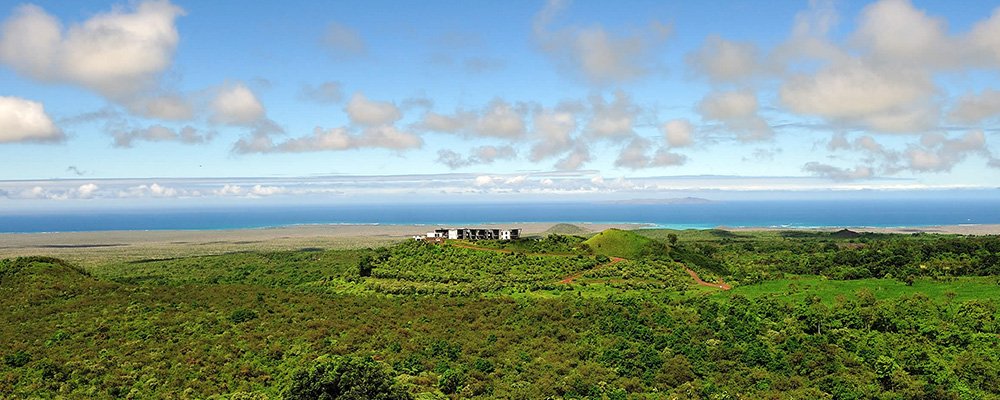 International accolades abound for the Relais & Chateaux property, Pikaia Lodge Galapagos, such as The World's Leading Adventure Hotel 2022. The Galapagos' isolated and unique volcanic islands will give you a sobering experience of seeing the natural world as it would be without humans. Legendary for its role in Darwin's theory of evolution, a vision of raw and sometimes brutal nature awaits the intrepid traveler who enjoys personal indulgence while being a naturalist voyeur. The land is saturated in vivid colors, volcanic rock formations, and creatures galore that will entertain you with their antics and, at times, bring you to tears with how brutal nature can be in such a fragile ecosystem. Remote and environmentally friendly, Pikaia Lodge is the ultimate luxurious accommodation where guests can explore the surrounding watery vista upon a private yacht. Watch zany blue-footed boobies splash in the water, torpedo-shaped sea lions diving the depths, placid giant tortoises ambling on somewhat barren land, and marine iguanas darting along rocky shorelines—the list of endemic creatures is endless. Pikaia Lodge allows guests to immerse themselves in a haven where the natural world rules.
Sonora Resort, British Columbia, Canada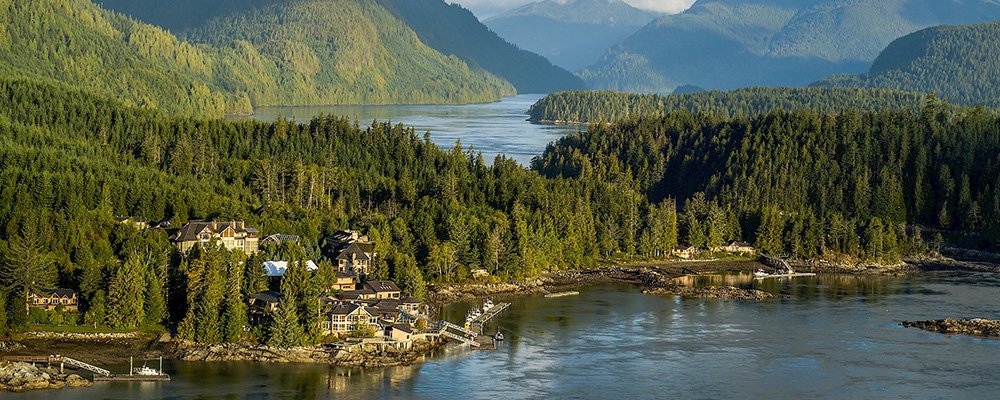 Another fantastic Relais & Chateaux property offering indulgent accommodation under skies of Bald eagles gliding across vast untamed landscapes of ancient temperate rainforests where Black bears forage for their next meal, Sonora Resort is a secluded haven for nature lovers. Set in a pristine wildlife habitat of the Discovery Islands archipelago, the lodge can only be reached by a scenic helicopter ride or a water taxi. The accommodation ranges from rooms to elegant suites and stunning villas with massive picture windows overlooking the Innes Passage. The chic décor is highlighted by using stone and cedar throughout; there are hot tubs to wallow in and artful stone fireplaces for roaring fires. It's decadent luxury to return to after a day of salmon fishing, hiking through sky-reaching cedars, kayaking, or salivating over a chef's curated ultimate picnic on a shimmering glacier. And, when you need time out, head to the spa for some sinful time of a body scrub using indigenous ingredients of local sea kelp and rockweed or a seaside mineral wrap that will leave you purring with pleasure.
Lapa Rios, Osa Peninsula, Costa Rica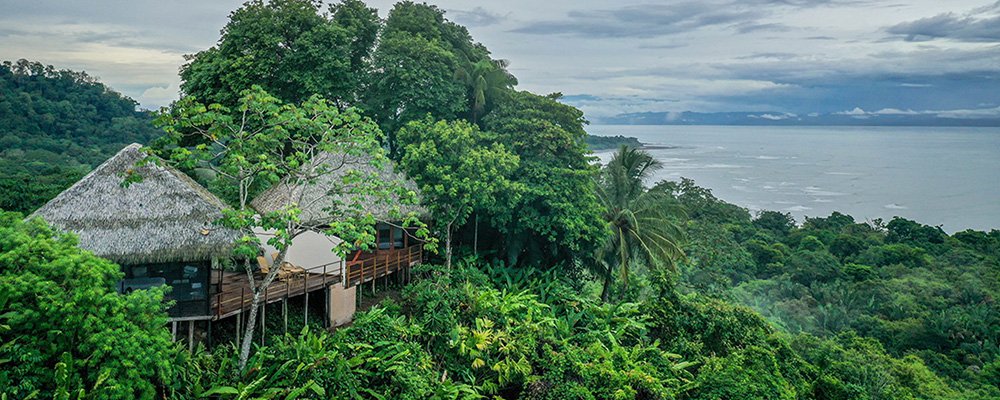 Named in Costa Rican after the vibrant scarlet macaw that flits around the lush jungles of the Osa Peninsula on which Lapa Rios was developed, this lodge is the epitome of shameless luxury with a wow factor that will have you pinching yourself the moment you arrive. Only 17 elegant bungalows are perched on a ridgeline 350 feet above sea level overlooking the merging of the Pacific Ocean with the Golfo Dulce. In total harmony with the natural landscape, the villas and private bungalows allow guests to wake up to the fragrance of the jungle immersed in the rhythm of nature. Opened in 1993, Lapa Rios has been the recipient of numerous tourism and hotel awards for its ethos and commitment to conservation and sustainability. All the jungle creatures, big and small, will be your neighbors in this private nature reserve of lowland tropical rainforest of over 1,000 acres. Your world will consist of a symphony of Howler monkeys barking at each other and screeching macaws. Your mornings will be visions of colorful toucans pouncing on lizards or nibbling fruit as tree frogs happily croak amidst the tropical foliage. Brilliant blue butterflies flit around this land where 2.5% of the world's biodiversity live. From taking a hike to blissfully watching a sunset relaxed in a hammock, Lapa Rios is a walk on the wild side of sensual delight.
Shinta Mani, Cambodia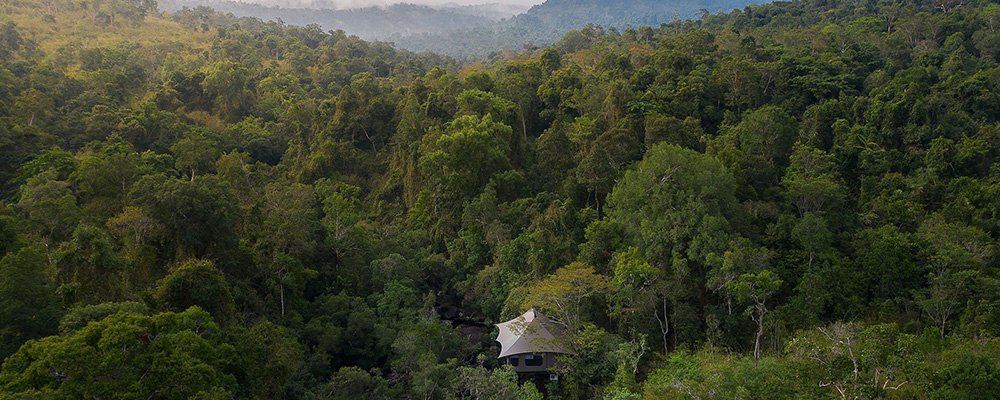 When you have the urge to totally disconnect from the real world of brick and mortar and wish for a tent to be a lavish pseudo-palace, head to the Cardamom Mountains. You will find 15 individually styled creations of Shinta Mani Lodge with whimsical names: The Botanists Tent, The Butterfly Tent, The Bohemian Tent, and the list goes on. A utopia for wonderlusting souls looking outside the box, this wilderness lodge is so fabulous it will take your breath away. The most unbelievable position of the National Geographic Tent allows you to soak in an outdoor tub on your secluded deck with the sounds of the rushing water of the Raging Middle Sister Falls right beside you. Snuggled into the riverbank in total privacy, each elegantly furnished tent has been designed to optimize the natural breezes and light. Perched beside the flowing river, the Khmer Tonics Spa will leave you with skin like a baby, even your feet, after a river-stone foot massage. From having sundowners sitting on ancient river-rocks to picnicking beside a waterfall or joining an anti-poaching patrol if it takes your fancy—the experiences on offer create a unique experience that for many will be a once-in-a-lifetime escapade.
---
Gail Palethorpe, a self proclaimed Australian gypsy, is a freelance writer, photographer and eternal traveller. Check out her website Gail Palethorpe Photography and her Shutterstock profile.
---