Thailand's New Year Celebration
What began as a "water blessing" similar to that of a baby being christened with a few drops of water bestowed upon its head, has now degenerated into the biggest water fight to be had.
Songkran is Thai New Year, it is the time when the dry season is over and Thai people celebrate the coming of the rainy or monsoonal season. When the landscape is rejuvenated and rebirthed cloaked in a lush tropical green.
With a sigh of relief, the scorching dry heat is replaced with torrential downpours of cooling rain and rainbows appear after short sharp rain bursts during the day. It is the time of the year when the heavens literally open up, when lightening zig zags across the evening sky and the boom of thunder rivals the incessant crack of firecrackers in most tourist areas.

Songkran is a crazy time, when the only way to dress is in bathers or to wear a raincoat, if you are game enough to venture outside of your house or accommodation. When alcohol and silliness mix, sometimes in unfortunate ways, as there are many traffic accidents during the celebrations. Every one becomes a target for a "water lashing" of very innovative means.
At every neighbourhood bar the generosity of the Thai people is shown in their welcoming manner of feasting for all on glorious Thai food. Tom yum, green pawpaw salad, barbecued pork skewers, barbecued chicken, green and red curries of various types, sticky rice and of course, traditional Thai whiskey concoctions in the form of shots are liberally handed around.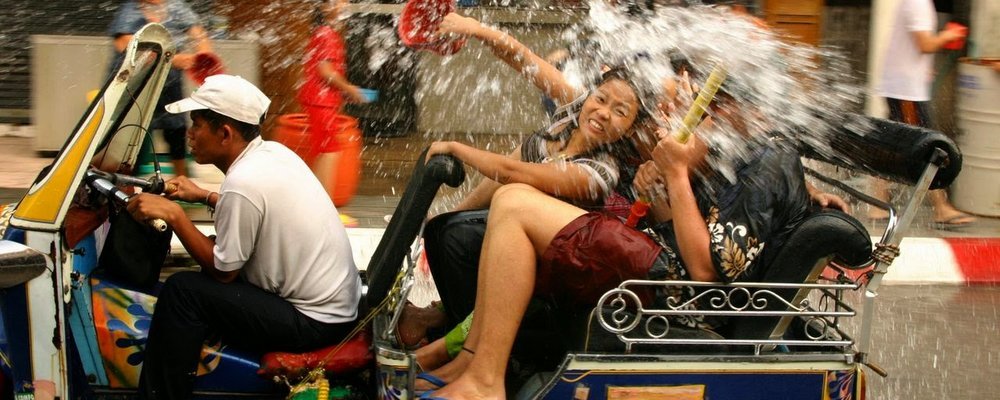 Outside, in the front of bars and shop fronts, there is the common huge icebox converted into a water well of iced down water. This is the constant source for refilling every imaginable size of water pistol or gun or just a plain old bucket, that is liberally thrown at every person who ventures to go past. Even the water trucks get in on the act, going up and down streets, spraying everyone with their huge hoses.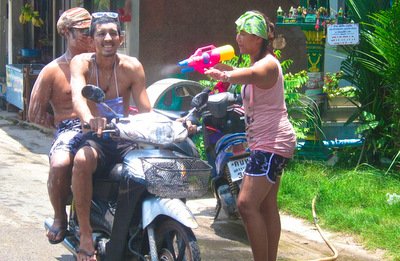 The passing parade of motorbikes, tuk tuks or cars, induces another type of wet onslaught. Utes laden with people in the back have their own ice chests, so they can shower everyone as they drive past. It is a time of good-natured cheek, laughter, blaring music and tourists that belong in wet t-shirt competitions. Local kids ride their bikes past with water pistols, they sit in the icy buckets of water refilling their water weapon of choice, which ranges from super charged water pistols to simple plastic containers. It is hilarious people watching as they run and try to dodge the icy water onslaught, most often to no avail.
Songkran is the happiest kind of chaos that you will ever experience; madness in the shape of how big is your water gun, with floral shirts the day's dress code, and coloured flour in a paste, which is liberally thrown or painted on faces and when dancing in the street does not constitute insanity. The water is so cold that it takes your breath away, which is a blessing in disguise, considering the temperature is in the 30s.