The Pavilions Bali, tucked away from the bustling village streets of Sanur, is so hidden and discrete most taxi drivers will drive right past its entrance. This is no hotel that needs to make a grand statement about its presence as the long bamboo bowered driveway whisks you away into a world of old gardens and stylish private villas oozing Balinese charm. Your only company will be red dragonflies flitting and butterflies dancing around the brilliant gold of heliconia and purple bougainvillea flowers. Small honeybirds with yellow breasts daintily dip their beaks into flower cups, while geckos scurry in an endless hunt for insects. Beautiful handmade offerings to the Balinese Hindu gods, Canang Sari, litter the entrances and statues dotted around the property. And, the air is gently perfumed with hints of frangipani flowers and sandalwood incense.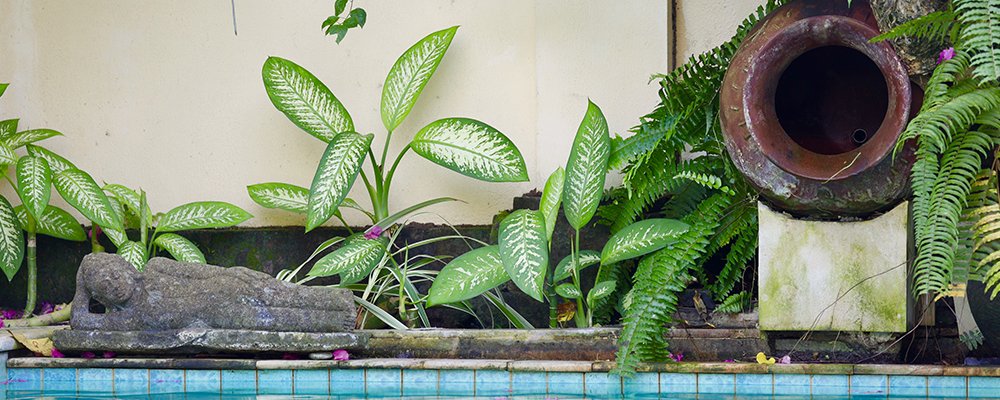 Privacy is a huge factor. It's like entering your own idyllic nirvana the moment you walk through the wooden door of your stone-walled villa compound. It's your sanctuary for chilling out. Refreshing skinny dipping moments, sipping a chilled glass of wine while curled up with a good book, or dozing away the hours to nature's lilting tune. When you wish to brave the streets of Sanur, in minutes, you can be on Sanur Beach watching a blushing-pink sunset, poking your nose into boutiques, savouring a French pastry and local coffee, or dining in one of the many restaurants.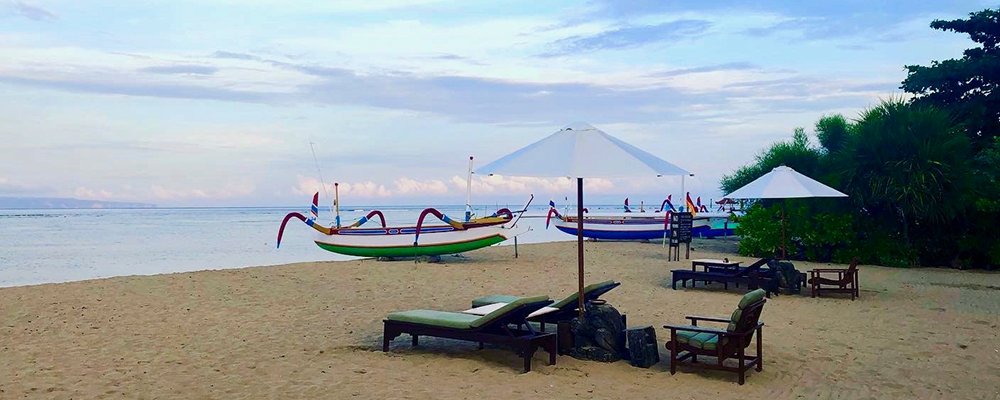 Like many Indonesian businesses over the Covid period, The Pavilions Bali retained the majority of its staff, turning their attention to the refurbishment of the property. Giving the villas fresh touches of designer charm without straying from a traditional and heritage feel. Striking photographs of quintessential Balinese life make walls come to life. The kitchen areas are freshly stocked with everything you need, from snacks to wine and beer, and cozy lounge furniture begs to be sat upon. A beach bag and towels wait on the top shelf of your walk-in wardrobe for when you wish to indulge in a sandy dip in the ocean. Every single thing to spoil yourself during your stay is at your fingertips.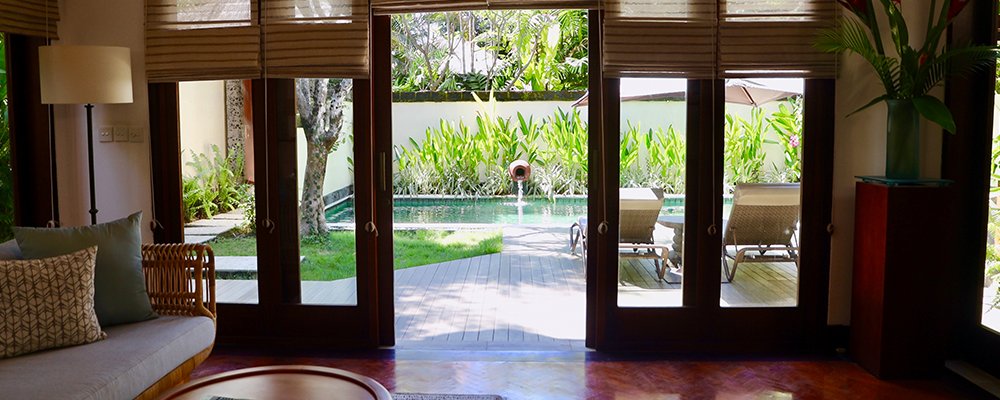 There are only a small number of luxury villas featuring different configurations: one bedroom for solo, couples, and honeymooners. Or, two bedrooms for friends and family to have time-out together. Spacious bathrooms have aromatic soothing personal amenities and thick fluffy bath towels to wrap yourself in. You can linger under the rain shower or wallow in the oversized outdoor bath. A few villas give you the sweet choice of showering amongst the greenery a la natural. Ceiling fans plus air conditioning allow you the option of airflow throughout the day and night. The well-designed villas can open up entirely onto colorful gardens or your own pool, bringing the natural outside world in.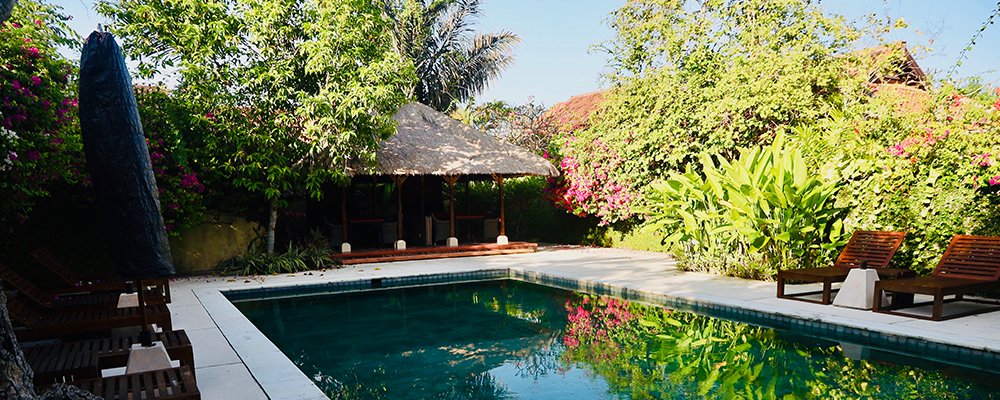 Image Credit: The Pavilions
Many bedrooms have a four-poster bed known as 'the bed of kings' draped in a floaty canopy of mosquito netting and smothered in luxurious pillows and soft linen. Woven matted window screens keep the light out or are easily pushed aside if you wish to wake up with the natural rhythm of early morning sunshine. A traditional Balinese gift with a note of its use in the local culture is on your pillow at night. A bamboo Suling flute to entertain your partner with (tongue in cheek) or elegantly presented incense to appease any lingering unwanted spirits when you return home. The Pavilions Bali goes the extra length to make you feel special. Your surname will be on the door to your villa so you can't get lost—especially at night when meandering its fairytale-lit pathways.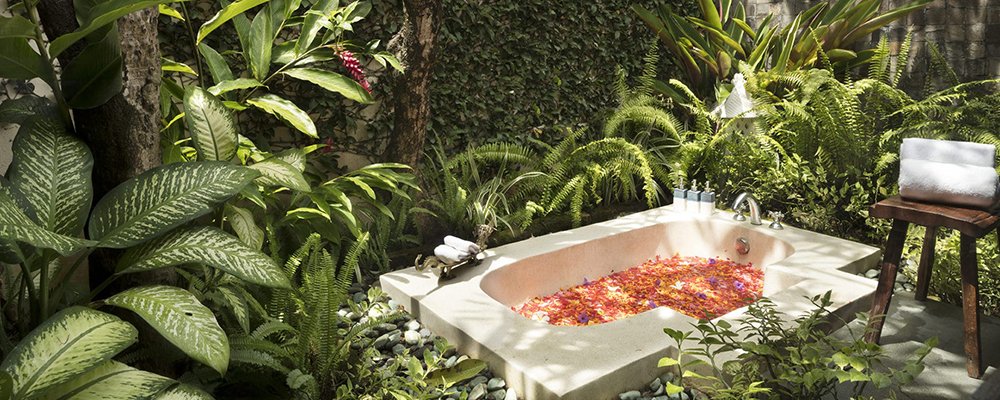 When you wish to immerse yourself in pampering, The Pavilions Bali spa is hidden behind the ornate doorway at the end of the bamboo laneway. A serene space of magical self-indulgence, you can take your pick of how you wish to bliss out. Have a signature massage—literally melting in delight as any body tension is released and those nasty knots are kneaded away. Or shed those old skin cells with a scrub and mask. The ultimate end to these aromatic treatments is to wallow in a floral milk bath like Javanese Princesses are said to have done. The spa menu is endless, from facials to tone and nourish to mollycoddling your tired feet in a footbath followed by a massage using essential oils. You can also practice the ancient movements of yoga in a peaceful outdoor setting beside the spa with The Pavilions Bali's expert wellness practitioner. It's simply heaven to walk through the spa's doors as you are wrapped in mellow strains of gamelan music and calming, fragrant aromas.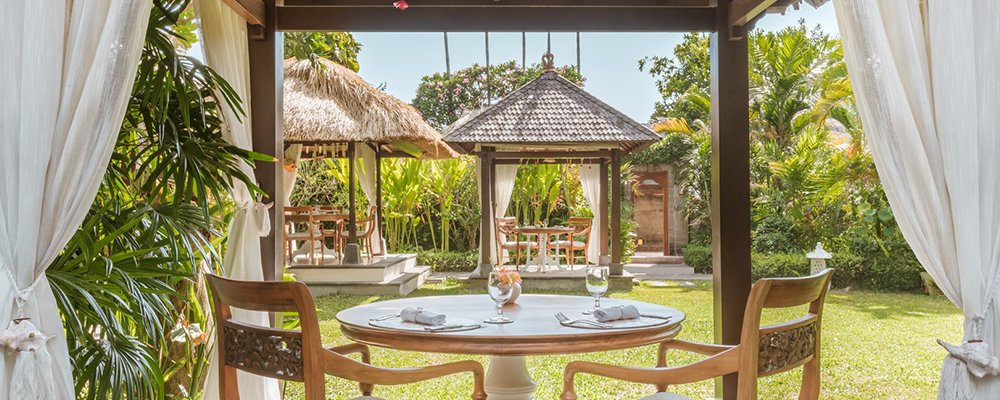 The Pavilions Bali take their food very seriously. Let your taste buds frolic on the traditional cuisine of Indonesia by dining under the stars in your private candle-lit gazebo at the Jahe Restaurant. Graze all day, or feed the soul with afternoon tea beside the main pool. You can even dine in your private villa and step-up your dining experience with a private seafood barbecue. Wherever you choose to tantalize your palate, it's a big decision to pick between local indigenous dishes and international fare. The local produce is so fresh the colours pop, and the flavours will leave you craving more. It's a unique culinary experience as Balinese cuisine has taken on influences from India, Malaysia, and China. You will be set on a journey of taste sensations, including an array of exotic spices, sometimes with mouth-puckering hot chili. For the budding home chef, there's the opportunity to get up close and personal with The Pavilions Bali's head chef and learn his secret cooking techniques in a private cooking lesson. And, yes, you get to eat what you cook!
Staying at The Pavilions Bali is when you can take a long deep breath, forget the outside world and reclaim your sanity.
Image Credits: Gail Palethorpe, unless otherwise indicated.

---
Gail Palethorpe, a self proclaimed Australian gypsy, is a freelance writer, photographer and eternal traveller. Check out her website Gail Palethorpe Photography and her Shutterstock profile.
---