Translates Languages So You Don't Have To
The future is here. Well, almost. The world's first 'smart earpiece' that translates foreign languages for you will soon be able to pre-order and are due to be released next spring.
Meet The Pilot
Wearable technology company, Waverly Labs have designed 'The Pilot'; an earpiece that translates in real time so that two people who speak different languages can have a fluid conversation without pausing to flick through guidebooks or use Google translate. Both participants in the conversation must wear earpieces (they will be sold as a pair), the accompanying mobile app will allow you to toggle between languages – and, voila!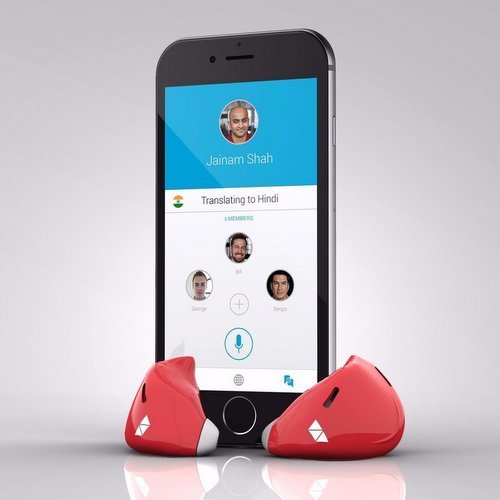 Each person wearing the earpiece simply speaks as normal in their own language and the mobile app instantly translates and sends a voice to your earpiece that dictates the translation. Through the earpiece, you are able to have a real-time conversation and the app does all the hard work for you. What's more, the app will be loaded with the languages (a selection of yet to be determined languages will come included in the initial cost with extra languages as add-ons) and web access will not be necessary.
The Universal Translator Is Not Quite There Yet
Although the promotional video is impressive and the promise of a world without language barriers is romantically futuristic (and will delight sci-fi fans as the closest thing to a real-life universal translator), a word of warning. The Pilot is to be crowd-funded on Indiegogo, and subsequently, it is not 100% guaranteed that it will come into fruition within the stated year-long time frame (or at all).
The page is not yet live, but there is a sign-up available where you can add your email address to a wait-list to be the first to know when the pre-sale goes live (as currently advertised, with an initial 50% off the quoted $299 price).
Supported languages are likely to start with European-based Germanic and romantic languages, including English, German and Italian, and will be gradually followed with a second-wave including Slavic, Semitic, Hindi and East Asian languages. Long term, more and more languages will be added until the product eventually breaks down language barriers around the world and defeats the need for studying for years to attempt to become multi-lingual.
If The Pilot is manufactured as promised, it is sure to become one of the most important inventions of our generation; an invention with the potential to be truly life-changing around the world.
You might also be interested in the t-shirt that helps you communicate in any country.
---
Emma Lavelle is a UK based writer and photographer and has her own blog Field and Nest.
---