Airports That Could Drive You Insane
Travelling starts at the airport. Part of the excitement of a trip is the build-up, and we actually enjoy being at the airport. At least we do if you breeze through security with ample time to relax in one of a wide choice of eateries.
There's nothing worse than arriving at an airport to find queues trailing for miles, unhelpful staff and no facilities. So, where are these airports that you are better off avoiding? We've rounded up a list of the very worst airports in the world.
Kathmandu Tribhuvan International Airport, Nepal
It's not just passengers that hate travelling to and from this airport, pilots and air stewards have also publicly mentioned their distaste. It has to be mentioned that 2015's earthquake damaged the runway and the airport did a great job to get back up and running as soon as possible, but the majority of the complaints have nothing to do with the state of the runway or the facilities.
The terminal has been said to more closely resemble a bus station than an airport terminal, the bathroom facilities are so bad that passengers have purposely dehydrated themselves, and the queueing system regularly turns to chaos.
Adolfo Suarez Madrid-Bajaras Airport, Spain
It may be one of the busiest airports in Spain, but Madrid-Bajaras receives many regular complaints. It may be down to lazy passengers, but the walk between the terminal and the gates is so long that it warrants daily complaints, especially from passengers transferring between flights.
The food prices are said to be astronomical in the restaurants, the layout is incredibly confusing, and there are no boarding announcements, so if you don't keep your eye on the screens there's a chance that you could miss your flight.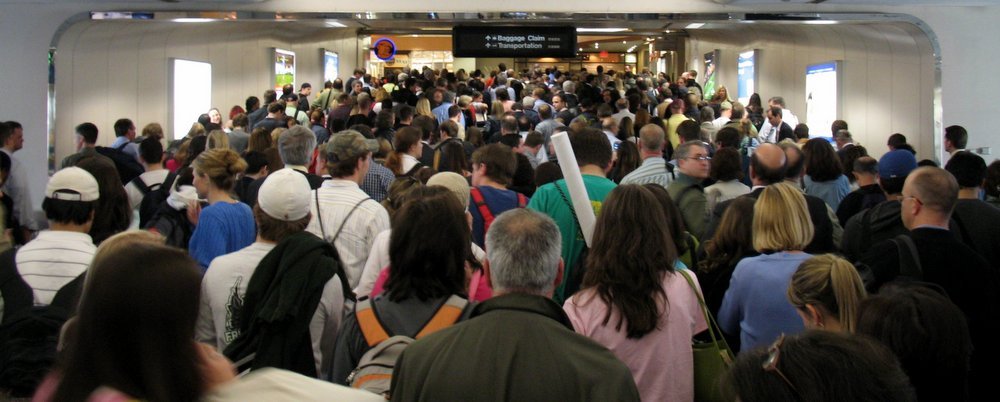 Port Harcourt International Airport, Nigeria
Port Harcourt has repeatedly been awarded the title of the World's Worst Airport, mainly due to the fact that the arrivals gate is literally a tent that cannot fit a plane load of people inside all at once. This isn't the only issue with the airport, however. The staff are known for being rude and unhelpful, unless you are prepared to pay bribes for their assistance.
There is also no air-conditioning and no seats for when you are waiting for to board your flight, meaning that passengers are forced to stand up in stifling temperatures after they have checked in.
Caracas Simon Bolivar International Airport, Venezuela
Hands down, this is the most chaotic airport in the world. Multiple reports describe multiple security checks even after they have been thoroughly searched, which subsequently cause incredibly long delays. Queues are long and unorganised, meaning that you have to show up to the airport at least three hours before your flight in order to make it to the gate on time.
It's also worth noting that you have to pay tax before you board an outbound flight, but the tax must be paid in local currency and has to be paid in cash despite the ATM's in the terminals only accepting local cards.
Jeddah King Abdulaziz International Airport, Saudi Arabia
Jeddah King airport receives consistently poor reviews for cleanliness, queuing time and lack of any sort of organisation. Passengers have reported queuing for hours at immigration, before realising that there was only one member of staff working on the desk.
The airport is always overcrowded, and is confusing to navigate, which holds up passengers and adds to the chaos. Men and women have to queue up separately to get through security, but there are twice as many security lines for men as for women, meaning that it will always take you longer to get through as a woman.
Ho Chi Minh City Tân Sơn Nhất International Airport, Vietnam
Tân Sơn Nhất is the busiest airport in Vietnam and acts as a hub to much of the country, yet it has all the halls marks of a bad airport. So one would think there would be an interest in making it traveller friendly. However poor and dirty toilet facilities, aging buildings plus poor and expensive food and beverage facilities serve to provide the airport its reputation as Asia's worst.
If that's not enough, claims of corrupt customs officers, regular delays in Visa processing and not uncommon hour plus waits at immigration combined with the common comments related to the unpleasantness of airport personnel place this airport on the list.
And if you haven't had enough of questionable airports why not find which are the most corrupt airports in the world.
---
Emma Lavelle is a UK based writer and photographer and has her own blog Field and Nest.
---