Airlines Bring On Celebrity Chefs To Differentiate
At Least For The High End Flier
Airlines have taken the hint that no one wants to indulge in tasteless food offerings whilst in the air, especially if you are one of the elite sprawled out in First Class. Whilst for the pseudo sardines in the bum of the plane, you should think yourself lucky to be fed, without having to reach for your wallet.
In pursuit of the passenger's dollars and loyalty, major airlines have kicked it up a notch in recent years with the tactic of aligning themselves with some of the best chefs in the culinary world to tantalize your jaded taste buds whilst flying. The alliances between airline carriers and the gods of the kitchens read like a "who's who" of the international culinary world Bible.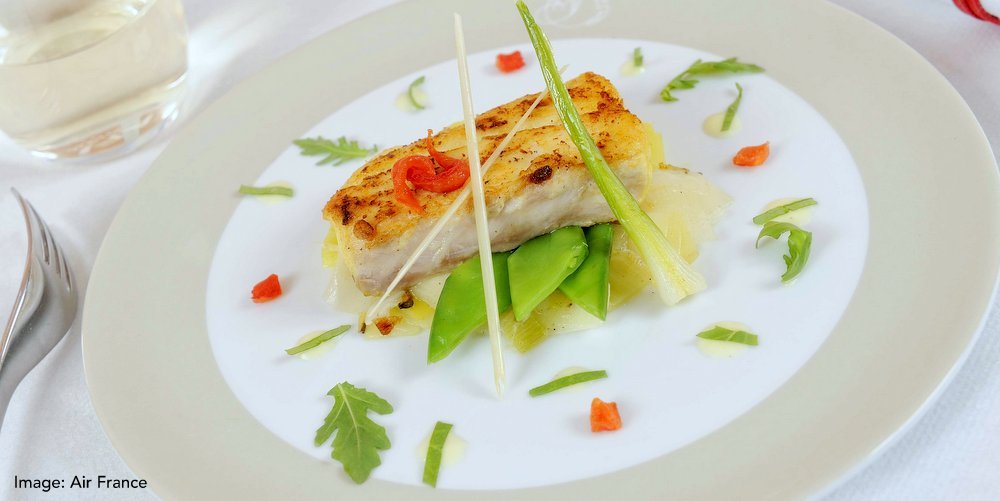 As a taste teaser of airline culinary artistes, check out the 6 airlines below:
Air France
With a list of accolades that goes on forever (think James Beard Foundation Award plus many more), Daniel Boulud, originally from Lyon in France and now one of the leading chef gods in the United States, has teamed up with Air France. Known for his contemporary touch on traditional French cuisine, he is the man behind your dish when departing from the US on Air France.
Whilst if you are departing from France, you will have a delectable creation by a Michelin-starred chef such as Joel Robuchon, Michel Rothor Guy Martin to name a few, only if you happen to be sitting in the pointy end of the plane. If you are a member of the crowd surfing mob in the back, you have not been forgotten about on long-haul flights, with your meals being inspired by Jean Imbert, the winner of France's Top Chef 2012. The scoffing of wine is encouraged, with a list that rotates every couple of months for the loyal frequent flyer.
Singapore Airlines
A staggering 8 celestial kitchen kings form an International Culinary Panel for Singapore Airlines:
| | |
| --- | --- |
| | Alfred Portale - a pioneer of New American cuisine inducted into the Who's Who in Food and Beverage in America in 1989. |
| | Carlo Cracco - the darling of the European dining scene with his innovative expression of classical Italian food, who owns one of the top restaurants in the world. |
| | Georges Blanc - owner of a 3 star Michelin Restaurant; he is the definitive grand master of French cuisine. |
| | Matthew Moran - an iconic Australian chef with his own cooking show, "Paddock to Plate", he specializes in modern Australian fare and is a co-owner of Aria Restaurant. |
| | Sanjeev Kapoor - has the longest running cooking show in Asia with over 500 million viewers in over 120 countries. |
| | Suzanne Goin - chef and restaurateur of 3 award-winning restaurants. |
| | Yoshihiro Murata - a "Kaiseki" master (tiny intricate dishes), his restaurants have been awarded more Michelin stars than any other in Japan. |
| | Zhu Jun - the Executive Chef at Shanghai's famous Jade Garden Restaurant where he gives traditional Chinese favorites a contemporary flair. |
All of the above are master chefs in their own right and they each bring to the round table of collaboration with Singapore Airlines their own area of expertise and food flair.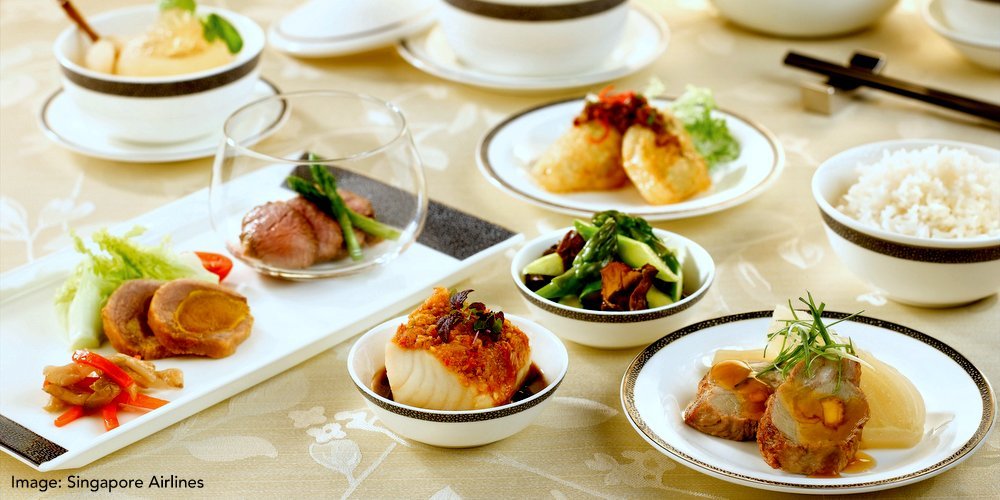 Qatar Airways
Creating heavenly meals to pander to its first class citizens, Qatar has got up close and personal with the likes of Michelin-starred chefs Nobu Matsuhisa and Vineet Bhatia, to give the ultimate mile high dining experience of 5 star quality. Nobu is a sushi master (and personal friend of Robert De Niro - I just had to mention that fact) with an international empire spanning 38 restaurants across 5 continents.
Whilst Vineet Bhatia is touted as being a trail-blazer of Indian cuisine and one of the 100 most powerful Indians in the Gulf-Arabian Business realm. Qatar relishes the fact that the airline has a Culinary World Menu of gourmet and regional dishes complimented with hand-selected wines.
Qantas
The kitchen divas of Australia aren't throwing a banger on the barbecue to feed you when you are flying with Qantas Airlines. One of the patriarchs of Australian cuisine, Neil Perry with his iconic ponytail, has been the savant of taste for Qantas for almost 2 decades. As only an Aussie could, he was cheeky enough to come up with the popular on-board treats of a classic steak sandwich and the indigenous all-time favorite of Pavlova, to be on the seasonally changing menu.
To celebrate their long association, Qantas and Perry are wowing their plane captives with a commemorative menu where fresh sweet Australian spanner crab is paired with harissa hot chili in a tart, as one of the highlights on the menu.
Virgin Atlantic
The kitchen guru for the trendsetting Virgin Atlantic (the flying baby of Sir Richard Branson) is the one time model turned cuisine major-domo, Britain's Lorraine Pascale. Her prowess in the food arena will have you tucking into a Thai beef salad tossed with pine nuts and chili dressing or salmon lentils with chorizo. The clever lady has even poked her nose into what the kids are fed in-flight, dishing up macaroni and cheese with pancetta that will have you slyly picking at their food tray.
Cathay Pacific
Instead of placing the food crown on one culinary guru, as of last year Cathay Pacific has chosen to partner with the Mandarin Oriental Hotel Group. In-flight first class galleys now have rice cookers and skillets where pan-seared Kobe rib eye with black Australian truffles miraculously appear, the creation of Nicolas Boujéma of "Signature", Tokyo's Michelin-starred restaurant of the Mandarin Oriental.
Uwe Opocensky, is the Executive Chef of the 10 restaurants (3 of which have Michelin stars) under the Mandarin Oriental umbrella. Coming on board this year is celebrity chef Daniel Green, who is putting into the in-flight menu "high quality, low carbohydrate" dishes, such as spicy Thai vegetable curry served in a pumpkin or a seared ahi tuna with sesame soy ginger vinaigrette.
The competition between airlines does not only rest on the size of your seat or the amount of legroom you have any more, they are tackling the tummy rumblings and harnessing your skydiving confused taste buds to give you a more pleasant in-flight chow time experience.
---
Gail Palethorpe, a self proclaimed Australian gypsy, is a freelance writer, photographer and eternal traveller. Check out her website Gail Palethorpe Photography and her Shutterstock profile.
---