What will travel be like post-lockdown? This is the question that's been on many minds this past month, so we are dedicating our monthly round-up of travel articles to answering this question. Here is a diverse range of articles from all around the Internet that have pondered this question during the past few weeks.
The New York Times' comprehensive articles have dug deep into this topic, aiming to uncover the future of travel in a post-COVID-19 world. This article attempts to answer 14 of the most pressing questions about travel at the moment, such as 'can airlines keep people apart and make a profit' and 'where will travellers go first'. Industry experts including tour operators and academics were consulted for the article, making it a good read for anyone looking for viable answers.
A Suitcase magazine piece wonders 'what will the travel landscape look like in a post-Coronavirus world?' They've focused on the positive changes that the pandemic could inspire, welcoming the positive impact of changing habits. Travel with purpose, staycations and protecting the planet are all touched upon, as the article persuades the reader that now is the time to focus on why and how we see the world.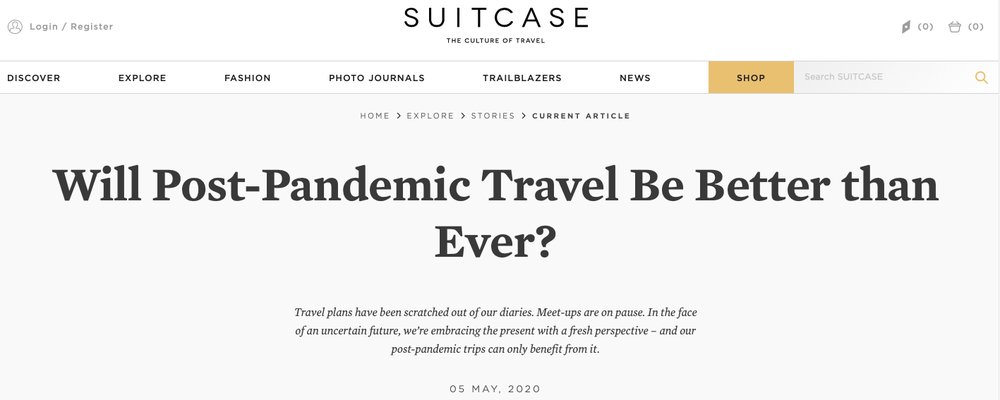 Another Suitcase article published at the beginning of May really looks at the bright side, asking the question 'will post-pandemic travel be better than ever?' This article is more of an opinion piece, delving into the reasons why the author imagines better travels on the other side of the pandemic. The focus is on being present in the moment and enjoying a more mindful way of travelling once lockdown is over.
A National Geographic article focuses on what the travel industry is doing to help ease the crisis. It's not what you think – the article focuses on selfless acts and volunteer projects that will put a smile on your face. We particularly love how some hotels in the U.K. have opened their doors to offer free hotel rooms for NHS staff that need to stay near the hospitals they work in.
A Wanderlust piece ponders what travel will be like in the short-to-medium future, before a vaccine is developed. They've dug deep into questions about the modes of transport we will take, social distancing measures hotels are putting into place and what types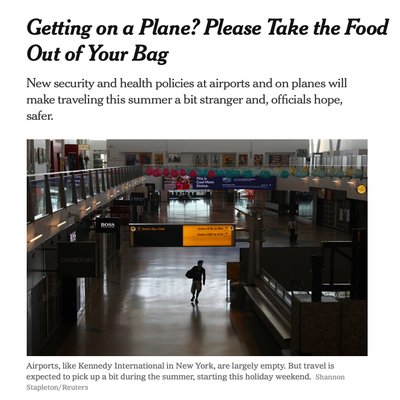 of trips we'll be taking. The message seems to be that travel won't resume to 'normal' anytime soon, but the industry will adapt and travel will resume.
If you're planning on travelling to, from or within North America anytime soon, this New York Times piece discusses safety measures for anyone planning on heading to the airport anytime soon. The article covers everything from social distancing measures to limiting contact as you travel throughout the airport.
This Conde Nast Traveller article ponders how we should change our attitudes towards flying post-COVID-19. The pandemic has forced us to think differently about how, when and where we travel, and suggests we should continue to take a more mindful approach to flying after the pandemic is over. The article highlights five ways that we can continue to see the world while being more mindful about how often we fly.
Also on Conde Nast Traveller, another article discusses ten ways that we can be better travellers post-Coronavirus. It's about making a shift towards better travel attitudes towards the places that we visit, thinking about our impact on the planet, and getting more out of our travels by connecting more meaningfully with the places that we visit.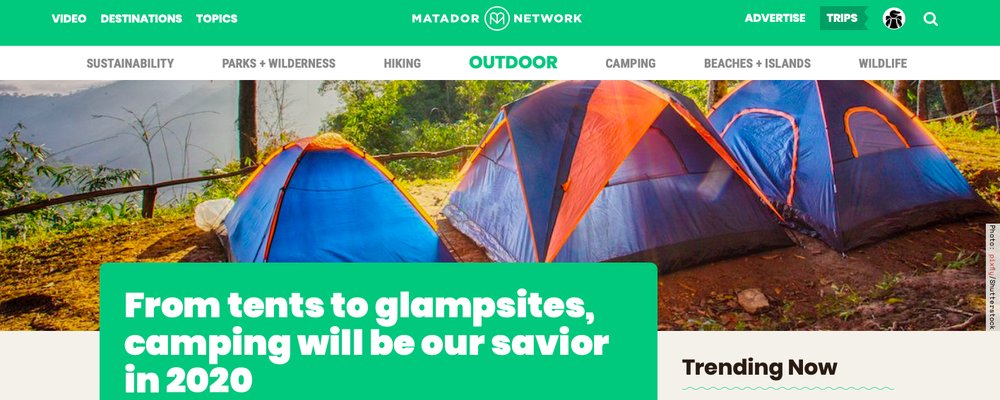 And finally, over on Matador, there's an interesting piece discussing why camping may be the safest way to travel this summer. The article is focused on camping in the U.S, but its practical advice and suggestions are relevant for any other country. It explains how camping is the perfect way to socially distance while travelling and experiencing new places.
---
---