Tips & Tricks To Get The Most Out Of Oktoberfest
The lederhosen are out in abundance as Munich's Oktoberfest is already in full swing. The most popular beer festival in the world welcomes over six million visitors during its 18 day run, and can be quite overwhelming if you don't plan in advance. Whether you're already there, planning for next year or eagerly awaiting your arrival in a few days' time, here is our definitive guide to making the most of Oktoberfest.
There are now many imitations around the world, but Oktoberfest in Munich, in the Bavarian region of Germany is the original and best. Tourists flock here for the beer, but Bavarian culture and local folk traditions are all part of the fun. Local revellers adorn themselves in traditional costumes, the bands play much-loved Bavarian tunes and numerous parades may homage to the area's cultural history.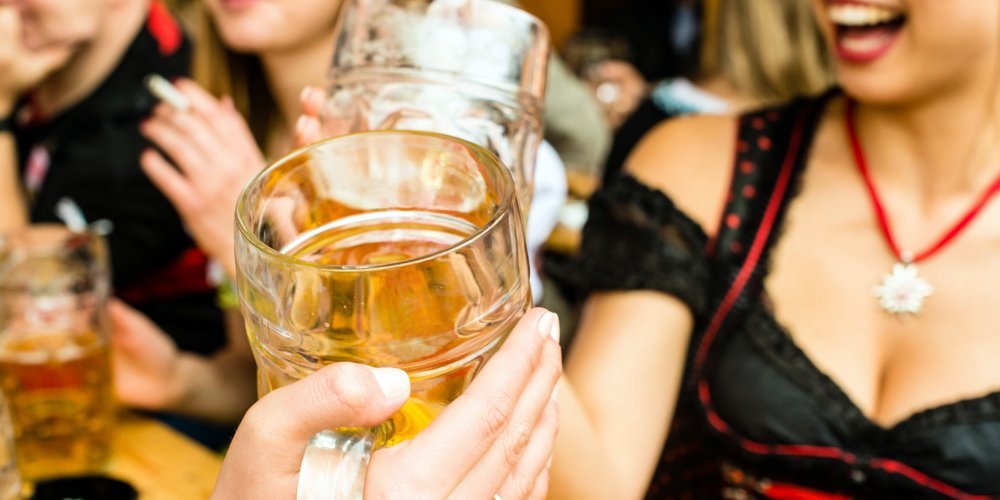 To get a true feel for the festival, arrive on the first day to experience the ceremonial arrival of the brewers and landlords as they parade on horse-drawn carriages towards the festival site. Their arrival is shortly followed by the tapping of the first barrel, declaring Oktoberfest open for business.
Only beer from the six local breweries in on offer at the festival, with each brewery presenting a special higher percentage beer brewed especially for Oktoberfest. Beer is served inside 14 large beer tents and 21 smaller tents, all of which offer different food and drink and present their own unique ambiance. Within the tents, revellers sit close together on long communal tables, drinking from traditional tankards, continuously toasting each other and standing on the benches as they sing along to the band.
Which tent to choose?
As you can imagine, the tents are busy and it's hard to find a seat (more on that coming up), so once you've found your way into a tent, it's best to get settled in for the day. If you're a fussy sort, take time to decide which tent is the best fit for what you want to get out of Oktoberfest. Here are a few of the most popular options:
Marstall
This busy tent offers an equestrian theme and a friendly atmosphere. It's one of the most popular tents, so arrive early to secure a seat.
Schottenhamel
This is where the first barrel is tapped at the start of the festival, and is a popular tent with the younger crowd. Perhaps not suitable if you're seeking a place for a cosy chat, the atmosphere here is more of a party vibe.
Hofbrau
Another raucous area, this tent has a large dance floor and is more popular with foreign tourists than locals.
Lowenbrau-Festzelt
If you're seeking an unpretentious, authentic Bavarian atmosphere, this is the tent to head to.
Hacker-Festzelt
Known as 'Bavarian Heaven' thanks to the clouds painted on the ceiling, this tent with a retractable roof is a favourite of the locals.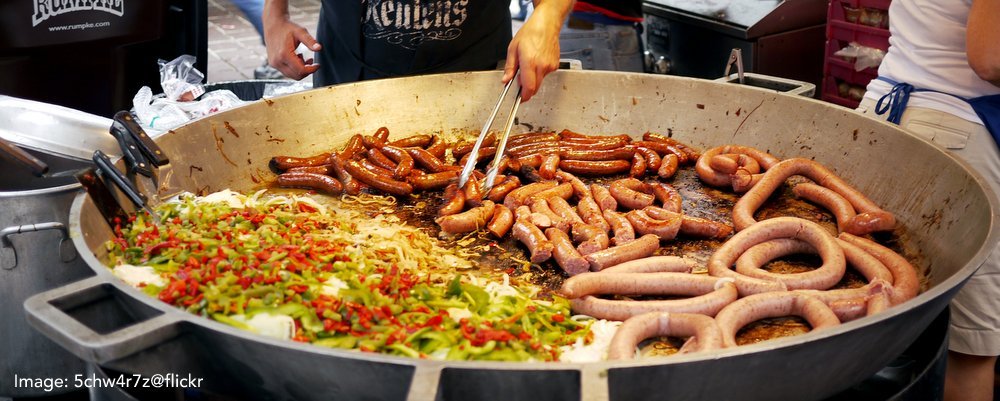 What to eat?
Vegetarians look away; this is a meat feast suitable for carnivores only. Food from outside the festival is not permitted on site, so if you don't eat meat we recommend you fill up on sugary snacks such as sweet pretzels, sugared almonds and gingerbread. Meat lovers will find rotisserie chicken, roast suckling pig, wiener schnitzel, bratwurst and skewered steckerlfisch on offer inside the tents and on the stalls outside.
What to wear?
The locals go all out and arrive fully adorned in traditional Bavarian attire such as lederhosen and dirndls. Visitors can feel free to join in with the festivities and dress for the occasion, but we advise to stay clear of novelty hats that immediately point you out as an outsider. For the women who are planning on wearing dirndls – be wary of which side you tie your bow on the front. Tying it to the left signals that you are signal, whereas tying to the right suggests that you are in a relationship.
How to find a seat
There may be six million visitors to Oktoberfest, but there certainly aren't six million seats available! Inside the tents, you'll only get served if you're sat down, so finding a seat is essential. If you've planned in advance, reserve your seats online as soon as they are available (usually six to ten months prior to the festival). Reservations, like entry on the day, have no cost, but you'll have to purchase food and drink tokens to secure your seat.
If you haven't made a reservation, don't worry, there's still chance to find a seat. One section in the centre of each tent is allocated to be free from reservations and is available on a first-come-first-served basis. This means rising at the crack of dawn and being one of the first to arrive in the morning. If you get there early and still find yourself in a queue, don't despair – the queues are only likely to get longer as the day progresses, so stick it out.
Alternatively, you could park yourself at a reserved table until the owners of the seat arrive, perhaps buying yourself a few hours.
Once you've found a seat, keep hold of it! As soon as you rise, you'll find people running and leaping over benches from all directions to try to claim your seat as their own. Take turns in taking bathroom or smoking breaks with your companions and make yourself comfortable for the day and night ahead.
Top Oktoberfest Tips
If you do leave to nip outside for a smoke, a bathroom break or simply to enjoy a breath of fresh air, ensure that you alert the security guard on the door to your plans and check that he will allow you back inside.
Pace yourself and remember to eat and regular intervals throughout the day. The beer is strong and you don't want to find yourself being escorted out in a drunken stupor. Try alternating full pints of beer with Radlers (half beer – half lemonade).
There's only one waitress per table, so be friendly and polite and tip generously to speed up your service.
Bring plenty of cash. The food and beer is expensive and the cash machine queues are long.
Dance on the benches by all means, but never step up onto the tables or you risk being evicted from the tent.
Avoid visiting on the local bank holiday, always the busiest day of the entire festival.
Don't try to take your glasses home with you. The security guards check your bags on the way out and taking the glasses is considered theft.
Arrange a meeting place with your companions in case you lose each other. The festival site is vast and phone signal can be scarce.
If you can't find a seat, politely ask someone who is seated if they would order your round for you. Offer to buy them a drink to encourage them to agree.
Take the time to learn a few essential German phrases. Being able to say please (bitte), thank you (danke) and cheers (prost) will win you friends.
Be wary of placing a foot on the side of the table. This signals to the crowd that you are going to attempt to chug your entire stein and once they've started chanting, there's no backing out.
---
Emma Lavelle is a UK based writer and photographer and has her own blog Field and Nest.
---