Travelling light does not mean sacrificing comfort and style. You can still look picture-perfect without having to pack a bunch of bulky items from your closet. Here are 6 great ways to look good while travelling light.
It is easy to look your best even though you have limited resources in your bag. The key is planning ahead of time, of course, and knowing the things to put into priority. Just face it - you cannot bring all your favourite items, not when you are travelling light.
Plan Ahead of Time
Whether you will be away for a couple of days or an entire week, it will do you good if you plan what to bring before the big day. Aside from clothes, shoes, accessories, and toiletries, think of other things that you will use on your travel.
You can't bring a lot of clothes to mix and match, and you can make sure they're presentable and wrinkle-free with a portable travel clothes steamer. If you don't have one with you, you can ask for one at your hotel's front desk. A hair blower may be too bulky, but if you can have arrangements with the hotel for this, then you could save a lot of space.
Choose Clothes in Coordinating Colours
You have to rely on the clothes that you have in the bag once you're there. A tip to avoid feeling awkward in an outfit is to plan the color coordination while you're still at home.
Focus on black or white outfits because they go well with almost every colour. You do not necessarily have to look plain and boring. You can add some bright coloured outfits, which would definitely make a stand out in pictures.
A pair of jeans and some simple tops should be in the bag, too, for those unplanned ragged day tours. The weather can be very unpredictable so stay on the safer side with a comfy jacket or sweater.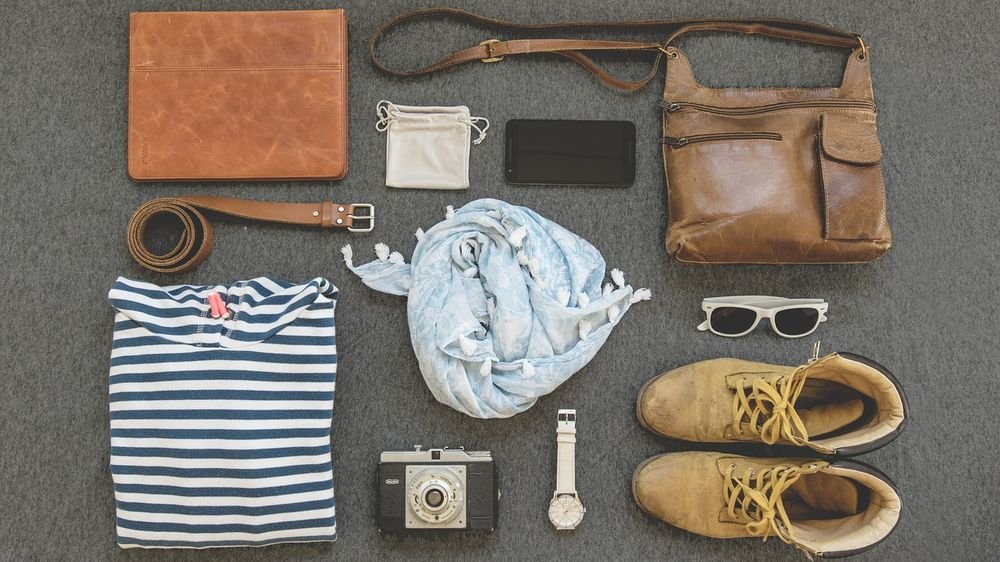 Minimize on Shoes
Perhaps this is not the time to bring those stilettos. Substitute your high heels with a good pair of comfy sneakers for some sporty look.
If you are bringing dresses and think this will be an awful combination, then bring an extra pair. Doll shoes will always go well with dresses and even jeans, but will not consume too much space.
It doesn't really matter what your choice of shoes is, but travelling is a way to relax the mind and mood. Wear a comfortable pair that would get you through the day. Also, it is wise to invest in space for a pair that would go well with different outfits.
Add a Scarf in the Bag
Choose your favourite scarf and add it to the bag. There are a lot of ways to tie a scarf as a neck accessory, but it is more than just for that purpose. It has many uses which you will be thankful for on your travel.
You can use it to cover your head when touring around in the summer. You can also use it to warm your shoulders during a night out. It can be turned into a stylish belt as well!
Bring an On-the-Go Purse
This is not the time for those glamorous purses, but having a purse that you can bring outside is convenient and stylish. There are many chic purses available in the market and they come in different colours and patterns.
Choose one that would go well with your clothes and have enough pockets to fit in your mobile phone, keys, and some makeup for touch-ups.
Also, we cannot tell what's to happen next so go for a design that will not be attractive to pickpockets.
Pick One for Every Type of Accessory
Unless you have a lot of space for other things, you should limit the accessories to bring. You have your favorites, but unless they won't fit well with your dress choices, there would be no point in bringing them.
Choose only those that are versatile. One for every type of accessory will also save you space. A wristwatch in a casual design will be good everyday wear. Bring at least one statement necklace for a nice highlight. Also, having a pair of sunglasses in the bag can instantly pump up the mood.
Conclusion
You can still look stylish with limited choices for outfits and accessories in your bag. Travelling light only limits the space but not the ways you can look good. Plan ahead of time to know what clothes, accessories, and other versatile fashion items you can bring that don't eat too much space.