... To Provide A Luxury Hotel Experience
Would you like a suite Sir, on your flight from London to Abu Dhabi? Just pull out that American Express Centurion card, yes the one that James Bond used in Casino Royale, and flick it to the lady to book it. But then again you wouldn't personally be organizing your own travel itinerary, your PA would be. The jet setting gang of fat-cats have now gained access to another object of bragging rights, with the most expensive flight around going at a mere US$20,000 for a one way ticket.
Think the Penthouse Suite of the Four Seasons Hotel in New York or maybe The Royal Penthouse Suite at the Hotel President Wilson in Geneva, and now include airline carriers that are vying for the dollar spend of the obscenely super wealthy. Airlines are creating hotels in the sky, with the price per square meter of occupancy more than rivalling any opulent space in an earthbound hotel.
What was once perceived as luxury flying where a lie-flat seat and noise-cancelling headphones were comfort enough for most, now it is massage chairs, private ensuites, personal butlers and your own chef at your beck and call. These "suites" are fully enclosed private pods or cubicles, where the well-heeled passenger has total privacy. There are no more of grandma's curtains, which used to screen the front from the back of the plane. A chance glimpse or peek through the outdated separation foil to see the uber-wealthy, is no longer a tempting option for the bored flying peasants.
Leading the stampede to satisfy the lucrative market of business or leisure travellers between the Middle East and Paris, Munich, London and Berlin is Singapore Airlines, who are credited with having started the flying hotel craze. It employed a luxury yacht designer to create its first private suites and is considered to be the best at the game of decadent flying.
On Etihad Airways, it is possible to have a fully serviced three-room apartment named "The Residence", on its flight from London to Abu Dhabi. At a mere $18,000 one-way per person, it is a steal for those with deep pockets and for the privilege of being looked after by a flight attendant trained in London, by the Savoy Hotel butlers.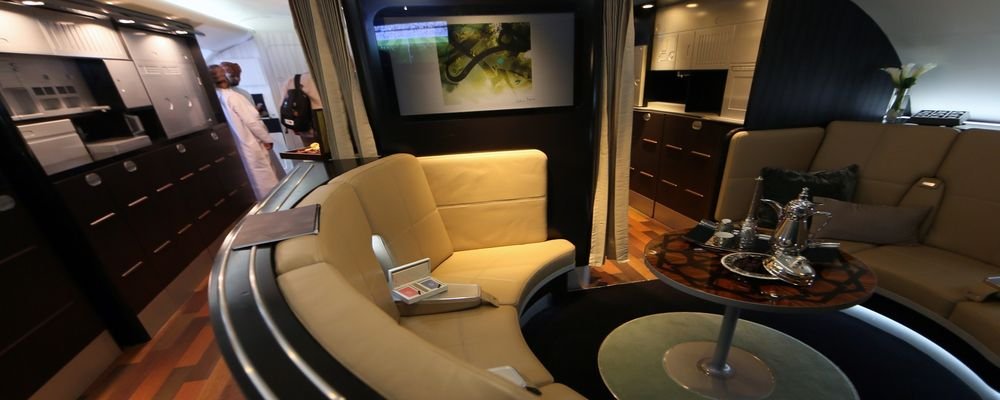 Emirates were the first to install the "oh so necessary" showers for all of its first class passengers and each suite has its own mini-bar in situ. Or, if you want to flirt with your co-passengers there is a lounge at your disposal. With your own adjustable lighting, vanity table and even a wardrobe, there is no excuse for travel-wrinkled clothes on arrival at your destination. Add to the personal list of amenities, two on-board shower spas, and you should be glowing when you step off the plane.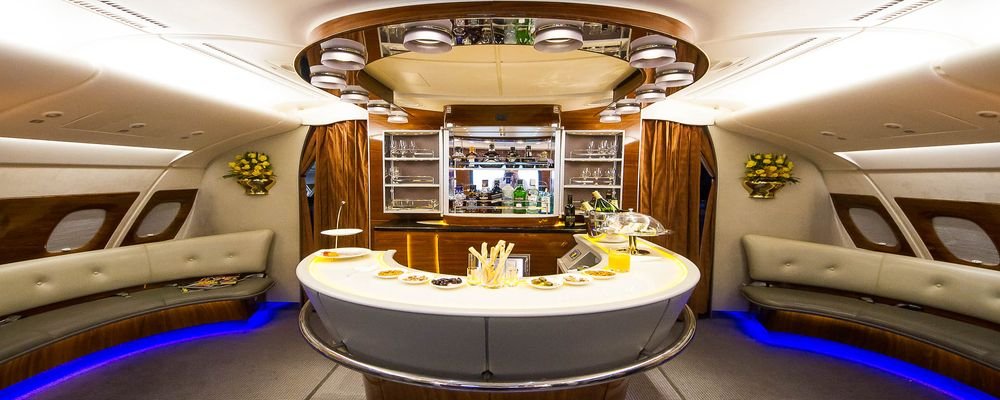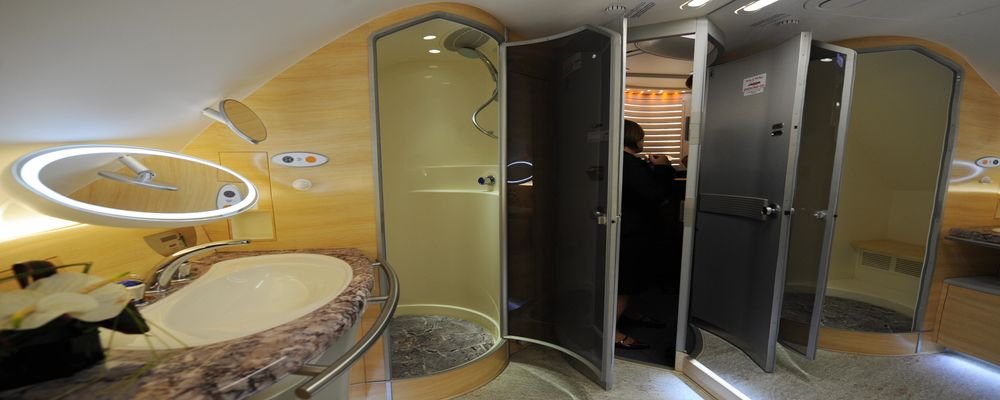 Qantas has ensured that all passengers in its first class area have a window seat and there is also a bar/restaurant area for those with a wish to be sociable.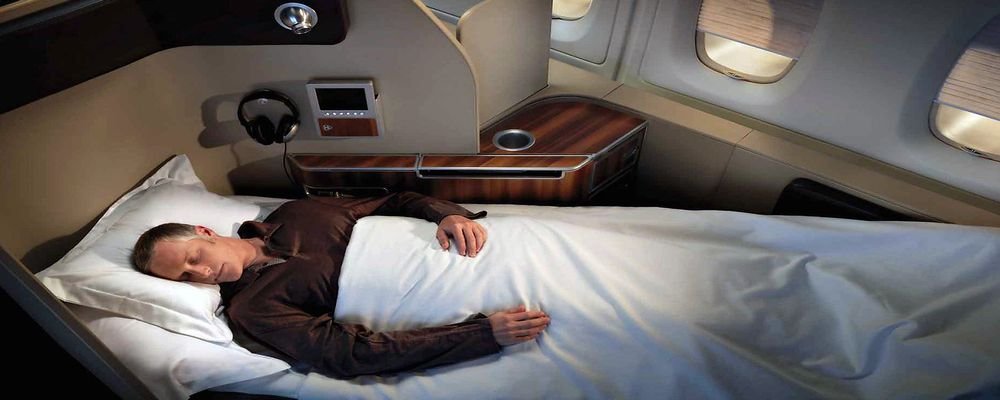 Whereas JetBlue, not to miss out on the lucrative spending of the "money doesn't matter" crowd, have introduced a "Mint Premium Cabin", where your seat has a massage button to push. Lufthansa have used technology to its advantage and has automated air humidifiers dispensing moisturised filtered oxygen throughout its first class cabins.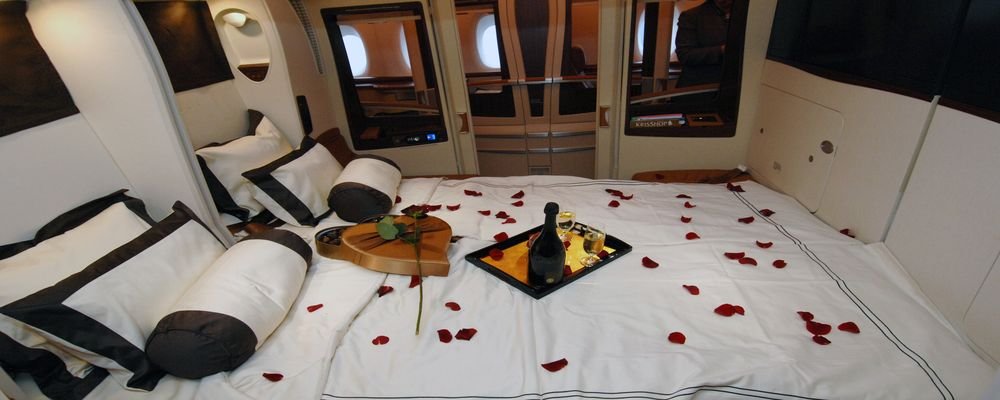 So for the sardines in the back end of the plane, expect your seat to keep on getting smaller, whilst the pointy end morphs into pseudo luxury hotel accommodation complete with all the trimmings of total exclusivity and utter decadence in the air. The airlines are now taking a leaf out of the hotel book, of seeing who can provide the ultimate in flight experiences. And, the nine-mile high club, now has a bed, instead of a toilet hatch to play in.
"First class… it used to be a better meal. Now it's a better life," said Dorothy Boyd in the film "Jerry Maguire." Maybe not a better life, but certainly a better lifestyle.
Maybe you can find out how the other side lives with How To Get Airline Upgrade or bring some perspective to all this expense with How Overrated Business Class really is.
---
Gail Palethorpe, a self proclaimed Australian gypsy, is a freelance writer, photographer and eternal traveller. Check out her website Gail Palethorpe Photography and her Shutterstock profile.
---