Repeat the mantra of "layer, layer, layer", so that you can easily take off or put on your clothes depending on the fluctuating temperatures, from the often chilly air-conditioned airport that you are patiently waiting in, the stuffy plane cabin when you first get on board, to arriving at your destination.
Travel clothes will either put you in comfy mode during your long flight or increase your levels of cranky and impatient blood-curdling moments. From the moment you walk through security and have to take off your belt, your shoes and basically go down to your knickers, well, not really but it feels that way, to the minute you step onto the plane, your flight happiness factor is in jeopardy.
Plan what you are going to be wearing, as last-minute "grab and put on" may not measure up.
Ideally travel clothes are wrinkle and stain resistant—or at least go for a dark colour that can hide that spilt cup of coffee.
Skin friendly clothes are essential; as you may be in them for a long time, so think natural fibres that won't make you itch.
Wear clothes that you can easily walk in—or run in if you have a habit of being late for flights—without worrying about tripping over the hem of your dress/skirt/pants.
A bit of style won't go astray, especially if you are hoping to be upgraded to the pointy end of the plane. Sloppy looking travellers only ever get to see the rear end.
The ideal look for women:
Jacket - you can look chic and still hide your casual gear underneath. Depending on the weather, opt for either a lightweight fabric, such as cotton, or a chunky wool fabric.
Long pullover or cardigan - will keep you warm once you take the jacket off.
Pashmina or scarf - play Isadora Duncan without the chance of being strangled by your scarf, as, if it is the right size and texture, it will give you that air of mystery, as well as keep your neck warm.
T-shirt or top - put on as many layers as you think you will need under a bulkier top.
Stretchy trousers - often more comfy than a dress or skirt, stretchy trousers won't have you feeling like you are wearing a "girdle" after all that food on the plane.
Socks - pull up those compression socks if you want to ward off swollen, red and heavy legs due to constraint of movement.
Comfy shoes - sneakers or soft leather flats, just remember your feet will swell during long-haul flights.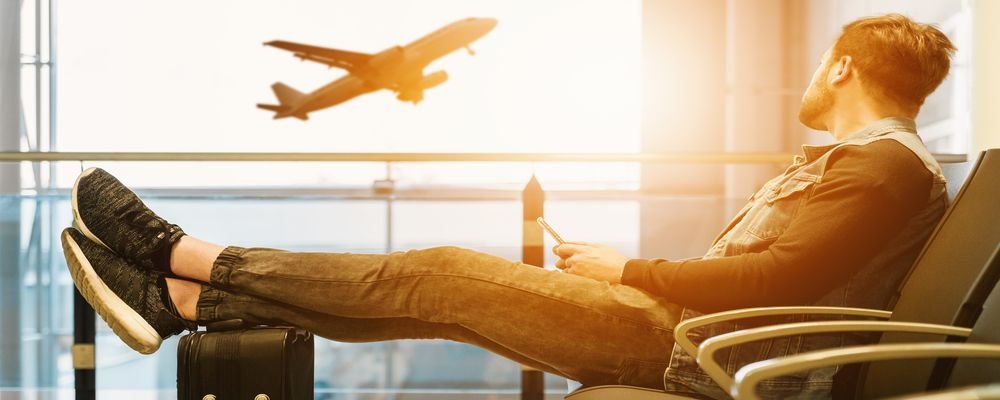 The ideal look for men:
Jacket - to look like a corporate guru, rather than a dishevelled lackey, preferably of a wrinkle-free fabric.
Sweater - a pullover is dressier than a hoodie.
Shirt - either a casual, short-sleeved T-shirt or a button-down shirt.
Comfy Trousers - casual but classy pants are more comfortable than jeans or dress pants when you have to sit in them for hours.
Scarf - be a bit debonair and throw a scarf around your neck, as it will keep you cosy.
Socks - compression socks are a must.
Shoes - slip-on loafers won't have you tugging on shoe-laces with your rear-end in the air at security.
Or if you just wish to be smart and comfy without the need of an upgrade, then go totally the funky athleisure lifestyle-wear look and throw on those "don't bother me" sunglasses when you land at your exotic destination.
Athleisure Brands to Consider:
---
Gail Palethorpe, a self proclaimed Australian gypsy, is a freelance writer, photographer and eternal traveller. Check out her website Gail Palethorpe Photography and her Shutterstock profile.
---