Few resorts have the dramatic guest arrival that Azerai Can Tho does from the moment you walk into the plush welcome pavilion on the mainland. Then, a speed boat whisks you to a private islet on the Hau River in the Mekong Delta region. You know you are somewhere special as lush grounds smothered in magnificent mature Banyan trees take your breath away. For the high-flyers, there's a helicopter pad.
Located three hours' drive from the bustling metropolis of Ho Chi Minh City, Can Tho is known for the lively floating markets of Cai Rang. Hundreds of boat vendors gather to sell fruit, vegetables, and hot food in a chaotic jostling mass of wooden boats. It's one of Vietnam's three biggest floating markets on the Song Can Tho branch of the Mekong River.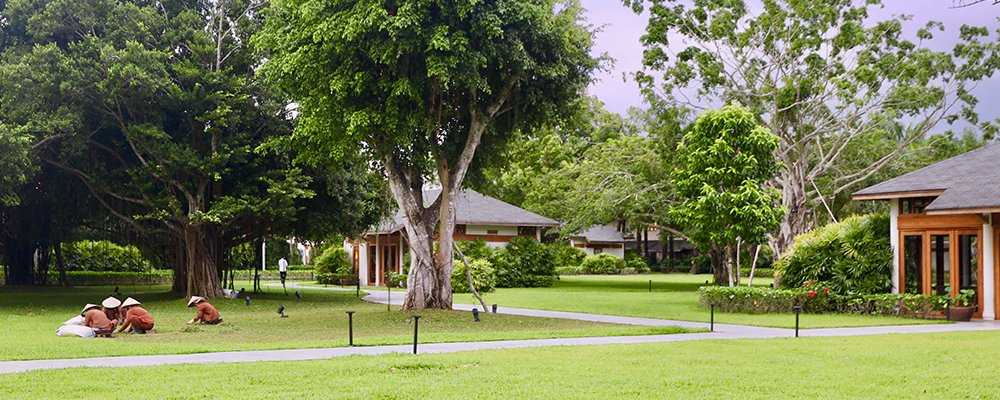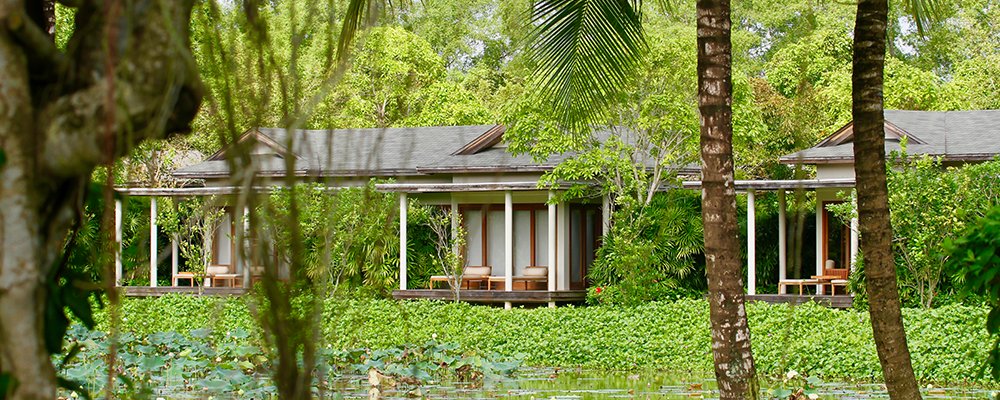 Opened in 2018, Azerai Can Tho has established itself as one of the top resorts for food devotees and a unique wellness destination in Vietnam. Blanketing the entire islet of more than eight hectares, it's nature's playground of wide open spaces. Only 60 spacious rooms and five pool villas are scattered throughout the immaculately manicured grounds of tropical gardens. A tennis court for energetic souls sits riverside where large vessels ply the expanse of murky brown waters. A picturesque lotus lake takes center stage beside the main swimming pool, bar/lounge, and restaurant. Tables and lounging nooks are cantilevered over the lake on wooden platforms in perfect position for sundown cocktails when the morphing hues of the heavens are reflected in the water. Or first thing in the morning for breakfast when the sleepy lotus blooms slowly open. There are complimentary bicycles for exploring the many meandering walkways if you feel like pushing pedals rather than ambling. The vibe is relaxed, the air is fresh, and lazy clouds float in the sky above.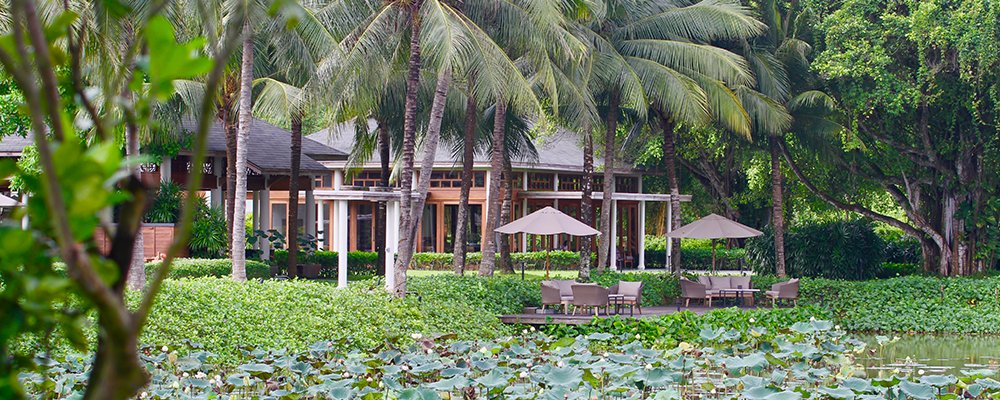 Guest accommodations are spacious, comfortable, and airy. Day beds sit on private verandahs where large double doors lead into an open-plan sitting and bedroom area. The stunning ensuites are large enough to hold a party in—you can spread yourself out without worrying about where to put your towel. Chilled bottles of water magically appear in your bar fridge, an espresso machine satisfies the caffeine addicts, and a specialty tea selection is for the habitual tea drinkers. You can pick your view from the lakeside to the riverside. Or be perched in verdant surroundings where the gnarled hanging limbs of Banyan trees dominate. The secluded villas are in different bedroom numbers—from one to five bedrooms for the whole traveling tribe to enjoy. The ultimate five-bedroom Mekong Pool Villa is a whopping 1583 sqm of residential luxury that's simply astounding in design and concept.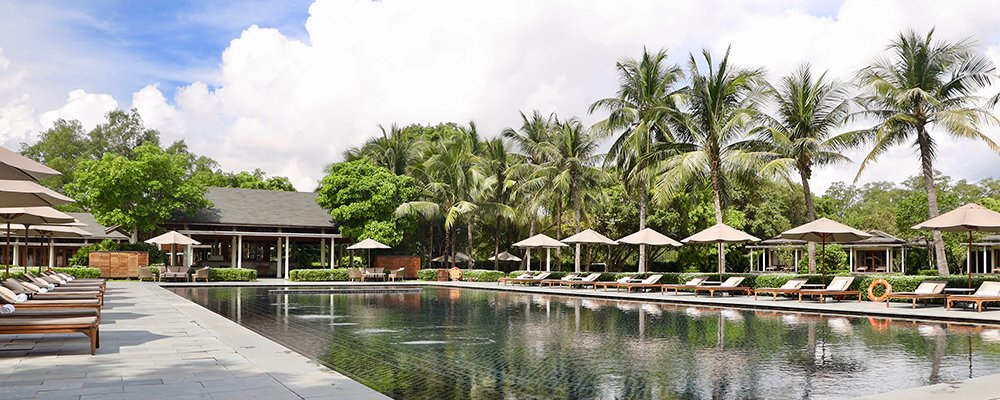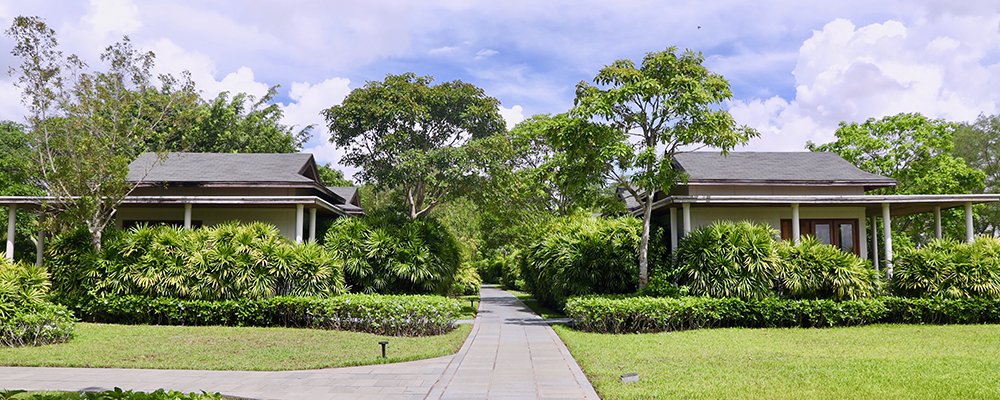 The serene and elegant space of the Azerai Can Tho Spa imbues an immediate sense of well-being. Here, all treatments utilize crafted products of natural ingredients—think sweet almond oil, essential oils, clays, and muds. It's difficult to choose: scrubs, facials, hot stone therapies, body wraps, maybe a deep-tissue or soothing massage. The list is extensive and will have you walking on air in sheer bliss. The sauna and steam room are available whenever you wish to pamper yourself, and the sleek Pilates Studio with soaring ceilings has allegro reformer equipment. While, the Yoga Pavilion is a tranquil space for creating harmony between the mind and body. You can have a workout with a river view in the fully equipped gym and let your mind wander. Azerai Can Tho hosts monthly pilates and yoga retreats for those dedicated to improving their overall well-being while enjoying the finer things in life.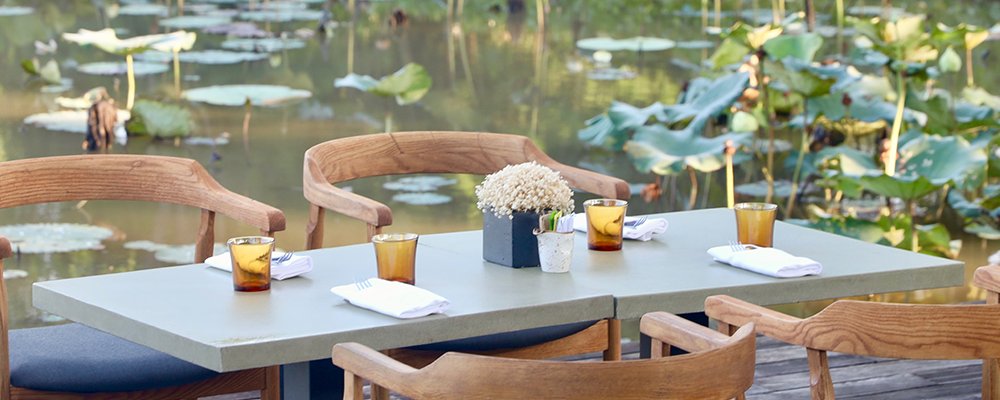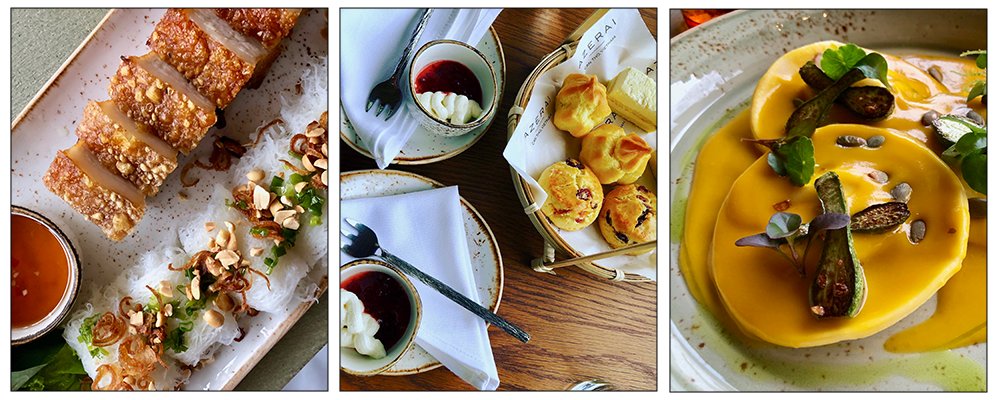 A diverse array of traditional and international fare using fresh seasonal ingredients in stunning dining locations will have you anticipate the next meal. Your taste buds will experience a journey of color, texture, and flavors. Dine under the great bowers of clustered Banyan trees, picnic in secluded romantic spots, or relax in the open-air cafe. The extensive wine list from old and new world vintners will appease any thirsty palate. Freshly baked delights highlight complimentary afternoon tea by the pool.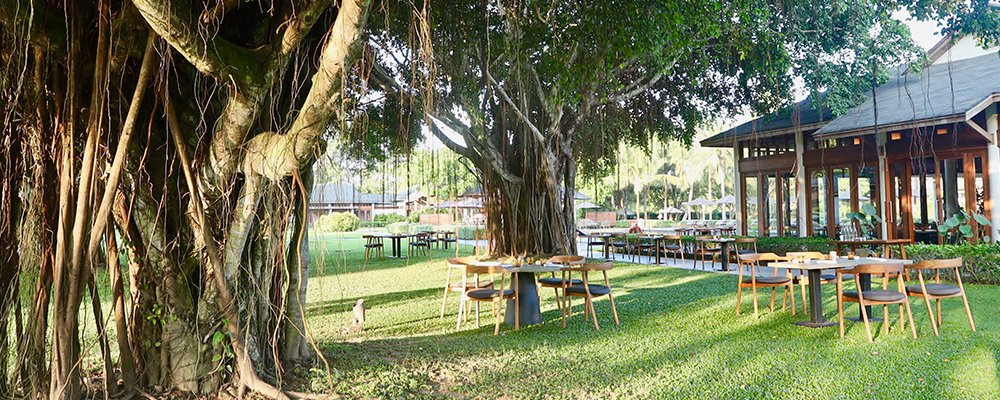 Quench your thirst with icy cold Vietnamese coffee or freshly brewed artisan tea. Linger afterward playing chess with an alcohol-infused nose-tingling cocktail for a languorous afternoon.
To fully appreciate the culture and traditions of the Mekong Delta region, Azerai Can Tho has curated local experiences to enrich your stay. Cruise the river at sunset and grab a mind-blowing photograph, or join the crowd of haggling boats at the Cai Rang floating markets. Cycle over 'Monkey Bridges' (rustic suspension bridges) or explore small tracks where canals weave through untouched villages. Coolie hats bob in farm fields as a true sense of Vietnamese life in the country unfolds in its many layers. Go back in time and visit ancient houses, intricately decorated temples, and pagodas where monks go about their daily lives. Or delve into the spiritual past by visiting the 379-year-old Khmer Temple, Ang Kuli, and be blessed by a Khmer monk.
Staying at Azerai Can Tho is to wrap yourself in a luxurious bubble of contentment. Isolated from the bustling world, you can revitalize your being.
---
Gail Palethorpe, a self proclaimed Australian gypsy, is a freelance writer, photographer and eternal traveller. Check out her website Gail Palethorpe Photography and her Shutterstock profile.
---