Not your usual hotel, Hotel Simple Patagonia, has only 15 luxurious guest rooms. It's a hotel for the traveller weary of tourist crowds, who wishes to be removed from the hordes. Hotel Simple Patagonia is an unexpected treat for any discerning traveller wishing to explore the incredible landscape of Chilean Patagonia.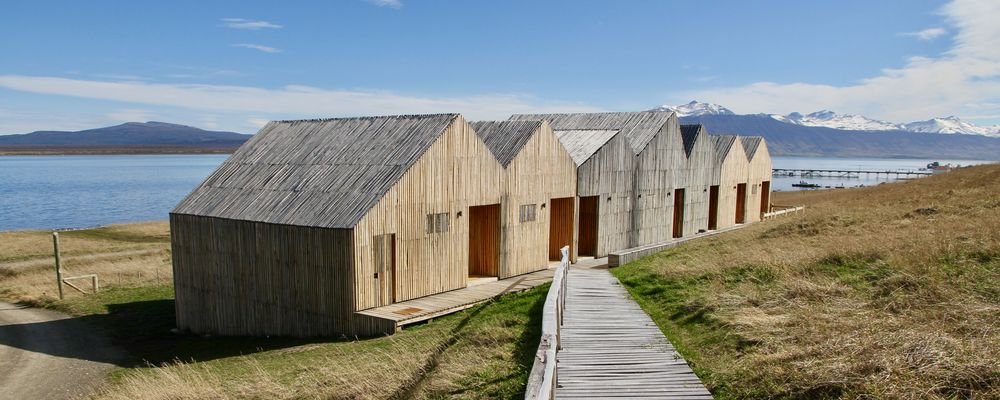 The Hotel
Owned, created, and managed by a local Magellan family, personal hospitality is a given; you are not just a paying guest with a plastic key card to your room. Your every want, such as when you want breakfast, advice on tour bookings, or the time you wish to indulge in dinner, are handled on a one-on-one basis.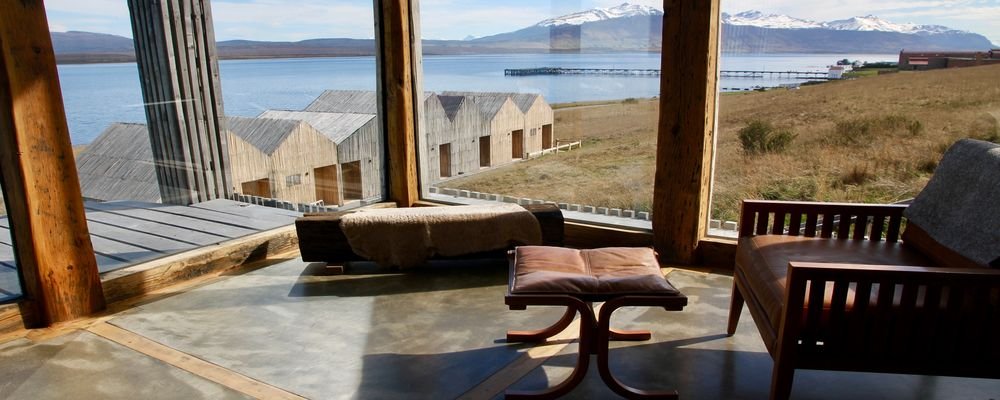 There are no queues, no rush to the buffet breakfast, and no loud chatter in any of the common areas. You can wallow on the couch, gazing at the expansive view through the sparkling clear floor-to-ceiling windows, or have a wine in the atrium with the star-studded sky hanging above you. Curling up in your bed watching the morning sunrise in all its rosy hues play over the surface of Last Hope Sound will quickly become a morning ritual.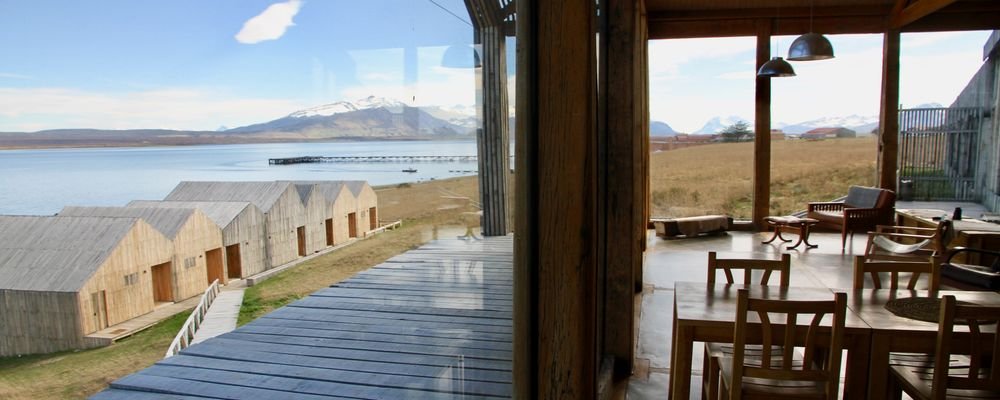 Reminiscent of traditional Patagonian buildings, the hotel starkly sits facing the water. Black-necked swans glide, Upland geese play in pairs, seagulls squawk, and predatory Andean condors soar on thermal air currents. Red and white fishing boats ply the waters overshadowed by mammoth container ships heading off to salmon fish farms or further afield.
Sitting in grassland, the clean lines and traditional shapes of the buildings contrast sharply with the surroundings. Designed to draw your eyes outwards to the incredible views beyond the glass windows, the clean lines and warmth of native wood take you from one uncluttered space to the next.
Number of Nights Stayed - Two nights - double room
The Room
Simply amazing, the room was sleek, stylish, and without the clutter that some interior decorators feel the need to litter space with. It featured neutral colors, enough room to do a dance in, and a huge ensuite bathroom tastefully decked out complete with towel warming rails. Sumptuous bathroom products will have your body feeling like it's had a spa treatment.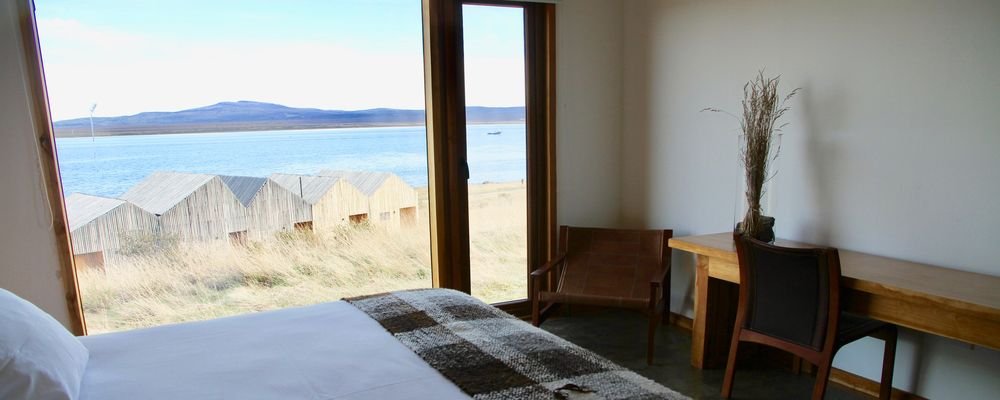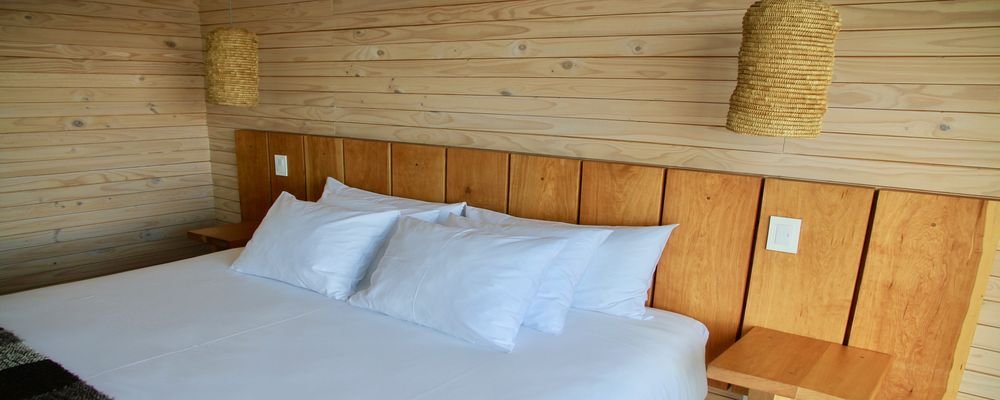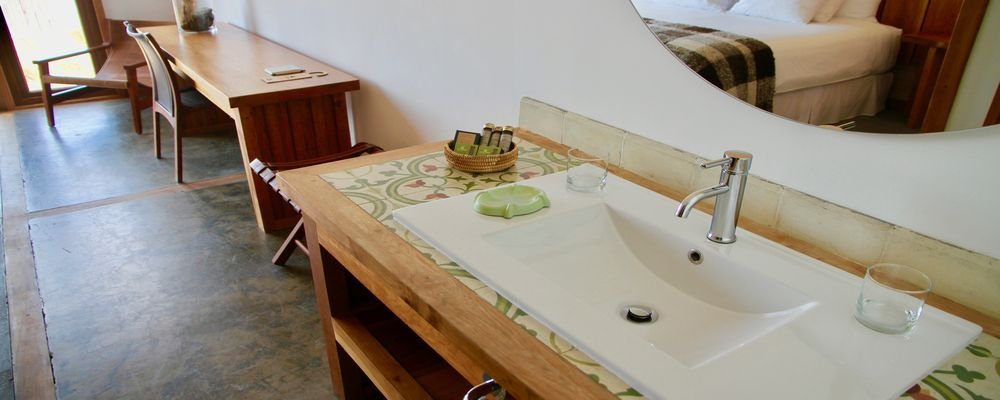 There are double and superior double guest rooms with fantastic views over Canal Señoret. The use of local wood oozes warmth and charm, and the beds are so comfy that I slept in late each morning, snuggled into numerous soft pillows. You can adjust the temperature of your own room to suit yourself. There is an in-room safe for your precious odds and sods and a spacious desk in case you wish to set up your laptop.
Hotel Restaurants, Bars & Facilities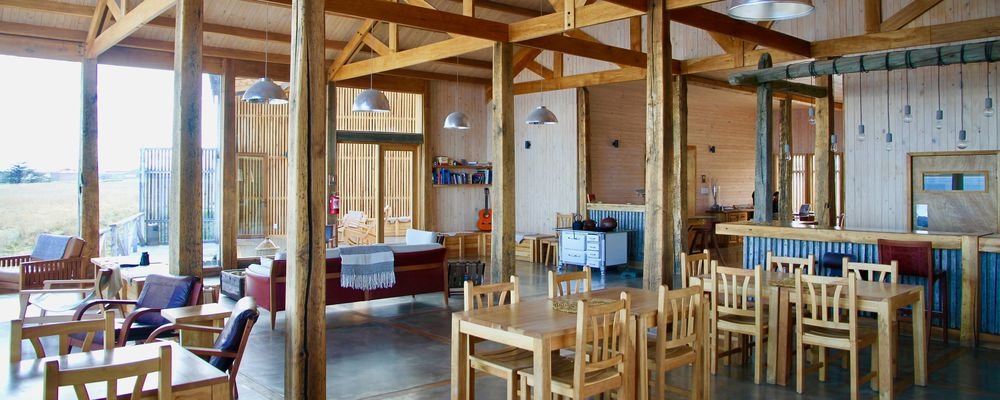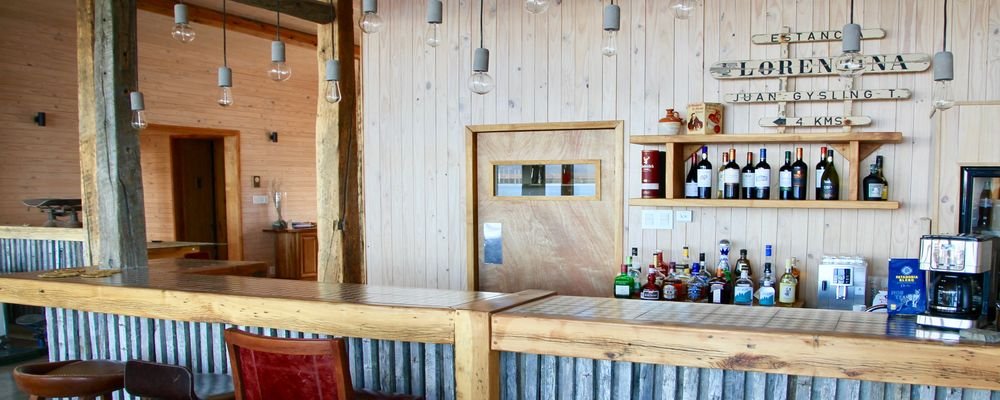 The open planned bar, dining, and lounge areas are all encased within massive windows so that you can take in the view any time you wish. There is also a gorgeous atrium area where the sky is suspended above you. Leather stools allow you to perch at the bar if you want to, while the lounges create cozy nooks where you can sip a drink and peer through the binoculars.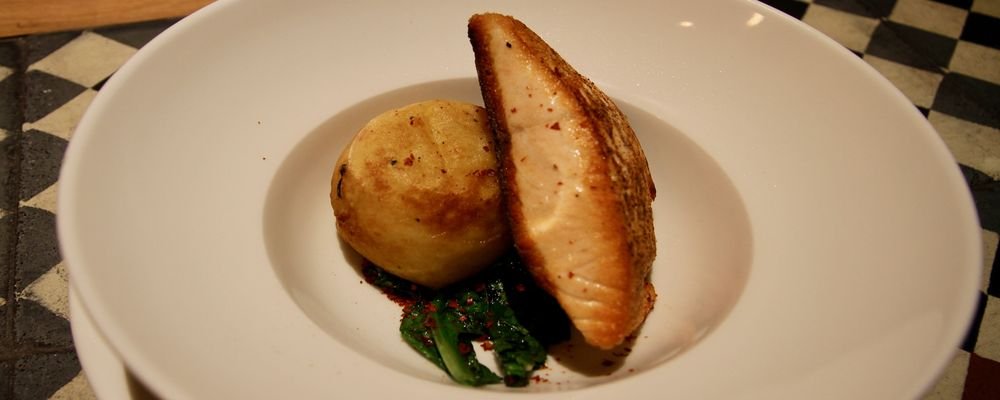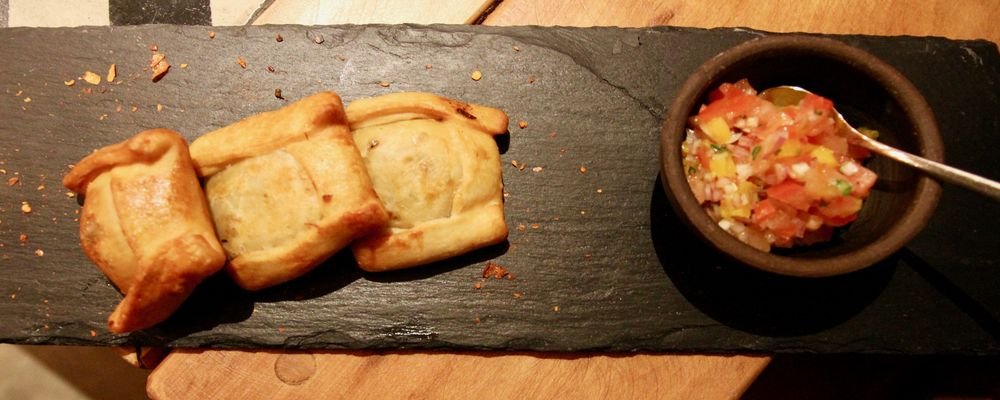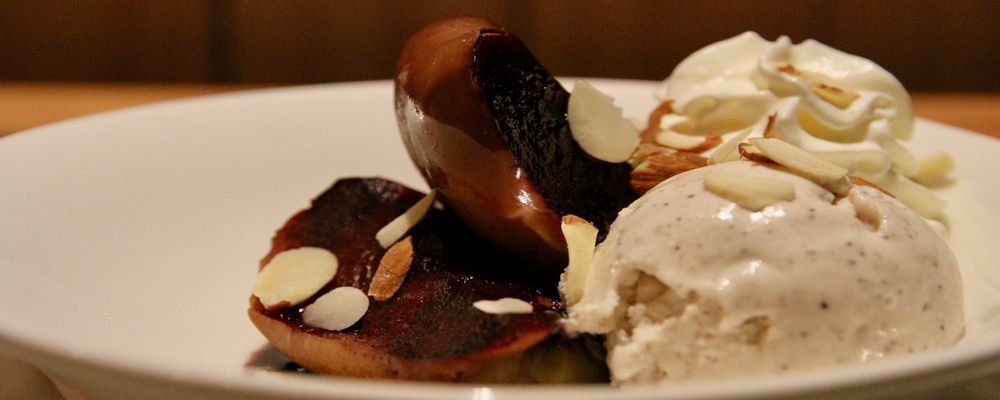 Dining at night is a three-course feast of traditional cuisine with a modern twist in the presentation. Think along the lines of prawn and scallop pie, grilled fish, handmade empanadas to die for, creamy pumpkin soup to warm your soul, and sweet treats such as chocolate brownies or flans.
Breakfast is when you name the time and is a buffet affair with the option of how you would like your eggs cooked. Freshly squeezed juices and amazing local coffee will have you running back for more.
Hotel Staff
The hotel is family run, and there is always a smiling face enquiring whether you need anything.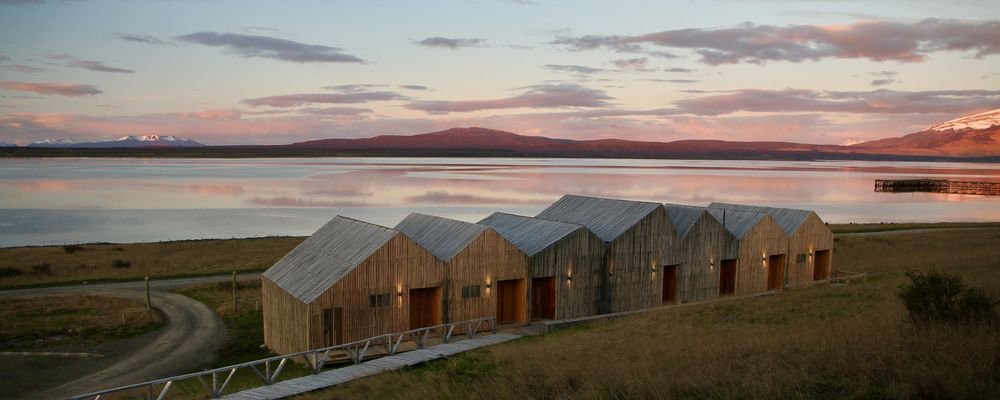 Conclusion
A sophisticated boutique offering sitting outside the urban limits of the remote city of Puerto Natales, Hotel Simple Patagonia is only five minutes from the Puerto Natales Airport and three hours from Punta Arenas. With the Torres del Paine National Park close by, you will have the best of both worlds.
Wise Traveller Approval Rating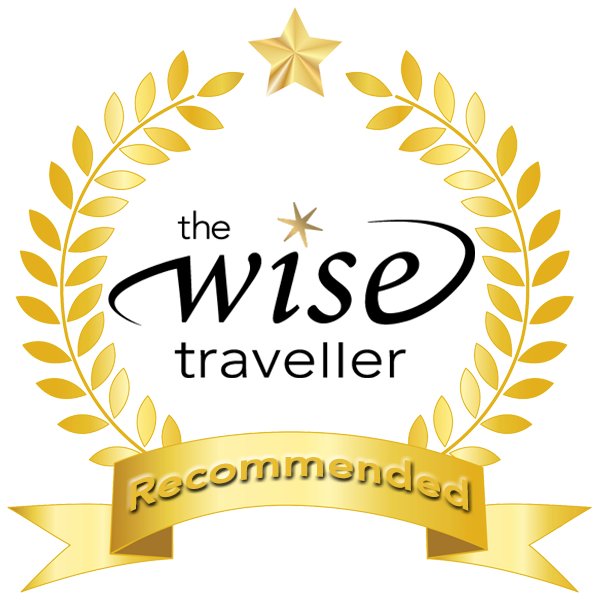 A luxurious boutique offering for selective souls in search of refined and personal service, Hotel Simple Patagonia ticks all the boxes.
Hotel Simple Patagonia Wise Traveller Rating 10/10


---
Gail Palethorpe, a self proclaimed Australian gypsy, is a freelance writer, photographer and eternal traveller. Check out her website Gail Palethorpe Photography and her Shutterstock profile.
---