Imagine laid-back luxury in your own private garden dome, where the food is sublime, the bed so comfortable you hate having to get up in the mornings, and you can immerse yourself in the sounds of the countryside surrounding you. There are no town noises; you wake up to fresh air and the smell of freshly brewed coffee coming from the dining dome. Get up early or get up late, and you get to say what time you would like to have breakfast.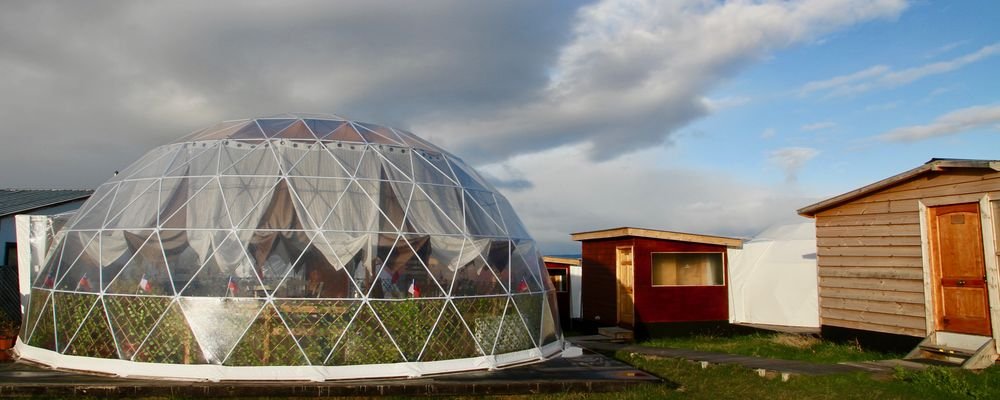 It's the perfect place to put your head on a pillow if you are over mundane city accommodation offerings. This is especially true in Puerto Natales, where being outside of the town's urban limits gives you a different feel, and Garden Domes ticks all the boxes. You can indulge in a glass of Chile's famous Carmenere wine while wallowing in a hot tub, or if you need a Patagonian village fix, you can walk into town or catch a taxi. This is glamping, at its finest, where you can go on a hiking tour or totally vegetate with a book in hand.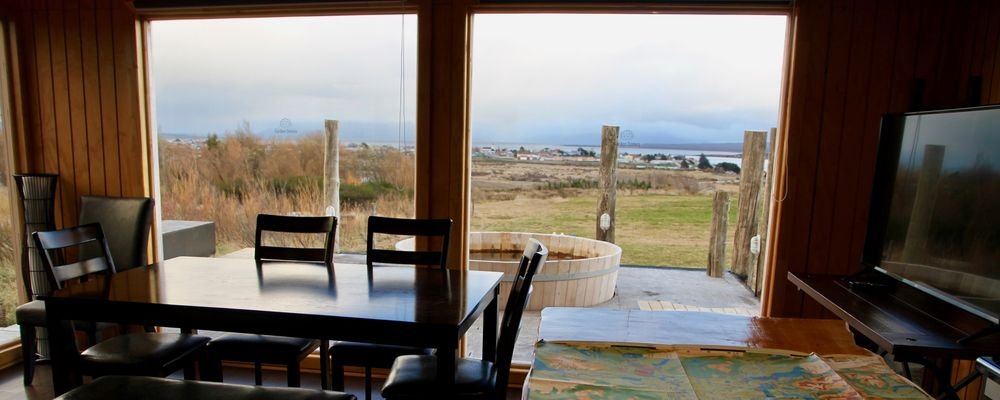 Affiliated with the tour company, Chile Tour Patagonia, all of your trekking or other adventurous inclinations can be looked after on the spot. Garden Domes gives you a luxurious beginning or ending to tackling the world-famous W Trek in the Torres del Paine National Park, or merely an alternative to a boring hotel stay in the remote south of Chile. Apart from the luxurious domes, there are several Patagonian inspired cabins with views over the water, if staying in a dome is not your thing.
The domes are an unruffled luxury. Elegantly styled with spacious ensuite bathrooms, you have your own private window to sit and gaze out of. The rain will lull you to sleep, and the wind will sing along with the birds in the mornings. White linens and numerous pillows create a cozy atmosphere within the creamy rounded walls of the dome.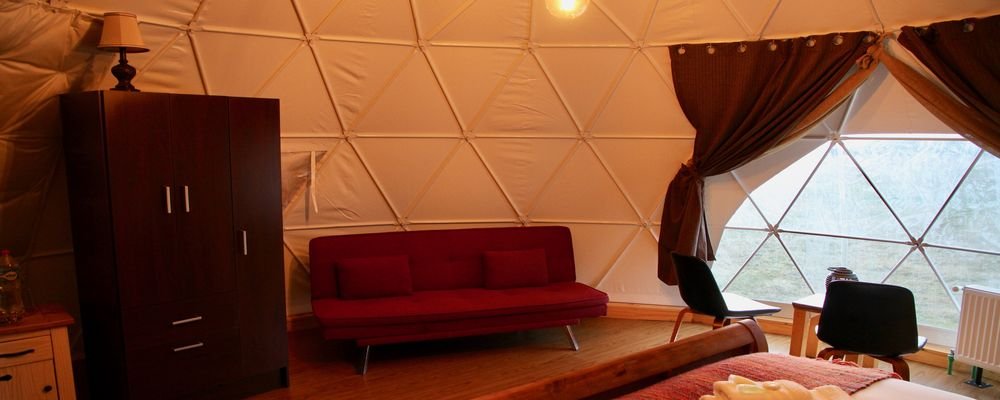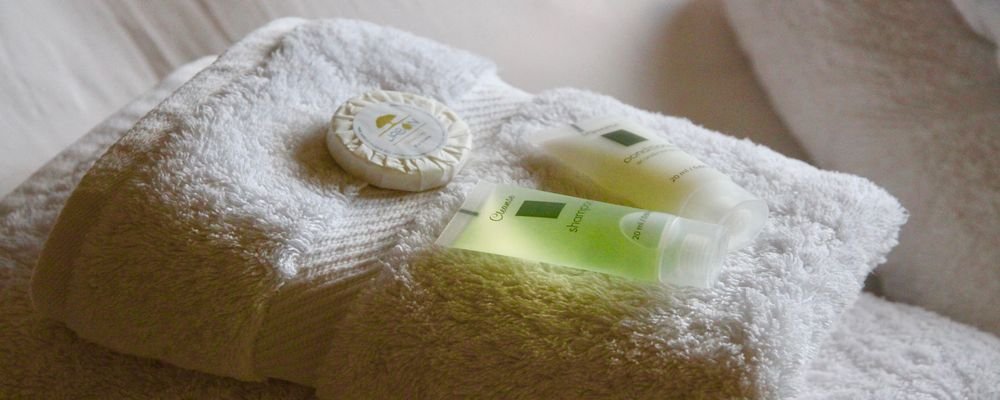 Unlike usual camping, your plush ensuite complete with towel warming racks is attached to the dome, so you don't have to worry about hiking out in the dark to find the loo. Playful light fittings complete the simple and stylish touches of the dome's interior that is bigger than most hotel rooms.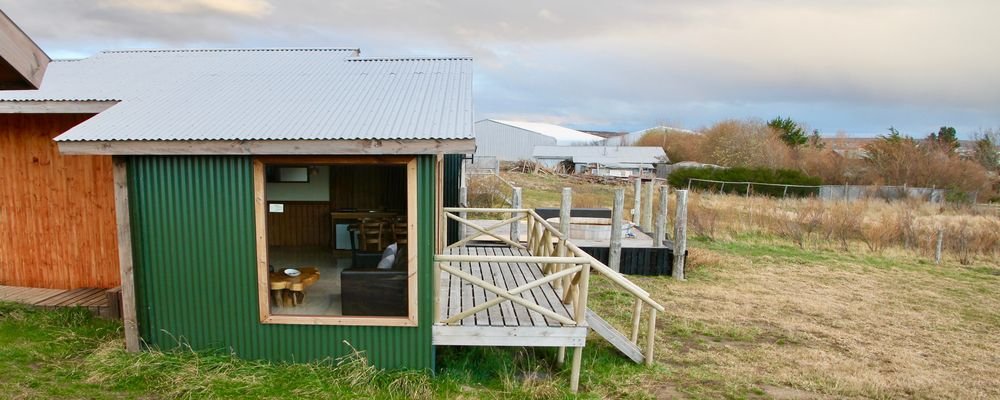 The wooden cabins come in different configurations to accommodate different numbers but retain a cosy and simple theme overlooking snowy mountains and the water of the Ultima Esperanza Sound in the distance. They come complete with a kitchenette, gorgeous bathroom and a living area with floor-to-ceiling glass windows. You can perch yourself on the balcony and watch the sun go down at the end of the day with a glass of wine in hand, or snuggle up on the leather couch with a hot cup of tea or coffee.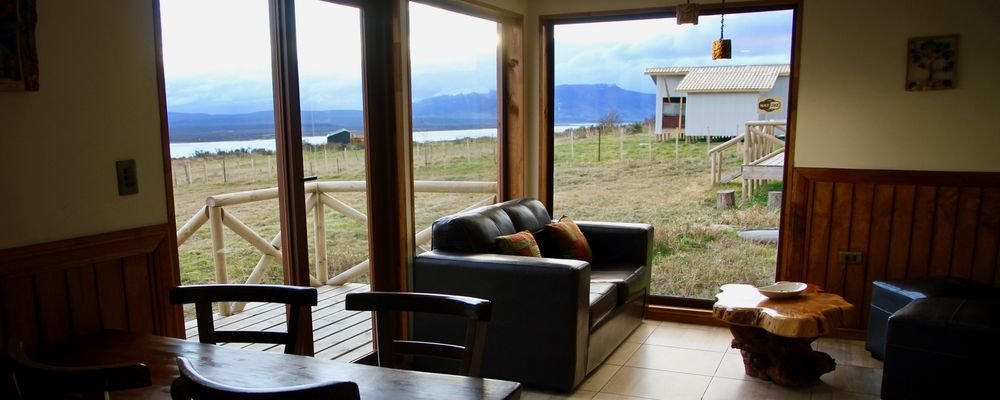 Decadent three-course dinners and sumptuous breakfasts happen in the dining dome, plus there is a lounge dome for when you wish to chill out. Dinners are beautifully prepared dishes from local ingredients such as lamb or fish, and the feast begins with deep-fried bread known as sopaipillas served with the always-present refreshing ensalada Chilena (think thinly sliced and diced onion, tomato and coriander). Garden salads with bright red strawberries and crunchy cucumber sit prettily on the plate, plus luscious desserts such as the traditional custard flan, leche asada, finish the meal in style. Calafate sours (instead of pisco sours) get the taste buds going pre-dinner, and there is a choice of wines to match up with your dining fare.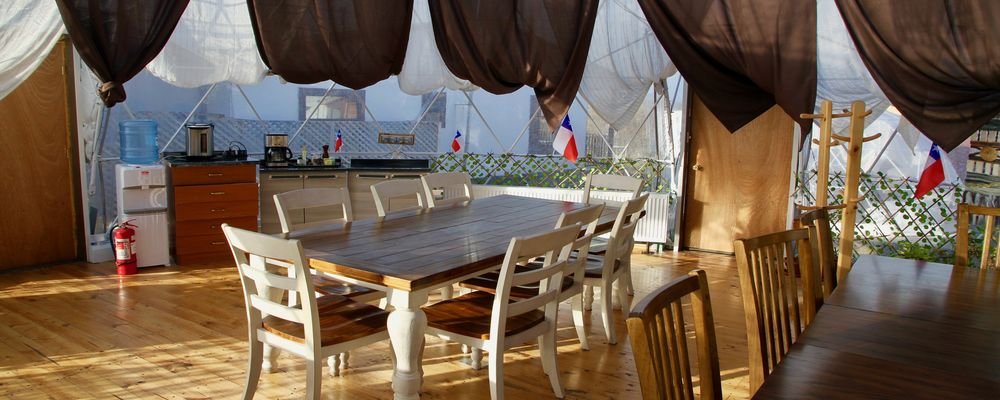 Staying at Garden Domes is for those who like to step outside of the typical luxury box. You are literally in the middle of where your food comes from, with incredible views and friendly staff members who ensure you are looked after. This is not for the fussy souls who want someone to wait on them hand and foot, but for the real traveller who likes their creature comforts without wanking about it.
---
Gail Palethorpe, a self proclaimed Australian gypsy, is a freelance writer, photographer and eternal traveller. Check out her website Gail Palethorpe Photography and her Shutterstock profile.
---