Location: Oslo, Norway
Disclaimer by reviewer: This review was written with the intention of being published in March 2020 when the world health crisis called Covid was underway. Since then, the hotel has fully re-opened with its guest rooms and F&B options while meeting room business is somewhat limited for apparent reasons. Travel to Norway requires a lot of patience as the country maintains to this day a very tight and restrictive entry-exit policy for all foreigners and nationals.
The Amerikalinjen Hotel occupies a building that was significant in Oslo's history. An overnight stay there is an unbeatable experience in terms of history and hospitality. The former headquarters building of the Norwegian America Line (NAL) shipping company which played a significant role in the migration of immigrants to America, it was built in 1919 as an office and ticketing building, it's location is across the street from the main train station is was purchased a few years ago and renovated by Nordic Choice. This being Oslo, the main train station is not in a sketchy neighborhood but is in fact well-kept, tidy and above all, safe.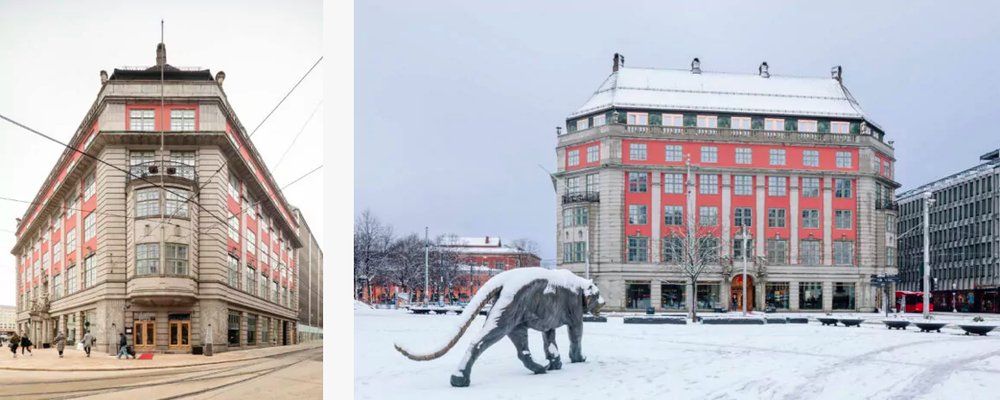 Appearance:
A Neo-Baroque style building whose layout and construction is the perfect template for a hotel and its public spaces, corridors and guest rooms (122 rooms and suites), all of which are generously sized. The overall design reflects the Scandie style which is uncluttered but comfortable and cozy. The art throughout the hotel is also notable and belongs to the Strawberry/Stordalen art collection which has artworks in 30 selected hotels in Scandinavia.
Number of Nights Stayed: Two
Guest Room:
Guest rooms are defined by high ceilings and large panoramic windows which look onto Jernbanetorget Square, some fjords (this being Oslo which is surrounded by water) or the hotel's internal courtyard. Ornate ceilings with moldings and decorative accents are tastefully juxtaposed with modern furnishings and décor. In the bathroom of this suite which overlooks the main square on the top floor, there was a huge shower, ample counter space on the sink plus plush bathrobes, slippers and a high quality hairdryer. All soap, body lotion and shampoo is dispensed from large, refillable containers to minimize travel-size bath products waste and reinforces the hotel's eco-friendly commitment. There is an iron, ironing board in the clothing armoire, a safe deposit box that is cleverly hidden in a drawer with a padded jewelry tray, and a converter plug if needed. There is an in-room tea kettle and coffee maker which is really a wonderful so that you can enjoy some quiet time in the sitting area of the room or on the window sill that's got comfy cushions while you nibble on the freshly baked chocolate cookies as turn-down service.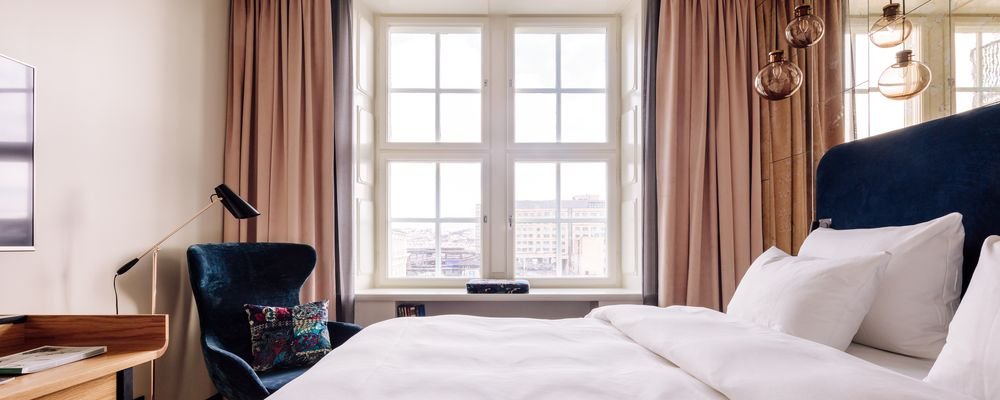 Room Furnishings:
Comfortable, well-built and insulated. A long, narrow desk with chair lines one wall above which is the TV monitor. A tall chest of drawers, ample lighting (desk, standing lamp, ceiling, sconces on either side of the bed) and an armoire are tastefully arranged in the space. The vintage style phone connects to Reception or you can listen to an engaging narrative about the hotel's history (highly recommended!).
Was the room clean, comfortable (including the bed) and in good condition:
Yes, excellent condition as the hotel opened in 2019. The king-size bed was fitted with a medium weight duvet cover and pillows were firm. Electric sockets and plugs are plentiful and easy to access.
Hotel Restaurants & Bars:
Breakfast is a huge buffet affair and is included in the room rate and is served in the first floor Atlas Café which is also the all-day brasserie. The sumptuous smorgasbord of fresh fruit, breads, rolls, eggs, smoked salmon, cured meats, cheeses and hot beverages includes a bagel bar for which the hotel's chef travelled to Brooklyn to learn how to make them.The Haven covered courtyard is where you can do office work or relax and read emails as the hotel has free Wi-Fi. The Gustav jazz club, named after the founder of the Norwegian America Line, offers weekly jam sessions. Even if you don't drink alcoholic beverages, head to the Pier 42 Bar for a mocktail and watch what the other guests order that blend the heritage of local culture with unique ingredients and quirky flavors. The former head bartender for Norwegian America Line was consulted for some of the cocktail recipes. Cheers!
Fitness Facility:
The well-equipped gym can be found in the basement.
Hotel Staff:
Norwegians, like their other Scandinavian cousins in Denmark and Sweden, speak fluent English.
Wise Traveller Star Rating: 10/10
---
Isabelle Kellogg's press relations career, with a speciality in travel and hospitality, enabled her to make an easy transition to journalism and write about the topics she loves.
---