Surprise! There is an affordable, cheerful alternative to the Ibis budget hotel chain for travellers to Paris. The Hotel Belambra Magendie is a "budget stylish" hotel, rated two stars, and is accessible to a Metro stop (#6 Corvisart).
Location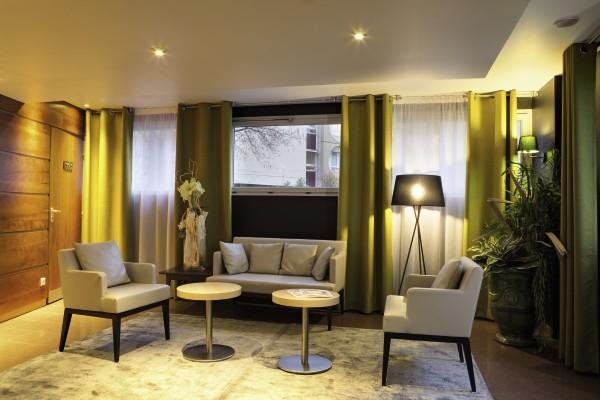 Set on a secluded side street in a building that was once a student dormitory, the Hotel Belambra Magendie has 112 rooms, and each room has at least one large, square window. The neighbourhood is safe, friendly, and, because it's on a residential side street, you feel like a local.
Number of Nights Stayed
Our stay was only one night. We took a taxi, not the Metro, from the Gare Montparnasse to the hotel (reasonable fare) because it was pouring rain. The welcome was warm and friendly, and the desk clerk on duty was a university student (the hotel is in the vicinity of the Sorbonne). All room rates include breakfast.
Appearance
The term "budget stylish" is an appropriate way to describe the renovated hotel. It's not quite Scandinavian-style (light wood, muted colours), but rather has cheerful, bright colours, with light wood- modern-style furniture. The lobby is serviceable with a large, curving reception desk and a couple of small areas for relaxing. All areas are well lit, due to the number of large windows throughout the hotel.
Guest Room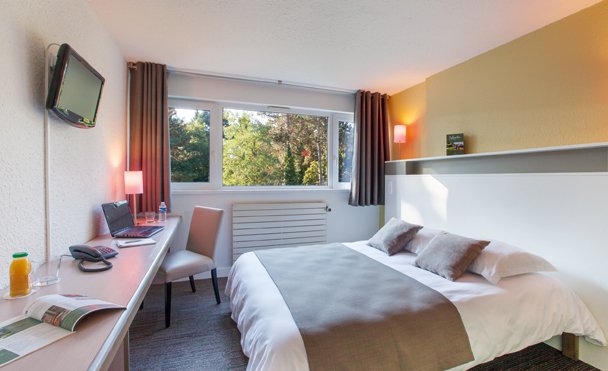 There is free Wi-Fi in the hotel. The double room was small and compact with an open armoire, hangers, mirror, and luggage rack in one unit. Bedside shelves with small lamps were located to each side of the bed. A V-shaped desk (ledge only) and four-legged stool comprised the desk. The TV was wall mounted. There was no air conditioning, but the windows, as mentioned, were large (sheer and heavy curtains were installed for privacy). A slim, central heating unit was below the window (for cooler months).
The bathroom was clean, modern and well lit, with shelf space for spreading out personal items, a wall-mounted hair dryer and a shower stall. Amenities included two small bars of soap, two bottles of all-use shower gel/shampoo, and hand and body towels, but no washcloths. The bed was firm, but the pillows were small and could have been fluffier and larger. Linens were white and clean.
Hotel Restaurants/Bars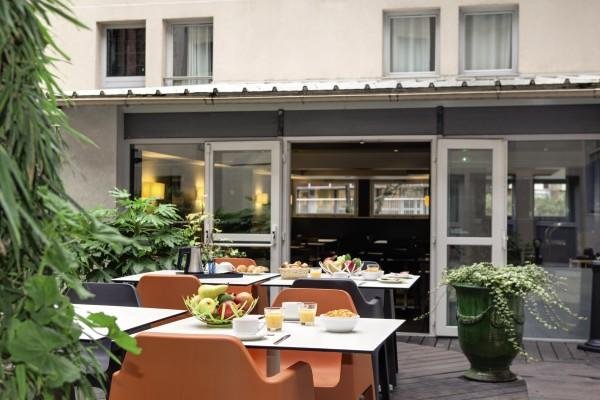 Breakfast was included in the room rate. The breakfast room, with adjacent outdoor terrace, was a beehive of activity, and unfortunately, the offerings were unremarkable: cereal and containers of fruit (no fresh fruit), preserves and yoghurt. Guests would be better off eating off premise. There were two machines for coffee drinks.
Room Service
The hotel does not offer room service.
Fitness Facility/Gym
The hotel does not have a gym facility on premise.
Hotel Staff
Hotel staff, from the reception desk to housekeeping, was friendly and professional. Reception staff is multilingual, and judging by the interactions with guests, can handle all sorts of requests and questions without getting annoyed.
Conclusion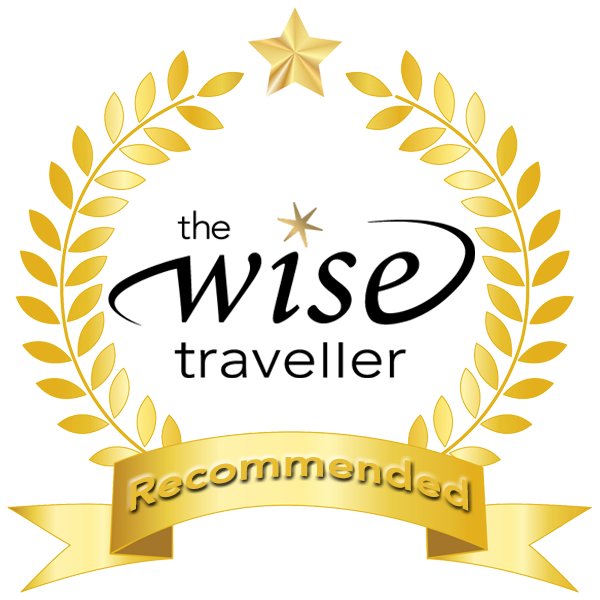 Although not the kind of hotel for an extended stay in Paris, but rather for those who are passing through, Hotel Belambra Magendie delivers excellent value for the money.
The Wise Traveller Rating
8 out of 10