Offering barefoot luxury with the magic of the ocean before you, Oceano Patagonia's position is one of the most coveted on Patagonia's wild coastline of the Atlantic Ocean. Puerto Piramides was once a salt-mining port, and today it's rated as the prime location for whale watching, with the whole village revolving around the wildlife cycle.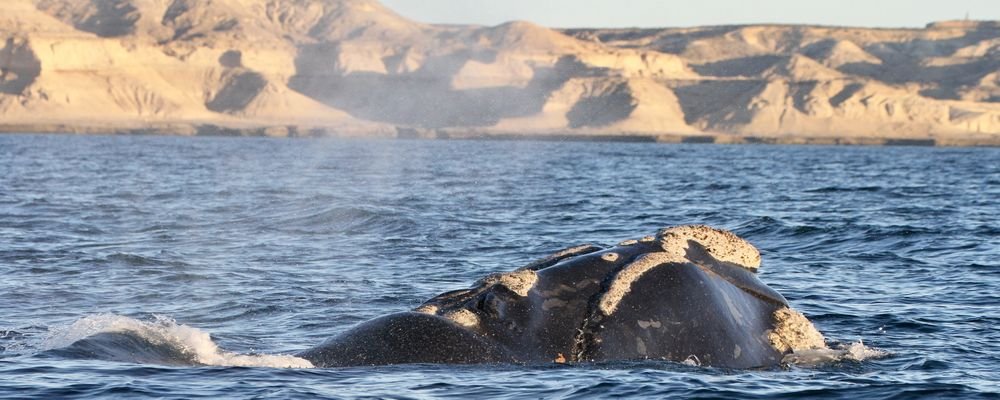 The UNESCO world heritage site, Peninsula Valdes Wildlife Reserve, is the definitive place to get up close and personal with the local wildlife. It sits on a peninsula connected to the mainland by a long thin strip of semi-barren desert. Rheas (emu-like birds) run on their long legs, while maras (big hares or rabbits) hop everywhere. Guanacos (a cousin to the llama) prance around, armadillos scurry, and foxes flit between the tamarisk shrubs dotting the vast open landscape.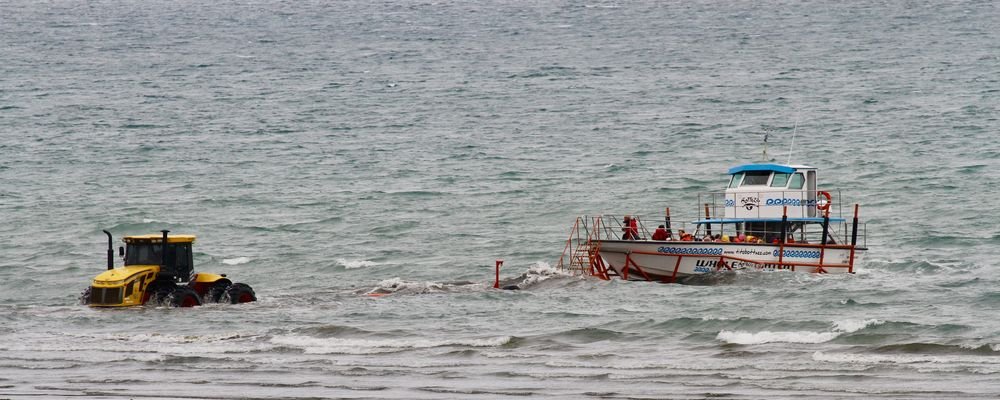 Perched in a protected bay in the Golfo Nuevo, the quirky small tourist village of Puerto Piramides is surrounded by soaring ochre wind-molded cliffs with flat tops. A site of global significance, it's a breeding ground for the endangered southern right whales, southern sea lions, and southern elephant seals.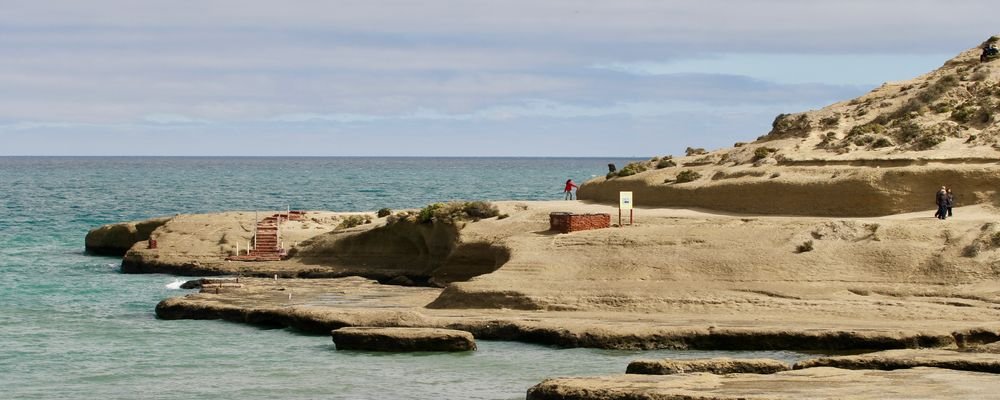 It's also the site of greedy orcas that have developed their own unique hunting strategy for the area. They literally surf onto the rocky ledges of the mountains dipping into the ocean to grab their prey. It's a magnificent marine playground of propelling dolphins, strutting Magellanic penguins, and gliding seabirds.
The Hotel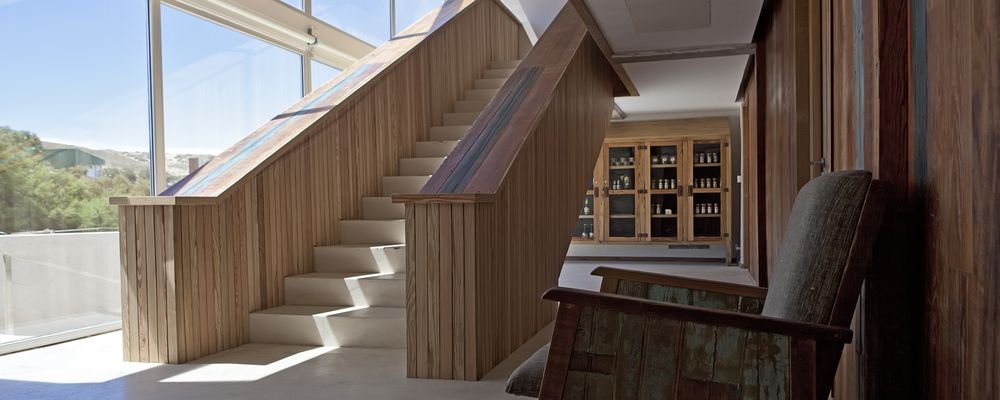 The moment you walk into your room, your eyes are drawn outside. An expansive vista of endless sand, clear water, and a brilliant blue sky greets you. The beachfront eco-condos have been built to reflect their privileged spot capturing the essence of the natural environment. It's all about the unforgettable view. A glass door opens onto your balcony, where if you are lucky, you will be able to see the gentle giants lazily swimming in the bay.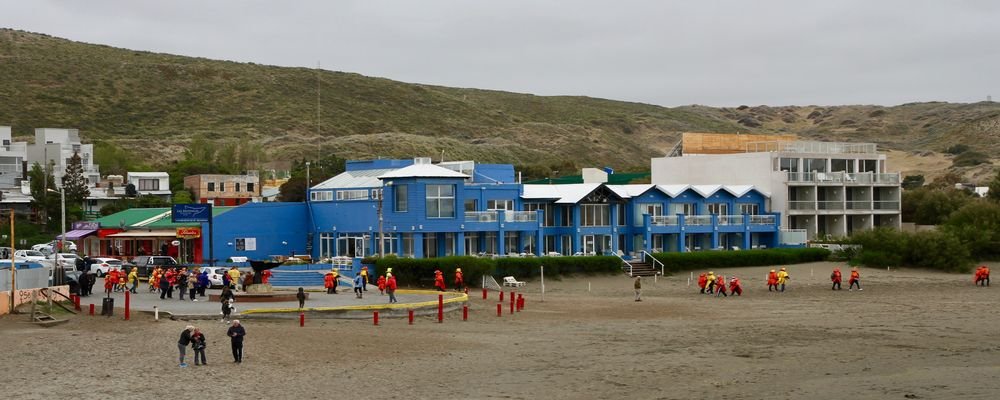 Oceano Patagonia is a blissful escape after a day whale watching, ocean fishing, beach-playing, or touring the peninsula on a wildlife safari.
Number of Nights Stayed - Two nights in a terrace suite
The Rooms
With only 11 luxurious condos, this boutique accommodation gives you the freedom to play your own chef in the kitchenette. Or, you can meander around the village tasting local dishes at one of the many restaurants.
Each sophisticated condo is a long uncluttered space with your living area near the never-ending view. A no-fuss funky attitude of distressed wooden furniture and textured fabrics is complemented with a king-size bed draped in perfect white sheets with clusters of comfy pillows.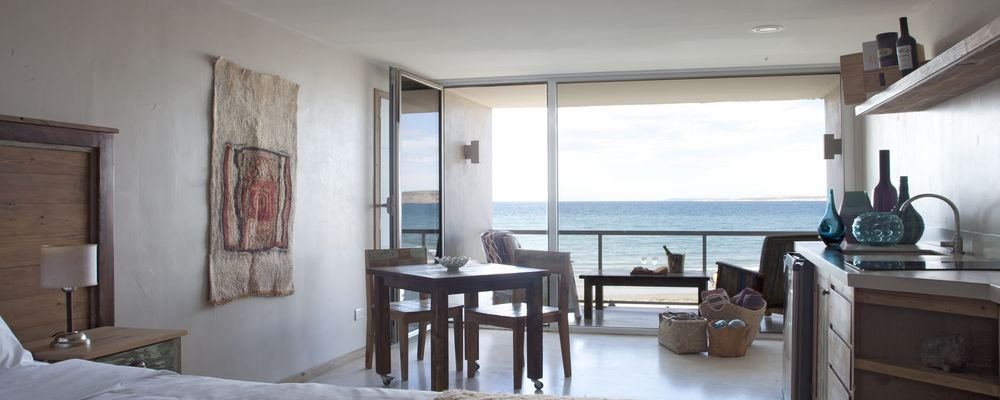 All accommodation is complete with television, Wi-Fi, in-room safe, and undercover parking if you happen to have a car.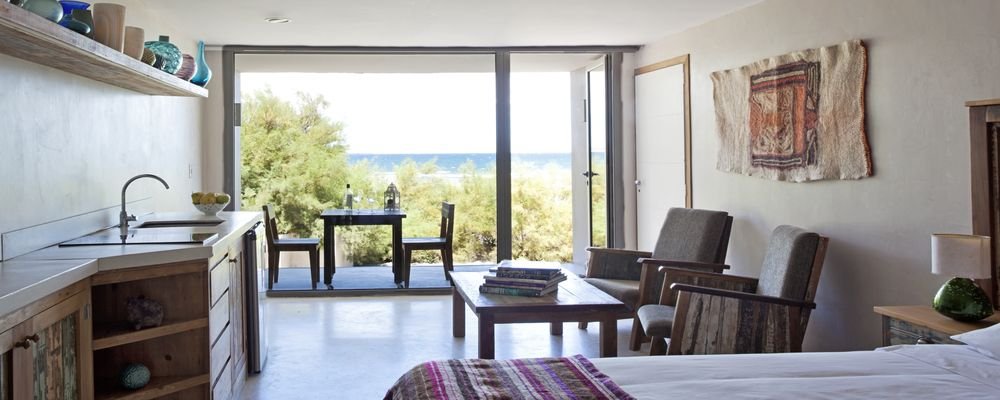 You can tumble out of bed onto the sand from the first-floor suites, while the terrace suites give you a perch in the sky with breathtaking views. If traveling with family or friends, the suites can be joined together via interconnecting doors.
The Penthouse is a decadent retreat with a large balcony, two separate bedrooms with ensuites, a living area, a large island kitchen, and a dedicated space for dining. Your private rooftop terrace will have you stargazing at diamond-studded night skies, or peering over the water looking for whale spouts.
Self-Catering with Style
A thoughtful gourmet basket of goodies is a welcome treat upon arrival. There's everything you need to create your own brekky, from eggs to the addictive caramel "dulce de leche," fresh orange juice and milk, yogurt, cheese, and ham. A coffee percolator allows you to make freshly ground coffee when the fancy takes you, and there's a wine list with luscious local drops available.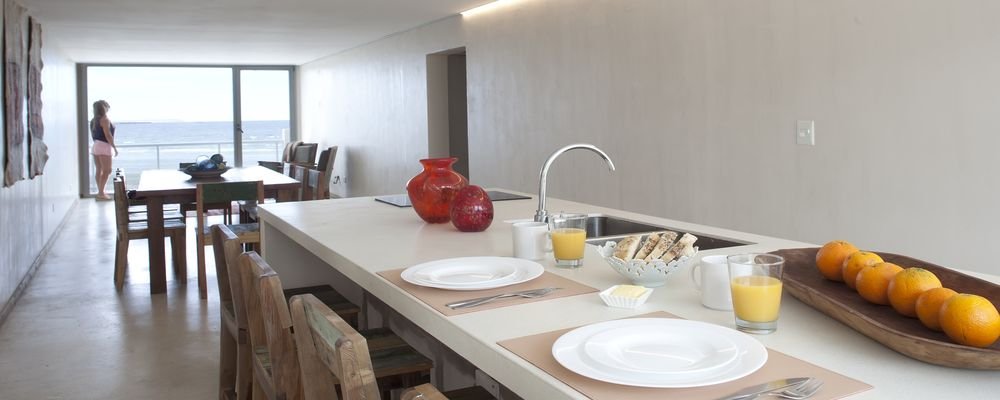 Each late afternoon, one of the staff delivers a freshly baked loaf of homemade bread that's hard not to nibble on pre-breakfast the following morning. The setup is fantastic as you can cook in your unit and then perch yourself on the verandah with your favorite drop of wine while you dine by candlelight.
There are several supermarkets in the small town so that you can stock your kitchen if you wish. Alternatively, pre-stocking of your favorite food is available. Maid service is daily, usually when you are out of your unit, which is always appreciated.
Hotel Staff
Willing to ensure that your stay is simply fantastic, a smile and friendly banter were always on hand. With on-site concierge services 24/7, bilingual staff members are courteous and considerate. They can make tour bookings and recommendations for where to eat and what to get up to
Conclusion
Oceano Patagonia is a stunning beachfront seat at the whale theater of Puerto Piramides, surrounded by the wildlife wonderland of the Valdes Peninsula.
Wise Traveller Approval Rating - 10/10
---
Gail Palethorpe, a self proclaimed Australian gypsy, is a freelance writer, photographer and eternal traveller. Check out her website Gail Palethorpe Photography and her Shutterstock profile.
---