Location
If you're a fan of historic hotels you're in for a treat at the Old Government House Hotel and Spa in Guernsey, located a quick 15-minute drive from the airport. Housed in a building that was once the governor's residence, Old Government House began operating as a hotel in 1858. Perched on top of a hill in the centre of St Peter Port, the hotel overlooks the harbor, as well as the town's shops, cafes and restaurants just down the hill. As my party checked in, front desk staff welcomed us with glasses of sherry from a crystal decanter, setting the tone for the stay.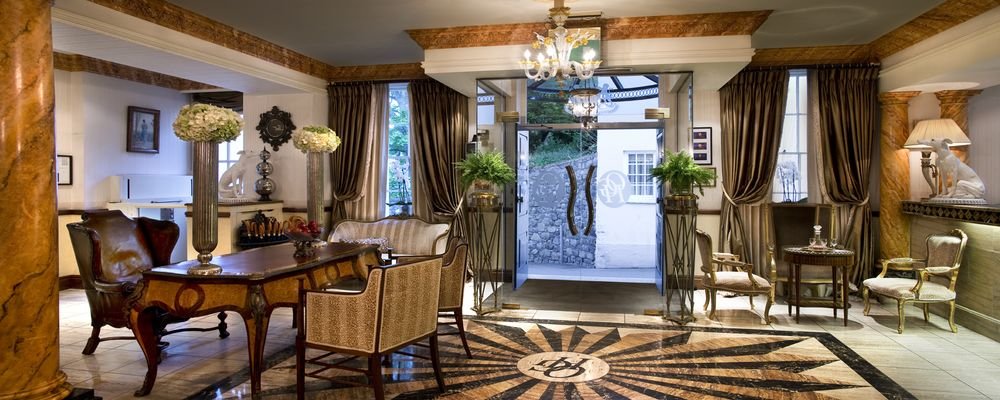 Guest Room
My guest room was traditionally furnished and featured heavy drapes on its two windows to keep out the chill, complimentary bottled water, and tea and coffee making items. A comfortable queen bed flanked by nightstands, a desk with plenty of outlets, a flat-screen TV and a small table with two cushy club chairs rounded out the furnishings.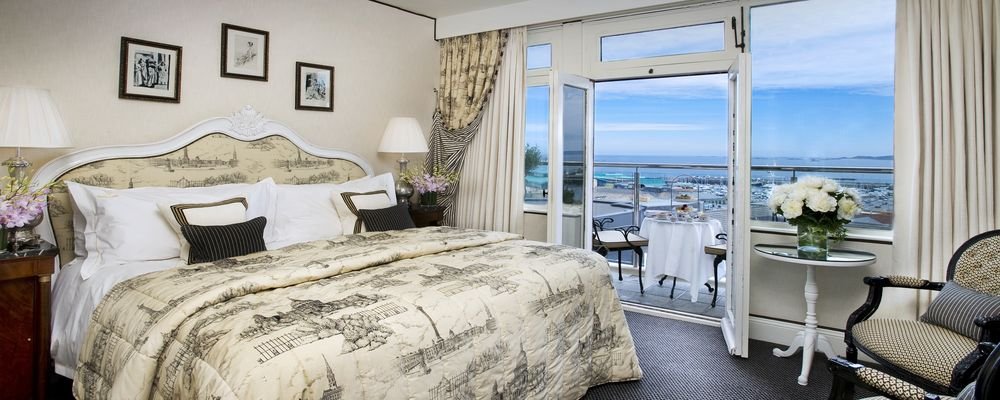 There was no desk chair, likely due to space constraints, so I pulled the low padded bench from the foot of the bed to the desk to work. It was a little low for the desk, but still a workable option.
The marble bathroom featured a deep-soaking tub and a separate walk-in shower, thick towels, a heated towel rack and floor, plush bathrobes, and a generous supply of fragrant L'Occitane bath and body products.
Nights Stayed: Four
Restaurants and Bars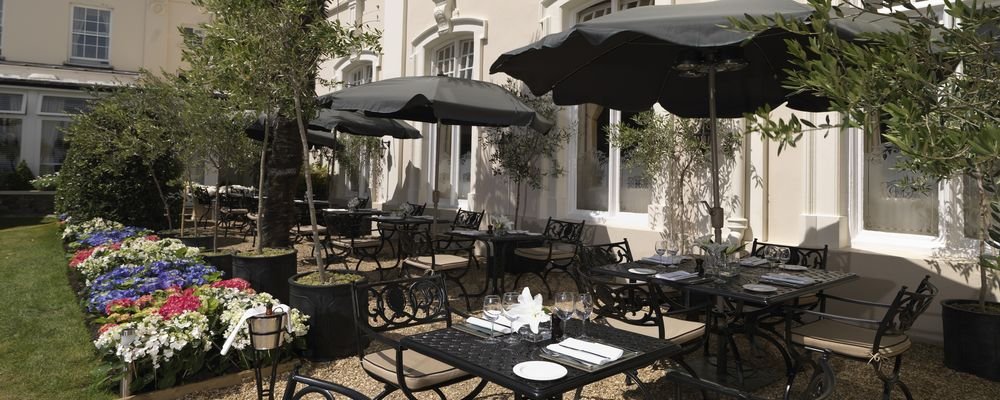 The hotel's Brasserie Restaurant offers a busy breakfast buffet including yogurt, fruit, pastries, meats, nuts, and cereals, plus an a la carte menu. Brasserie also serves lunch and dinner and offers al fresco dining in the Olive Grove when weather permits. For dinner, the seasonal menu of dishes using local ingredients included a hearty duck pie, and, of course, deliciously rich local Guernsey cheeses and ice cream. Old Government House also serves afternoon tea, and room service is available 24 hours.
At the hotel's the Curry Room restaurant, a plush sanctuary of crimson walls, ceiling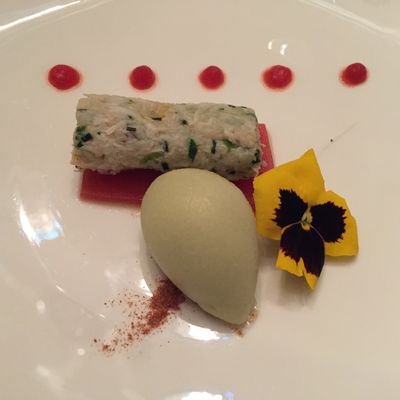 s and furnishings, you can tuck into Indian cuisine prepared with global influences. Guests can enjoy dishes ranging from starters like spiced chili crab to main courses such as citrus scented beef curry, while surrounded by antique swords, photos of historic figures, and brass elephant-head bar fixtures in a sea of red.
Old Government House also offers private tasting dinners showcasing delicacies such as tian of crab with celery sorbet, Blue Mantis Bloody Mary gel, tomato dust and celery salt, and traditional Guernsey gâche fruit bread with Guernsey ice cream.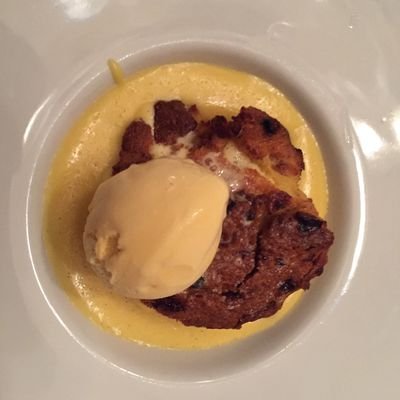 The hotel's bars provide intimate settings where guests can sip cocktails crafted with some of the excellent local gins and vodkas, including Guernsey's Blue Bottle, Wheadon's and Unit Six distilleries. Other fine local spirits served include Rocquette Cider, made from apples grown in a recently revived 500-year-old orchard, beers from White Rock Brewery, and Breda lager.
The Crown Club, a bar with plush furnishings and antique brass fixtures in the 18th- Century former Old Crown Offices, features a wine and whiskey tasting room. The Centenary Bar adjoins the Brasserie restaurant and includes an outdoor space with views that stretch across the sea to the island of Herm.
Facilities
A heated outdoor pool with views of the sea and a fitness room complement the spa's wide range of body, beauty and grooming treatments for health and relaxation options.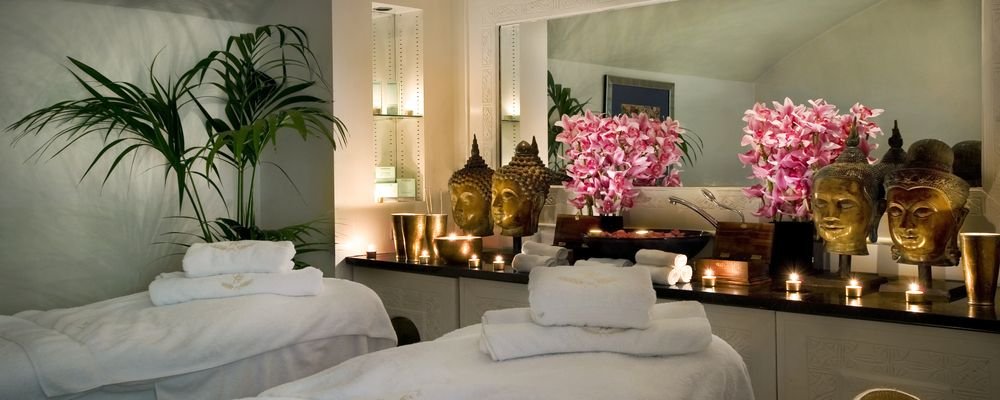 There are plenty of areas throughout the sprawling property where guests can enjoy quiet contemplation, as well as meeting and event rooms of various sizes. They include the softly lit, comfortably furnished Sir John Coward lounge, which features an entrance fitted with an item certain to intrigue history and maritime buffs—an iron gate salvaged from the Mauritania.
Staff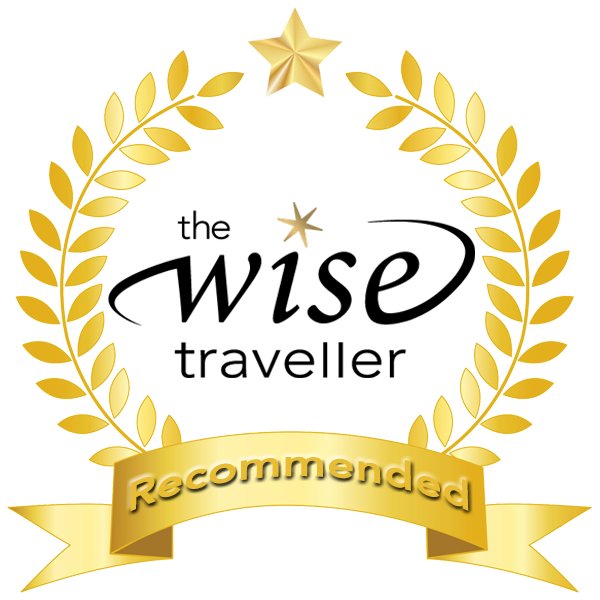 Staff members were extremely cordial, quick and attentive to guest needs. For instance, as soon as I asked, reception staff promptly searched several areas throughout the hotel to find chargers to lend me for my iPhone and laptop.
Conclusion
Charming, historic and well placed, with top-notch staff and amenities, Old Government House Hotel & Spa caters splendidly to both business and leisure travellers to Guernsey.
The Wise Traveller Rating: 10/10