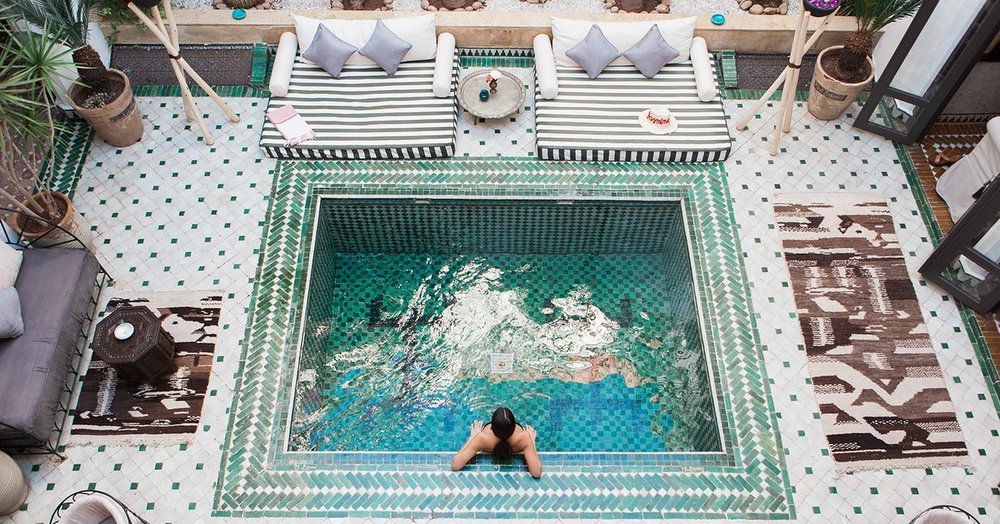 Riad Yasmine Location
Riad Yasmine is located in the medina of Marrakech within walking distance to the souks and popular attractions such as Ben Youssef. Outside the riad, all of your senses will be bombarded with the hectic way of life in the city, but once you've stepped through the front door you enter a peaceful and serene place with a relaxing patio and roof terrace.
Appearance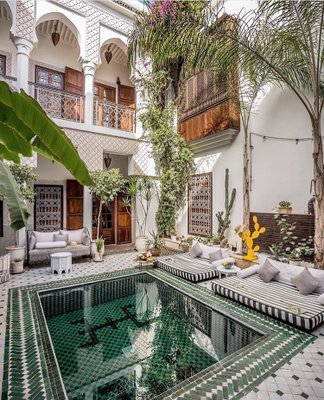 This is one of the most visually stunning riads in the medina with every inch of the interior carefully designed. From the cactus mural on the wall of the tranquil green and white patio to the scores of plants decorating the roof terrace, this is heaven for anyone who loves photographing interiors. The rooms and suites are beautifully decorated, filled with Moroccan textiles and vibrant colour.
Number of Nights Stayed: One
Guest Room: Imsouane
Hotel Restaurants & Bars: A delicious breakfast is included in the room rate and a traditional three-course Moroccan meal can be booked on request.
Room Service: Bottles of water and pots of refreshing mint tea are always on offer for you to enjoy in your room or one of the communal areas.
Fitness Facilities: N/A
Hotel Staff
When we arrived we were presented with a beautiful bouquet of flowers before a selection of Moroccan sweets and a pot of mint tea were served to us on the patio. An incredibly helpful member of staff then pulled out a map and showed us how to navigate the medina as well as offering plenty of tips for our stay. The staff speak English expertly and were always on hand to order us a taxi or help with any queries.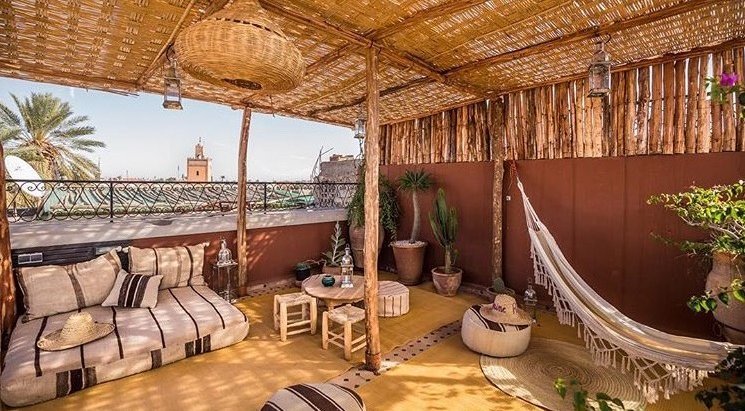 Riad Yasmine Conclusion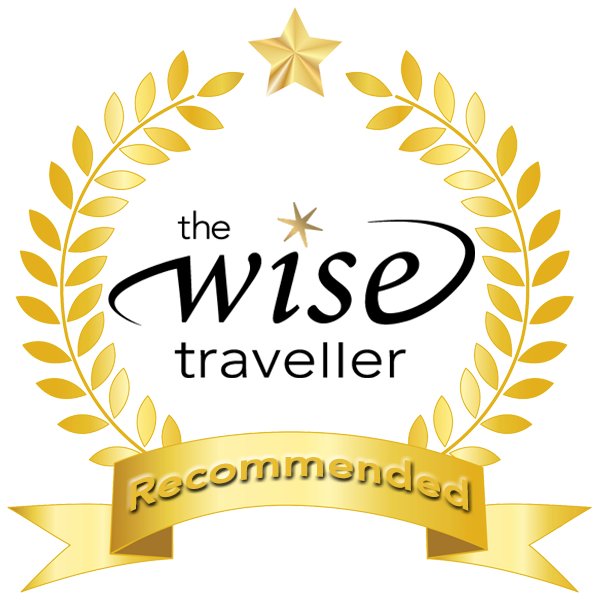 Riad Yasmine was a delight to stay in! My only problem was that I wish I'd booked more than one night in this beautiful accommodation. The plunge pool is ideal for cooling off on a hot day, while the roof terrace provides the perfect place to sit and relax. The staff are incredibly attentive and helpful, making us feel at home throughout our stay. Our only gripe, as with all riads is that the walls are thin and noise travels throughout the building, so we were awaken by a duo taking photos of each other by the pool first thing in the morning – perhaps bring earplugs.
Wise Traveller Star Rating: 9/10
Book direct at: http://riad-yasmine.com/en/