High-altitude hotels allow you to be on top of the world, breathing the freshest pure air that one can imagine. The breathtaking, mind-boggling, and seriously stunning scenery will surround you as you perch yourself up in the clouds with a bird's eye view of the world at your feet.
Explora en Atacama, Chile
Explora en Atacama is an astronomist's dream destination of crystal clear skies, which is home to a private observatory for those wishing to peer at the heavens. Add to this the bonus of an in-house spa hidden in pampas grass where outdoor hot tubs, steam baths, and saunas will rejuvenate your body after a day of exploring—you have the perfect hotel for star-gazing wanderers sitting at 19,420ft. The hotel is located in the world's highest desert of volcanic peaks, with the spectacular sight of the Licancabur volcano in front of you. Open balconies invite the outside beauty to meld with the luxurious interiors of the guest rooms.
Outdoorsy souls will experience the astonishing landscape of this desert that is more akin to a moonscape. Atacama is a land of dynamic extremes. Flamingos stand like ballerinas on pure white salt flats where every footstep makes a resounding crunch. Aproned by wild grass and age-old medicinal plants that the local shepherds have harvested for eons, singing brooks gently meander. While guanacos wander the Domeyko Mountain Range that scars the land decorated with ancient cave drawings and sculptured ravines carved over millions of years by the wind and rain. The out-of-this-world landscape is smothered in thermal baths, shapeshifting sand dunes, active geysers, snow-topped volcanoes, and the incredible vision of glittering multi-colored lagoons that appear to have been created by an artist's brush. You can explore this wild land by horse, foot, bicycle, or vehicle—with a knowledgeable guide.
Amankora Gangtey Lodge, Bhutan
One of 5 lodges under the Aman Resort brand in the land of happiness, Amankora Gangtey Lodge sits a wondrous 9,843ft in the mystical air of Bhutan. Cuddled by a verdant forest in a tiny village located in the remote Phobjikha Valley, this elegant hotel of only 8 suites overlooks expansive views of the imposing 16th Century monastery 'Gangtey Goemba' and the unspoiled lushness of the valley below where endangered black-neck cranes flock each winter. Farms dot the landscape appearing as a rustic patchwork quilt. Constructed in a minimalistic style of natural wood and stone, the guest rooms ooze understated luxury, especially at night when wallowing in a massive bathtub with twinkling candles at your feet.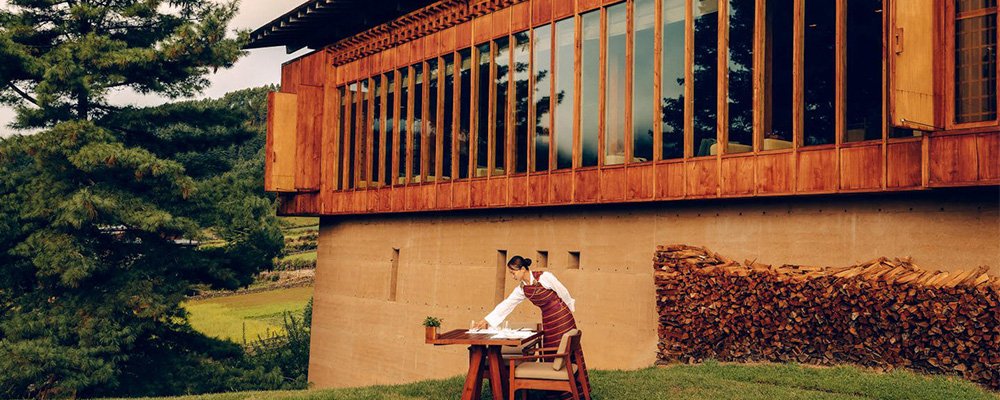 Dining is a communal affair beside a glowing fireplace where Western and local dishes are offered. Picnics are on offer if you wish to eat in the crisp air or indulge in a private candlelit dinner in a traditional potato hut warmed by a Bukhari stove as strains of folk music entertain. Spa facilities offer hot stone baths and massages that make your body melt in delight. The altruistic soul can donate a meal to the monks and join them for their ritual morning or evening prayers—you can also have a spiritual cleansing if your psychic needs adjusting. Exploring the surrounding area entails wildlife greetings, white water rafting, and attempting the national sport of archery. Or, immerse yourself in the cultural world of Buddhism—visit sacred sites and monasteries. Life is serene and calm here as you sit beneath a sky of uninterrupted stars.
Hacienda El Porvenir, Ecuador
Perched at 11,811ft in the Ecuadorian highlands south of Quito, Hacienda El Porvenir is a genuine working cattle ranch built on Rumiñahui Volcano's picturesque slopes. Only moments from the northern gateway into Cotopaxi National Park, where you will find one of the most famous volcanoes in the world, the area is an adventurer's dream destination. Hawks and condors ride thermals high into the air, and debris of past eruptions litter the Valle Encantado, 'Enchanted Valley,' creating bizarre rock formations. The mirror-like lake created by glacier ice water, Limpiopungo Lagoon, is dressed in wildflowers and moss. The area, often shrouded with low-hanging clouds, is a playground for walking, hiking, biking, and horse riding. Or do nothing but open your eyes each morning to peer through the window of your guest room at the grandeur of the snow-capped Cotopaxi Volcano with its perfect cone shape.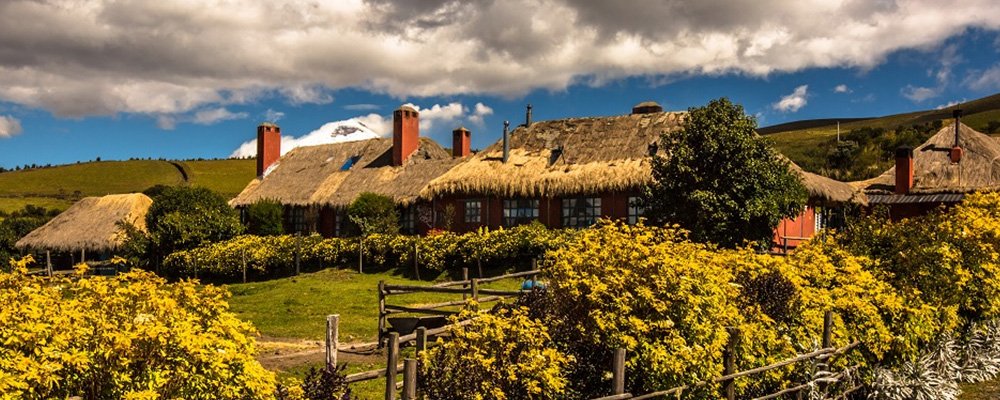 Hacienda el Porvenir is unique with a rustic elegance that allows you to experience genuine Andean hospitality and culture as the property's history goes back to colonial times. Gorgeous suites have their own wood stove and sumptuous ensuites. But, the hidden gem of staying in one of the 'machai' rooms will give you a glimpse into the fundamental style of the highland Indians with their matted walls, thatched roofs, and ancestral touches. Local cuisine is splashed with traditional staples such as home-baked bread, trout cooked on volcanic stone, and tortillas that make your mouth drool in anticipation. A sustainable eco-tourism focus on the menu will have you indulging in cheese made on the premises, milk from their own dairy, plus veggies and herbs from the kitchen garden. Wide open spaces around the hacienda invite the most lazy-bod to explore small forests on horseback. For the more hardened adventurer, there's hiking the unforgiving heights of Cotopaxi Volcano.
If you suffer from acrophobia (fear of heights), you can be assured these hotels are firmly rooted in the ground.
---
Gail Palethorpe, a self proclaimed Australian gypsy, is a freelance writer, photographer and eternal traveller. Check out her website Gail Palethorpe Photography and her Shutterstock profile.
---