There's nothing else we can really talk about in this month's roundup than the impact that the Coronavirus is having on travel. Most of us are now in lockdown or self-isolation at home, our upcoming travel plans in tatters. But rather than dwelling on cancelled flights, we thought we'd sum up some of the more positive articles we've read this month, focusing on how you can still enjoy travel during this strange time.
Let's start with how to recreate a luxury travel experience at home, courtesy of Conde Nast Traveller's piece offering tips and luxury items for enjoying a spa experience at home. Stock up on fluffy towelling dressing gowns, calming diffusers and all the lotions and oils that you need to transform your bathroom into a hotel spa.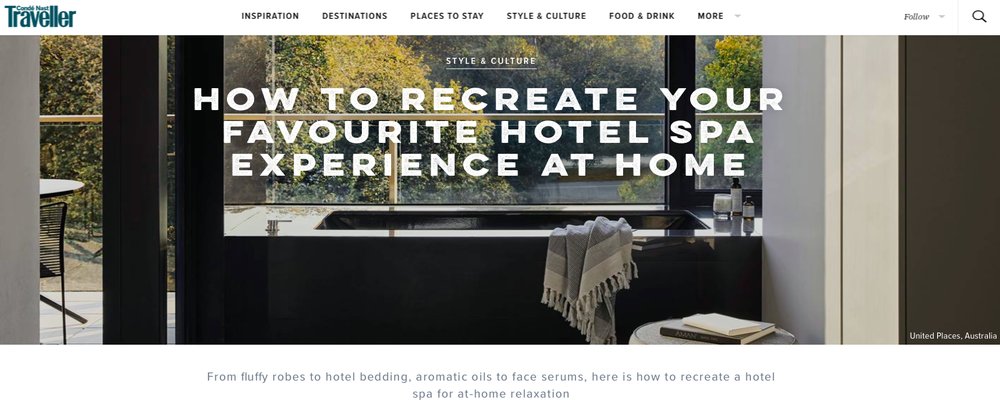 If you're enjoying this idea of making your home feel a bit more like a hotel, there's another article on Conde Nast Traveller that you might enjoy. You may not be able to visit the Four Seasons or The Ace at the moment, but you could treat yourself to a comfy new mattress or a soft blanket to help to recreate that hotel experience in your own bedroom.
It's not just hotel experiences that you can recreate at home. Matador has shared an article recommending eight cookbooks and food-focused memoirs that will help you to travel the world from your kitchen. Use these tomes to focus your cooking on cuisine from all around the globe, with everything from vegetarian Asian recipes to whiskey hacks.
Wanderlust has also shared a list of travel-themed books to help to transport your mind around the globe. The list of 16 books all published this year includes everything from an illustrated guide to cetaceans to desert adventures, tales of British wildlife and a beautifully illustrated look at hidden spaces.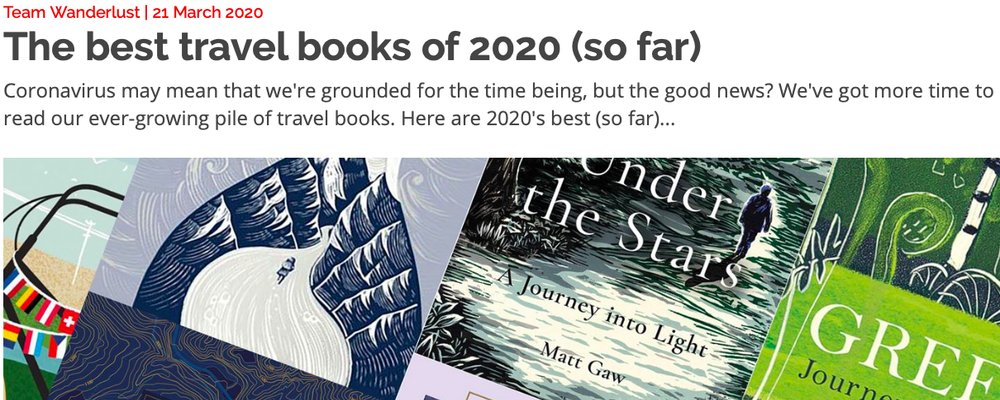 If you're bored at home, there are plenty of travel-based activities you can do to keep yourself occupied. This piece on Matador talks about how it's the perfect time to learn another language, sharing the best apps and websites to use. If you frequently visit a certain place or are planning a particular trip for when this blows over, why not use this time to learn the basics of the local language?
You could also use your lockdown time to take virtual tours of places all around the world, allowing you to travel without leaving your sofa. Refinery 29's suggestions of different online tours you could take include museums and galleries, street art tours and even nature walks around places such as Bryce Canyon.
If you'd rather listen to someone talk about travel, look to Wanderlust's list of the very best travel-based podcasts to listen to right now. There's a huge mix here of personal travel adventures and general travel tips and advice, so there's bound to be something to distract any traveller.
Looking for a more abstract way to see the world when you're stuck at home? This piece in the New York Times talks about taking a trip on Google Street View, wandering the globe without having to leave your home or even get dressed. This is a wonderful article, full of character that is guaranteed to put a smile on your face and have you planning your own Google adventure.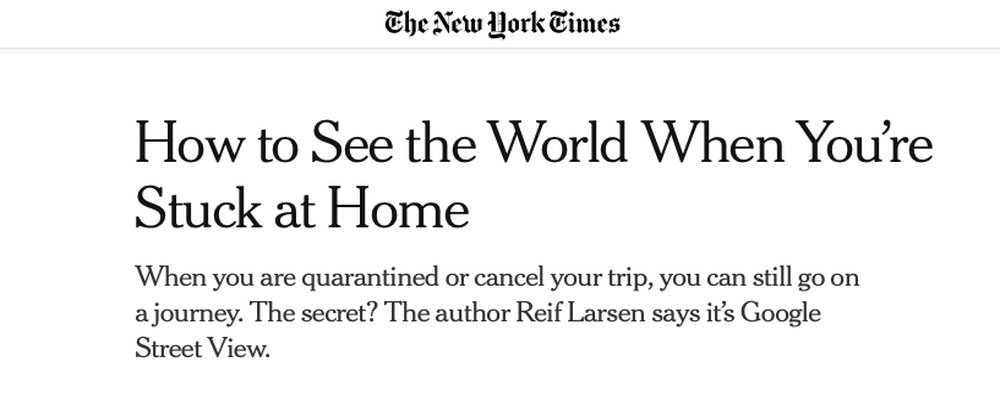 Another piece in the New York Times talks about finding community and cheer at home during the lockdown, sharing plenty of travel-themed ideas. We particularly love the thought of painting landscapes of places you'd like to visit, or taking a journey through music.
Finally, Wanderlust's editor-in-chief has penned this wonderful letter to readers, sharing her thoughts and advice on the current situation. We particular like this line from the title: "Use this travel hiatus to dream, research and plan."
---