Bush airstrips have always held a fascination for me. Maybe it is the adrenalin rush of being up in the sky in a little plane, the fact that the pilot has to buzz the runway before landing to clear it of any stray animals, such as squatting cheeky baboons, or the sheer anticipation of being somewhere in the wild and not knowing what to expect. Whatever the reason, it does create a bit of a wet panty moment for the most die-hardened traveller.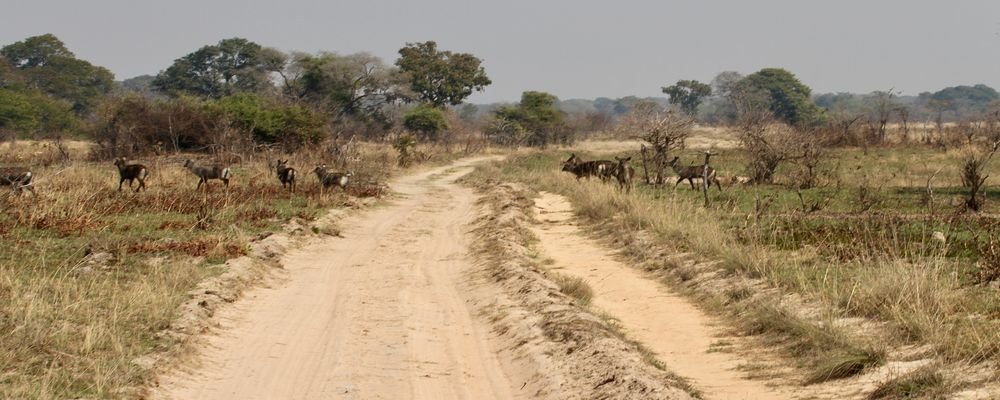 Think of one long dirt runway surrounded by bush that ends in a T-intersection, with a newly made main gravel road, flanked by a musky pink and lonely looking tin-roofed shed as the arrivals-departure-airport offices, and that is Ngomo "Airport". A half-hour Zambian massage later (aka jeep ride) and you arrive at the stunning Nkala Lodge, complete with sun lounges perkily inviting you to recline on the deck by the crystal blue swimming pool.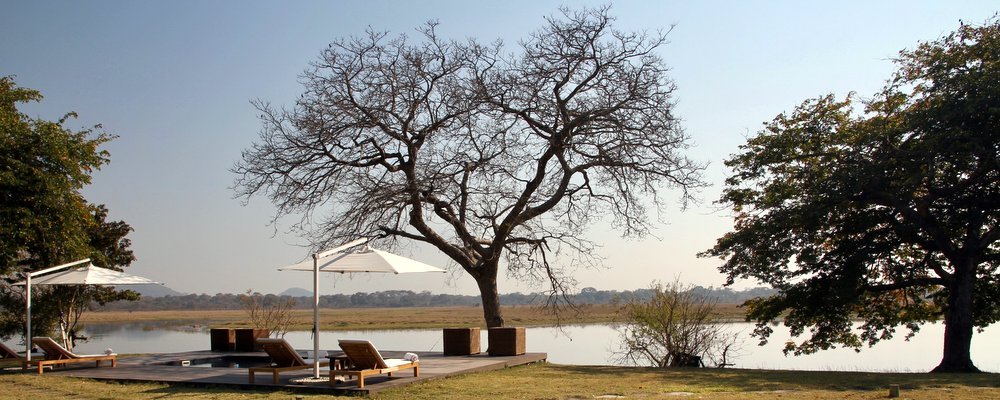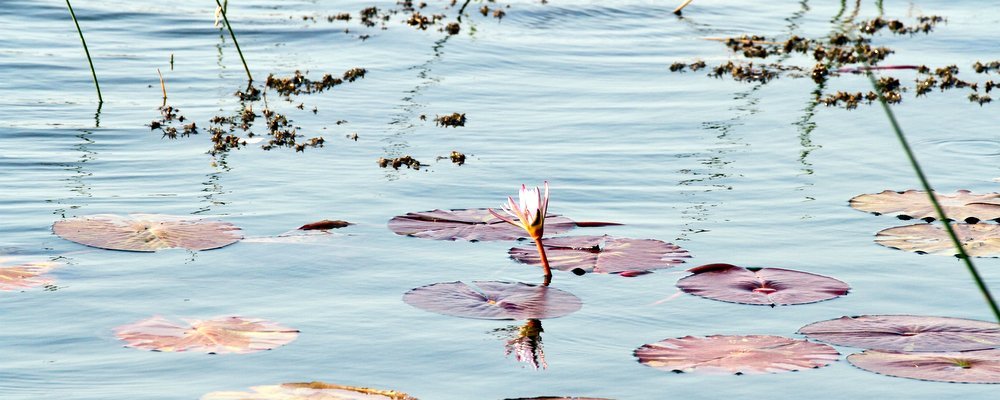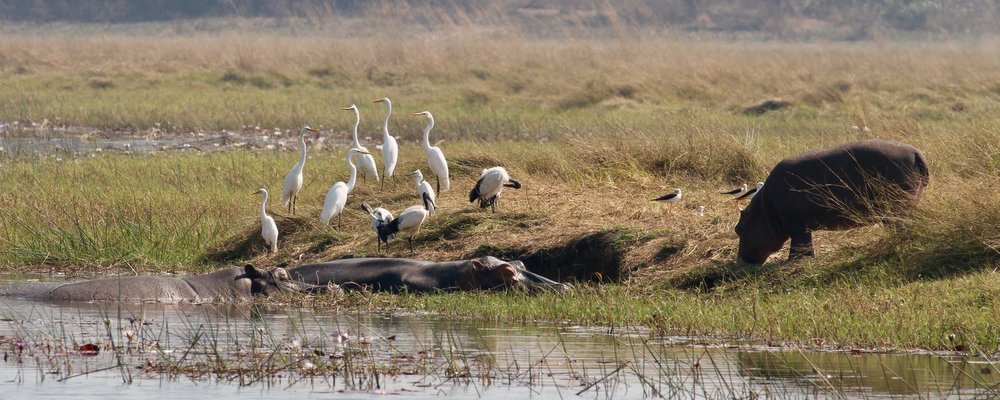 It is a complete oasis sitting on the banks of the Nkala River that is cloaked in lush water lilies. Peering over the water from the fire-pit seating arena, it's possible to gaze at the resident hippos wallowing in the mud, whilst white herons tiptoe about on their broad backs. Apparently the seating area had recently been shuffled back from the river's edge, out of respect for the live-in crocodile that occasionally deigns to make an appearance.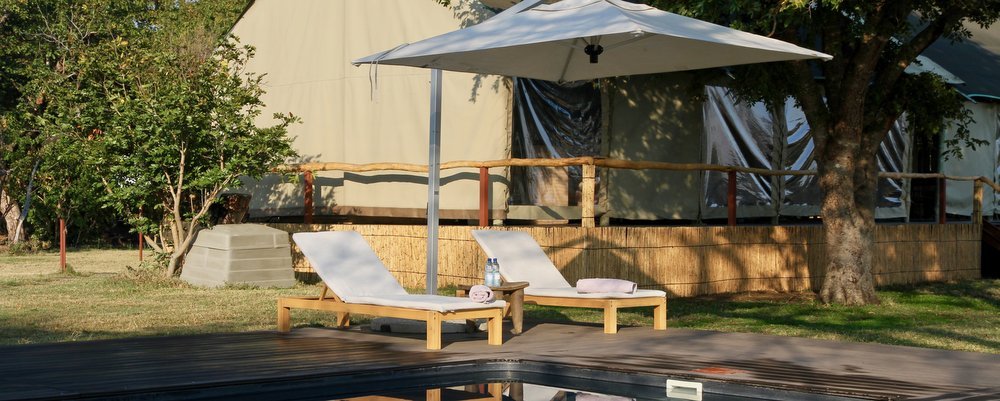 Nkala Bush Camp is bush luxury with a touch of whimsical bohemian wildness thrown in to let you know that you are in untamed Africa. Under a massive vaulted canvas rooftop, brown and white African cattle-hides are strewn around the floor of the huge open-plan common living area in artful disarray.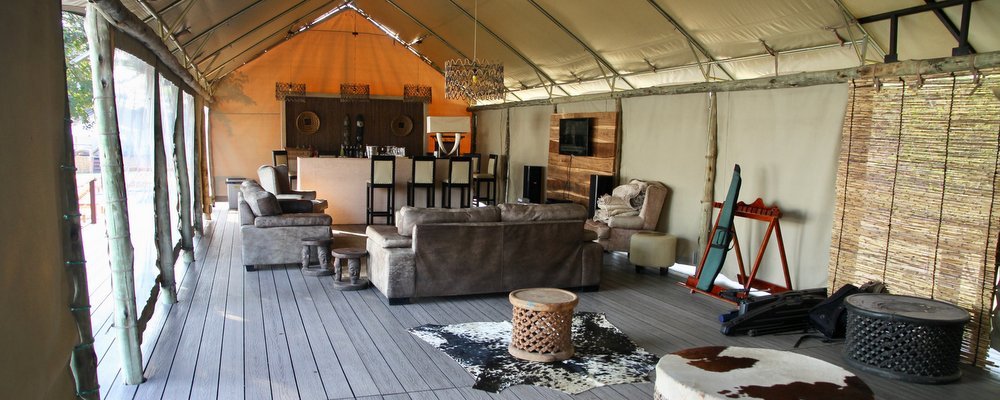 Eclectic artifacts adorn rustic wooden hand carved furniture, whilst two astounding African statues peer at you as they stand guard against the tented wall at the end of the large feasting table. Comfy leather lounges create a cozy television watching area for those who don't want to miss out on what's going on in the world, and there are stools for perching on at the more-than-adequately stocked bar.
For the caffeine addict, there is an espresso machine on hand, so that you never have to go without that early morning jolt. This vast living expanse opens out to a panoramic vista, where you can gape at the early morning sunrise when the sun ripples a red reflection over the river-like diamonds, whilst the lilies lazily open their petals for the day. In the late afternoon the peaceful surrounds are smothered in a golden glow, as you sip a sundowner by the open-pit fire.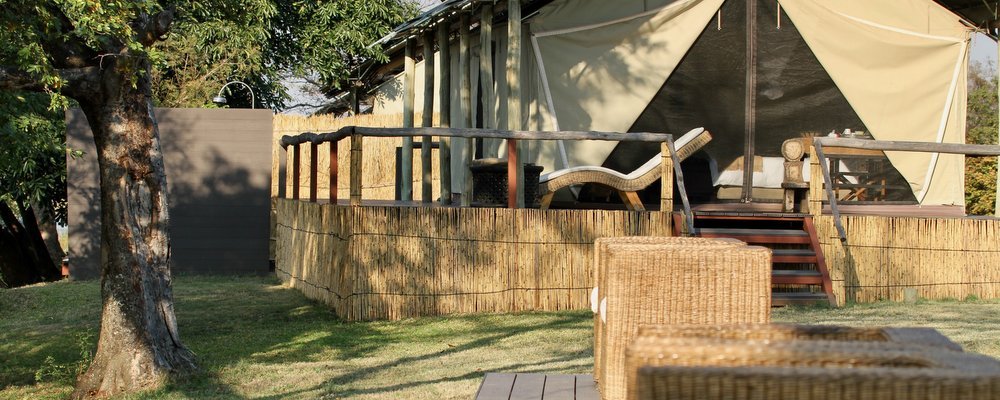 Guest tents are the ultimate in bush-elegance, all of which have their own private views of nature's never-ending display surrounding the camp. You can romp around on your huge mosquito-net draped bed, have your own decadent wallowing session in a freestanding claw-tub bath, or commune with nature whilst bathing in your outdoor shower. The private deck is the perfect space to take time out reading a book with the river at your feet and the vast plains disappearing into infinity.
Nkala sits in a game management area almost on the boundary of the Kafue National Park, which is the oldest and the largest national park in Zambia. The landscape is totally different to that of South Luangwa National Park, in that this area is open savanna grassland, with some marshy regions that swell with water during the rainy season, and dense scrubby hideouts providing perfect camouflage for wild herds.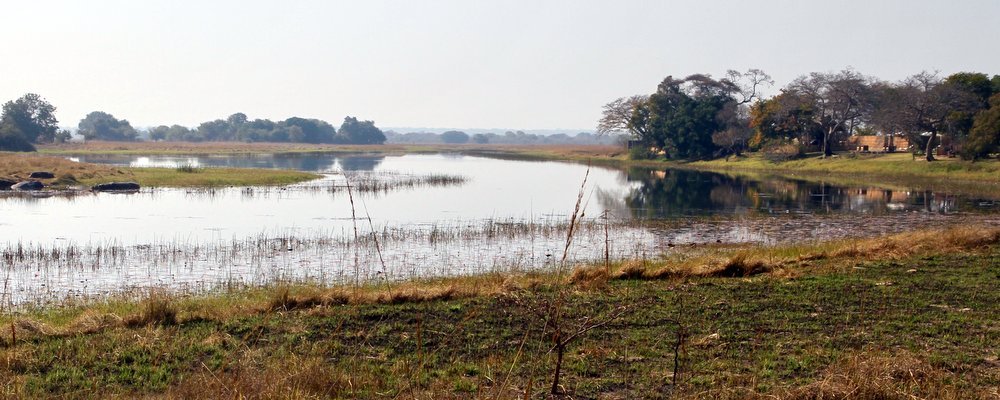 Water holes are cloaked in lilies and flocks of birds, such as the quirkily named "black belly bastard", plus bright red wildflowers pop up when you least expect them. The area is renowned for its herds of buffalo, zebra and wildebeest, plus there is plenty of cat action, not of the domestic variety.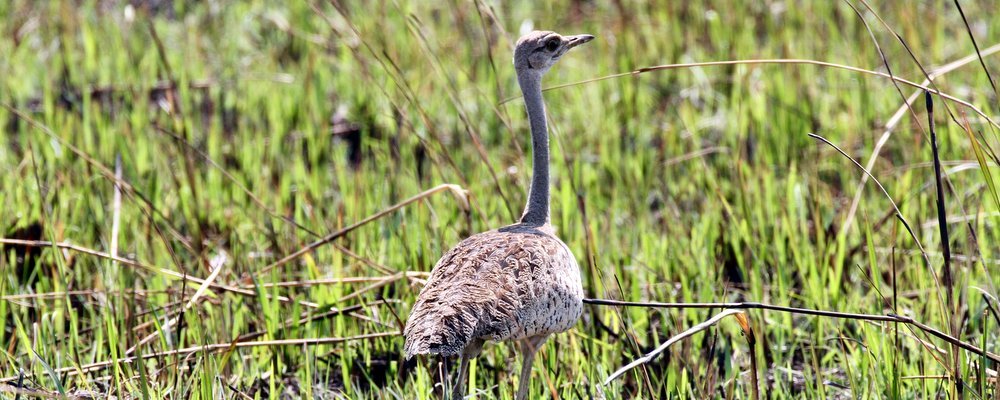 Your typical polite safari 5.30 a.m. wakeup call will have you swilling your coffee and racing to the jeep to be in tune with the animals, even if it is a struggle to get out of bed in the dark. The warthogs won't wait to show you how busy they are strutting around. Majestic sable will give you haughty looks, elephants will hog the rutted tracks, and puku and impala will dance out of sight all too quickly. Herds of zebra skittishly take off into the bush, whilst baboons will hold morning conferences in the shade of trees, and vultures lazily soar in blue skies, looking for that next feed.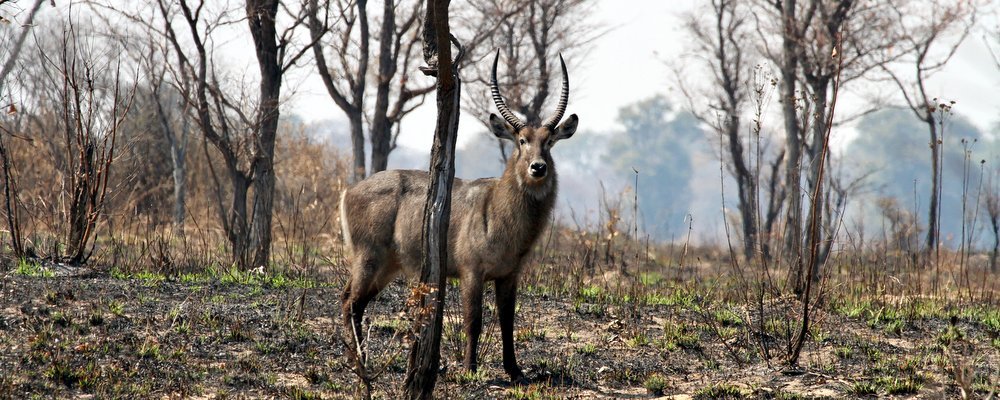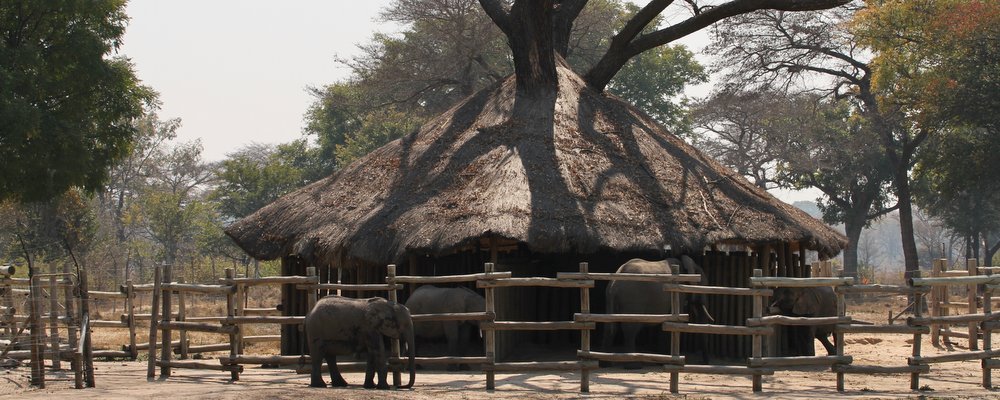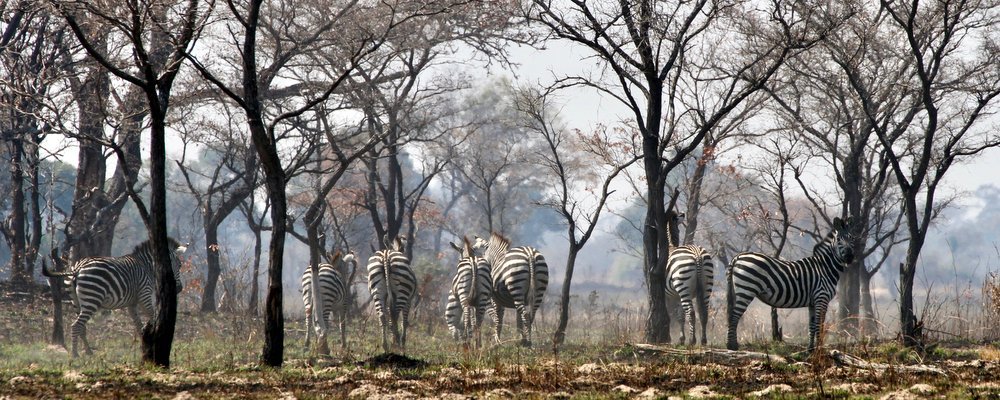 Night drives will give you a totally different picture, whilst you snuggle up to that hot water bottle to keep yourself warm, if whiskey infused coffee doesn't do the trick. As Nkala is outside of the national park boundaries there is no time restriction on night drives, and the local guides are very aware of where the boundaries lie, thanks to their GPS instruments.
I was thoroughly impressed one night when we came across two aardvarks scurrying across the track in front of us. The rare sighting of an African wild cat shortly after this made my night complete. From wildebeest to waterbuck, bushbucks and honey badgers, the list of creatures is never-ending, just like reading the roll call of Noah's ark.
A beating drum announces the lunch or dinner spread, and if you are a vegetarian you may not wish to read the rest of this paragraph, but rest assured you will be catered for in the camp. I was completely surprised to be dished up "Aussie invaders" (aka Queensland Australia freshwater red-claw crayfish) dipped in spices and fried as a delectable fireside nibble one night. Apparently, these little suckers were introduced to a fish farm in Kafue Town and managed to spread more than 400km upriver.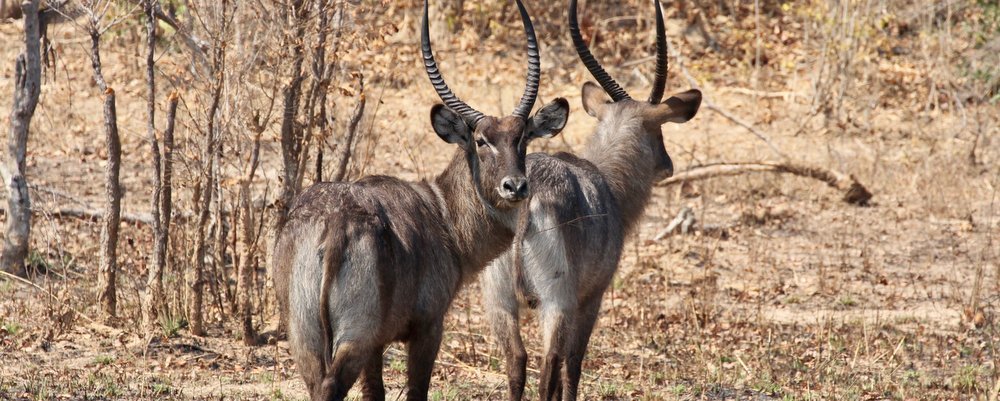 For those into their meat, this is true bush-meat heaven, which is considered a delicacy. From sable stew to roasted guinea fowl, my mouth is still watering. The brave fishermen ("brave" because of the resident croc) caught a feast of catfish one night. The horrible looking creatures, after soaking overnight to get rid of the impurities, were cooked the following day. Not high on my agenda of fish treats, it was, however, amazing and had me going back for more.
I have to say that there is something to be said about this "hunting and gathering" ethos, despite my ears ringing for hours after a gun going off beside me, which bagged four guinea fowl in one shot. Think of guinea fowl as a pretty spotted chook with a wobbly bright blue neck like a turkey, and you will be fine when munching on one.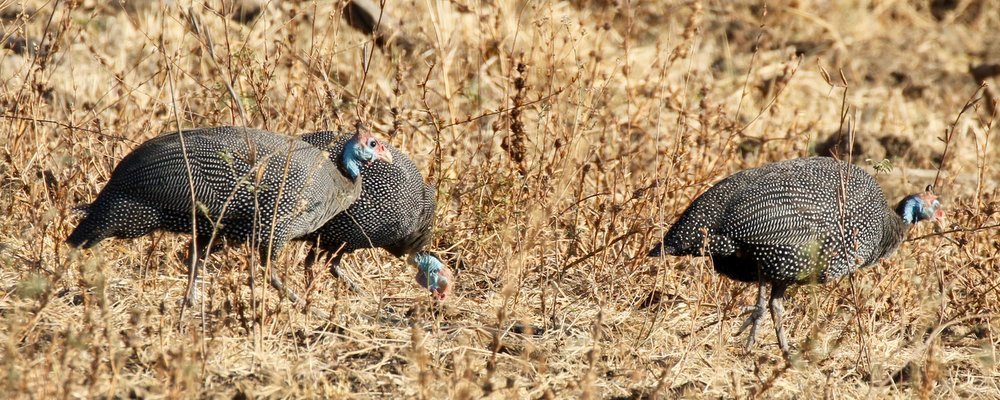 Don't leave Nkala Bush Camp without venturing to the Kafue Release Facility (aka the elephant nursery), as it is worth the bumping bush drive to acknowledge the amazing work that the locals and volunteers do. You will also get to peek at the elephant behavior charts, which give you an insight into how to tell whether an elephant is feeling frisky or maybe grumpy at the sight of you.
Quick Facts - Nkala Lodge
Location: Nkala Lodge sits 15km from the Kafue National Park in the south
Accommodation: 3 guest luxury tents (2 people each) with private decks/ensuites—extra basic tents are available for larger numbers.
Social areas: Open bar, lounge and dining area, viewing deck, decked swimming pool, fire pit seating area overlooking the river
Climate:
Winter - May to mid August - mild days plus chilly nights
Summer - September to April - "quite" warm
Dry Season - May to October - warm days
Rainy Season - November to April
Hottest months - October and November
Activities: Game drives (day and night) and guided walking safaris with experienced and knowledgeable guides, fishing in front of the bush camp, crocodile spotting and fishing on the Itezhi-Tezhi Dam on the Kafue River, plus game hunting
Electricity & Water: Full time 220V power, full DSTV satellite television, Wi-Fi access, hot & cold running water—in other words all the comforts of home
Website: https://www.nkalasafaris.com/the-lodge
Nkala Lodge is an ethical game-hunting lodge adhering to the strict regulations and granted concessions by the Zambian Wildlife Authority and National Parks.
---
Gail Palethorpe, a self proclaimed Australian gypsy, is a freelance writer, photographer and eternal traveller. Check out her website Gail Palethorpe Photography and her Shutterstock profile.
---